1900 A Retrospect Tilley's Almanack
Chronological extracts completed from the "Ledbury Free Press"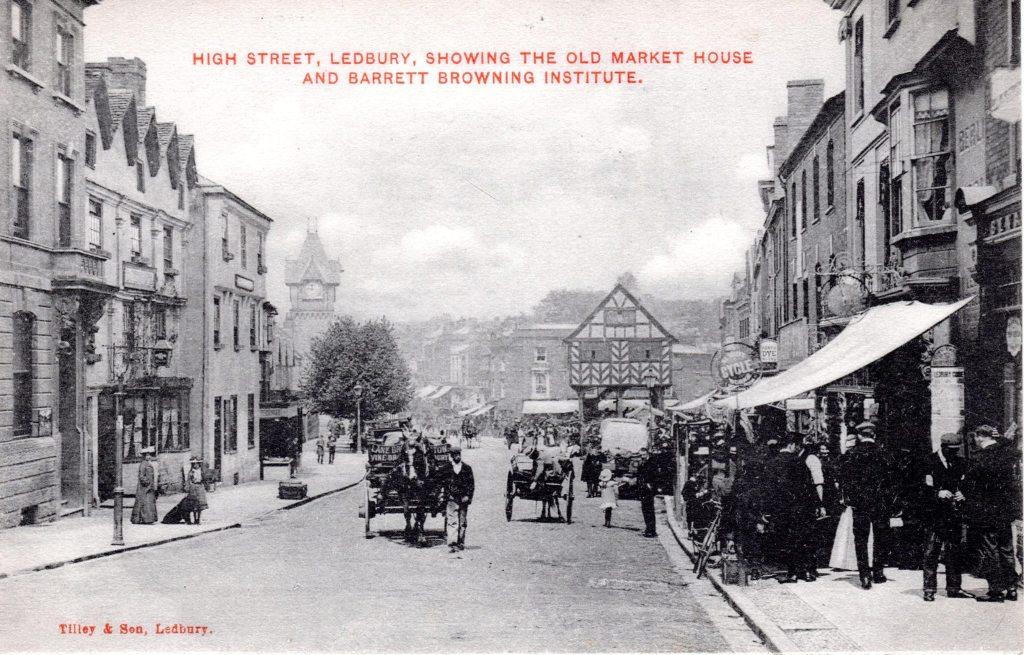 The following were the chief National events of the year. The War in South Africa, between Great Britain and the Boers, broke out at the end of last year, and was carried on with great loss of life on both sides, until after Midsummer of this year, by which time the Boers were defeated, although guerilla warfare continued till the end of this year.

Alarming troubles also sprung up in China, in which England and Continental Powers were involved, but a speedy arrival of troops from the various countries appears so far to have had a beneficial effect.

In the Autumn the late Parliament was dissolved, when the Constitutional party was returned with an increased majority.

In giving a cursory glance at the year 1900, from the facts recorded it will be seen that it was one of great national excitement, with consequent great national expenses, whilst the trade of the country has not been up to the average. The same remarks may apply locally. Following a wet Summer, came a most favourable Autumn, with an average harvest of corn and hay crops. Fruit was in abundance, whilst the hops, although over the usual quantity in some districts, were considerably under the average. On the whole the local agriculturalists may be said to have had another favourable year, which of course was of equal benefit to the trade of the town. The fact that there was no commercial liquidation of any importance in the town or district during the whole of 1900 speaks for itself.

May the New Year of the New Century prove happy and prosperous to all our readers!

January 3 Ledbury Cycling Club Annual Fancy Dress Ball at Royal Hall.

January 7 Ledbury Church Choir (Adult Members) Annual Supper at The Feathers Hotel.

January 7 Mr. and Mrs. MARTIN's Annual Treat to Union Inmates.

January 15 Ledbury Hockey Club First Annual Ball at Feathers Hotel.

January 18 Eastnor Cricket Club Annual Concert.

January 24 First Oxford University Extension Lecture on "Johnson and his Circle," by Mr. Ashe KING, at Barrett Browning Institute.

January 25 Mr. J. McKEAN HARRISON installed W.M. Eastnor Lodge of Freemasons.

February 1 Ledbury Church Choir Boys' Annual Supper at The Rectory.

February 2 The Three Colwall Volunteers (Privates CORFILELD, GODSELL, and SMALL) entertained at the Feathers Hotel, and left Ledbury for South Africa on the 5th.

February 6 Annual Meeting of Subscribers and Donors of the Cottage Hospital.

February 7 Annual Meeting of Ledbury Cricket Club at Royal Oak Hotel.

February 8 Ledbury Fire Brigade Annual Dinner at Royal Hall.

February 8 Mrs. MARTIN distributed the Certificates to successful Students of the Science and Art and Shorthand Classes.

February 12 Annual Meeting, Herefordshire Grand Lodge of Freemasons at Ledbury.

February 17 Acetylene Gas installed at Ledbury Kennels.

February 18 Private Theatricals—Two Performances of "Brother Officers," in aid of the War Fund.

February 24 Commencement of Saturday Night Popular Entertainments at Town Hall.

February 26 Ledbury Cycling Club Annual Meeting.

February 27 Rejoicings on the capture of Cronje and several thousand Boers.

March 1 Relief of Ladysmith celebrated in a right loyal manner at Ledbury. Great enthusiasm prevailed for several days on receipt of news of British Victories.

March 15 Mr. H. M. WILSON, Master of Ledbury Hounds, entertained to dinner at Feathers Hotel.

March 15 Congregational Social Evening at Mission Hall.

March 19 Four out of nine Candidates for the five seats on Urban Council withdrew. Messrs. C. H. BASTOW, G. W. SUTER, J. M. ROGERS, W. H. HATTON, and T. S. S. GARDNER returned unopposed.

March 22 Ledbury Hockey Club Annual Dinner and Concert at Feathers Hotel.

April 1 Mrs. Jennie WALKER (the "Yorkshire Nightingale") commenced a week's Mission at Town Hall.

April 2 Urban Council signed a general district rate of 1/8 in the £ for the ensuing half-year.

April 4 Mr. J. S. DAWE, the Hazel, died, aged 49 years.

April 4 Confirmation at Ledbury Church.

April 13 Mr. Benjamin BRIGHT, Colwall, died, aged 77 years.

April 13 Lieutenant-Colonel WOOD (of Ledbury) promoted by General BULLER Chief Engineer of the Natal Army Corps.

April 18 Mr. C. W. STEPHENS elected Chairman of Ledbury Urban Council, and Mr. W. S. LANE re-elected Chairman of Ledbury Rural Parish Council.

April 19 Ledbury Musical Society's fourth Subscription Concert.

April 19 Messrs. S. H. BICKHAM and C. H. BASTOW re-elected Churchwardens at Vestry Meeting.

April 24 Ledbury Hunt Point-to-Point Races at Redmarley.

April 30 Ledbury Oddfellows Dinner at Plough Hotel.

May 2 Leadon Vale Singing Class Concert in aid of Parish Nurse Fund, Feathers Assembly Room.

May 10 First Race Meeting at the new Colwall Course.

May 11 Ledbury Habitation, Primrose League, passed resolution in favour of formation of rifle clubs in the district.

May 16 Ledbury Hunt Earth-stoppers Dinner at Royal Hall.

May 18 Celebration (at midnight) of the Relief of Mafeking after 220 days siege. Bonfires lighted in the streets, bells ringing, bands playing, processions round the town, the inhabitants leaving their beds to take part. The following evening a torch-light procession and Kruger's effigy burnt at Lower Cross.

May 19 Six Candidates nominated for seven seats on the Ledbury School Board -Rev. Preb. MADDISON GREEN (Rector), Rev. C. Y. POTTS, Messrs. S. H. BICKHAM, C. W. STEPHENS, H. BRAY, and J. BOYD. Mr. G. BEST was subsequently elected by the Board, the Rector was re-elected Chairman, and Rev. C. Y. POTTS Vice-chairman.

May 24 Queen's Birthday, general holiday and great rejoicings, the town being decorated.

May 24 The Ledbury Cycling Club entertained at Eastnor Castle by Lady Henry SOMERSET.

May 31 Rev. C B. CALDICOTT succeeded Rev. G. SWIFT as Curate of Ledbury.

May 31 Farmers in the Ledbury Hunt had subscribed about £80 to the Yeomanry Hospital Beds.

May 31 Lieutenant-Colonel WOOD was granted the rank of Colonel in the Natal Field Force.

June 5 Rejoicings on the fall of Pretoria. The town decorated, bells ringing bands playing, and bonfires lighted in the streets at night.

June 11 A Severe Thunderstorm passed over Ledbury and District.

June 12, 13, 14 Herefordshire and Worcestershire Agricultural Show at Leominster.

June 15 Distribution of "Duckworth" prizes at Boys' School.

June 28 A Whirlwind passed over Ledbury at a high altitude, carrying with it a large quantity of hay, some of which dropped in the streets.

July 4 Ledbury Girls' Friendly Society Festival at Bosbury.

July 6 Ledbury Hunt Puppy Show (followed by luncheon), at the Kennels.

July 15 Half of the Ledbury Company Volunteers went to camp at Fleetwood for 14 days.

July 16 Annual Meeting Ledbury Building Society, bonus of 5 per cent. declared.

July 16 The Ledbury Children's Penny War Fund amounted to £11.

July 19 Ledbury Church Choir (Adult Members) trip to Southampton and Isle of Wight.

July 19 Congregational Sunday School Treat.

July 25 Mrs. BALLARD's (Colwall) Summer Treat to Union Inmates.

July 27 Ledbury Mothers' Union Annual Festival.

July 29 The Second portion of Ledbury Volunteers went to Camp.

July 30 Ledbury Third Annual Horse Show in Pound Meadows.

August 1 First Annual Distribution of Prizes at Ledbury Middle Class Boys' School.

August 2 Ledbury Church Choir Boys' Trip to Weston-Super-Mare.

August 3 Severe Thunderstorm.

August 6 A wet and miserable Band Holiday.

August 9 The Annual Sale of Work in the Upper Hall Grounds in aid of Parish Nurse Fund had to be held in The Feathers Assembly Room on account of drenching rain.

August 13 Bosbury Horse Show and Races.

August 16 First Eastnor Horticultural Show.

August 23 Ledbury Hockey Club entertained by Rev. and Mrs. PHILPOTT at Little Marcle Rectory.

August 26 Volunteer Church Parade at Ledbury Church. August 31 Mr. and Mrs. HEWITT entertained the Union Children at Hope End.

September 5 Ledbury Brewster Sessions. The Bench refused Mr. CAVE's application for license for proposed large Hotel at Colwall.

September 9 to 14 Three Choirs Musical Festival at Hereford.

September 11 Mr. Richard BOURNE (late of The Bellamy), died, aged 82 years.

September 11 Ledbury Revision Court -Unionist Gain.

September 13 Miss JAY, New Street, Ledbury, entertained her tenants and friends to Supper at the Feathers Hotel.

September 14 Members of the Auctioneers' Institute of the United Kingdom visited and lunched at Ledbury.

September 20 Annual Meeting of Ledbury Musical Society at Feathers Hotel.

September 23 Congregational Harvest Festival.

September 23 New Oak Doors had been placed at the West End of Ledbury Church by this date, by Miss Sarah Martha SEXTY, in loving memory of parents and friends.

September 27 Ledbury Cycling Club Annual Illuminated Procession—Collection for the Cottage Hospital, £11 15s. 3d.

September 30 Harvest Festival at the Parish Church, also at the Wesleyan Chapel.

September 30 The new Church Clock and Chimes (a different tune every day), were completed by this date. The new chimes were placed in the tower by the WOOD Family as a Memorial to their late Father and Mother, Mr. and Mrs. Miles ASTMAN WOOD, of Orchardleigh, Ledbury.

October 1 A General District Rate of 1/8 in the £ was made by the Urban Council.

October 2 Mr. M. BIDDULPH retired at General Election, after representing the County 35 years, and Captain Percy A. CLIVE (C.) returned unopposed in his place.

October 2 Mr. Radcliffe COOKE, M.P. for Hereford retired, and Mr. ARKWRIGHT (C.) was returned unopposed.

October 4 Rev. J. HARPER (Baptist), and Mrs. HARPER were recipients of presents on leaving Ledbury.

October 7 Harvest Thanksgiving Service at Mission Hall.

October 9 Ledbury Michaelmas Fair Mr. John STUDT gave the whole proceeds of his Gondolas on the Friday evening, £21 15s. 3d., to the Cottage Hospital.

October 16 Trooper Frank HODGES, Shropshire Imperial Yeomanry, returned from the War and received a hearty reception.

October 22 Ledbury Ploughing Society Third Annual Competition at Mainstone Farm.

October 23 Opening of St. Mary's Home, Eastnor, by the Bishop of Hereford.

October 25 Ledbury Foresters' Dinner at The Royal Hall.

November 1 Annual Meetings of Ledbury Auxiliary Bible Society.

November 1 At a Meeting of Ledbury Hunt Supporters at the Feathers Hotel it was resolved to take down all wire in the Hunt Country and to replace the same at the end of the hunt season.

November 1 The Hereford Militia returned from Ireland.

November 5 At a Meeting of Colwall Ratepayers a motion in favour of applying for Urban Powers was defeated by 21 votes.

November 8 S.P.G. Bicentenary Meeting at Barrett Browning Institute.

November 5 Annual Meeting of Temperance Union at Town Hall.

November 14 At a largely attended Meeting held at The Barrett Browning Institute it was decided to hold a Public Dinner in honour of Mr. M. BIDDULPH, on his retirement from Parliament after representing the County of Hereford for 35 years. It was subsequently decided that there should be a County Presentation of a piece of Plate on the same occasion. The function was axed to take place at The Feathers Hotel on Friday, January 4th, 1901.

November 22 Home-coming of Colonel C. K. WOOD. Popular demonstration, Colonel WOOD being escorted to Orchardleigh by Bands, Military, Friendly Societies, Torch Bearers, Townspeople, &c., the town being decorated and illuminated. At the Market Place he was presented with an address of welcome, and bouquets were handed to Mrs. WOOD.

November 23 Mr. Spencer H. BICKHAM delivered his first Lecture on "Elementary Astronomy " at The Feathers Assembly Room.

December 5 Interesting Debate at the Barrett Browning Institute on "How to Improve the Trade of Ledbury."

December 6 Cake and Apron Sale opened at Town Hall by Lady Agneta MONTAGU in aid of the Funds of the Ledbury Temperance Union and the Mission to Hop-pickers. Proceeds £42.

December 7 Mr. BICKHAM's second Lecture on "Elementary Astronomy."

December 7 Complimentary Dinner to Mr. John PUCKMORE LUCY (only son of Mr. John LUCY, Solicitor, Ledbury), on his return from the Boer War. Colonel WOOD, R.E., presided, and congratulatory speeches on Mr. LUCY's escape from Mafeking, and his safe return, were delivered.

December 13 Rifle Corps Annual Supper and Distribution of Prizes at Feathers Assembly Room.

December 20 Ledbury Musical Society Subscription Concert at Royal Hall.

December 26 Hockey Club Ball at Feathers Assembly Room.

December 27 Entertainment for Parish Nurse Fund at Royal Hall.
---