1901 A Retrospect Tilley's Almanack
Chronological extracts completed from the "Ledbury Free Press"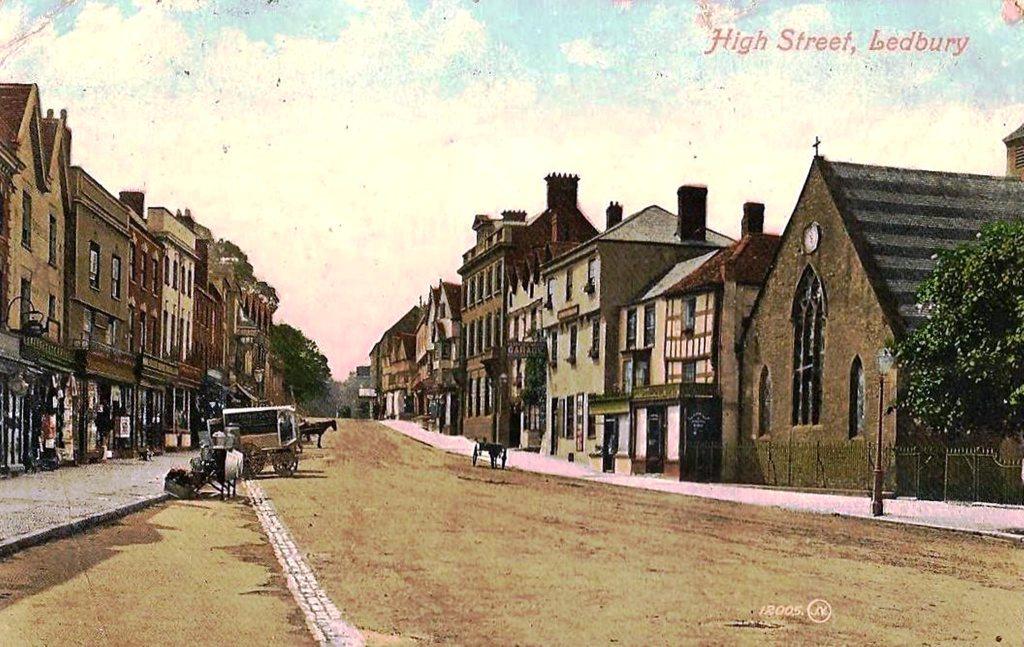 Amongst the chief national events of the year was one which affected the whole world, not England alone - we allude to the death of our ever to be lamented Queen Victoria, who after a long and model reign of 63 years entered into rest on January 22nd. She was succeeded by King Edward VII - Long may he reign!

The Duke and Duchess of Cornwall and York, now Prince and Princess of Wales, made their memorable tour of "Britain-over-the-seas" this summer, and the receptions accorded them were ample proof of the bond between these distant lands and the home country.

The Boer guerilla warfare still dragged on its weary way, and the year closed amidst hopes for a speedy, but satisfactory, peace.

Locally, the year was uneventful. Like other towns Ledbury suffered from trade depression, owing to the continued war, and, although the local crops were good, low prices were realized, especially for fruit and hops. The rainfall during the year was much below the average. Winter put in an early appearance, there being sharp frost with snow in November, and before the middle of December the weather was still more severe.

May the New Year prove happy and prosperous to all our readers!

January 1 First day of the 20th century.

January 3 Colwall Park and Ledbury Hunt Races, Second Meeting.

January 4 Banquet and Presentation to Mr. Michael BIDDULPH after serving his native County in Parliament 35 years, at The Feathers Hotel.

January 5 Annual Meeting of the Ledbury Cricket Club at the Royal Oak Hotel.

January 7 Choir Boys' Supper, at the Rectory.

January 9 Ledbury Hunt Ball, at the Feathers Hotel.

January 10 Ledbury Choir (adults) Annual Supper, at the Feathers Hotel.

January 10 Mr. MARTIN's Annual Treat to the Union Inmates.

January 17 Cycling Club Ball, at the Feathers Hotel.

January 19 Mr. J. E BALLARD, grocer, relinquished business.

January 21 Dr. FISON'S first lecture of the series on the "Sun and Stars."

January 22 Queen Victoria died at 6.30 p.m. Muffled peals on the Church bells.

January 23 Rev. H. B. WALTON inducted Rector of Coddington.

January 24 Mr. Josiah HARDING, Ledbury, died, aged 80.

January 24 Mr. H. M. WILSON'S resignation of the Mastership of the Ledbury Hounds announced.

January 29 Proclamation of King Edward VII., at Ledbury Cross, by Mr. Charles Wesley STEPHENS, Chairman of the Urban Council; and a fanfare of trumpets. At a meeting of the Urban Council immediately afterwards the health of the King was drunk right loyally.

February 2 Funeral of Queen Victoria; day of mourning; muffled peals; business suspended; procession of the town's societies to the Parish Church. Funeral Services at the various Chapels.

February 3 Rev. W. REYNOLDS, of London, preached at the Baptist Chapel, on his acceptance of the Pastorship.

February 4 The Ledbury Board Schools closed for three weeks in consequence of the epidemic of whooping cough and mumps.

February 5 Annual Meeting of the Ledbury Cottage Hospital Committee. Lady Elizabeth BIDDULPH gave £100 towards improvements.

February 5 Cricket Club Rummage Sale at the Royal Hall.

February 12 Mr. Tom WOODWARD'S Second Annual Subscription Concert at the Royal Hall.

February 12 Ledbury Horse Show Committee decided not to amalgamate with the other county Shows.

February 14 Annual Meeting of the Ledbury Cycling Club at the Barrett Browning Institute.

February 20 Ash Wednesday.

February 25 Death of Miss Mary Elizabeth GREGG, of Ledbury, aged 68.

February 27 Mr. C. W. STEPHENS re-elected (without opposition), County Councillor for Ledbury Urban; and Mr. C. A. HEWITT for Ledbury Rural.

February 28 Fire Brigade Annual Dinner at the Royal Hall.

March 4 Parish Councils and Rural District Councils Elections.

March 7 Temperance Conference at the Barrett Browning Institute.

March 7 Meeting at Town Hall to consider Lord PEEL'S proposals.

March 9 Eastnor Cricket Club Annual Meeting.

March 12 Distribution of Certificates to Science and Art and Shorthand Students by Mrs. BICKHAM, at the Barrett Browning Institute.

March 14 Ledbury Golf Club wound up.

March 18 Messrs C. W. STEPHENS, E. FREEMAN (old members), J. BOYD. D. DAVIES, H. HARRINGTON, and C. BIXLEY, elected Urban Councillors, without opposition.

March 18 Disastrous fire at Court-y-park farm; a child burnt to death.

March 24 Ledbury Volunteers route march to Coddington.

March 29 The Rev. Henry S. SANDERS'S address on "The Life of Christ," at the Mission Hall.

March 30 Opening of the series of Temperance Reform Meetings in the Town Hall, by Mr. A. J. PREECE, Grand Lodge Special Missioner.

April 1 The Census taken (see pages 19 and 21).

April 2 Mr. R. CARNABY FORSTER accepted the Mastership of the Ledbury Hounds.

April 7 Easter Sunday.

April 9 Col. Elliott WOOD (of Ledbury), created K.C.B.

April 11 Vestry Meeting at the Ledbury Church. A large deficit in the Church Expenses account. At the adjourned Meeting, Mr. H. M, WILSON, M.F.H., sent a cheque to wipe off the adverse balance. Messrs. S. H. BICKHAM and C. H. BASTOW re-elected Churchwardens.

April 11 Hockey Club Dinner at Feathers.

April 12 Ledbury Musical Society's Second Subscription Concert of the Season at the Feathers Assembly Room.

April 13 Mr. BICKHAM presented altar rails to St. Anne's Chapel, at the Parish Church, and several parishioners gave other handsome gifts.

April 18 Mr. and Mrs. WILSON'S Farewell Ball at the Upper Hall.

April 19 Point-to-Point Races at Redmarley.

April 20 Return of Captain MYNORS from the War.

April 20 Hunt Keepers' Dinner at Royal Hall.

April 23 Cricket Club Entertainments, at Royal Hall.

May 3 At a Meeting of Subscribers it was resolved to erect a Queen Victoria Memorial Window in Ledbury Church.

May 8 The Duchess of Hamilton and Lady Mary HAMILTON took up their residence at The Upper Hall, with Mr. Carnaby FORSTER, the new Master of the Ledbury Hounds.

May 10 Colwall Volunteers feasted at Colwall on their return from the War.

May 15 Death of Mr. Thomas Tempest MEATES of Colwall, aged 46.

May 19 Ledbury Congregational Sunday School Anniversary.

May 21 New Railway Station at Ashperton completed by Mr. George HILL, Builder and Contractor, Ledbury.

May 26 Death of Mr. James WARD, Mainstone, aged 60 years.

June 5 The School Board decided to purchase dummy rifles for physical training in the Boys' School.

June 7 Farm fire at Callow Hills, Ledbury.

June 11, 12, 13 Herefordshire and Worcestershire Agricultural Show at Evesham.

June 12 Mr. E. J. WALKER, Hunstanton, appointed by the Urban Council, Surveyor and Inspector of Nuisances, vice Mr. J. ELLIS, resigned.

June 17 Bosbury Oddfellows' Anniversary Dinner and Sport.

June 19 Festival of the Hereford Diocesan Guild of Bellringers at Ledbury.

June 23 The Karl JOHANNESSEN String Quartette at Ledbury Church, in aid of the Organ Fund; collection, £12 11s. 7d.

June 26 Illuminated Garden Féte at the Priory, Ledbury, in aid of the Cricket Club Fencing Fund.

July 1 Large parties of visitors began to arrive in Ledbury.

July 10 British Women's Temperance Association Summer School opened at Eastnor Castle.

July 11 Ledbury Cycling Club Entertained at Coddington Rectory.

July 11 Town Hall Band of Hope Treat at Ledbury Park.

July 11 Colwall Oddfellows' Anniversary Dinner and Sports.

July 15 Annual General Meeting of the Shareholders of Ledbury Freehold Building Society; five per cent bonus allowed.

July 18 Mr. and Mrs. Walter CHAMBERLAIN'S Garden Party at Bromesberrow Place.

July 18 G F. S. Festival at British Camp.

July 18 Oddfellows' Half-yearly Meeting at Bosbury.

July 19 Mrs. BALLARD'S Annual Summer Treat to the Union Inmates at Colwall.

July 26 Ledbury Hunt Puppy Show.

July 31 Ledbury Mothers' Club Outing at Eastnor Castle.

July 31 Prize Day at the Russell Endowed School, Ledbury.

August 1 Garden Fete at Underdown in aid of the C.E.T.S. Colwall Flower Show.

August 5 Bank Holiday. Grand Fete at Eastnor Castle in aid of the Waifs and Strays Society. Receipts £300; handed over to the Society, £200.

August 8 Sale of Work at Underdown in aid of Home and Foreign Missions and Parish Nurse Fund.

August 10 Mr T. BADSEY, Horse Lane, defrayed the cost of paving the lane leading from the Worcester Road to the Church, as a thank-offering for a long and prosperous life. A tablet erected on the wall perpetuates the occasion and the donor of the gift.

August 11 Ledbury Volunteers returned from Camp at Towyn, North Wales.

August 12 Bosbury Horse Show and Races.

August 13 The first of a series of long discussions at the Ledbury Board of Guardians re the erection of an isolation hospital. Subsequently decided to shelve the question for six months, and that several infectious cases at the Wyche be isolated at Malvern Fever Hospital.

August 15 Eastnor Castle Second Annual Flower Show.

August 19 Ledbury Hockey Club Annual Meeting at the Feathers Hotel.

August 21 Ledbury Board Schools "broke up" for five weeks holidays: extended to six weeks on account of the prolongation of hop-picking.

August 22 Ledbury Horse Show and Military Tournament in the Pound Meadows. Ledbury.

August 23 Church Sunday Schools Summer Treat at Underdown.

August 23 Prize Day at Eastnor Schools; Distribution of Prizes in the Castle Grounds by the Dean of Hereford.

August 23 Hop-picking commenced.

August 24 Death of Mrs. AYSCOUGH at Cradley Rectory at the age of 62.

August 25 Sir Joseph PULLEY, Baronet, died at Lower Eaton, at the age of 78.

August 29 Dymock Flower Show.

August 29 First Load of Hereford hops sent to London by Mr. W. F. PUDGE, Bishops Frome.

August 31 Street Collection in Ledbury for Dr. BARNARDO's Waifs and Strays' Society; £5 collected.

September 2 Ledbury Hounds commenced cub hunting.

September 2 Partridge Shooting commenced.

September 2 A General District Rate at 1/8 in the £ for the ensuing half-year ordered by the Urban Council.

September 4 Annual Licensing Sessions; decrease of drunkenness; old licenses renewed.

September 4 At the School Board Meeting Mr. STEPHENS reported on the great increase in the grant earned by the schools. At the same meeting Mr W DINGLEY resigned the post of School Attendance Officer which he had held since 1870, on account of his leaving Ledbury.

September 7 At this date it was estimated that there were 10,000 Pickers in the hopyards, most of whom came from the black country.

September 9 Annual Meeting of the Ledbury Victoria Football Club.

September 10 Ledbury Fruit Market re-opened.

September 10 Gloucester Musical Festival commenced.

September 11 Ledbury Revision Court.

September 14 Fire at Mr. R. PREECE'S, Southend.

September 16 Colwall Park Steeplechases.

September 19 Fall of the large elm tree overhanging Ledbury waterfall. The iron railings round grave stones damaged, but the Church untouched.

September 21 Presentation to Miss DINGLEY as a Churchworker on her leaving Ledbury.

September 24 Annual Meeting of the Ledbury Musical Society; decided to discontinue practices for the season.

September 25 Public Meeting at the Barrett Browning Institute under the auspices of the Science and Art and Technical Education Classes; the classes resumed.

September 26 Harvest Home at Eastnor Castle and Thanksgiving Service at the Church; Sermon by the Rev. Henry S SANDERS.

September 29 Harvest Festival at Ledbury Church; Sermons by the Rev Aubrey R. AITKEN; collections £17 11S. 4d - £5 5S. 0d. for the Royal Agricultural Benevolent Institution and the remainder to the Cottage Hospital.

October 1 Mr. J .V. MUTLOW, Plaistow Farm (late of Ledbury) died, aged 85 years.

October 2 Annual Meeting of the Ledbury Reading Room and Library.

October 3 Presentation of Plate and Illuminated Address to Mr. and Mrs. Hubert BRAY, on their recent marriage, by the Wesleyan Circuit.

October 8 Ledbury Michaelmas Fair; falling off in the attendance and in the number of amusements.

October 10 Meeting of the Ledbury and Newent District Free Church Council, at the Congregational Church. President: Rev. C. Y. POTTS.

October 12 Major-General Sir Elliott WOOD, eldest brother of Mr. Miles A. WOOD, of Ledbury, given a distinguished reward for services in South Africa

October 15 Wellington Heath Church Harvest Festival.

October 17 Annual Meeting Ledbury Temperance Union at Town Hall.

October 23 Death of the Rev. John WINTER, Rector of Tarrington, aged 82 years.

October 25 Annual Meetings of the Ledbury Auxiliary Bible Society at the Town Hall. Deputation: Rev. J. ALSTON.

October 27 Harvest Festival at the Ledbury Congregational Church.

October 27 Mr. and Mrs. George WARGENT, of Ledbury, celebrated their Golden Wedding.

October 29 The Rev. C. Y. POTTS lectured on "Reminiscences of English History in the 19th century," in connection with the Ledbury Debating Society, at the Barrett Browning Institute.

October 29 Presentation the Rev. Henry S. SANDERS, at Eastnor, on his leaving the parish, to undertake the charge of the parish of Bromley, E.

October 31 Colwall Park and Ledbury Hunt Steeplechases.

November 2 Saturday Night Popular Entertainments started by the Ledbury Temperance Union at the Town Hall.

November 4 Opening Meet of the Ledbury Hounds, at "The Duke of York," in a dense fog.

November 4 At the monthly Meeting of the Ledbury Urban Council it was reported that the Gas Company had resolved to reduce the price of Gas for the public lamps from 4s. 5d. to 4s. 2d. per 1000 feet.

November 7 Ledbury Ploughing Society's 4th annual competitions at the White House, Eastnor.

November 7 Reggio Salvatore, an Italian, called at Ledbury on his voyage round the world, to gain a wager of 20,000 dollars.

November 21 Mr. J. R. BUTLER, Manager of the Capital and Counties Bank, Ledbury, found shot dead in the lavatory. At the inquest a verdict of "Accidental Death," was returned.

November 22 Presentation of a Purse of 100 Guineas and Plate to Major THACKWELL, late Hon. Sec. to the Ledbury Hunt.

November 23 Lifeboat Saturday collections at Ledbury.

November 25 Mr. F. N. WHEATON appointed Manager of the Capital and Counties Bank in succession to the late Mr. J. E. BUTLER.

November 28 Mr. Tom WOODWARD'S Annual Subscription Concert at the Royal Hall.

November 29 Presentation of "Duckworth" Prizes for regular attendance at the Boys' School.

December 1 Death of Lord BATEMAN, Lord Lieutenant of Herefordshire, aged 75.

December 6 Mr. W. DINGLEY died, aged 81.

December 12 Congregational Anniversary Tea and Public Meeting at Town Hall.

December 19 Girls' Board School Concert, followed by Teachers' Soiree, Royal Hall.
---