1903 A Retrospect Tilley's Almanack
Chronological extracts completed from the "Ledbury Free Press"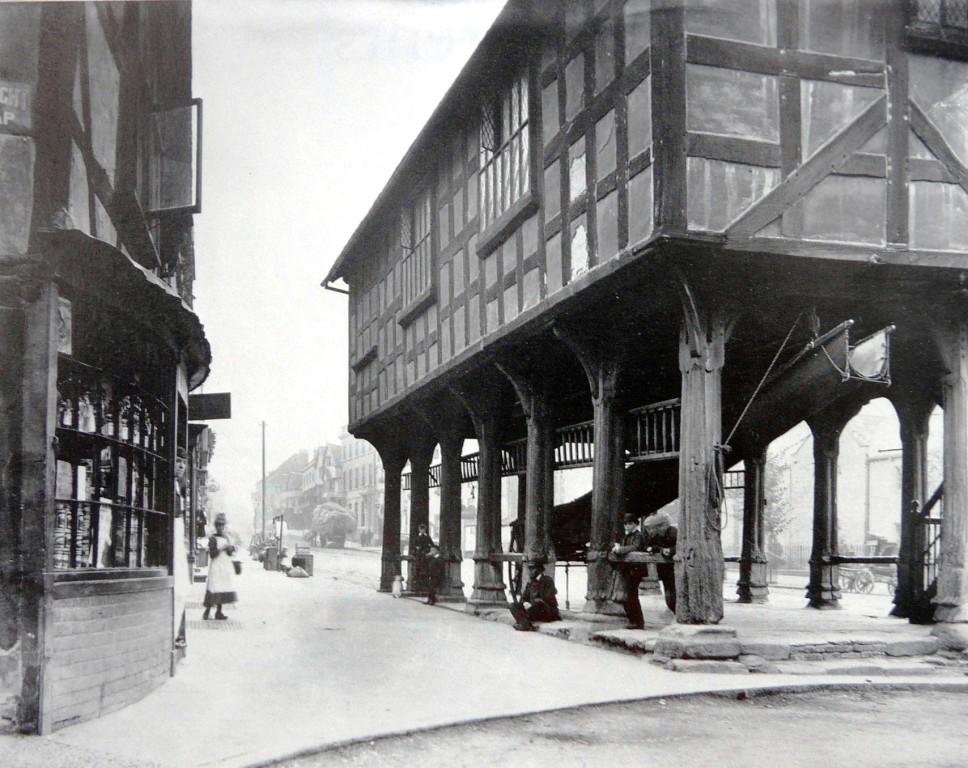 January 1 Ledbury Hockey Club Ball, Feathers Hotel. (New Year's Eve).

January 1 Mr. EDMUNDSON appointed Urban Surveyor.

January 8 Mr. and Mrs. MARTIN's Annual Treat to Union Inmates.

January 9 Ploughing Society Annual Supper anal Smoking Concert, Plough Hotel.

January 12 Ledbury Church Choir Annual Supper, Feathers Hotel.

January 14 Ledbury Hunt Ball, Feathers Hotel.

January 18 Ledbury Post Office temporarily removed to Eastnor House, Worcester Road, during rebuilding.

January 29 Fire Brigade Annual Dinner, Royal Hall.

January 29 Dr. A. R. GREEN installed W.M. of Eastnor Lodge of Freemasons.

February 3 Ledbury Cottage Hospital Annual General Meeting.

February 4 Ledbury Annual Licensing Sessions.

February 6 Bosbury Invitation Ball, Royal Hall.

February 8 Death of "Edna LYALL."

February 21 Rev. F. W. CARNEGY inducted to the Rectory of Colwall.

February 25 Ash Wednesday.

February 26 Destructive Gale.

March 2 General District Rate of 1/6 in the £ ordered by the Urban Council; decrease of 2d.

March 3 Annual Meeting, Horse Show Society, Feathers Hotel.

March 13 DUCKWORTH Prize Distribution at Boys' School.

March 16 Managers of Schools and Elective Committee appointed.

March 20 Licensed Victuallers' Association for Ledbury formed.

March 21 The Mission Hall closed by Lady Henry Somerset.

April 1 Confirmation Service at Ledbury Church; 103 candidates.

April 4 Cricket Club Rummage Sale, Royal Hall.

April 6 Election of Six Urban Councillors: Result of Poll: J. C. DAVIES 345, T. S. S. GARDNER 190, G. LOMAS 185, W. H HATTON 160, J. M. ROGERS 157, C. H. BASTOW 135 (elected); H. SMITH 95, H. BARNHAM 87 (not elected).

April 13 Easter Monday; Heavy snowstorm in the morning.

April 16 Easter Vestry at the Parish Church; satisfactory balance sheets.

April 17 Mr. W. S. LANE re-elected Chairman of the Rural Parish Council.

April 20 Mr. C. W. STEPHENS re-elected Chairman of the Urban District Council.

April 21 Mr. C. A. HEWITT re-elected Chairman of the Board of Guardians and the Rural District Council.

April 22 Ledbury Hunt Point-to-Point Races at Redmarley.

April 25 Earth-Stoppers' Dinner, Royal Hall.

April 29 Last Meeting of the Ledbury School Board. This was the coldest April for 35 years.

May 3 Extensive floods in the district.

May 5 Tramps reported on the increase.

May 6 First Meeting of the New School Managers; the Rev. Prebendary MADDISON GREEN elected Chairman, the Rev. C. Y. POTTS Vice-Chairman.

May 21 Return of Yeomanry from Badminton Camp.

May 25 Fire at Ludstock.

May 25 Bosbury Horse Show Society Dinner and Concert at the Crown Hotel.

May 28 Sheep Shearing Competitions at the Upper Hall Farm.

May 30 More floods.

June 1 Whit Monday.

June 10 Death of Mr. James FREEMAN, aged 65.

June 18 Extraordinary Traffic Action, Ledbury Rural District Council v. Jabez BARKER, Shrewsbury; Verdict for the Council – damages £36 15s. 0d., and costs.

June 21 Hail and snow fell in the district.

June 24 Midsummer Day; bitterly cold weather.

June 25 Peerage conferred upon Mr. Michael BIDDULPH, who assumed the title of Lord BIDDULPH of Ledbury.

June 30 Excellent Reports from H.M. Inspector of Schools; highest average attendances and the highest grants obtained.

June 30 More torrential rains and floods.

July 1 Annual Festival of the Girls' Friendly Society at Malvern.

July 2 Bazaar in aid of the Baptist Chapel Renovation Fund, Town Hall.

July 6 Presentation of Addresses to Lord BIDDULPH of Ledbury.

July 6 Church Choir Annual Excursion; visit to Blackpool.

July 9 Herefordshire Bow Society's Meeting at Ledbury Park.

July 13 Mothers' Union Festival at Ledbury.

July 16 6th Annual Ledbury Horse Show, Pound Meadows.

July 20 Annual Meeting of the Ledbury Building Society; five per cent dividend declared.

July 21 Inquiry at Barrett Browning Institute re Secondary Education.

July 22 Mrs. BALLARD's Annual Treat to Union Inmates at Colwall.

July 26 Ledbury Volunteers went to Camp at the Isle of Man.

July 28 Ledbury Hunt Puppy Show.

July 29 Speech Day at Russell Endowed School.

July 29 Liberal Meeting at Town Hall.

July 30 Colwall Flower Show. This was the wettest July for 35 years.

August 3 Bank Holiday; fine day.

August 10 Bosbury Horse Show and Races; fine day.

August 14 Fire at Upper Hall Farm; damage slight.

August 19 Electric Light installed at Eastnor Castle.

August 24 Annual General Meeting of Ledbury Victoria Football Club.

August 25 The Rector of Ledbury elected Chairman of the Rural District School Attendance Committee.

August 27 Dymock Flower Show and Sports; wet weather.

August 31 Ledbury Hockey Club Annual Meeting and Smoking Concert at the Feathers Hotel.

During the three months 700 visitors subscribed their names to the Visitors' Book at the Parish Church.

September 1 S.P.G. "At Home" at St. Katharine's.

September 2 Severe thunderstorm.

September 2 Mr. T. H. HOWARD, Plough Hotel, died, aged 53.

September 6 2000 Hop-pickers arrived by special trains.

September 7 New Post Office in New Street opened.

September 8 1119 Tramps relieved at the Union during the fortnight.

September 10 Terrific Gale; hopyards devastated.

September 16 Col. Alan GARDNER, Clearwell Castle, Coleford, adopted Liberal Candidate for South Herefordshire.

September 18 Education Rate Passive Resistance Sale (8 sheep) at Bosbury (Others followed).

September 19 Cub Hunting commenced.

September 20 Dedication of a Memorial to the late Mrs. HORTON in Dymock Church.

September 21 Ledbury Revision Court.

September 23 Hop-picker shot dead at Tarrington; William Grainger, rabbit-catcher, of Stretton Grandison, charged with wilful murder.

September 24 Protest Meeting against the Education Act, Town Hall.

September 27 Wesleyan Harvest Festival.

October 1 Eastnor Harvest Festival.

October 1 Mr. G. STEVENS, Abercarne, appointed Surveyor by the Ledbury Urban Council.

October 4 Harvest Festival at Ledbury Church; collections for R.A.B.I. and the Cottage Hospital - £19 16s. 6d.

October 6 Annual Meeting of the Science and Art and Technical Instruction Classes.

October 6 Death of Mr. W. H. SMART, "The Ring of Bells," aged 47.

October 11 Congregational Harvest Festival.

October 13 Ledbury Pleasure Fair; a fine day.

October 18 (Sunday) At this date many acres of corn in the district, and some hay, were still in the fields on account of the continuous wet weather. No rain having fallen for two days the corn was carried at Eastnor.

October 22 Another Meeting at the Town Hall to Protest against the Education Act.

October 22 Col. Alan GARDNER, Liberal Candidate for South Herefordshire, attended a private meeting of local Liberals.

October 29 Ledbury Ploughing Society 6th Annual Competitions at The Orlham.

October 29 Re-opening of the Baptist Chapel after renovations and alterations.

October 29 Mr. W. UNDERWOOD, Homend Street, appointed Town Crier in the place of Mr. G. REECE, deceased.

November 7 Will of Mr. James FREEMAN, Baker, of Ledbury, proved; £1892 15s. 6d. gross, £438 1s. 3d net.

November 12 22nd Annual Meeting of Ledbury Temperance Union at Town Hall.

November 14 At this date hundreds of acres of land in Herefordshire, Worcestershire, and Gloucestershire, were still covered with corn waiting to be hauled, but on account of the continued wet weather most of it was only fit for the foldyard. Miles of land were covered with water.

November 24 General Meeting of Ledbury Horse Show Society, Feathers Hotel.

November 26 Performance of Hodson's "Golden Legend" at the Royal Hall.

November 27 William GRAINGER, of Stretton Grandison, sentenced to 7 years penal servitude for the manslaughter of a hop-picker at Tarrington; sentence afterwards reduced to 5 years.

December 1 Branch of the Tariff Reform League formed at Ledbury.

December 1 At this date the three Members of Parliament for Herefordshire declared themselves in favour of Mr. CHAMBERLAIN's Fiscal Policy.

December 1 The Living of Donnington accepted by the Rev. Charles WALFORD, Rector of Westhampnett.

December 9, 10, 11 Minstrel Entertainments; £33 4s. given to Cottage Hospital.

December 15 Ledbury Christmas Fat Stock Show and Market; low prices.

December 17 Annual Bible Society Meetings, Town Hall.

December 21 Distribution of the bread and beef charities.

December 21 Mr. Reginald MASEFIELD appointed Clerk to the Urban Council in the place of Mr. J. GARROOD resigned.

December 21 Mr. H. J. PRITCHARD elected Secretary of the Ledbury Building Society in the place of Mr. H. MORGAN resigned.

December 25 Christmas Day; very mild weather.

December 29 (and during the week) Hunting stopped through severe frost.
---