1904 A Retrospect Tilley's Almanack
Chronological extracts completed from the "Ledbury Free Press"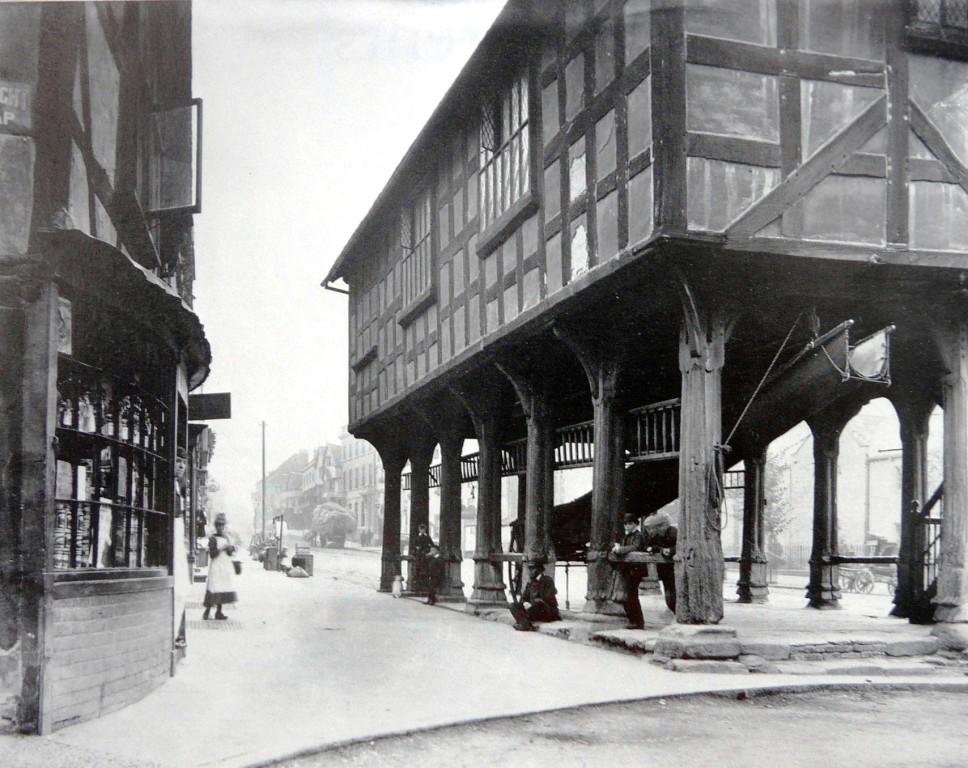 The weather during the year was on the whole favourable. A late spring was succeeded by a lovely summer with average sunshine, in striking contrast with the summer months of 1903. A dry autumn ensued, and not till the end of November did winter set in and then only for a week. The crops were good all round, with the exception of hops, which in some places were a complete failure - in few places were there average crops. The hay harvest was good, as was also the wheat, barley, and oats, and there were heavy crops of early summer fruit and apples and pears.

January 1 On New Year's Eve Special Services were held in the Parish Church and at the Wesleyan Chapel; and during the First Week of the Year there were United Prayer Meetings at the various Chapels.

January 7 Mr. and Mrs. MARTIN's Treat to the Union Inmates.

January 9 At this date the New Parsonage at Pixley was completed.

January 13 Distribution of "DUCKWORTH" Medals at the Boys' School.

January 16 Series of Saturday Night Entertainments started at Town Hall.

January 19 Ledbury Hunt Ball, Feathers Hotel.

January 20 Bosbury Invitation Dance, Royal Hall.

January 21 Volunteer Annual Dinner and Prize Distribution, Feathers Hotel.

January 27 Ledbury Choir Men's Annual Supper, Feathers Hotel.

January 28 Ledbury Fire Brigade Dinner, Royal Hall.

February 1 Annual Meeting of the Ledbury Markets and Fairs Company; 5 per bonus declared.

February 2 Annual Meeting of Subscribers and Donors to the Ledbury Cottage Hospital.

February 3 Ledbury Brewster Sessions.

February 4 Presentation to Rev. C. Y. POTTS on attaining his 80th year.

February 5 Death of Mr. Basil MASEFIELD, The Knapp, aged 55; Legacy of £100 to the Ledbury Cottage Hospital.

February 13 During this week incessant rains caused extensive floods in the district.

February 16 Shrove Tuesday.

February 16 Annual Meeting of the Ledbury Horse Show Society, Feathers Hotel.

February 16 Death of Mr. James OWEN, Laurel Mount, aged 78.

February 17 Ash Wednesday.

February 19 Annual Meeting of the Ledbury Cricket Club, Royal Oak Hotel.

February 22 Mr. C. B. MASEFIELD elected Hon. Sec. to the Ledbury Cottage Hospital.

March 1 Annual Meeting Ledbury Ploughing Society, Royal Hall.

March 3 Lecture on "Causes and Prevention of Consumption" by Dr. MARTIN, M.O.H. for Gloucestershire, Town Hall.

March 7 General District Rate of 1/4 in the £ for the ensuing six months ordered by the Urban Council.

March 17 Centenary Meeting of the Bible Society, Town Hall.

March 18 Ledbury Licensed Victuallers' Association Annual Dinner, The New Inn.

March 27 Palm Sunday.

March 28 Election of Five Urban Councillors - C. W. STEPHENS 301 votes, J. PREECE 264, J. BOYD 219, C. H. BASTOW 180, and C. G. CURNOCK 179 (elected); H. HARRINGTON 175, D. DAVIES 151 (defeated).

March 30 Confirmation at Ledbury Church; 107 Candidates.

March 31 Severe winterly Weather.

April 1 Good Friday.

April 3 Easter Sunday.

April 4 Easter Monday - Bank Holiday.

April 7 Vestry Meeting at the Parish Church; deficit of £40 reported.

April 7 Opening of New Cattle Trough at Ledbury Station.

April 7 Annual Meeting of the Free Church Federation at Ledbury.

April 8 Temperance Union Hospital Benefit Concert at the Feathers Assembly Room.

April 14 Fatal Shooting Accident at Tarrington; John POWELL charged with manslaughter, afterwards acquitted at Hereford Assizes.

April 19 Annual Meeting Ledbury Board of Guardians; Mr. HEWITT re-elected Chairman after 26 years' service.

April 19 Mr. C. W. STEPHENS re-elected Chairman of the Urban Council.

April 19 Death of Mrs. Onslow DEANE, Boyce Court, Dymock.

April 20 Ledbury Hunt Point-to-Point Races at Redmarley.

April 28 Hunt Keepers' Dinner, Royal Hall.

April 30 Ledbury Cricket Club Season Opened.

May 1 At this date the Name-plates for the Streets presented to the town by Mr. C. W. STEPHENS were erected.

May 14 The Fruit Prospects were reported to be most satisfactory.

May 18 Two Days' Sale of Work, Town Hall, in aid of the Wesleyan Chapel Renovation Fund.

May 23 Whit Monday - Bank Holiday.

May 25 At a Special Meeting of the Urban Council, to consider the Secondary Education Scheme, it was resolved that the Council contribute two-thirds of one-half of the outlay on the purchase and additions to Mr. WADE's School not exceeding £2000.

May 30 Sheep Shearing Competitions at The Flights Farm.

June 2 Distribution of Medals for regular attendance at the Boys' School.

June 11 Fire at Mitchell Farm, Ledbury; damage £200.

June 14 Ledbury Board of Guardians protested against the Valuation Bill.

June 14 A Cider Manufacturing Company started at Ledbury.

June 14 Herefordshire and Worcestershire Agricultural Show at Ross opened.

June 16 Ledbury Hunt Puppy Show.

June 20 The Rev. F. A. REISS, M.A., presented to the Living of Donnington.

June 29 Opening of the Catholic Church in the Southend, Ledbury.

July 4 Ledbury Church Choir Men's Outing to Scarborough.

July 7 Garden Fête at Bosbury Vicarage in aid of the Church Funds.

July 15 Choir Boys' Outing to Weston-Super-Mare.

July 17 Citizen Sunday at Colwall.

July 18 Ledbury Building Society Annual Meeting; the purchase of the football field and land adjoining for building purposes decided upon.

July 21 Half-yearly Meeting of the Hereford District of Oddfellows, Plough Hotel.

July 21 Colwall Fête and Sports.

July 24 Ledbury Volunteers' Fortnight Encampment at Salisbury Plain commenced.

July 25 Mrs BALLARD's (Colwall) Treat to the Union Inmates.

July 28 Colwall Flower Show.

July 30 Last of the Series of Stained Glass Windows placed in the South Aisle of Ledbury Church.

August 1 Bank Holiday.

August 3 Speech-Day at the Russell Endowed School.

August 8 Bosbury Horse Show and Races.

August 11 Ledbury Horse Show and Floral Fete.

August 18 Garden Fete at the Priory in aid of Home and Foreign Missions and the Parish Nurse Fund.

August 25 Garden Fete at Wellington Heath Vicarage in aid of the Church Funds.

August 29 Ledbury Hounds commenced Cub Hunting; a brace killed.

August 29 A week's Motor Car Trials in Herefordshire commenced.

September 1 Much Marcle and Yatton Flower Show.

September 2 Col. Alan GARDNER, Liberal Candidate, at Bosbury.

September 6 1247 tramps were relieved at Ledbury Union during the fortnight.

September 6 Gloucester Musical Festival commenced.

September 10 Mr. J. B. GADD (Soham, Cambs), appointed Postmaster at Ledbury.

September 13 Annual Meeting of the Ledbury Ploughing Society, Royal Oak Hotel.

September 15 Marriage of Miss MADDISON GREEN and Mr. Harry S. H. BICKHAM.

September 15 Eastnor Harvest Home Festivities.

September 18 Congregational Chapel Harvest Thanksgiving.

September 19 Annual Meeting Ledbury Hockey Club; the club disbanded.

September 20 Annual Meeting Ledbury Victoria Football Club.

September 21 Ledbury Revision Court.

September 22 Annual Meeting Ledbury Musical Society, Feathers Hotel; operations suspended for the season.

September 25 Harvest Festival at Ledbury Church; collections for the Royal Agricultural Benevolent Institution and the Cottage Hospital.

September 25 Wesleyan Harvest Thanksgiving.

October 3 General District Rate of 1s. 4d. in the £ for the ensuing six months.

October 9 Baptist Harvest Thanksgiving.

October 11 Ledbury October Fair; fine weather.

October 13 Ledbury Ploughing Society Annual Competitions at the White House Farm, Eastnor, & Annual Dinner at the Feathers Hotel, Ledbury.

October 17 Formation of a Branch of the Church Lads' Brigade at Ledbury.

October 21 Mr. MERRETT, Dymock Stationmaster, accidentally run over and killed.

October 21 Annual Meeting of Science and Art and Shorthand Classes at the Barrett Browning Institute; Prizes presented by Lady BIDDULPH.

October 25 Ledbury Hunt General Meeting at the Feathers Hotel.

October 31 Rev. C. B. CALDICOTT, Curate of Ledbury, left for Middleton-on-the-Hill as Curate-in-Charge.

November 1 Rev. F. C. RICHINGS appointed Curate of Ledbury.

November 3 Annual "Pound" Day at St. Mary's Home, Eastnor.

November 8 Ledbury Horse Show Committee reported a deficit of £7 8S. 11d.

November 10 Annual Meetings of Ledbury Temperance Union at Town Hall.

November 11 Miss Alice LEE-SMITH appointed Matron at Ledbury Cottage Hospital, in the place of Miss BAMBER, resigned.

November 15 Mr. C. A. HEWITT presented by Board of Guardians and Rural District Council with his portrait, which now hangs in the Board-room.

November 17 Ledbury Congregational Schoolroom Opened.

November 21 During the week there were snowstorms and severe frosts.

November 28 Mr. R. G. GURNEY appointed Surveyor, &c., to the Urban Council.

December 1 Sale of Work in aid of Congregational Schoolroom at Town Hall.

December 2 At Public Meeting the Ledbury Horticultural Society resuscitated and 1905 Flower Show fixed for Thursday, Aug. 10, in Ledbury Park.

December 5 Death of Herr Karl JOHANNESSEN aged 35; military funeral on the 8th.

December 8 Annual Meetings of the Bible Society at Town Hall.

December 13 Ledbury Christmas Fat Stock Show and Market.

December 14, 15 Amateur Theatricals ("A Brace of Partridges") at the Royal Hall, in aid of the Ledbury Cricket Club.

December 19 The present issue of Tilley's Illustrated Ledbury Almanack published.

December At the end of the year the Ledbury Building Society acquired Land in New Town which will enable them early in the New Year to open up a New Estate. This will provide for a large number of Cottages, besides making a New Road from New Street to Happy Land.

December At this period steps were taken for the Installation of the Telephone at Ledbury.
---