1905 A Retrospect Tilley's Almanack
Chronological extracts completed from the "Ledbury Free Press"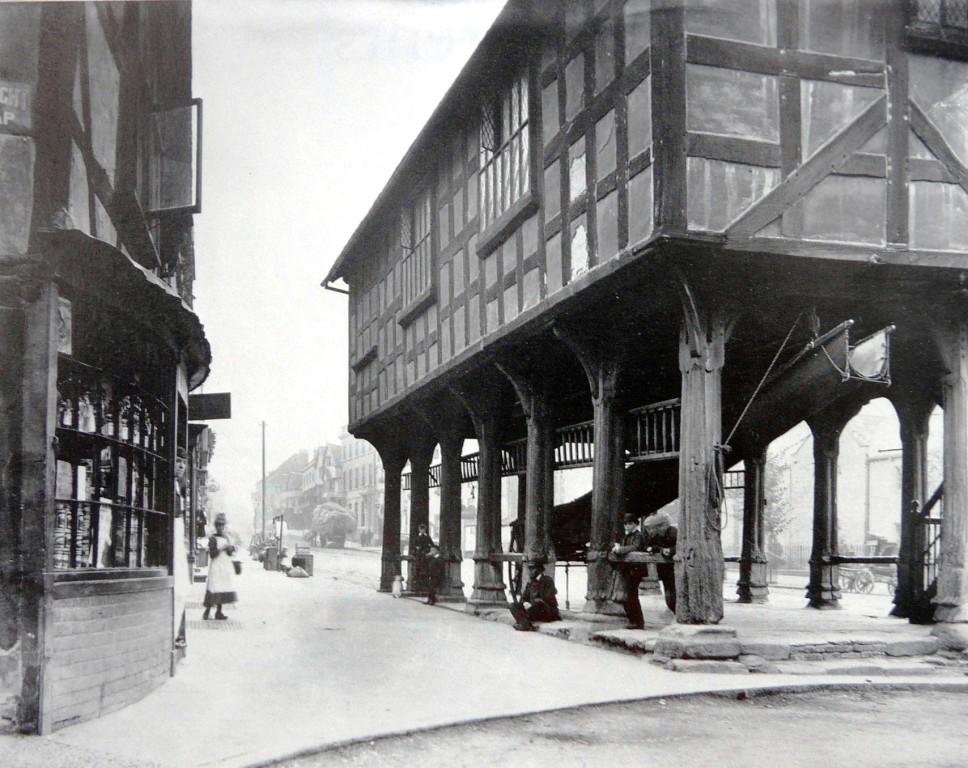 On the whole the year 1905 was satisfactory for Ledbury. The trade of the town was up to the average and the distress experienced in large towns was not felt much here. Building operations were more active than usual. The crops, on the whole, were fair, but hops showed an enormous yield which caused low prices and large quantities were consequently not gathered. The year witnessed many improvements in the Postal service doe Ledbury and district, both as regards extra pillar boxes and delivering of letters. The Numbering of the houses in Ledbury was also recommended by the post office authorities but this, like the Sunday Evening Collection of letters from the pillar boxes in the outskirts of town, was not thought essential by the Urban Council. No progress can be reported on the introduction of the Telephone and Electric Light to the town, although the year witnessed much discussion on the subjects. In December the Rural District Council introduced the subject of a Motor Service between Ledbury and Ross with a view to asking the Great Western Railway to consider the same. It is hoped that during the coming year much real progress will be witnessed in each of the above matters. The General Health of the town for the year was most satisfactory. The Rates, including the Poor and General District were 5/- in the £. The price of the Town Water was 2/6 per 1,000 gallons, and Gas 4/4 per 1,000 feet.

January 1 On New Years' Eve special services were held at the various places of worship and, at the Ledbury Free Churches special prayer meetings were held.

January 12 Ledbury Hunt Ball, Feathers Hotel.

January 16 Severe winterly weather. Skating in the district.

January 18 Bosbury Invitation Dance, Royal Hall.

January 19 Mr Tom WOODWARD's Subscription Concert, Royal Hall

January 26 During the week a Soup Kitchen was held at Ledbury to relieve the distress amongst the poor on account of the severe weather.

January 30 Annual Meeting, Ledbury Cricket Club, Royal Oak Hotel.

February 1 Ledbury Brewster Sessions. Bench expressed the opinion that "The Swan Inn" licence, Ledbury, was not required.

February 2 Ledbury Fire Brigade Annual Dance, Royal Hall.

February 3 Annual Meeting of the Subscriptors and Donors to the Ledbury Cottage Hospital, Barrett Browning Institute.

February 9 Yeomanry Ball, Feathers Hotel.

February 10 Annual Supper to Ledbury Choirmen and Sidesmen, Feathers Hotel.

February 10 Fire at Walwyn Court, Much Marcle, estimated damage £130.

February 27 Death of Major PALAIRET, of West Hill, Ledbury, aged 58.

February 27 Mr Tom HORROCKS week's Temperance Mission at Ledbury.

February During this month both Political Parties were active by holding meetings in and around Ledbury, and, the resignation of Col. Alan GARDNER was denied.

March 1 After a spell of fine weather a heavy thunderstorm broke over Ledbury and district.

March 2 Sale of Work at Homend Lodge in aid of "The Young Helpers League". £15 cleared.

March 3 At the Monthly Meeting of the Cottage Hospital Management Committee, the Hon. Sec. reported that a grateful patient had sent a donation of £100 as a thank-offering for benefits received there.

March 6 The Urban Council made a General District Rate of 1s 4d in the £.

March 10 Entertainment at Boys School by Church Lads Brigade.

March 17 Urban Council accepted the tender of Messrs. PANTER, Pershore, £183 18s for sinking an additional well at the Massington pumping station.

March 20 Ballot for Allotments on New Estate opened up at Happy Land by the Ledbury Building Society.

March 31 Ledbury Licensed Victualler's Annual Dance, New Inn.

April 3 Urban Council Election : seven candidates for 5 seats – result of the poll: T. MOLESWORTH 348, G.C. ANTHONY 323, E.H. HOPKINS 229, W.R. WALKER 219, J. DAWES 210 (elected) :H. BRAY 175 and W.F. EVANS 72, old members (defeated).

April 4 The Urban Council resolved that a canvass be made to ascertain feeling of the town on the proposed Electric Light.

April 5 Ledbury Hunt Point-to Point Races at Redmarley.

April 12 Confirmation at Ledbury Church : 124 Candidates.

April 18 Mr C.W. STEPHENS re-elected Chairman of the Urban Council, and Mr W.R. WALKER Vice-Chairman.

April 20 Hunt Keepers' Dinner at Royal Hall.

April 21 Good Friday – Annual Circuit Gatherings, Wesleyan Chapel.

April 24 Easter Monday – Bank Holiday.

April 25 Mr J.R. SMITH, Homend Lodge, died aged 86.

April 25 Mr HEWITT re-elected Chairman of the Board of Guardians and Rural District Council for the 27th year.

April 27 Easter Vestry Meeting at Parish Church; deficit on Church Expenses Account £39 11s 2d.

April 28 Unionist Gathering at Feathers Hotel; vote of confidence passed in Capt. CLIVE M.P.

May 1 During this week nearly 2000 pheasant coops were conveyed to the preserves on the Eastnor Castle Estate, and during the season 5000 pheasants eggs were stocked for hatching purposes.

May 10 Royal Gloucestershire Yeomanry went into Camp at Wells.

May 13 Ledbury Cricket Club opened season by defeating Hereford Cathedral School by 197 runs and six wickets.

May 18 Burglary at Eastnor Post Office.

May 23 Lecture to promote the Hop Industry, Feathers Hotel.

May 26 Worcestershire Yeomanry commenced encampment in Eastnor Park.

June 1 Wesleyan Sale of Work.

June 5 "The Swan Inn" license, Ledbury, renewed by the Licensing Authority at Hereford.

June 8 Worcestershire Yeomanry Sports in Eastnor Park.

June 10 Ledbury Volunteers' route march at Rhayader.

June 12 Whit Monday - Fire at Temple Court, Bosbury, estimated damage £150.

June 13 Herefordshire and Worcestershire Agric. Show at Malvern.

June 19 Haymaking was fairly general this week.

June 22 Hereford Choral Union Festival at Ledbury Church.

July 3 At the Urban Council Meeting, a letter was read from Messrs FOOTE & MILNE, London, announcing intention to apply for a provisional order to supply ELECTRIC LIGHT.

July 4 Mrs BALLARD's Annual Treat to the Union Children at Colwall. (to the adults on the 12th).

July 7 Ladies' Liberal Social League Concert, Royal Hall.

July 15 At this date it was reported that Mr R.C. FORSTER, M.F.H., had been ordered abroad on account of ill-health.

July 20 Mothers Union Festival at Ledbury.

July 22 New road at Oatleys, leading from New Street to Happy Land (christened "Woodleigh") opened through the efforts of the Ledbury Building Society, for vehicular traffic.

July 27 Congregational Sunday School Treat at Dunbridge Farm.

July 28 Ledbury Church Sunday School Treat at Underdown.

July 29 New gasometer at Ledbury Gas Works opened.

July 30 Ledbury Volunteers went to Camp at Salisbury Plain.

August 2 Annual Speech Day at Russell Endowed School.

August 3 Baptist Sunday School Treat at New Mills.

August 7 Bank Holiday – Flower Show at Ledbury Park. Entries 750, Receipts about £50.

August 14 Bosbury Horse Show and Races.

August 17 Garden Fete at St Katherines in aid of Parish Nurse Fund.

August 19 Ledbury Hounds commenced Cub Hunting. A brace killed.

August 21 Southend (Girls') School re-opened and carried on by Lord BIDDULPH who, without assistance from the County Council, makes up in the deficiency in income at his own cost.

August 24 Dymock Flower Show and Sports.

August 29 At Board of Guardians Meeting it was reported that 1268 were relieved in the fortnight.

August 31 Ledbury Hunt Puppy Show Luncheon at Feathers Hotel.

August 31 Much Marcle and Yatton Flower Show.

September 7 Recognition of the Rev,. W.A. TEMPLAR, Wesleyan Minister.

September 17 Rev. R. BARGES BAYLY resigned the living of Bosbury.

September 24 Wesleyan Chapel Harvest Thanksgiving.

October 1 Harvest Festival at Ledbury Church. Collections £20 8s 6d, £5 5s to R.A.B.I., remainder to the Cottage Hospital.

October 5 Triennial Music Festival in Ledbury Church, performances of "The Elijah". £18 collected for Local Charities.

October 10 Mr C.W. BELL appointed acting Master of the Ledbury Hunt.

October 11 Presentation of Fifty Guineas by Parishioners of Eastnor to Rev. H. SOMERS COCKS on his leaving the parish.

October 12 Bible Society Meetings at Town Hall, collection £8.

October 19 Ledbury Ploughing Match at Little Marcle Court.

October 25 Mr Edward HARRINGTON appointed County Court Judge.

November 1 Ledbury Hounds finished Cub Hunting, 19 ½ brace killed.

November 6 Opening meet of the Ledbury Hounds, Canning Arms.

November 6 Urban Council signed agreement with Messrs FOOTE & MILNE for the proposed ELECTRIC LIGHT.

November 16 Ledbury Temperance Union Annual Meeting at Town Hall.

December 5 The Ledbury Rural District Council passed resolution for a Motor Service between Ledbury and Ross.

December 6, 7 and 8 "Down South" Minstrels Entertainment in aid of Local Charities, £27 16s 9d handed over.

December 18 The present issue of Tilley's Illustrated Ledbury Almanack published.
---