1907 A Retrospect Tilley's Almanack
Chronological extracts completed from the "Ledbury Free Press"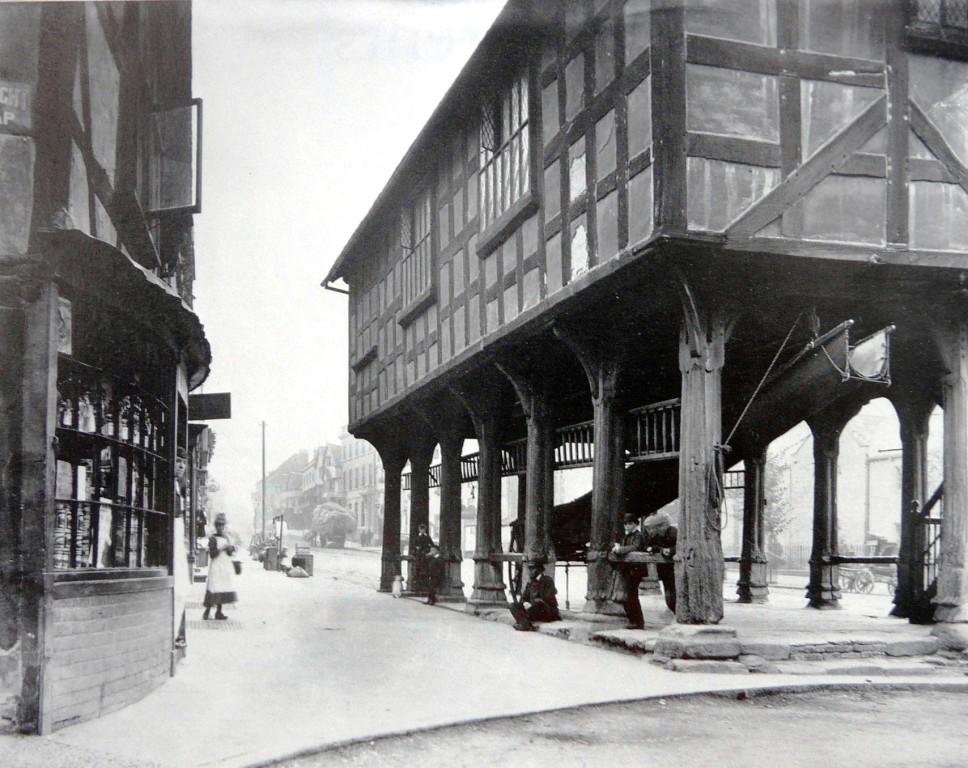 January 3 Bosbury Invitation Dance, Feathers Assembly Room.

January 10 the Ledbury Social Club at Bank Crescent formed.

January 11 Ledbury Hunt Ball, Feathers Assembly Room.

January 11 Mr. and Mrs. MARTIN'S Treat to Union Inmates.

January 16 Eastnor Lodge of Freemasons' Annual Installation Festival.

January 25 Ledbury Church Choirmen's and Sidesmen's Annual Supper, Feathers Hotel.

January 29 Telephone Communication established in Ledbury.

The Rainfall for January was 1.36 inches. Average for January, 2.11 inches.

February 1 Annual Meeting of Subscribers and Donors of Ledbury Cottage Hospital.

February 4 Twentieth Annual Ordinary General Meeting of the Ledbury Markets and Fairs Co.; dividend of 5 per cent declared.

February 8 Annual Meeting of the Ledbury Cricket Club, Royal Oak Hotel.

February 13 Ledbury Annual Licensing Sessions.

February 14 Ledbury Fire Brigade Dinner Royal Oak.

February 19 Local Government Board Inquiry to consider application to borrow £1450 for New Burial Ground; no opposition. Subsequently the loan was granted, and Mr. George HILL'S Tender for the work of preparing the grounds, drainage, erection of walls, provision of pallisading, &c., at £800 was accepted.

February 22 Mr. C. W. STEPHENS re-elected unopposed County Councillor for Ledbury Urban.

The Rainfall for February was 1.16 inches. Average for February, 1.84 inches.

March 4 General District Rate of 1/4 in the £ (the same Rate as formerly) ordered by the Urban Council.

March 7 Election of Rural District Councillors and Guardians in the Ledbury Union, unopposed returns, except in Pixley Parish, where the poll resulted:- Rev. A. H. KNAPP 25; Mr. J. C. DAVIES (old member) 10.

March 12 Unionist Meeting at Feathers Assembly Room; Branch of the Women's Unionist and Tariff Reform Association formed.

March 20 Confirmation at Ledbury Church; 77 Candidates.

March 25 Ledbury Urban Council Election; 12 Candidates for seven seats. Result of Poll- A. CARLESS 294, *C. W. STEPHENS 286, *J. BOYD 211, E. C. HAMPTON 208, W. P. BARRY 179, *C. H. BASTOW 152, *J. PREECE147, (elected); S. C. HUNT 104, *C. G. CURNOCK 102, W. PEDLINGHAM 97, J. GRIFFIN 62, A. WARREN 50. An asterisk "' denotes Old Member.

March 28 Performance of "The Crucifixion" at Ledbury Church.

March 28 Death of Mr. HARRINGTON, aged 74.

March 30 Mr. C. W. STEPHENS appointed a Justice of the Peace.

The Rainfall for March was 0.39 inches. Average for March, 1.60 inches.

April 1 Easter Monday, Death of Mr. T. CLARE, aged 66.

April 3 & 4 Entertainments by Ledbury Snowflake Minstrels at Royal Hall; £21 given to the Ledbury Cottage Hospital.

April 4 Ledbury Easter Vestry Meeting; satisfactory balance sheets.

April 9 Ledbury Hunt Races at Redmarley.

April 9 Marriage of Mr. Arthur MADDISON GREEN and Miss LUCAS.

April 14 Death of Mrs. Ussher ROBERTS, Gloucester House, aged 78.

April 16 Mr. J. BOYD re-elected Chairman of the Urban Council.

April 19 Mr. W. S. LANE re-elected Chairman of the Rural Parish Council.

April 23 Mr. C. A. HEWITT re-elected Chairman of the Board of Guardians and Rural District Council. Mr. W. L. PRITCHETT re—elected Vice-Chairman.

April 29 Hunt Keepers' Dinner, Royal Hall.

The Rainfall for April was 2.53 inches. Average for April, 1.85 inches.

May 3 Motor Climbing Contests at Fromes Hill.

May 12 Death of Mrs. HOWARD, Plough Hotel, aged 61.

May 15 Royal Gloucestershire Hussars went to Camp at Chepstow.

May 19 Whit Sunday. Formation of a Branch of the Amalgamated Society of Railway Servants.

May 24 Empire Day Celebration.

The Rainfall for May was 2.71. Average for May 2.05 inches.

June 4 Annual Meeting of the Ledbury Ploughing Society, Mr. J. H. WALKER elected Chairman.

June 7 Death of Mr. Philip BAYLIS, at Whitemead Park, aged 59.

June 18 Herefordshire and Worcestershire Agricultural Show, opened at Hereford.

June 24 At the Herefordshire Quarter Sessions, the Question of the License of The Swan Inn, Ledbury, which had been reported by the Ledbury Bench, was considered, and it was stated that there was not enough money in hand to pay the necessary compensation. The house was eventually closed.

June 25 Jennings' Theatre after a stay of two months, left Ledbury.

The Rainfall for June was 1.74 inches. Average for June, 2.25 inches.

July 11 Mothers' Union Festival at Ledbury.

July 15 Annual Meeting of the Ledbury Building Society, 5 per cent dividend declared.

July 16 Death of Mr. W. MAYNARD, The Holt, aged 74.

July 18 Ledbury Church Choirmen's Trip to Bournemouth.

July 20 Visit of the Members of the Photographic Convention to Ledbury.

July 21 Ledbury Visited by a cyclone.

July 28 Hospital Sunday at Ledbury. Collections in the Streets £17 16s. 2d., at Church £6. £12 10s. 2d. given to the Cottage Hospital, and £7 15s. 1d. to the Dispensary.

July 31 Speech Day at the Russell Endowed School.

The Rainfall for July was 1.96 inches. Average for July, 2.43 inches.

August 1 Colwall Flower Show.

August 3 Ledbury Church Lads' Brigade went to Camp at Aberystwyth.

August 4 Ledbury Volunteers went to Camp at Scarborough.

August 5 Bank Holiday.

August 12 Bosbury Horse Show and Horticultural Exhibition.

August 15 Ladies' Work Association Annual Garden Fete at S. Katharine's. Proceeds £34.

August 21 The Quarterly Meeting of the St. Catherine Lodge of Oddfellows decided to remove the Registered Office from the Plough Hotel to the Royal Oak Hotel.

August 22 Much Marcle and Yatton Flower Show and Sports.

August 26 Ledbury Church Choir Boys' Trip to Ilfracombe.

August 29 Dymock Flower Show and Sports. Record success.

The Rainfall for August was 2.24 in. Average for August, 2.26 in.

September 2 The Urban Council ordered a General District Rate of 1/4 in the £.

September 7 Ledbury Rifle Volunteers Annual Prize Firing.

September 8 The Dean of Hereford preached at Ledbury Church Morning and Evening. Collections, in aid of the Restoration of the West Front of Hereford Cathedral, £13 85. 0d.

September 9 Three Choirs Festival opened at Gloucester.

During this Week Hoppicking was in full swing.

September 14 The Ledbury Hounds commenced Cub Hunting.

September 14 At this date it was announced that the Rev. C. Y. POTTS was retiring from the Pastorate of Ledbury Congregational Church after 41 years' service.

September 16 Commercial Motor Car Trials through Ledbury.

September 18 Ledbury Revision Court.

September 25 Harvest Home at Eastnor.

September 27 Shock of Earthquake in the Ledbury District.

September 28 Annual Meeting of the Ledbury Working Men's Club.

September 29 Harvest Festivals at Ledbury Church and the Wesleyan Chapel.

The Rainfall for September was 0.70 in. Average for September 2.24 in.

October 3 National Military Training Meeting, Feathers Hotel.

October 11 Ledbury Quoit Club Annual Dinner, Biddulph Arms Hotel.

October 17 Ledbury Ploughing Society Annual Competitions at Tonies Farm.

October 17 Dinner at Feathers Hotel.

October 17 Tri-centenary Meeting at Ledbury Congregational Church.

October 17 Ruri-decanal Conference at Barrett Browning, Institute.

October 22 Resignation of Mr. and Mrs. MORGAN, Master and Matron of Ledbury Union. .

The Rainfall for October was 7.08 in. Average for October, 2.93 in.
---