1909 A Retrospect Tilley's Almanack
Chronological extracts completed from the "Ledbury Free Press"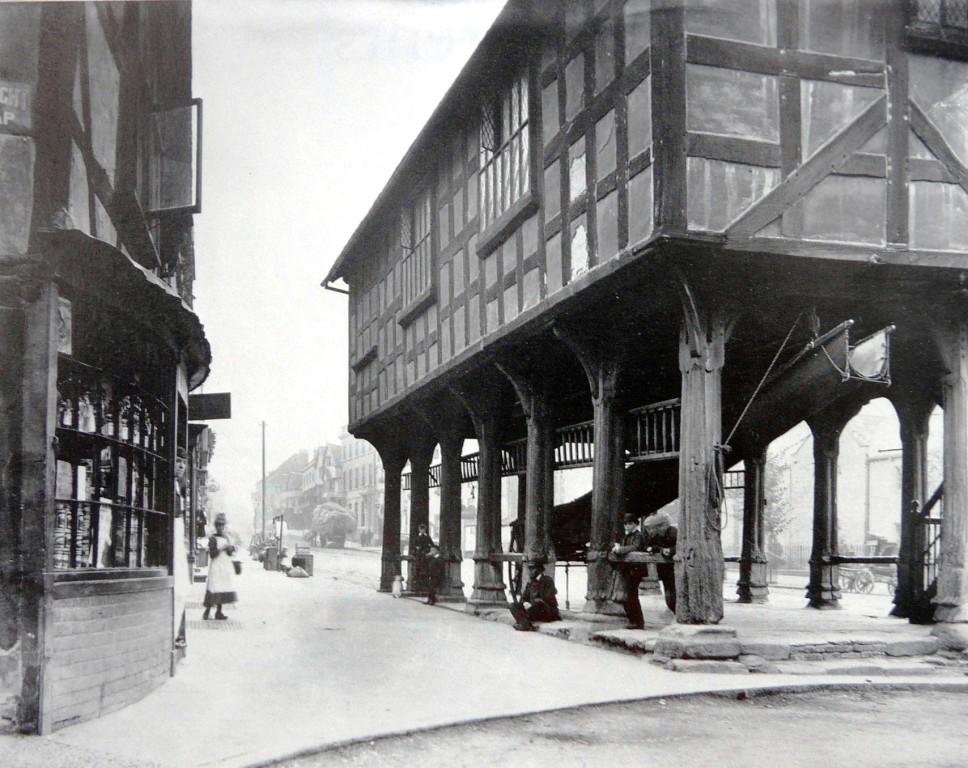 The weather throughout the year was very unseasonable, with but little summer. The crops in the district, although late, were on the whole fairly good; the hop crop was uncertain, but very good in some places, and high prices were realized as compared with recent years. The trade of the town was, like the country generally, depressed throughout the year, caused chiefly through the lack of employment. May the result of the General Election, now close at hand, cause an improvement in this respect!

January 1 Old Age Pensions inaugurated, each Pensioner to receive 5/- per week. The following was the Parliamentary Returns up to September 30th, 1909:- England and Wales-population 35,756,000, number of pensioners 421,000. cost £3,672,000. Scotland-population 4,877,000, number of pensioners 75,000, cost £767.000. Ireland-population 4,374,000, number of pensioners 186,000, cost £1,723.000.

January 7 Bosbury Invitation Dance at Feathers Assembly Room. Over 100 present.

January 7 Ledbury Church Lads' Brigade Entertainment.

January 12 Mr. & Mrs. John JOHNSON, of Leeds, elected as Master and Matron of Ledbury Union. 60 applications.

January 13 Ledbury Hunt Ball at Feathers Assembly Room. 150 present.

January 13 New Band of Bellringers formed for Ledbury Church. Mr. T. WILLIAMS, Foreman.

January 14 Mr. and Mrs. MARTIN's Treat to Ledbury Union Inmates.

January 17 Fire at Hazeldene, Redmarley.

January 18 Ledbury Women's Unionist and Tariff Reform Social at Feathers Assembly Room.

January 18 Old Age Pensioners entertained at Tea, at Royal Hall, by the Liberals of Ledbury.

January 20 Ledbury Masonic Annual Installation Festival. Bro. E. J. CLARK installed Master.

January 21 Decided at a Meeting of Church People to erect a Church Hall for Ledbury.

January 28 Oddfellows' Dinner at Royal Hall. Visit of the Grand-Master.

January 28 Church Lads' Brigade Annual Supper and Meeting.

Rainfall for January at Ledbury (as registered at Underdown by Mr. Spencer H. BICKHAM throughout the year) was 0.96 inches. Average for January 2.16 Weather seasonable with occasional snow.

February 3 Cricket and Sports Club formed for Ledbury.

February 5 Ledbury Women's Unionist and Tariff Reform Social at Feathers Assembly Room. Address by Captain Percy CLIVE, M.P.

February 15 Meeting of Flower Show Subscribers. Flower Show axed for August Bank Holiday. Mr. H. MORGAN appointed Chairman; Mr. C. RUSSELL, Hon. Sec.

February 16 At a Public Meeting at the Feathers Assembly Room a Branch of the National Farmers' Union was formed for Ledbury and District, with Mr. H. WESTON as Chairman, and Mr. C. T. SMITH, Secretary.

February 18 Ledbury Markets and Fairs Company's Annual Meeting. Dividend 5 per cent.

February 18 First Whist Drive in aid of New Parish Hall. Result, £5 18s. 0d.

February 19 Ledbury Cottage Hospital Annual Meeting. Balance in hand. £47 9s. 7d

February 26 Unionist Meeting at Feathers Assembly Room. Address by Captain CLIVE, M.P., the Hon. M. HICKS-BEACH, M.P., and the Hon. Henry LYGON.

The weather during the month was at times very warm and spring-like, and closed with frost and snow. There was a great scarcity of rain, and street watering had to be resorted to. Rainfall, 0.50. Average for February, 1.84.

March 1 All Dogs (except sporting dogs) in the County of Hereford, to wear collars with name and address of owner, from this date.

March 1 Urban District Rate reduced from 1/4 to 1/2 in the £ for the half year.

March 4 Ledbury Fire Brigade Annual Dinner at Royal Oak Hotel.

March 9 Death of the Rev. Preb. Edward HARRIS, D.D., Rector of Colwall, aged 72. Gross value of estate, £12,277.

March 31 Mr. J. BELL, of Kirkby Lonsdale, appointed Postmaster of Ledbury.

There were heavy snowstorms and severe frosts till the middle of the month, after which the weather continued very cold. Much sickness of the influenza type prevailed. Rainfall, 3.08. Average, 1.06.

April 1 Ledbury Hunt Point-to-Point Races.

April 1 The "Children's Charter" came into operation.

April 5 Confirmation at Ledbury Church, 136 candidates (63 from Ledbury).

April 5 Urban Council Election, 6 candidates for 5 seats. Result—Herbert THACKER, 289; T.J. JONES, 261; W. SAYSE, 254; *C. H. BASTOW, 235; *T. S. S. GARDNER, 182, elected; T. C. HAMBLIN, 142. * Denotes old members. 492 polled out of an electorate of about 800.

April 8 Performance of Gaul's Passion Music at Ledbury Church.

April 12 Easter Monday and Bank Holiday, fine day.

April 12 The Rev. Lewis G. HUNT, M.A., instituted to the Vicarage of Canon Frome.

April 16 Ledbury Church Vestry. Messrs C. H. BASTOW and F. W. TAYLOR re- elected Churchwardens. Major PORTER, and Messrs C. B. MASEFIELD, T. WILLIAMS, and A. J. CHADD appointed sidesmen in place of four retiring.

April 16 Cuckoo heard in Ledbury.

April 18 Nightingale heard in Ledbury.

April 20 Mr. W. L. PRITCHETT re- elected Chairman Ledbury Board of Guardians and Ledbury Rural District Council, Mr. W. S. LANE Chairman of Rural Parish Council, and Mr. James BOYD re-elected Chairman Ledbury Urban District Council for fourth time.

April 20 Purchase of the site of the Old Almshouses in the Homend for the erection of a Roman Catholic Church, for £200.

April 22, The New Petrol Gas introduced at Wellington Heath Church.

The month opened with spring-like weather, which gradually became colder, and the month closed with a snowfall. Rainfall. 1.90. Average for April, 1.85.

May 3 Mr. S. B. BARNETT appointed Collector to Ledbury Urban District Council in place of Mr. J. PREECE, resigned.

May 3 Presentation to Mr. C. W. STEPHENS, by the Ledbury Urban Council, of his Portrait, to be hung in the Council Chamber, in recognition of his public services.

May 5 The swallows return.

May 11 Rev. C. Y. POTTS died, aged 85. Congregational Minister at Ledbury for 41 years.

May 11 Mr. Harry WEBB, St. Mellons, Cardiff, selected as the Liberal Candidate for South Herefordshire.

May 25 Empire Day. Dinner at the Ring of Bells Inn.

May 27 New portion of Ledbury Cemetery consecrated.

May 31 Whit Monday, Bank Holiday. Fine day.

May Opened with a snowstorm, after which the weather was fine and seasonable, with a scarcity of rain till the 24th, when 0.40 inches fell in 24 hours. Total rainfall for the month, 0.42 inches. Average for May, 2.05.

June 2, 3, 4 Herefordshire and Worcestershire Agricultural Show at Leominster.

June 8 Hereford Assizes.

June 15 Ledbury Ploughing Society Annual Meeting. Mr Ernest WARD elected chairman for the year.

June 22-26 Royal Agricultural Show at Gloucester. The King present on 23rd. A wet week.

June 28 Mr. C. W. STEPHENS appointed Chairman of the Ledbury Reading Room and Library Committee in place of the late Rev. C. Y. POTTS.

The weather throughout the month was cold, with but little sunshine, and rain towards the end. All crops consequently three weeks later than usual. Rainfall for June. 1.91 inches. Average, 2.25.

July 1 At the Ledbury Cottage Hospital Miss CRAWFORD, formerly Matron at Ross Cottage Hospital, succeeded Miss BONSHOR as Matron.

July 1 Police Supt. PHILLIPS, who had been in the service for 47 years (the last 18 at Ledbury), resigned, and was succeeded by Supt. W. THOMAS, late of Wigmore.

July 8 Conservative Fete at Stoke Edith Park.

July 9 Induction of the Rev. Dr. Charles HARRIS as Rector of Colwall.

July 15 Fancy Fair at Ledbury Park in aid of Ledbury Parish Hall. Result, £216 17s. 5d.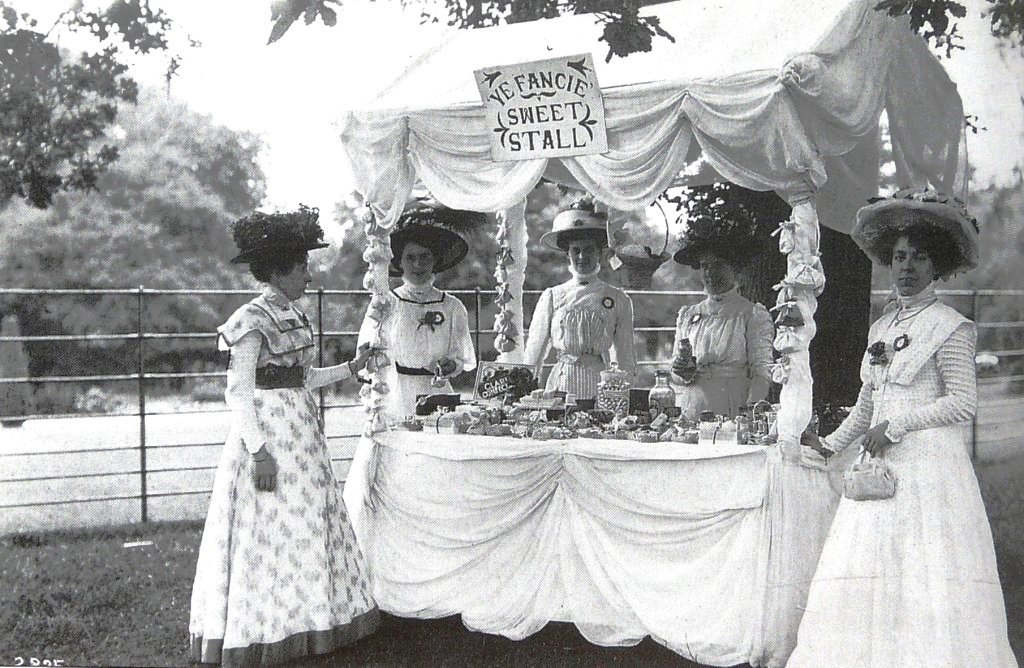 Frank KENWARD Collection
July 18 Ledbury Church Parade and Service in aid of Cottage Hospital and Dispensary. Total collections, £24 6s. 0d.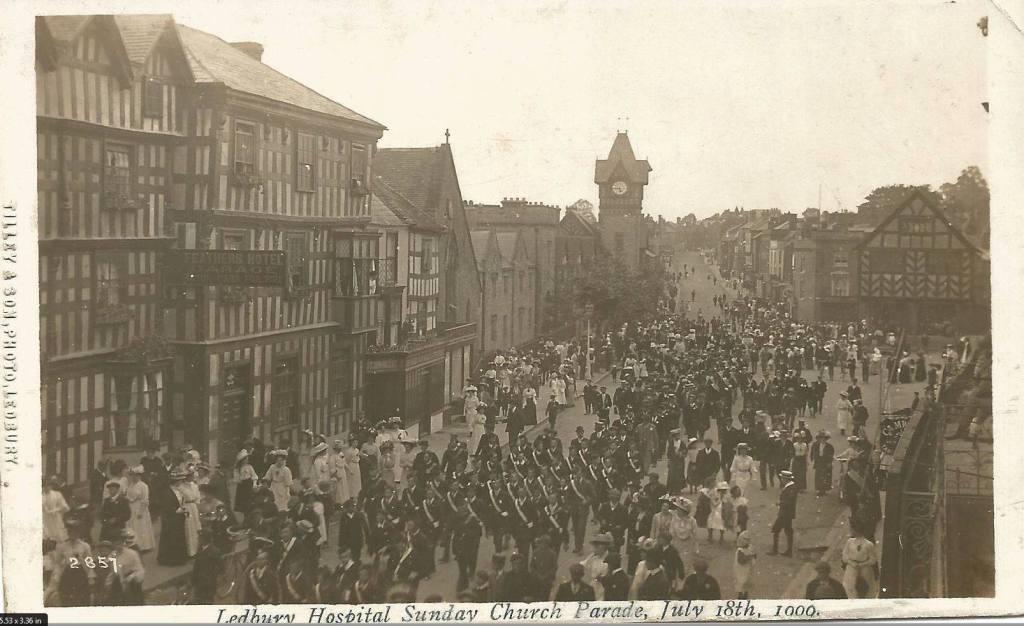 Andy TAYLOR Collection
July 19 Ledbury Building Society's 24th Annual Meeting. Four per cent. dividend declared.

July 25 The first crossing of the Channel, from Calais to Dover, by Aeroplane, accomplished by M. Louis Blériot. 25 miles in about 25 minutes.

July 25 Herefordshire Territorials in Camp at Porthcawl, for annual training.

July 29 Colwall Flower Show. Fine day.

The weather during July was very similar to that in June, wet, cold, and unseasonable, with heavy rains at end of month. Rainfall for July. 1.71. Average, 2.43.

August 2 Bank Holiday. Ledbury Flower Show. Fine day.

August 3 Foundation Stones for New Church and Institute at Colwall laid.

August 4 Speech Day and Distribution of Prizes at Russell Endowed School.

August 4 Ledbury Firemen attached to Fire Alarm Pillars in various parts of the town by electric calls.

August 4 New Paving to Church Street, the road much improved, and an old pump standing in the street removed.

August 5 Madresfield Agricultural and Flower Show.

August 5 Ledbury Territorials' Camp at Porthcawl terminated.

August 9 Bosbury Oddfellows' Fete and Races.

August 9 Ledbury Church Lads' Brigade Camp at Uphill, Weston-Super-Mare terminated.

August 19 Much Marcie Flower Show. Fine day.

August 19 Wellington Heath Garden Fete in aid of Church Lighting.

August 19 Shrewsbury Flower Show.

August 19 Church Lads' Brigade Inspection at The Holt.

August 20 Ledbury Town Football Club Annual Meeting. Balance in hand £7 8s. 8 1/2d.

August 26 Dymock Flower Show. Fine day.

August 30 Cub Hunting with the Ledbury Hounds commenced.

The first portion of the month was hot and summer-like, after which dull and unsettled weather followed. Rainfall for August, 2.05. Average 2.26.

September 5-10 Three Choirs Festival at Hereford.

September 6 Hop-picking commenced, became general on 13th, and terminated on 30th. On the whole the crop was small in this district. In many hopyards excellent crops were grown, whilst others were complete failures. The prices realized were much higher than in recent years.

September 26 Wesleyan Harvest Thanksgiving Services.

September 29 A little boy, William C. H. SMART, accidentally drowned in the town sewage tank at Newtown.

Many Local Meetings held this month for and against the proposed Budget.

The weather throughout September was fine, the month closing with heavy rains and floods. Rainfall for September, 3.30 inches. Average, 2.24.

October 1 A Donation of £100 to the Cottage Hospital from Lord BIDDULPH instead of an intended legacy of the same amount by will.

October 3 Harvest Thanksgiving Services at Ledbury Church. Offertories, £20 25. 10d, in aid of Cottage Hospital and Royal Agricultural Benevolent Institution.

October 3 Congregational Harvest Thanksgiving Services.

October 7 Eastnor Harvest Festival.

October 10 Death of Mr. Charles DAVIES, New Street, aged 61.

October 12 Michaelmas Fair. Fine day.

October 17 Harvest Thanksgiving Services at Ledbury Baptist Church.

October 18 Church Army Van's visit to Ledbury for three weeks.

October 19 Death of Mrs. Harry Vernon SMITH, aged 51.

October 21 Ledbury Ploughing Society Annual Competition at Mainstone Farm and Dinner at Plough Hotel.

October 26 Death of Miss BURDEN, a life-long temperance worker in Ledbury. age 78.

October 26 Ledbury Hunt Annual Meeting

October 28 Pound Day at Eastnor, in aid of St. Mary's Home.

October 28 Ledbury Temperance Union Annual Meeting.

Heavy rains continued at intervals during the month, and at the end there were unusually heavy floods in several parts of the country. Rainfall for October. 3.51. Average, 2.93.

November 1-4 "The Pied Piper of Hamelin" performed at the Royal Hall by about 60 Ledbury Juveniles and others, under the direction of Miss BICKHAM, in aid of the proposed New Parish Room. Net proceeds. £72.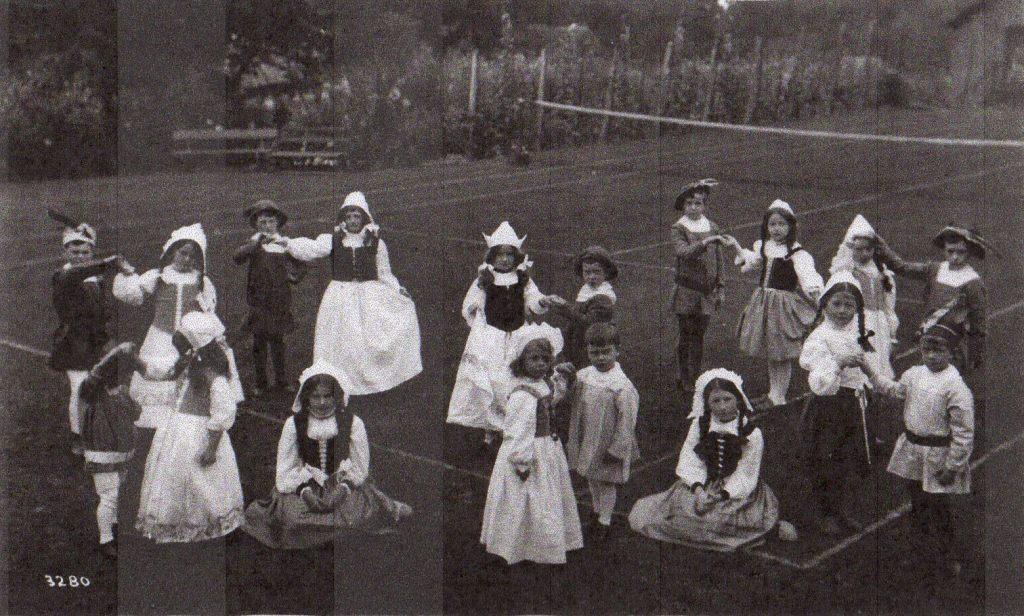 Liz BRACE ( Paul ) Collection
November 8 Opening Meet of the Ledbury Hunt at The Down House.

November 8 Ledbury Debating Society formed.

November 15 The Church of England Temperance Society Forward Movement advocated at many Churches in the neighbourhood, and at Public Meetings during the week.

November 15 The Budget introduced by the Liberal Party, after being discussed by the House of Commons for several months, on being placed before The House of Lords was declined to be passed until the electors had expressed their opinion on it. This led to dissolution of Parliament, followed by a General Election to take place at the end of January.

November 25 The Rev. F. W. CARNEGY appointed Rural Dean for the Ledbury Rural Deanery in place of Rev. Preb. C. E. MADDISON GREEN, resigned.

November 25 Death of Mr. Andrew KNOWLES. Master of the Ledbury Hounds from 1876 to 1888.

A fine seasonable month, with very little rain, and frost and snow in the early part. Rainfall for November, 0.92 in. Average, 2.69.

December 1 Motor Service introduced for the conveyance of the Post Office Mails between Ledbury and Worcester.

December 3 Death of Mrs. Thomas ASTON, High Street, aged 71.

December 6 A Site in the west side of the Cattle Market purchased for the proposed Church Hall, for £130. By the end of the year subscriptions had reached nearly £500.

December 7 Ledbury Christmas Stock Market.

December 9 Sir Charles DILKE, M.P., spoke in favour of the Budget.

December 10 Meeting held to form a Branch of Church of England Men's Society.

December 10 Ball at Feathers Hotel in aid of Royal Agricultural Benevolent Institution, about 80 present.

December 16 Right Hon. Walter LONG, M.P., spoke against the Budget at a Mass Meeting of 2,000, in a tent in the Cattle Market.

December 17 Ledbury Territorial annual Dinner and Prize Distribution at Feathers Hotel.

December 19 Mrs. T. WILLIAMS, Belle Orchard, died, aged 49.

December 22 Fire at Lower Mitchell Farm.

December 24 Mr. George WARGENT died at Ledbury, aged 85.

December 25 Rev. F. O. PHILPOTT, Rector of Little Marcie, died, aged 57.

December 26 Mr. Henry Fred SHEW died at Munsley Court, aged 47.

December 29 Ledbury Hunt Ball at Feathers Hotel, 162 present.

Weather very mild, until frost and snow on 20th. Rainfall for December, 3.50. Average, 2.42. Rainfall for the year, 24.26. Average, 26.67.
---