1910 A Retrospect Tilley's Almanack
Chronological extracts completed from the "Ledbury Free Press"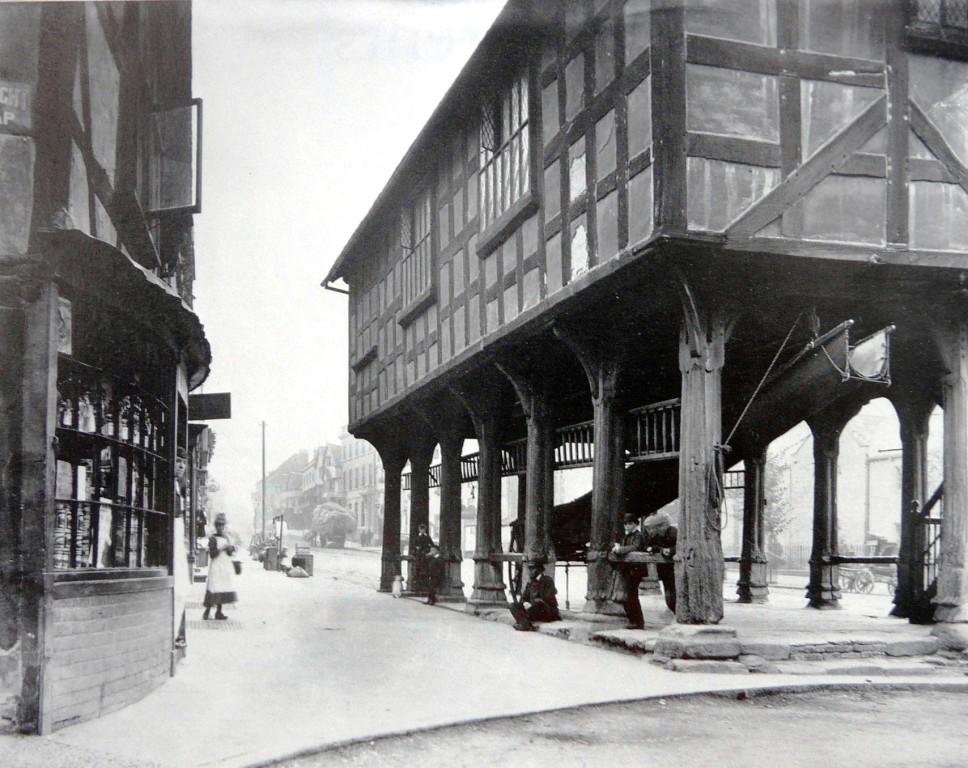 The heavy rains at the end of November continued almost incessantly till after the middle of December causing immense floods and great damage throughout the country. This, coupled with the fact that the General Election was going on, was a great hindrance to the usual December trade.

January 1 Canon BANNISTER came into residence as Master of St. Katharine's Chapel in succession to the Rev. Preb. MADDISON GREEN.

January 1 Mr, and Mrs. MARTIN's Annual Treat to the Union Inmates: continued also on 14th with a Concert.

January 7 Bosbury Annual Invitation Dance at Feathers Hotel.

January 7 Ledbury Masonic Annual Installation Festival. Bro, C. H. BASTOW installed Master.

January 20 Mr. Robert DAW, Ledbury died aged 61.

January 25 General Election-South Herefordshire result: Capt. Percy CLIVE 5073. Mr. Harry WEBB 4678, Unionist Majority 395. The total number of Parliamentary Voters in South Herefordshire is 10,946.

January 28 Ledbury Horticultural Society Annual Meeting. Balance in hand, £35 4s. 2d.

January 28 Ledbury Cricket and Sports Club first Annual Meeting.

The year opened with mild weather, until frost and snow on 11th, when it again became mild, the month closing with frost. Great floods in Paris during the month.

Rainfall for January at Ledbury (as registered at Underdown, by Mr. Spencer H BICKHAM throughout the year) was 2.56 inches.

February 4 A "Cap" taken at the meet of the Ledbury Hounds in aid of the Hunt Servants' Benefit Society, amounted to £30 4s. 6d.

February 7 Mr. Edward CONDER. New Court, Colwall, died, aged 80 years.

February 9 Ash Wednesday.

February 11 Ledbury Cottage Hospital Annual Meeting. Balance in hand, £43 18s. 3d.

February 16 Ex-superintendent PHILLIPS, who retired last year as Superintendent of the Herefordshire Police at Ledbury, died at Leominster, aged 67 years.

February 17 Ledbury Church Lads' Brigade Annual Meeting and Prize Distribution.

February 24 Ledbury Fire Brigade Annual Dinner and Concert.

The weather throughout the month was mild, with much rain, and very severe gales at times. Rainfall. 3.21in.

March 3 Herefordshire Triennial County Council Elections. Local Results:- Ledbury Urban. *STEPHENS, C. W., 360, HOPKINS, E. H., 258, Majority 102. Ledbury Rural (to fill vacancy caused by the retirement of Mr. C. A. HEWITT). DAVIES. J. C., 149. HUNT. S. C., 112, Majority 37. Much Marcle and Woolhope, *RILEY, J., 192. WARREN, A., 61. Majority 131. Ashperton. *FOSTER. H. K., 205. BUNN. A. G., 117. Majority 88. Bishop Froome. &c., *J E. COOKE, 165. G. DEMERY, 150, Majority 15. (*Signifies old member).

March 7 Urban District Rate of 1s. 2d. in the £ for the half-year.

March 9 Quiet Day, Ledbury Women Church Workers.

March 23 Confirmation Ledbury Church, 99 candidates (38 from Ledbury).

March 28 Easter Monday. Bank Holiday.

March 29 New Church and Institute at Colwall Dedicated.

March 31 Ledbury Hunt Races. fine day.

March 31 Ledbury Church Vestry, Mr. C. H. BASTOW re-elected Churchwarden, and Mr. W. P. BARRY elected to fill vacancy caused by retirement of Mr. F. W. TAYLOR. Messrs. H. GARROOD, F. W. TAYLOR. J. F. LOWE and T. D. SCOULAR appointed sidesmen to succeed four outgoing. A clean balance sheet.

March opened mild and spring-like, followed by cold rains and then very heavy snowstorms. Mild weather followed, the month terminating with a fine Easter. Rainfall, .72 in.

April 2 Disastrous fire at Hope End, the late Mr. C. A. HEWITT, owner and occupier. The mansion almost entirely gutted. Damage estimated at over £20,000, only partly covered by insurance.

April 4 Ledbury Urban Council Election, 7 candidates for 5 seats. Result: *Stephens. C. W., 375: *CARLESS. A., 350: CRADDOCK, J. E. 235; BARNES, H. A., 210; LAWRENCE, R., 200. The above were elected. The following were unsuccessful: "BARRY, W. P., 195; GARDNER, E., 149. *Denotes old member.

April 4 Col.-Sergt. H. J. BARNHAM appointed Drill Instructor to "C" Company of the 1st Batt. Herefordshire Regiment.

April 6 The Ironmongery business of the late Mr. John DAVIES transferred to Mr. Val PALMER.

April 11 Ledbury Hunt Keepers' Dinner at Feathers Hotel.

April 11 - 14 "Little Snow-White" Entertainment by local amateurs, in aid of Church Hall and Sports Club. Result: Parish Hall 15 guineas. Sports Club £11.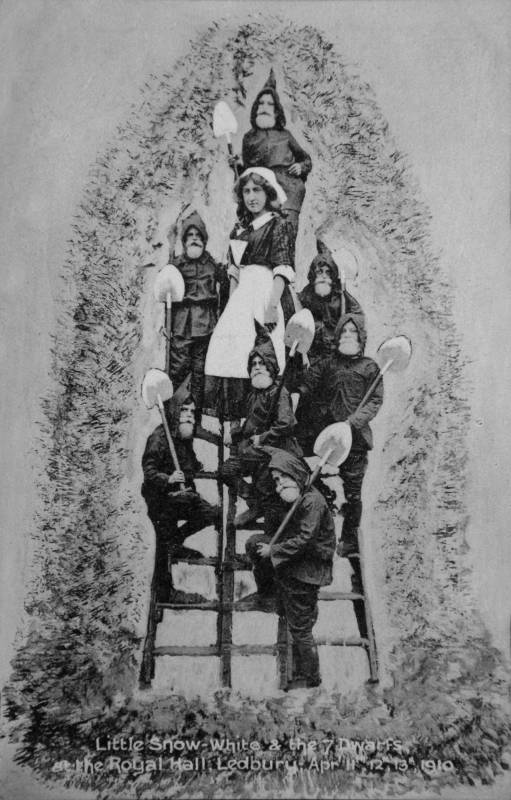 April 15 Close of the Ledbury Hunt Season. 44 brace of foxes killed in 110 hunting days. Capt. Warren PEACOCKE resigned the joint Master- ship with Sir William BULLOUGH.

April 15 Mr. W. S. LANE re-elected Chairman of Ledbury Rural Parish Council.

April 16 The Ledbury and District Branch of the National Conservative League formed. Headquarters, New Inn Hotel. Mr. C.W. STEPHENS, Master; Mr. J. E. CRADDOCK, Deputy-Master; Mr. W. MANSELL, Treasurer ; Mr. E. J. EDWARDS, Secretary ; Mr. W. BROOKES, Warden.

April 18 Annual Meeting of Ledbury Urban Council, Mr. Alfred CARLESS elected Chairman.

April 18 The Rev. Prebendary FLETCHER, rector of Rushbury, appointed rector of Little Marcle, in succession to the late Rev. F. O. PHILPOTT.

April 21 Cuckoo heard in Ledbury.

April 22 Mr. James DAVIS, Bye Street, died, aged 88 years.

April 25 Nightingale heard in Ledbury.

April 28 "Pied Piper" Fancy Dress Ball at Royal Hall.

Weather seasonable throughout the month. Rainfall 2.02 inches.

May 4 Church Lads' Brigade Dinner at Feathers Hotel.

May 6 King Edward died, aged 69.

May 8 Mr. Daniel DAVIES, New Street, died, aged 73.

May 10 King George V, Proclamation read in Ledbury Market Place, by Mr. A. Carless, Chairman of the Ledbury Urban Council.

May 15 The swallows return.

May 16 Whit-Monday, Bank Holiday. Severe local thunderstorm in afternoon, several cattle killed. Fine elsewhere.

May 20 King Edward's funeral. A day of general mourning, all business suspended. Memorial Service at Ledbury Church.

May 26 Mr. Thomas BADSEY, died, aged 89 years. He left legacies of £200 to Ledbury Cottage Hospital and £50 to the Ledbury Reading Room and Library.

Cold and showery at beginning of month, followed with dry, warm, and seasonable Weather. Rainfall, 1.72 in.

June 7, 8, 9 Herefordshire and Worcestershire Agricultural Show held at Worcester. Very successful. Fatal Aeroplane accident on the ground.

June 8 Invitation for the above Show in 1911 to be held at Ledbury was accepted. Local Committee formed, with Lord BIDDULPH as President. Mr. A. R. ROWDEN. Chairman, and Messrs. C. T. SMITH and Gerald ANTHONY as Hon. Secs.

June 16 Church Lads' Brigade Annual Inspection.

June 28 Ledbury Ploughing Society Annual Meeting. Chairman for ensuing year. Mr. H. WESTON elected Lord SOMERS elected President later in the year.

June commenced cold, followed with heavy rains and thunderstorms till the middle of the month, when the weather was very hot and summerlike, but the close of the month was very cold and wet Rainfall 3.13.

July 11 Ledbury Hunt Puppy Show and Luncheon at the Kennels.

July 17 Parade of Public Bodies and Service at Ledbury Church, in aid of Ledbury Cottage Hospital and the Dispensary. Wet evening. Town collection, £16 12s.; Church collection, £8 3s. Total £24 15s. To Cottage Hospital £11 16s. 10d.; To Dispensary £9 9s. Expenses £3 9s. 2d. Total £24 15s.

July 24 Ledbury Territorials to Camp at Aberystwyth for fortnight.

July 25 Ledbury Building Society Annual Meeting. A bonus of 4 per cent declared.

July 27 Colwall Flower Show. Fine Day.

July 29 Church Lads' Brigade to Camp at Rhyl till August 6.

Weather continued dull, damp and cold throughout the month, with less than one half of the average sunshine and very little rain. Rainfall 1.83, average 2.43.

August 1 Bank Holiday. Fine Day.

August 1 Ledbury Flower Show. Gate £58 6s. 3d. A great success.

August 3 Speech Day and Distribution of Prizes at Russell Endowed School.

August 4 Cricket Match. Ledbury Fathers v. Sons, Sons 116. Fathers 51.

August 4 Madresfield Flower Show.

August 8 Public Meeting in Ledbury to consider the "Reform of the Poor Law."

August 11 Bosbury Races and Gymkhana.

August 12 Miss A. G. CRAGG appointed Matron at Ledbury Cottage Hospital.

August 13 Miss Florence NIGHTINGALE died, aged 91.

August 16 Death of Mrs. J. R. SMITH, Homend Lodge, aged 80.

August 17, 18 Shrewsbury Flower Show.

August 19 Rick Fire at Ockington Farm, Dymock. Damage £75.

August 19 Much Marcle Flower Show. Fine day and a successful Show.

August 25 Dymock Flower Show.

August 29 Hop-picking commenced in a few local hopyards, and became general September 5th.

August 29 Cub-hunting commenced with the Ledbury Hounds.

August 29 Annual Meeting Ledbury Junior Football Club. Mr. C. W. STEPHENS appointed President, Mr. T. ROGERS Hon. Sec.

August 30 Mr. William PREECE died, aged 60.

August 30 Landslip at Tarrington, (Photographs at Tilley & Son's).

During August the weather continued remarkably cold and damp, with but little sunshine and heavy rains at times. Rainfall during the month 6.12, with 1.56 on 28th, when there was a continuous downpour.

September 6-9 Three Choirs Festival at Gloucester.

September 5 At the monthly meeting of the Ledbury Urban Council, a draft scheme of a School of Domestic Economy for Ledbury was approved. This School is to take the place of the old Southend Girls' School, known as the Elizabeth HALL's Charity School. The new building will be on the site of the present Southend School and the two Cottages adjoining.

August 12 Sudden death of Mr. Timothy JACKSON, aged 68.

August 18 Harvest Thanksgiving Services at Ledbury Baptist Chapel.

August 25 Harvest Thanksgiving Services at Ledbury Congregational Chapel.

August 27 St. Katharines Chapel re-opened after Restoration.

August 29 The Countess SOMERS died in London. aged 84 years. Interred in family vault in Eastnor Church. October 1st.

The Weather during September was a great contrast to that of the previous months. It was quite summerlike throughout, with very little rain, and all outstanding crops, although late, were safely gathered. The hop crop was good, the prices realized were also good. Rainfall .51 inches.

October 1 The business Messrs. WALKER & Son, butchers, Ledbury, transferred to Mr. H. B. CHURCHILL.

October 2 Harvest Festival, Ledbury Church.

October 6 Harvest Song of Praise Cantata at Ledbury Church.

October 8 Erection of a Brass Tablet in Ledbury Church in memory of Lieut' George Dermot MARTIN, who died April 25th, 1908, from wounds received on the Indian Frontier.

October 9 Oddfellows' Centenary. Church Parade, and Banquet on 19th.

October 9 Harvest Festival, Wesleyan Chapel.

October 11 Michaelmas Fair. Wet Day.

October 12 Miss HENLEY appointed Head Mistress of Girls School, in place of Miss HOOPER, resigned.

October 13 Ploughing Society Match, at Gold Hill Farm, Dinner at the Feathers Hotel.

October 15 Fire at The Cinders, Ashperton, Damage £400.

October 18 Ledbury Choral Society resuscitated. Lady COLVILE President; Mr. T. D. SCOULAR, Hon. Sec.

October 20 Eastnor Harvest Festival, and on 23rd.

October 23 Mr. James Archibald Charles HEWITT (Hope End), died, aged 75.

October 25 Ledbury Hunt Annual Meeting.

Weather during the month fine and seasonable, heavy downpour of rain on Friday. Very mild at end of month. Rainfall 3.49.

November 3 Opening of the new Church Room in the Cattle Market Road, total cost including land, furniture, &c., £602.

November 3 Ledbury Hunt Opening Meet at the Down House. (Cub Hunting season closed, 23 brace accounted for).

November 10 Pound Day at St. Mary's Home, Eastnor.

November 10 Ledbury Temperance Union Annual Meeting.

November 13 Archdeacon JEFFERIS Lecture in aid of Church Room, result £7 13s. 9d.

November 13 Mrs. TARBATH, The Homend, died, aged 56 years.

November 17 Ledbury Church Room Rummage Sale, result £20 5s. 7d.

November 17 Congregational Church Bazaar, result £20.

November 24 Town Hall Band of Hope Annual Meeting.

November 28 Parliament elected in January last, dissolved this day, Capt. Percy CLIVE, Unionist Member, and Mr. Harry WEBB, Liberal, again contested the seat. Result at the Election on December 14th, CLIVE, 4748, WEBB. 4627, Unionists Majority, 121. The result of the General Election was a gain of one seat to the Liberal Party which again returned to power.

The month throughout was damp and cold, and heavy continuous rain at the end. Rainfall, 4.25.

December 5 Mrs. G. C. SPENCER, died, aged 67.

December 14 Mrs. John PEDLINGHAM, Southend, died, aged 44.

December 27 Rev. A. H. KNAPP. rector of Pixley, appointed Chaplain of Ledbury Workhouse, in place of Rev. F. STOKE-VAUGHAN, resigned.

December 29 Ledbury Hunt Ball, at Feathers Hotel, about 170 present.

December 29 Miss HORTON. Dymock Vicarage, died.
---