1911 A Retrospect Tilley's Almanack
Chronological extracts completed from the "Ledbury Free Press"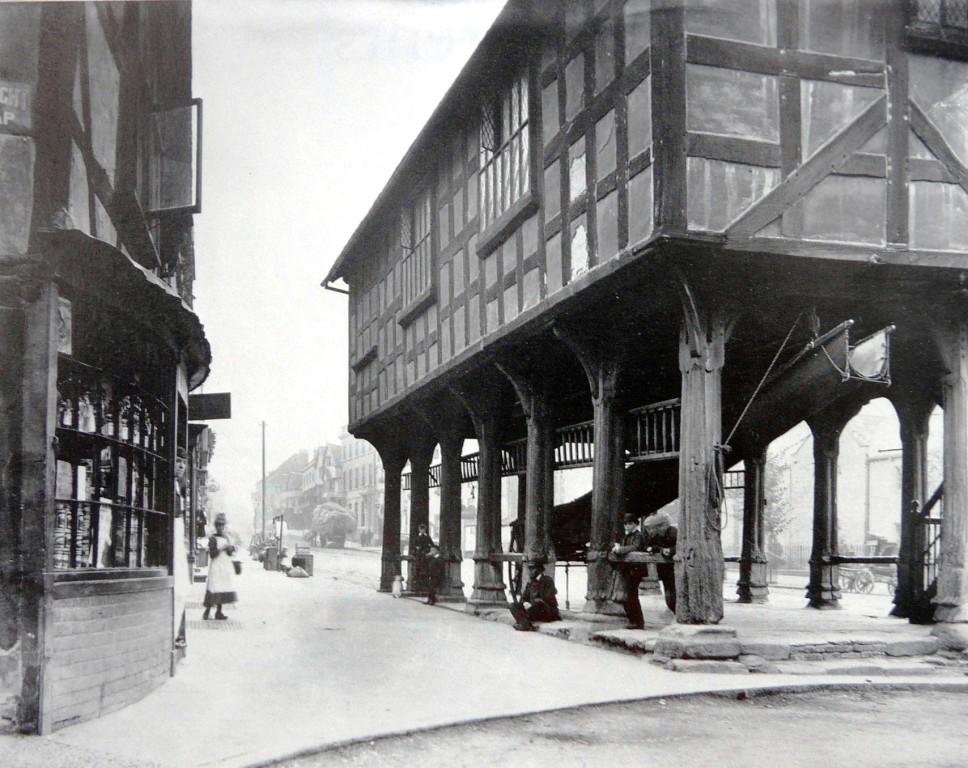 May 1912 be bright and prosperous to the Town and Trade of Ledbury, and the inhabitants generally.

January 5 Bosbury Invitation Dance at Feathers Assembly Room.

January 5 Concert at Eastnor Castle for Parochial Fund. Proceeds £21 4s. 6d.

January 11 Ledbury Masonic Installation Festival. Bro. R. APPLETON installed as Worshipful Master.

January 11 Mr. and Mrs. MARTIN's Annual Treat to Ledbury Union Inmates.

January 19 Ledbury Territorial Annual Dinner and Prize Distribution at Feathers Assembly Room, Major-General Francis LLOYD present.

January 19 Ledbury Church Lads' Brigade, Annual Meeting and Prize Distribution, and Presentations to Major and Mrs. PAUL.

January 26 Whist Drive in aid of Church Room Building Fund. Result £8 5s. 8d.

January 27 Ledbury Cricket and Sports Club Annual Meeting, Balance due to Treasurer, £19 4s. 1d.

The year opened mild, with occasional short frosts, heavy fogs following later on, the month closing very mild and with but little rain. Rainfall for January at Ledbury (as registered at Underdown, by Mr. Spencer H. BICKHAM throughout the year) was .72 inches on 12 days.

February 2 Conservative Ball at Feathers Assembly Room under the auspices of The National Conservative League, 280 present.

February 2 Ledbury Fire Brigade Annual Dinner at Royal Hall

February 4 Mr. Henry WESTON elected on Herefordshire Council to fill vacancy caused by Mr. John RILEY being raised to the Aldermanic Bench. Voting, Mr. H. WESTON 162; Mr. A. THOMPSON 136, Majority 26.

February 6 King George V. opened the New Parliament.

February 9 Ledbury Church Workers' Social Evening in Church Room.

February 9 Cricket and Sports Club Whist Drive. Result £17 16s. 4d.

February 13 - 14 Mrs. PARKINSON's Entertainments in aid of Ledbury Cottage Hospital at Royal Hall. Result £11 0s 8d. February 16 Cricket and Sports Club Whist Drive at the Royal Hall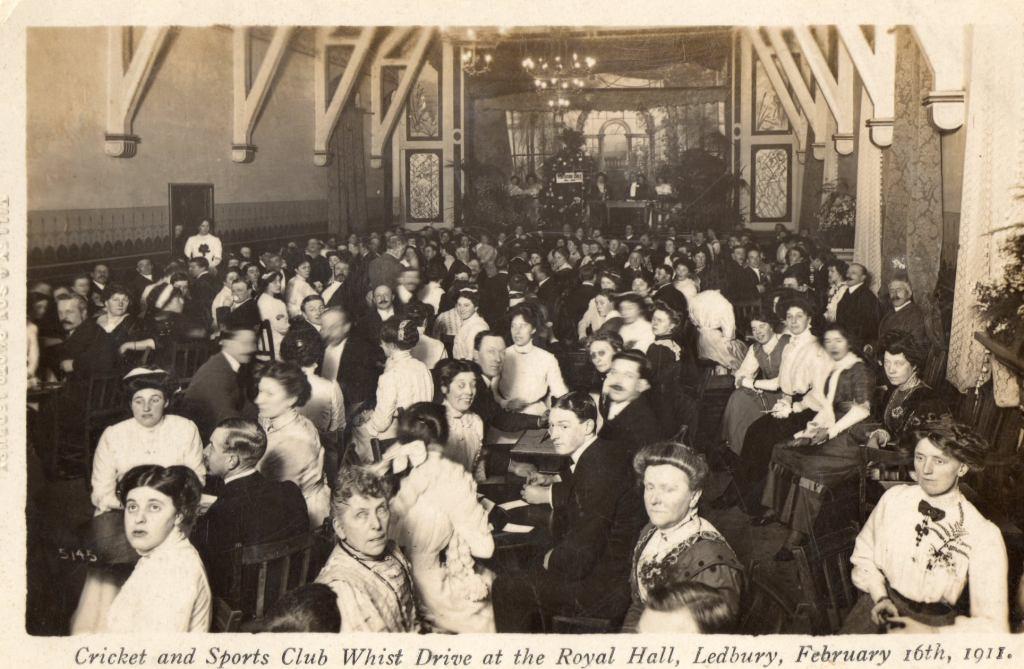 Liz BRACE ( Paul ) Collection
Elizabeth Brace -The two ladies in the centre front are my Grandmother Julia Annette PAUL from The School House in The Homend and on the right of the table is Auntie Floss (Florence DAFFERN nee PAUL) who had a little shop above where Juckes were in The Homend. When she married Harry DAFFERN they bought Church House.
February 17 Ledbury Cottage Hospital Annual Meeting.

February 21 Rev. F. W. PARKINSON appointed Chaplain at Ledbury Workhouse, in place of Rev. F. STOOKE-VAUGHAN, resigned.

February 21 National Farmers' Union first Annual Public Dinner.

February 24 Mr. Harry WEBB, who twice unsuccessfully contested South Herefordshire in the Liberal interest, was elected for Forest of Dean Division, rendered vacant by death of Sir Charles DILKE. Result, WEBB 6174, KYD 3106, majority 3068.

The weather this month continued mild, with but little rain. Rainfall, 1.41 inches on 13 days.

March 4 Cricket and Sports Rummage Sale. Result £7 11s. 2d.

March 6 Urban District Rate of 1s. 4d. in the £ made.

March 14 Messrs. G. C. ANTHONY. W. G. DAVIS, E. H. HOPKINS. S. C. HUNT and H. MORGAN, re-elected unopposed, as members of the Ledbury Urban Council.

March 23 Mr. Joseph HOOPER. Canon Frome, died, aged 80.

March 26 The Rev. W. PONTIFEX, eight years Minister at the Baptist Chapel, resigned.

Beginning of month, weather was fine and mild, but was followed by occasional snow. On the whole, rather boisterous. Rainfall, 1.88 on 19 days.

April 2 The Rev. W. J. PARSONS commenced his Ministry at the Baptist Chapel.

April 2 Census taken, Herefordshire, 114,269, previous census, 114.125. Ledbury, 3,358, previous census, 3,259.

April 3 Confirmation at Ledbury Church by Bishop MATHER.

April 4 Ledbury Hunt Point to Point Races, weather fine but very cold.

April 8 Close of the Ledbury Hunting Season, with a record result of 52½ brace.

April 10 Decided at a Public Meeting to commemorate in Ledbury the Coronation of King George V., by providing a swimming bath on the Leadon, near the Viaduct, and children to be entertained to tea on June 22nd.

April 13 Death of Mr. T. N. N. WEBB, second son of Major and Mrs. WEBB, The Brownsend, by accidental drowning in South Australia, aged 20.

April 17 Easter Monday, Bank Holiday. Fine Day.

April 18 Mr. Ernest HOPKINS elected Chairman of the Ledbury Urban Council for the ensuing year.

April 18 Mr. W. L. PRITCHETT re-elected Chairman of the Ledbury Board of Guardians.

April 20 Cuckoo and Nightingale heard in Ledbury.

April 21 Ledbury Church Vestry, Mr. C. H. BASTOW and Mr. W. P. BARRY re-elected Churchwardens. Messrs. H. V. SMITH, T. W. WATKINS, T. CHADD, and A. G. T. BANKS appointed sidesmen to succeed four outgoing.

April 27-29 Miss BICKHAM's Two Plays, "All Fair in." and "Love and War." at the Royal Hall, in aid of the National Service League.

April commenced cold and wet, with blizzards and snow until towards Easter, when it became more seasonable. The month closed with welcome April showers. Rainfall, .99 inches on 18 days.

May 1 Supt. THOMAS, who was appointed to succeed Supt. PHILLIPS as Superintendent of the Herefordshire Police at Ledbury in 1909, removed to Hereford, and succeeded at Ledbury by Supt. WILLIAMS.

May 3 The Swallows return.

May 3 Mr. M. C. ALBRIGHT, Bromesberrow Place, appointed Master of the South Herefordshire Hunt.

May 4 Ledbury Branch of the National Conservative League, First Annual Dinner at New Inn Hotel.

May 16 Ledbury Cottage Hospital Pound Day.

May 17 Ledbury Hunt Puppy Show and Luncheon at the Kennels. Prize Winners: Mr. C. T. SMITH, Knapp Farm, Pixley: Mrs. JONES, British Camp Hotel; Miss MENCE, Forthampton; Mr. W. BREWER. Lowbands; Mr. W. S. LANE. The Farm, Bosbury; and Mrs. DAWE, The Felt House, Much Marcle; obtained Prizes.

May 26 Mr. C. W. RADCLIFFE COOKE, late of Hellens, Much Marcle, died, aged 70.

May 30 Ledbury Farmers' Union Annual Meeting, Mr. John PARRY elected Chairman, Mr. C. T. SMITH, re-elected Hon. Sec.

May opened cold with very heavy rains, followed by warmer weather till after the middle of the mouth, when it again became cold for short time, and this was followed by summerlike weather. Early fruits and hops attacked by blight. Rainfall, .80 inches on 6 days.

June 5 Whit Monday, Bank Holiday. Fine Day.

June 7-8-9 Herefordshire and Worcestershire Agricultural Show at Ledbury in a Meadow on the Hazle Farm. Fine weather, and the Show proved a great success. Lord BIDDULPH was president of the Society for the year. An active local Committee was formed, with Mr. A. Roger ROWDEN as Chairman, and Messrs. C. T. SMITH and Gerald ANTHONY as Hon. Secs. The sum of £618 14s. 6d. was collected as a local fund, which was dealt with, as noticed, on August 22nd.

June 24 Coronation of King George V. General Holiday and Rejoicings throughout the Country. In Ledbury, Services were held in the morning in the Parish Church and other places of worship. School Children, numbering nearly 1,000, were supplied with Tea and a local Coronation Medal. Sports, open to all, were held. The Bells were rung, and the Town Band played throughout the day. A Bonfire on Dog Hill closed the day's proceedings. Public Swimming Baths were also advocated as a permanent Memorial. The subject came on for discussion in September.

Weather continued fine and summerlike, sometimes very hot, till 28th, when heavy rains fell after an absence of seven weeks. Good crops of hay, early fruit, and peas. Rainfall, 1.21 inches on 11 days.

July 1 Ledbury Ploughing Society Annual Meeting. Mr. A. W. PRITCHARD appointed Chairman for the ensuing year, and Mr. C. T. SMITH, Hon. Sec. The Royal Oak Hotel to be the headquarters for the year.

July 13 Garden Fete at Ledbury Park in aid of Dr. Barnardo's homes. Result £26 14s. 10d.

July 22-26 "The Daily Mail" £10,000 Flying Machine Race of 1010 miles round Great Britain. On Tuesday 24th the course was from Manchester to Bristol, 141 miles, passing over this district. The race was open to the world, and 7 nations were represented. There were 30 entries (including 17 British), 21 started, 17 completed the first section, and 2 only completed the course: BEAUMENT, the winner, and VEDRINES (both Frenchmen).

July 24 Ledbury Building Society 26th Annual Meeting. 4 per cent. dividend declared.

July 27 Colwall Flower Show. Fine Day.

July 28 Duke and Duchess of Teck spend week-end at Eastnor Castle, as the guests of Lord SOMERS.

Weather continued hot and dry throughout the month. At times the heat was most excessive, and scarcely any rain fell. The corn harvest was consequently early, but the roots and fruit suffered considerably from the continued drought. Rainfall, .21 on 4 days.

August 2 Russell Endowed School Annual Prize Distribution.

August 4 Herefordshire Territorials in Camp at Lamphey, Pembroke, for two weeks.

August 5 Church Lads' Brigade in camp at Rhyl for one week.

August 6 Dedication of Reredos at Little Marcle Church.

August 7 Bank Holiday. Fine day.

August 8 Ledbury Church Choir outing to Llandrindod.

August 10 Madresfield Show.

August 13 At the Wesleyan Chapel the Rev. J. E. JONES preached his farewell Sermon. He was succeeded in the Ministry by the Rev. George DYER.

August 14 Bosbury Races and Gymkhana.

August 16 The great Railway Strike commenced and continued till Saturday night (19th). By the cessation of labour, most of the Railway Stations were closed, and a few trains only were run with great difficulty. The assistance of the Military was needed in several towns. Looting and incendiarism reigned and a number of lives were lost. Government was compelled to take severe measures, in which they were commended by both of the leading political parties. In consequence of the above a Government Inquiry was held.

August 20 Hospital Sunday Church Parade. Total Collections, £16 17s. 3d. To Dispensary, £9 9s. 0d.; Hospital, £4 1s. 0d.; Expenses, £3 7s. 3d.

August 21 Hop picking commenced (very early owing to the advanced season). Cub Hunting with the Ledbury Hounds commenced.

August 22 Final Local Committee Meeting of Hereford and Worcester Show, at Ledbury in June. Balance in hand. £47 1s. 4d. distributed as follows:- Ledbury Cottage Hospital, £15; Royal Agricultural Society, per the Chairman, Mr. A. Roger ROWDEN, £15; the Hon. Secs., Messrs. SMITH and ANTHONY, honorarium of £17 1s. 4d. Mr. Thomas THOMPSON, Hemel Hempstead, appointed relieving officer for the Yarkhill District in place of Mr. WILLIS, resigned.

August 23-24 Shrewsbury Floral Fete,

August 24 Much Marcle Flower Show.

August 29 Woolhope Naturalists' Field Club excursion to Ledbury, Wellington Heath and Bosbury.

August 31 Dymock Flower Show, and Presentation to Canon HORTON upon his resigning the Living.

The great heat and drought continued, with but a short interval of rain early in the month. Rainfall, 1.11 on 9 days.

September 3 Fire at the Box Bush Inn, Ashperton, hay rick destroyed.

September 3 William Allen DYKE, teacher in Ledbury Boys' Council School, drowned, while bathing at Hoarwithy.

September 5-8 Festival of the Three Choirs at Worcester.

September 6 BURGESS swam from England to France.

September 7 Farewell Organ Recital at Ledbury Church, by Mr. Tom WOODWARD. £11 9s. 10d., collected for Choir Fund.

September 8 Captain CLIVE. M.P. for South Herefordshire hands over his first quarterly salary as a member of Parliament, £94 3s. 4d. to the Herefordshire General Hospital.

September 8 Mr. F. A. HOBRO, Malvern Link, appointed as organist at Ledbury Church in place of Mr. Tom WOODWARD who resigned, for an appointment at Bournemouth, and to whom a presentation of a silver entree dish and address was made on the 10th by the rector from the choirmen in recognition of his 17 years' service.

September 9 First Aerial Mail, conveying a bag of letters, postcards, and newspapers from Hendon to Windsor in 15 minutes. A specially designed post card despatched by Aerial Mail the same day from Hendon, was received at Ledbury, by the publishers of this Almanack, and is preserved as a memento.

September 11 Public Meeting to consider the Swimming Bath Scheme as advocated at a Meeting on June 24th. Decided to make a further appeal to the public.

September 15 Mr. Robert C. ROWLES, of Bromesberrow Heath, killed by cycle accident, aged 66.

September 16 Hop-picking finished. The earliest and shortest for many years. Fairly good quality. In the hop markets prices commenced at about £7 10s. per cwt., but few were disposed to sell. There was consequently a lull in the market, and by the middle of October good hops fetched £12, with a prospect of an increase.

September 24 Wesleyan Harvest Festival.

September 26 Rev. Preb. C. E. MADDISON GREEN, died at Malvern Wells, aged 75. He was rector of Ledbury for 17 years, 1891 to 1908. Buried at Lyonshall, where he was formerly vicar.

The great drought, the equal to which had not been experienced for a great number of years, terminated on September 13th, with a heavy downpour of rain throughout the country. Since June 28th (77 days) there was a slight fall of rain only on 14 days. For 26 days following June 28th, not a drop was recorded, then came slight rain on five consecutive days. From August 2nd to 18th there was a continued drought. The potato and root crops suffered severely. Rainfall, 1.32 on 10 days.

October 1 Ledbury Church Harvest Festival. Offertory £14 18s. 9d., for Royal Agricultural Benevolent Institution and Ledbury Cottage Hospital.

October 1 Congregational Harvest Thanksgiving Services.

October 8 Harvest Thanksgiving Services at the Baptist Chapel and the Mission Hall.

October 10 Ledbury Michaelmas Fair Day. Fine day.

October 12 Ledbury Ploughing Society's Annual Meeting at Lowbands Farm, Redmarley, and Dinner at the Royal Hall.

October 16 Public Meeting in the Church Room, to consider a Memorial in Ledbury Church to the late Rev. C. E. MADDISON GREEN, and a committee appointed to carry out the same.

October 27 Mr. John FENWICK-FENWICK, The Verzons, Died, age 68, Will proved at £81,679.

October 30 Ledbury Church Room first Annual Meeting, when the room was reported out of debt, having cost with land and furnishings, £620 11s. 11d.

October 31 Ledbury Hunt Annual Meeting.

October commenced with a continuation of the remarkably fine weather of the already long summer, with slight occasional rainfalls towards the end, when autumn arrived in earnest. Rainfall, 2.21 on 17 days.

November 2 Ledbury Foresters' Jubilee Dinner at the Royal Hall.

November 2 Home & Foreign Missionary Sale of Work in Ledbury Church Room, result, £20 10s. 0d.

November 2 Mr. John Edy BALLARD died, aged 70.

November 4 Mr. Charles Thomas JONES died, aged 68.

November 6 Colwall Races.

November 9 St. Mary's Home, Eastnor, Pound Day, amount realized in cash £23 1s. 11d., in kind 1088lbs.

November 9 Ledbury Church Room First Annual Parochial Tea and Entertainment

November 10 Ledbury Hunt Opening Meet, at The Down House.

November 13 Church Defence Meeting at Church Room.

November 28 Mr. Tom SCHOLEY, Eastnor, died, aged 61 years.

With the exception of heavy gales causing much damage about the middle of the month, November proved to be a very fine autumn month. Rainfall, 2.86 on 21 days.

December 14 Bible Society Annual Meetings at Town Hall.

December 14 Territorial Dinner and Prize Distribution at Feathers Assembly Room.

December 14-15 Ledbury Honeyboy Minstrels at Royal Hall. Proceeds to Cottage Hospital and to Swimming Baths Fund, about £15.

December 15 Ledbury Evening Classes Prize Distribution.

December 16 Presentation of a purse of Gold and an Address to the Rev. H. B. CURTIS, Curate of Bosbury, upon his leaving.

December 25 Christmas Day. Presentation of Processional Cross to Ledbury Church by relatives in, memory of the late Rector, Rev, C. E. MADDISON GREEN.

December 26 Ledbury Hounds meet in High Street, Ledbury. Wet Day.

December was very mild, but full of rain, which made up for the great drought of the year. The low lands were much flooded at the end of the month.

Thus ends the year 1911. May 1912 be bright and prosperous to the Town and Trade of Ledbury, and the inhabitants generally.
---