1939 A Retrospect Tilley's Almanack
Chronological extracts completed from the "Ledbury Free Press"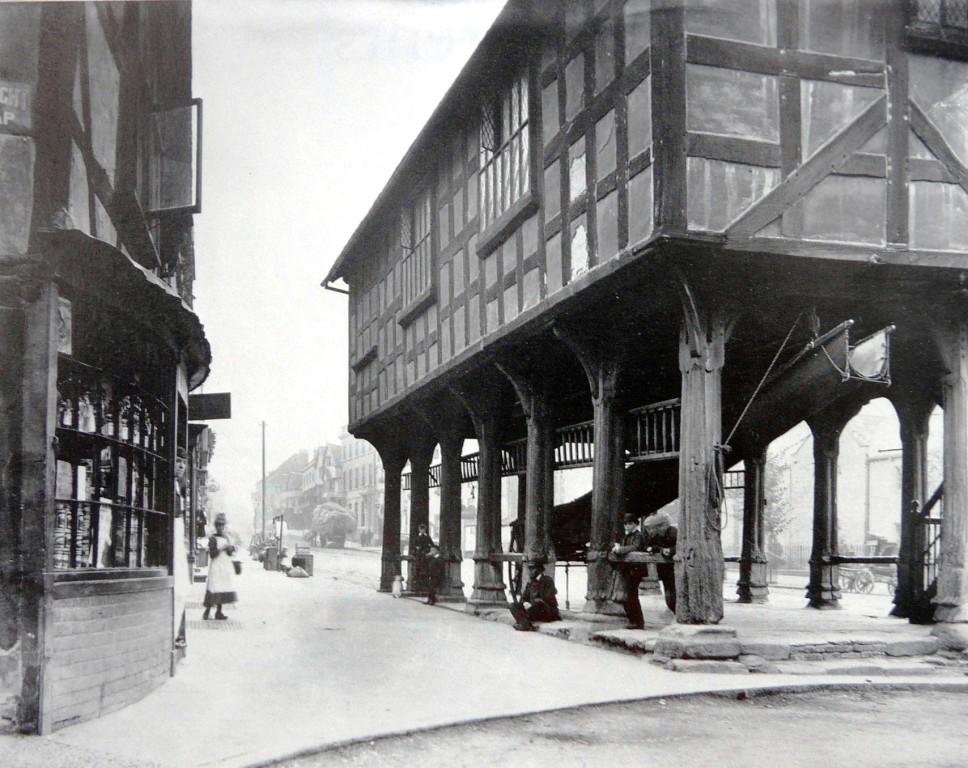 January 3 At a meeting of the Ledbury Hunt Committee it was announced that Major L R KETTLE, Joint Master of the Monmouthshire Hounds, had accepted with Mr V W YORKE the Joint Mastership of the Ledbury Hounds for the forthcoming season.

January 14 The marriage took place at Ledbury Parish Church, in the presence of a large congregation which included 300 guests, of Miss Margaret Julia WHARTON, eldest daughter of Mr and Mrs J R WHARTON, of Haffield, Ledbury, and Mr Ronald Joseph MONTAGUE HARRIS, only son of the Rev. and Mrs J M MONTAGUE HARRIS, of Halstead, Essex.

January 19 The tenth annual tea for old people of Ledbury was given at the Feathers Hotel.

January 23 At a special meeting of Ledbury Urban Council, Mr W PARKS was appointed sanitary inspector, surveyor and water engineer to the Council, in succession to Mr W F BICKFORD (resigned). Mr PARKS was sanitary inspector and surveyor to the Little Lever Urban Council, near Bolton, Lancs.

January 24 Death of the Rev. Preb. Frederick William CARNEGY, MA, formerly rector of Ledbury for 27 ½ years, which occurred in a Bournemouth nursing home following a long illness, at the age of 73.

January 25 Severe weather, accompanied by a heavy fall of snow and gales, was responsible for a series of mishaps in Ledbury during the week, and snowdrifts over five feet deep rendered many roads in the district impassible.

January 27 The annual dance, promoted by Bosbury Agricultural and Horticultural Society was held in Hereford Town Hall, and attracted an audience of over 270.

February 2 At Ledbury Licensing Sessions a very satisfactory annual report was presented, and all licenses were renewed.

February 2 Ledbury Chamber of Commerce annual dinner at the Feathers Hotel.

February 6 Formerly a well-known Ledbury auctioneer, the death occurred under tragic circumstances in the United States of Mr George LOMAS, who died at the age of 64, from injuries he received in a road accident.

February 8 A company of around 280 attended the sixth annual dance organised by Ledbury Police in aid of Herefordshire Constabulary Benevolent Association, held at the Feathers Hotel.

February 15 Eastnor Lodge of Freemasons annual installation ceremony at the Masonic Temple, Ledbury, when Bro. C R CLIFT (Gloucester) was installed Worshipful Master for the coming year.

February 15 Ledbury Fire Brigade was summoned to Hollybush Quarries, Eastnor, where the tar macadam manufacturing plant had caught fire and caused considerable damage.

February 17 The second annual Bachelors' Ball held at the Feathers Assembly Room in aid of Ledbury Cottage Hospital proved another outstanding success, a profit of £60 being realised.

February 23 A sale of work held at Ledbury Methodist Schoolroom in aid of Circuit funds realised a profit of £37.

February 24 Annual meeting of the subscribers and donors to Ledbury Cottage Hospital held at Church Room.

February 25 Organised by local Women's Institutes, the annual bulb show was held at Ledbury Town Hall. Putley W I won the silver cup given by Mrs AGAR-ELLIS.

March 2 Ledbury Musical Society's annual concert held at the Feathers Assembly Room.

March 4 Mr J P L THOMAS, M P for the Hereford Division, addressed a public meeting at the Feathers Hotel, and gave a review of the political situation.

March 9 Ledbury Bowling Club annual dinner at the Talbot Hotel.

March 26 The annual confirmation service was held at Ledbury Parish Church when 72 candidates were presented.

March 31 Ledbury Cribbage League annual dinner held at the Feathers Hotel.

April 3 A general rate of 6/3 in the £ for the ensuing half-year, representing an increase of 8d in the £ over previous rate, was approved by Ledbury Urban Council.

April 6 There was a large and representative attendance at the annual dinner of Ledbury Fire Brigade held at the Royal Oak Hotel.

April 8 Ledbury Hunt Steeplechases at Bushley Park, near Tewkesbury, attracted the usual large holiday crowd.

April 17 At the annual meeting of Ledbury Urban Council Mr Robert HARRIS was appointed Chairman for the ensuing year.

April 18 Members of Ledbury Amateur Cine and Dramatic Society held their first annual dinner at the Talbot Hotel.

April 21 Mr H J MORGAN, sorting clerk and telegraphist at Ledbury Post Office, who had been promoted to postmastership of Moreton-in-Marsh, was presented with an oak Westminster chiming clock as a parting gift from his colleagues at Ledbury Post Office.

April 29 Annual dinner to earth-stoppers at Ledbury Hunt, held at the Feathers Hotel.

April 29 The pupils of Miss Grace DOVEY gave their annual dancing display at the Drill Hall. The proceeds were in aid of the Agnes Hunt Appeal for Cripples and amounted to £19 5s 0d.

May 2 Ledbury Cottage Hospital annual 'Pound Day'.

May 21 Four hundred Scouts from all parts of Herefordshire held their annual Empire Day service and parade at Ledbury.

May 25 Mr William Francis WILLIAMS, Postmaster of Ledbury since March 1938, died suddenly at his home, Ventnor, Bank Crescent, at the age of 56.

May 27 The death occurred at his residence in Knapp Lane, Ledbury, of Mr Sidney Walter TOOKEY, after a long illness, in his 52nd year. The late Mr TOOKEY had been manager and secretary of Ledbury Agricultural Co-operative Society for the past 15 years.

June 3 Eastnor Clubroom was completely destroyed by fire, ad the estimated damage was in the region of £1,200.

June 12 Work was commenced on the repair and renovation of Ledbury Market House, at an estimated cost of over £300.

June 13 As a result of street collections in the town and district on Alexander Rose Day, the Ledbury Cottage Hospital received a cheque for £30 1s 0d.

June 22 Annual garden fete in connection with Ledbury Parish Church held at the Residence House, St Katherine's Hospital. Organised by members of the Ladies Working Parties in aid of Church funds and the Universities' Mission to Central Africa, the fete realised a profit of over £100.

July 9 Motor-cycling towards Ledbury on the Worcester-Ledbury road, Cecil Leslie WHITE (27), of Charlton Kings, Cheltenham, crashed into the stone wall near the Upper Hall Lodge, sustaining severe head injuries from which he died in Ledbury Cottage Hospital. At the inquest a verdict of 'Accidental Death' was recorded.

July 14 Court House School annual sports and prize-giving held at the Drill Hall.

July 24 Pupils at the Abbey School gave their annual entertainment in the school garden in aid of East End Children's Holiday Fund.

July 25 A country dance party given at Ledbury Grammar School in aid of Herefordshire County Funds for the Blind realised £16 8s 3d.

July 26 The death occurred of Sir George BULLOUGH, of Kinloch Castle, Isle of Rhum, at the age of 69. Formerly master of the Ledbury Hounds from 1906-1922.

August 14 Bosbury Agricultural and Horticulturist Show again proved an outstanding success, the number of entries being quite up on the previous years' record figures.

August 26 Record entries and a record gate testified to the popularity of Much Marcle and Yatton flower show and sports and an excellent programme of events ensured a fine afternoon's enjoyment.

September 3 Today will go down as another fateful day in our history. At 11:15 this morning, through the medium of the broadcasting system, Ledbury learned of the British declaration of war against Germany, when the Prime Minister (Mr Neville CHAMBERLAIN) made the momentous announcement that 'This country is now at war with Germany'.

September 25 At the annual meeting of Ledbury Chamber of Commerce, a strong protest was made against the proposed national scheme for the centralisation of cattle slaughtering and meat distribution.

September 30 Mr and Mrs J KENDRICK, Master and Matron of Ledbury Public Assistance Institution, retired after 25 years service in that capacity. They are succeeded by Mr and Mrs BANTON, from Maidstone, where Mr BANTON held the office of assistant master.

October 10 Ledbury Michaelmas Fair was cancelled as the fair could not be held in the streets under prevailing conditions because of obstruction, and also danger to the public during black-out hours.

October 11 Miss M J RICHARDSON, Matron of Ledbury Cottage Hospital, resigned owing to ill-health after 16 years' service. She is succeeded by Miss B M WILLIAMS, Sister and Assistant Matron at Chepstow Cottage Hospital.

October 20 Ledbury Fire Brigade was summoned to a fire at Hill House Farm, on the top of Marcle Hill. The blaze was seen for miles around in the black-out and caused damage to the extent of £500.

October 26 In connection with the Methodist Church, the annual 'Gift Day' in aid of Circuit Funds was held in the schoolroom and realised the sum of £36.

October 27 The Lord Mayor of Birmingham visited evacuee school children at Ledbury and addressed them at the Grammar School.

November 2 Organised by the local branch of the C E M S on behalf of Parish Church funds, the annual 'Gift Day' offerings amounted to £30 10s 3d.

November 11 Poppy Day collections for Earl Haig's Fund in Ledbury district were the highest ever recorded, the total proceeds amounting to £83 2s 6d.

November 16 The death occurred suddenly at Vernon Lodge, West Malvern, at the age of 72, of the Hon. Mrs Edith Mary BELL, widow of Charles Wentworth BELL, late of Bronsil, Eastnor, and sister of Lord BIDDULPH of Ledbury. The funeral took place at Eastnor Church.

November 25 Donations to a fund raised on behalf of Miss M J RICHARDSON, formerly matron of Ledbury Cottage Hospital, who resigned owing to ill-health, amounted to £315 when the fund was closed.

November 27 Widely known as a specialist in rose growing, Mr Walter DREW died at Hope End Lodge, Wellington Heath, at the age of 80.

December 2 Reviewing the year's work at the annual meeting of Ledbury British Legion, Major C A H PALAIRET urged the need for all ex-servicemen to join the organisation.

December 3 Interesting ceremony at the Royal Hall in connection with Ledbury Lodge of Buffaloes, when Primos Frank MITCHELL and Leonard FORDHAM were elevated to the honour of Third Degree (Knight of Merit) for services rendered in the cause of Buffaloism.

December 4 At the Ledbury Urban Council meeting a scheme for the reorganisation of the Fire Brigade was adopted.

December 5 Ledbury Bowls Club annual meeting at the Talbot Hotel.

December 7 The Ledbury Supierrots Concert Party presented a most attractive programme of non-stop variety to a crowded audience at the Church Room. The very large demand for tickets necessitated a repeat performance the following night. Proceeds were in aid of a fund to provide comforts for Ledbury men now serving in H M Forces, and amounted to £21 18s 11d.
---