1942 A Retrospect Tilley's Almanack
Chronological extracts completed from the "Ledbury Free Press"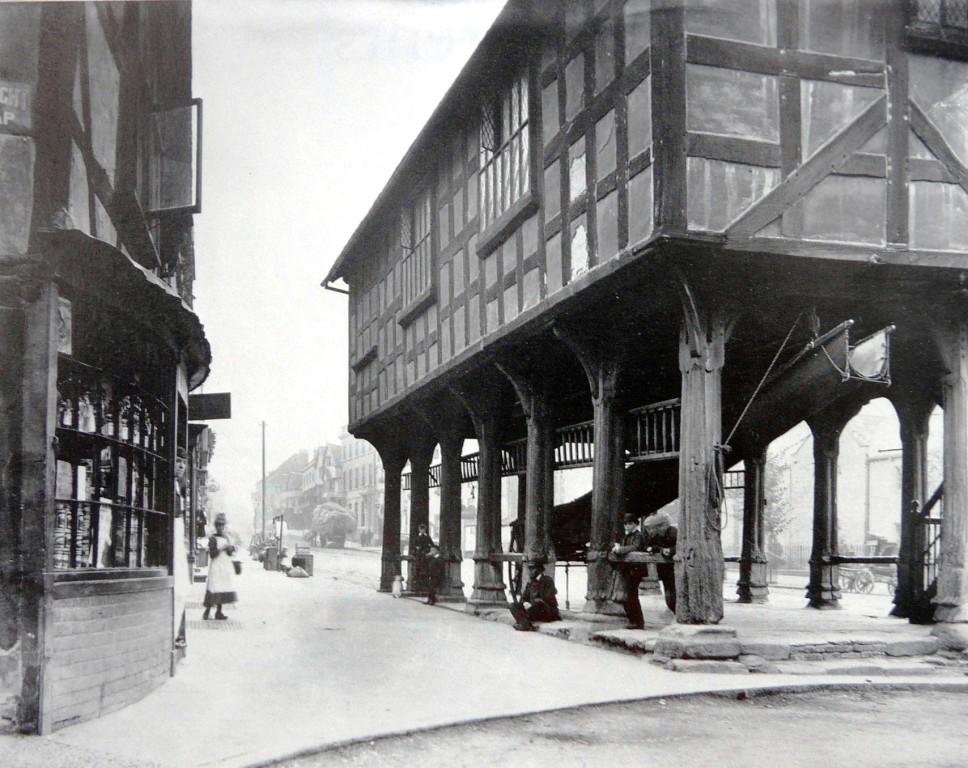 January 1 There was an attendance of about 350 at an invitation party given by Ledbury Company Home Guard at the Drill Hall.

January 3 At a committee meeting of Ledbury and District Agricultural Red Cross and Hospital Fund, a balance sheet for the period ending December 31st, 1941, showed a balance in hand of £1724 8s. 3d. This amount was allocated: £172 to Ledbury Cottage Hospital, £1552 8s 3d to the Agricultural Red Cross Fund.

January 5 At the monthly meeting of Ledbury Urban Council, the seal of the Council was affixed to an agreement with Malvern Urban Council for a new water supply for Ledbury, at an estimated cost of £4,500.

January 10 Annual meeting of Ledbury Association of the National Union of Teachers, held at the Boys' School.

January 26 A satisfactory years record was reported at the Ledbury Parish Church annual vestry meeting held at the Congregational Schoolroom.

January 27 At Ledbury Grammar School proficiency certificates and stars were awarded to successful cadets of Ledbury Squadron Air Training Corps.

January 31 Ledbury Parish Church choir boys annual party held at the Congregational Schoolroom.

February 2 The death occurred at Gorswen, Church Stretton, of Dr. LISLE-CARR, former Bishop of Hereford, at the age of 71.

February 10 Dance at the Drill Hall organised by Ledbury Chamber of Commerce in aid of Ledbury and District Agricultural Red Cross and Cottage Hospital Fund. The dance and subsequent whist drive realised a net profit of over £100.

February 11 Preb. WINNINGTON-INGRAM was appointed Archdeacon of Hereford in succession to Bishop G. D. ILIFF (resigned).

February 18 The annual installation ceremony in connection with Eastnor Lodge of Freemasons took place at the Masonic Temple when Bro. J. WILLIAMSON was installed Worshipful Master for the ensuing year.

February 18 Social evening at the Drill Hall, given by local members of the National Fire Service.

February 24 A company of about 350 patrons was present at Ledbury Police ball, held at the Drill Hall in aid of the Herefordshire Constabulary Benevolent Association. Net proceeds amounted to £96 6s 0d.

February 25 Another fine year's record and an improved financial position was revealed at the annual meeting of subscribers and donors of Ledbury Cottage Hospital.

March 9 The Grand Primo of England, Bro. Bruce WILCOCK, R.O.H., was present at the Ledbury Lodge of Buffaloes, when two brethren were raised to the Fourth and Third Degree respectively.

March 14 A most successful year was reviewed at the annual meeting of Ledbury and District British Legion Club.

March 18 Annual meeting of Ledbury Auxiliary of British and Foreign Bible Society, held at the Methodist Schoolroom.

March 22 The Lord Bishop of Hereford conducted a Confirmation service at Ledbury Parish Church, when there were 82 candidates.

March 24 At a meeting held at the Drill Hall it was decided to form a Garden Produce Club for Ledbury.

March 27 At a special meeting of Ledbury Bowling Club, it was decided to disband the club owing to war-time difficulties, after a flourishing existence of over 22 years.

April 18 A marble tablet to the memory of the late Major C. A. H. PALAIRET, of Westhill, which had been placed in Ledbury Parish Church, was dedicated by the Rector, Ven. A. J. WINNINGTON-INGRAM.

April 18 At the annual meeting of the Urban Council, Mr. J. R. DENSLOW was elected chairman for the ensuing year.

April 23 Three short plays were read by members of the Wesley Guild to an enthusiastic audience in the Schoolroom.

April 23 A company of about 200 attended a military invitation ball at the Drill Hall. Proceeds amounted to £40 a portion of which was devoted to the Cottage Hospital.

April 24 Annual dancing display given by pupils of Miss Grace DOVEY at the Drill Hall. Proceeds were in aid of Mrs. CHURCHILL's Aid to Russia Fund and amounted to £66 14s 3d.

May 4 The death took place of Mr. Alfred George PARMEE at the age of 65. The late Mr. PARMEE had been proprietor and licensee of the Feathers Hotel since 1931.

May 5 An excellent response was made at the Cottage Hospital annual "Pound Day."

May 25 A well attended dance at the Drill Hall, organised in aid of the local Comforts Fund and the Cottage Hospital, realised £94.

May 30 Mr. C. E. BAKER severed his connection with the scholastic profession, when he retired after 41 years' service at Ledbury Boys' School. Mr. BAKER was the recipient of a filing cabinet as a mark of esteem on the part of the Staff, the present pupils and some of the "old boys".

June 8 "June Frolic," a show organised on behalf of the Welfare Fund of the Ledbury Air Training Corps, was staged at the Drill Hall by the Supierrots Concert Party before a packed audience. Sir Alan COBHAM, the famous aviator, made a personal appearance at the show and spoke in support of the A.T.C.

June 12 Second annual non-competitive Ledbury and district Schools Musical Festival held at the Girls' and Infants' School.

June 22 The death occurred of Mr. Henry Stafford BRENCHLEY, of Upham House, Ledbury, a well-known figure in the hunting and racing world.

July 7 A freehold estate at Colwall, which included the popular Colwall Park Racecourse, was sold by public auction at the Town Hall, Ledbury, and was purchased by Dowsett-Mackay (Properties) Ltd. for £10,500.

July 11 Street collections in Ledbury in aid of Dr. Barnardo's Homes realised £28 17s 4d.

July 15 Organised by a group of local school girls. a bazaar and concert held at the Town Hall raised a sum of £60 for the Cottage Hospital.

July 22 Court House School annual prize-giving and sports, held on the Biddulph Arms ground.

July 25 Alexandra Rose Day collections in Ledbury amounted to £51 3s 8d.

August 1 Local street collections raised £36 9s 9d for the National Children's Home and Orphanage.

August 15 The sum of £60 was realised by a competition and street collections in Ledbury in aid of the British Sailors' Society.

August 27 Ledbury Ladies' Working Parties held their 55th annual sale of work in the Rectory garden. Together with other miscellaneous receipts, a net profit of £91 8s. 0d. was realised.

August 29 Ledbury Garden Produce Club held its first annual show, which was opened by Lady SOMERS at the Drill Hall.

September 9 Ledbury, Malvern and Hereford National Fire Service attended one of the biggest outbreaks of fire in the district for a number of years, which occurred at Priors Court Farm, Wellington Heath.

October 20 A "Brains Trust" arranged by Ledbury Wesley Guild was held at the Methodist Schoolroom and attracted a large audience.

October 27 The third annual "Gift Auction Sale," promoted by local farmers in aid of the Ledbury and district Agricultural Red Cross and Cottage Hospital Fund, took place in the Cattle Market and realised about £1,100.

November 5 The annual "Gift Day" organised by the local branch of the C.E.M.S. for Parish Church funds resulted in a record contribution of over £55.

November 11 "Poppy Day" collections in Ledbury and district in aid of Earl Haig's Fund exceeded all previous records, the grand total amounting to £183 12s 11d.

November 11 Increased membership and a satisfactory state of affairs was reported at the annual meeting of Ledbury Crescent Bowling Club, held at the Feathers Hotel.

November 15 For the first time since June of 1940, the welcome sound of Ledbury Church bells were heard as they rang a merry peal to celebrate the recent British victory in the Battle of Egypt. Today was also observed as Civil Defence Day, there being a church parade of all Ledbury Civil Defence Services personnel.
---