1946 A Retrospect Tilley's Almanack
Chronological extracts completed from the "Ledbury Free Press"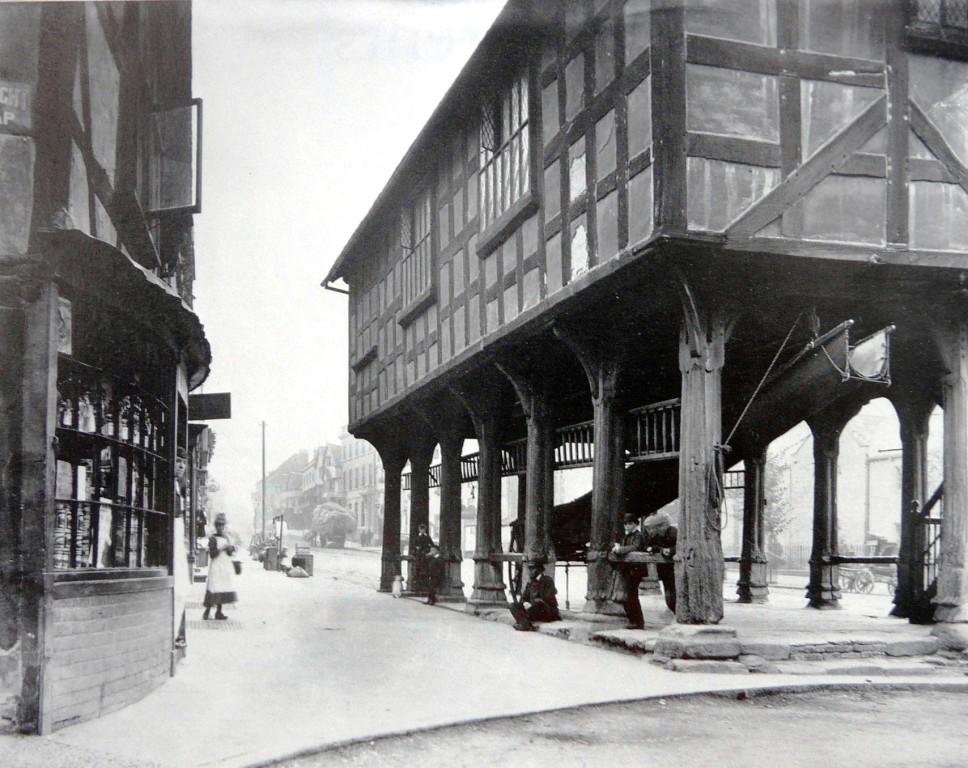 January 11 The revival of Ledbury Church Choir concert attracted a large audience at the Church Room.

January 17 One of the oldest tradesmen of the town, Mr Charles Lucas BERKLEY, jeweller, clock and watchmaker, of 18 The Homend died at the age of 83 years.

January 18 A boxing tournament at the Drill Hall in connection with the Herefordshire Army Cadets Championship drew a large attendance.

January 24 Choirmen of the Parish Church, with their wives, were entertained at the Rectory by the Rector and his mother, Mrs MOERAN.

January 28 Annual meeting of the church-people held at the Church Room.

January 30 Ledbury Chamber of Commerce social evening for members, their wives and staffs, in the Church Room.

February 4 A week's round of entertainment, organised in aid of Ledbury War Memorial Fund, commenced with a fun fair at the Drill Hall, followed each day with a varied programme of events which were all well attended.

February 7 First annual dinner and prize distribution in connection with Ledbury and district Home Guard Rifle Club, held at the Royal Oak Hotel.

February 21 At a meeting of Ledbury, Colwall and district National Savings Committee, held at the Boy's School, it was reported that as a result of the special savings weeks in the area during the war the sum of £729,281 was raised, and the total amount in savings credited to this area since the beginning of the war was £1,740,000

March 2 In the Herefordshire County Council contest for the Ledbury Electoral Division, the retiring Councillor (Mr W J BRAY), who stood as an Independent, was returned by a majority of 40 votes over his Labour opponent (Mr Frank SHINN).

March 4 At the monthly meeting of Ledbury Urban Council, it was announced that the Surveyor (Mr W PARKS) had tendered his resignation provisionally on being appointed surveyor at Warminster.

March 20 At a special meeting of the Urban Council, a contract was sealed with Messrs BOWERS & Co Ltd, builders, Hereford, for the erection of 27 houses on the Long Acre site at a total cost of £31,382 5s 7d.

March 22 A very satisfactory year's working was disclosed in the annual report presented at a meeting of subscribers and donors to Ledbury Cottage Hospital. Expenditure for the year amounted to £2,129 12s 4d and total income was £2,917 8s 8d.

March 30 After 62 years in the grocery business, Mr Alan James CHADD, of High Street, died at the age of 76 years.

April 1 The election of Urban District Councillors created a great deal of interest in the town, there being 19 candidates for eight seats. The successful candidates were : Messrs F L BORN, G H SMITH, F SHINN, P C SIMM, C A PREECE, H K TAYLOR, J R DENSLOW and G H LEWIS.

April 2 As a result of a ballot of Ledbury shop-keepers, Ledbury Chamber of Commerce decided to retain Thursday as the early closing day.

April 5 A public meeting convened by the Ledbury War Memorial Committee was held at the Town Hall, when Mr W E GIBSON, Secretary of the Herefordshire Community Council, in the course of an address pointed out that under certain conditions, towards Ledbury's target of £10,000 for a War Memorial, the Council could make a grant of £1,000 and a loan up to £3,000 free of interest, making a total of £4,000.

April 7 A good afternoon's sport was enjoyed by a very large crowd at the revival of Ledbury Hunt Point-to-Point Races held at Bushley Park.

April 15 At the annual meeting of Ledbury Urban Council, Mr W A MADDOX was elected chairman for the ensuing year.

April 24 A party of local enthusiasts visited Wembley for the first post-war F A Cup Final. Before a crowd of 98,000 spectators, Derby County beat Charlton Athletic by four goals to one, in a game full of thrills and after extra time had been played, the score after 90 minutes play being one all.

April 27 The annual dance recital given by the pupils of Miss Grace DOVEY was held at the Drill Hall, and again a great success. Proceeds were in aid of Ledbury War Memorial Fund and amounted to £94 8s 3d.

May 7 Ledbury Cottage Hospital annual 'Pound Day' met with an excellent public response.

May 11 A large crowd witnessed a special attraction at Ledbury Town F C ground when a football match was played between Moor Green XI (Birmingham) and Len WESTON's 'Dynamos'. The event was organised in aid of the Cottage Hospital and realised a sum of £30 11s 7d.

May 25 Flag Day collections in Ledbury and district for the Soldiers', Sailors' and Airmen's Families Association amounted to about £100.

June 8 'Victory Day' celebrations in Ledbury were marred and curtailed by unfavourable weather, nevertheless a fine programme of festivities that had been arranged was carried out so far as possible.

June 22 Over 180 Rangers, Guides and Brownies took part in a Girl Guides rally at Ledbury Park.

June 26 In connection with the local 'Welcome Home' Fund a number of cheques were distributed at the Town Hall to Ledbury men and women who have or who are still serving in the Forces.

June 28 Between 700 and 800 children attending schools in Ledbury and district took part in the annual carol and hymn festival arranged by the District Schools 'Musical Festival Association'.

July 11 Organised by the Ladies' Working Parties in connection with the Parish Church, the annual fete was held in the Rectory garden and was favoured with ideal weather and a large attendance. The proceeds of the fete proved a record, over £200 being realised.

July 12 As a final wind-up to the local 'Victory' celebrations a treat was arranged for children of the town, an open-air concert being staged at the Recreation Ground, followed by special entertainment by a miniature circus, which was thoroughly enjoyed by a large audience.

July 13 The death occurred in Windsor Hospital of Mr George William SUTER, of Langley Road, Slough, in his 80th year. Formerly a well-known Ledbury tradesman, the late Mr SUTER carried on a draper's business at 5 High Street, for a number of years until 1918.

July 24 Half-an-hour's interesting broadcast talk was heard by listeners to BBC Midland Home Service. This was a recording made at the Old Talbot Hotel of the impressions of a BBC trio of travellers who spent the previous Sunday in and around the Ledbury district.

August 1 Mr F J FLEET, Moreton-in-Marsh, commenced his duties as Surveyor and Sanitary Inspector to Ledbury Urban Council, in succession to Mr W PARKS who took up a new appointment at Warminster.

August 1 The post-war revival of Bosbury Agricultural and Horticultural Show was held in ideal weather, and attracted the largest crowd ever seen at this show, the entries also beat all pre-war records.

August 3 Daisy Day collections in Ledbury realised £36 8s 0d for the National Children's Homes. Memorial Fund, commenced with a grand carnival procession, and many attractive events in Ledbury Park during the afternoon and evening drew a crowd of upwards of 3,000. A full programme of attractions was organised throughout the week, the whole being well patronised. The concluding event of the week was a grand firework display given by the Standard Firework Co. in the Pound Meadow, a thrilling and ingenious show which was witnessed by several thousand people. The week's programme resulted in a sum of £275 in aid of the fund.

August 12 The death took place at his residence, Hope End, near Ledbury, of Alderman J W HEWITT, J.P., Chairman of Ledbury Magistrates, at the age of 70 years.

August 17 Annual show and sports of Ledbury Garden Produce Club held at the Pound Meadow.

September 7 A crowd of 1,500 spectators attended a motor cycle grass track meeting at Wall Hills, in which some of the finest riders in the West midlands took part. The event was organised on behalf of Ledbury War Memorial Fund, which received a substantial financial benefit.

September 20 As a result of a gale and substantial downpour in the Ledbury district, acres of hops were blown to the ground, trees uprooted, telephone communications interrupted and villages temporarily isolated. Trees falling across electric cables caused a failure of current in the town during the afternoon.

September 27 At the final meeting of the committee of Ledbury Comforts Fund, a statement of accounts was presented and showed that the fund was inaugurated in 1941 and up to date, a total sum of £638 6s 10d had been raised by donations, dances, whist drives, competitions etc. As a result of the fund, over 2,000 parcels had been dispatched during the war to local service-men and service-women on active service in many parts of the world.

October 8 Ledbury's annual Michaelmas Fair, almost up to pre-war standard, was once again held in the main streets of the town, and attracted large crowds from the surrounding district throughout the day.

October 14 Fine weather favoured the 36th meeting of Ledbury Ploughing Society, which was held at Hall Court, Much Marcle, when a series of interesting competitions were witnessed by a large attendance.

October 15 The Institute of Sociology has moved its headquarters from Le Play House, Malvern, to Orchardleigh, New Street, Ledbury.

October 16 At a well-attended meeting held at the Church Room, under the auspices of the Ministry of Agriculture, it was unanimously decided to form a poultry club for Ledbury.

October 24 It was decided at a meeting at the Grammar School, in connection with Ledbury Musical Society, to revive the society under the auspices of the Further Education Scheme.

November 7 The sum of £57 3s 0d was raised in aid of Parish Church funds at the annual 'Gift Day' organised by the local branch of C.E.M.S.

November 9 'Poppy Day' collections in Ledbury Urban realised £113 4s 7d for Earl Haig's Fund.

November 10 Lord and Lady BIDDULPH of Ledbury Park celebrated their golden wedding.

November 10 Remembrance Sunday for those who died in the world wars was observed in Ledbury by a united service held around the War Memorial in the High Street.

November 14 One of Ledbury's best known public and business men, Councillor F W JUCKES, of 32 The Homend, died at the age of 83 years. The late Mr JUCKES had carried on his well-known business of house furnisher and cabinet maker for upwards of 50 years and in the public and sporting life of the town had been a prominent figure for many years. He had given about 32 years unbroken service as a member of th Urban Council and in his younger days served for 27 years with the old Volunteers connected with the Herefordshire Regiment.

November 16 At the annual meeting of Ledbury branch of the British Legion, a very satisfactory report of the year's activities was presented, it was announced that the membership of the branch had increased from 142 to 257 during the past year.

November 21 It was decided at a meeting of the Ledbury Chamber of Commerce to hold Carnival in 1947 on similar lines to that held last August Bank Holiday.

November 25 A year of marked progress and achievement was revealed at the annual meeting of Ledbury Garden Produce Club, held at the Town Hall. During the proceedings, Finola Lady SOMERS presented three silver cups and other prizes to the winners at the Clubs last annual show.

November 26 Once the home of the world-renowned poetess, Elizabeth BARRETT-BROWNING, and until recently the property of the late Ald. J W HEWITT, the Hope End Estate near Ledbury was sold by public auction at the Town Hall to Mr Stephen BALLARD, of Colwall, for £31,500.
---