1950 A Retrospect Tilley's Almanack
Chronological extracts completed from the "Ledbury Free Press"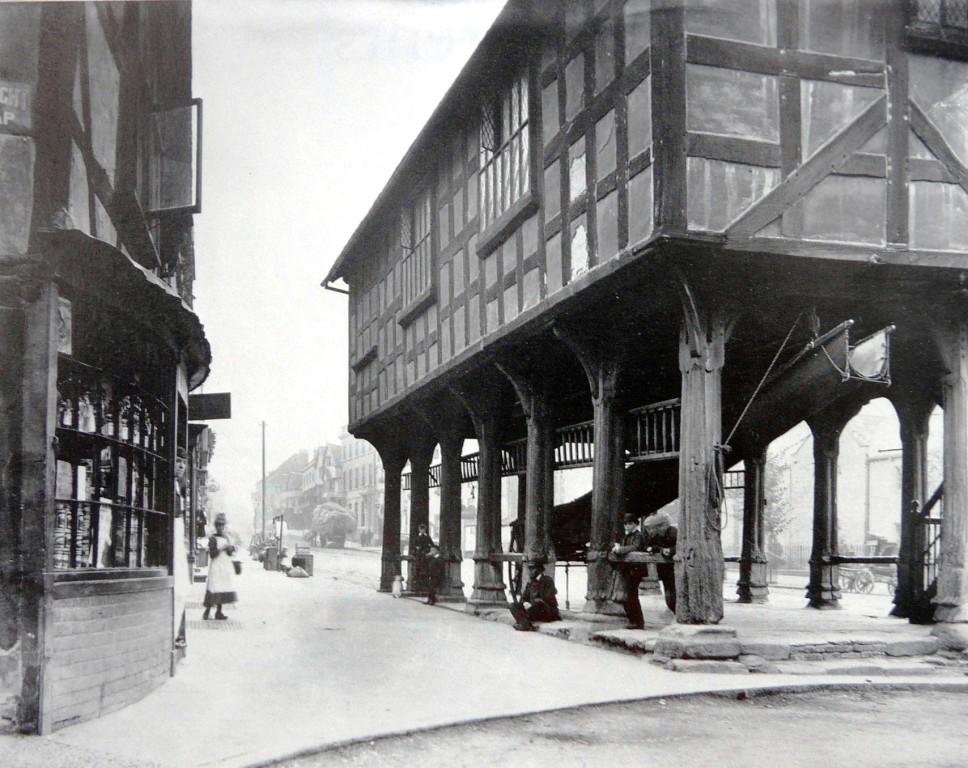 January 1 Large congregation attended the Carol Service of the Nine Lessons held at the Parish Church.

January 3 At the annual meeting of Ledbury Cricket Club, held at the Feathers Hotel, presentations were made for records during the previous season. Mr W H LAWRENCE for fine batting (over a thousand runs), and Mr W WETSON for notable bowling (over a hundred wickets).

January 4 Ledbury Toc H guest night and supper held at Church Lane Headquarters.

January 13 The annual concert given in the Church Room by members of the Parish Church Choir attracted a large and appreciative audience.

January 21 Mr J P L THOMAS, MP for Hereford Division, addressed a well-attended meeting at the Royal Oak Hotel, and bade farewell to his old constituents who would after February 3rd be transferred to the Leominster Division.

February 9 A company of over 250 attended the annual Ledbury Police Ball held at the Feathers Hotel in aid of the Herefordshire Constabulary Benevolent Association.

February 10 Ledbury Preserves (1928) Ltd celebrated its coming-of-age by a dinner at the Cadena Café, Gloucester, which was attended by a company of 190 comprising management and staff of the firm.

February 21 A magnificent display of blooms attracted large crowds at the annual bulb show of Ledbury Group W I, held at the Market House.

February 23 Polling day in the General Election passed off quietly in Ledbury. The result of the poll in the Leominster Division (which includes Ledbury district) was as follows :- Mr A E BALDWIN (Cons) 18,036 : Mr R JONES (Lab) 8,402 : Mr G MORGAN-HARRIS (Lib) 5,850. Conservative majority 9,634.

March 6 At the monthly meeting of the Urban Council a recommendation was adopted that the maintenance and supervision of Ledbury Cemetery be taken over by the Council.

March 9 Ledbury Market Society annual concert , held at the Royal Oak, when a rendering of Edward GERMAN's 'Merrie England' was given before a large and appreciative audience.

March 9 The Rev. Arthur LOCKWOOD, formerly superintendent minister at Ledbury Methodist Church, died at his home, Suckley, Newbury Park. In 1901 the Rev LOCKWOOD went to Ceylon as a missionary where he ministered for 29 years.

April 5 The whole of the pupils of Ledbury Girls' and Infants' School were assembled at the school canteen for presentation of a cheque and beautifully executed scroll to Miss C M PAGE, who was retiring after serving as a teacher at the school for 34 years.

April 6 A junior branch of the British Red Cross was formed at a meeting held at the TOC H Room.

April 7 Members of the town and village churches in the Ledbury Methodist Circuit held a Good Friday rally in the Methodist Schoolroom.

April 8 In spite of boisterous wind and threatening rain a large crowd attended the Ledbury Hunt point-to-point races held at Bushley Park, near Tewkesbury.

April 13 At the annual parochial meeting in connection with the Parish Church it was announced that an appeal was about to be launched for the sum of £1,500 towards the restoration and reconstruction of the church bells.

April 14 Upwards of 500 attended the Ledbury Hunt Farmers' ball held at Eastnor Castle.

April 21 Annual dance recital given by the pupils of Miss Grace DOVEY at the Camp Theatre. Proceeds were in aid of the Children's League of Pity and realised £80 8s 3d.

April 26 The death occurred at the Cottage Hospital of a member of a well-known local family, Mr Sam DAVIS, of Rosemount, Ledbury, at the age of 86 years.

April 28 To wind up one of the most successful seasons, Ledbury and district Darts League held their annual prize distribution and social at the Royal Oak Hotel.

April 29 Dr Barnardo's Homes annual box opening party was held in the Church Room. Collecting boxes together with miscellaneous receipts raised the sum of £40 11s 4d for the Homes.

April 29 The first poultry show organised by Ledbury Domestic Poultry Keepers Club, held at the Market House.

April 29 Recruiting tour of the Herefordshire Light Infantry (T A) opened with the arrival in Ledbury of a column of about 20 vehicles.

April 29 Ledbury contributed its annual quota of enthusiasts to witness a brilliant F A Cup final at Wembley Stadium, where for the third time in five visits to Wembley, Arsenal secured the cup with a well-merited win against Liverpool by 2 – 0.

May 2 An excellent exhibition of handicrafts was staged at the Royal Oak Hotel by the Ledbury Group of eleven Women's Institutes.

May 8 Polling took place in the Ledbury Urban Council election, in which there were seven candidates for five seats. Successful candidates were: Messrs W G WARREN, W J BRAY, L C WRIST, H F TURNER and W COLEY.

May 9 Ledbury Cottage Hospital annual 'Pound Day' to which there was a splendid response.

May 11 Mr G W E FARROW, of Picklenash M. and I. School, Newent, was appointed headmaster of Ledbury Boys' School by Herefordshire Education Committee, in succession to Mr H C HOOPER, who was retiring at the end of July.

May 22 At the annual meeting of the Ledbury Urban Council, Mr C A PREECE was elected the new chairman for the ensuing year.

May 25 The annual Ledbury and district Schools' Music Festival was held at the Parish Church, and attended by about 600 children from 14 schools, the choir being conducted by Dr Herbert SUMSION, organist at Gloucester Cathedral.

May 26 Ledbury Cribbage League annual dinner held at the Royal Oak Hotel when the League Cup and medals were presented to the winners and runners-up.

June 1 The death took place at Leicester House, the Homend, of Mr Alfred BLAKEMORE, district manager West Midlands Gas Board, at the age of 53 years.

June 3 Ledbury Fire Brigade was summoned to a fire at White House, Preston Cross, which caused damage estimated at £2,300.

June 9 Brian Alan HARRIS, of Malvern Link, sustained fatal injuries when he was thrown from a motor cycle which crashed into a wall at Stanley Hill, near Ledbury.

June 22 Herefordshire County summer rally of the National British Women's Total Abstinence Union, held at the Methodist Church.

June 29 Upwards of 600 children, parents and friends attended the local Sunday Schools outing to Barry Island, where a most enjoyable day was spent.

July 6 Ledbury Parish Church annual sale and garden party, held in the Church Room, realised £245 9s 8d.

July 17 The death occurred in the Cottage Hospital of Dr K A GOLDIE, of Rossway, Ledbury, at the age of 62 years. Dr GOLDIE had been in partnership with Dr W STEADMAN since April 1939 and was widely known and esteemed in Ledbury and district.

July 18 Two motor coaches were extremely damaged when they came into collision at the Upper Cross and many holiday-makers had narrow escapes.

July 19 Jewellery worth £1000 belonging to Lady Amy BIDDULPH of Ledbury was stolen from the Lansdowne Club, Berkley Square, Mayfair.

July 19 Ledbury Girls' and Infants' School annual prize-giving.

July 20 On his retirement as headmaster of Ledbury Boy's School, after 33 years' service, a number of presentations were made to Mr H C HOOPER at a gathering at the school.

July 27 Ledbury Grammar School annual 'Speech Day' and prize-giving, held at the Cinema House which was crowded to capacity with scholars and friends, the Bishop of Hereford (Dr T LONGWORTH) presented the prizes to successful scholars.

July 29 A garden fete held in the grounds of Ledbury Grammar School in aid of St Mary's Home, Eastnor, proved an outstanding success, realising the sum of £260.

August 1 Ledbury Park, built in 1590, the historical county seat of the late Lord BIDDULPH, was offered for sale by public auction at the Feathers Hotel, and withdrawn after bidding had reached the figure of £13,500.

August 3 Bosbury Agricultural and Horticultural Show attracted between 6000 and 7000 visitors, and entries totalling nearly 1000 were a record in all sections of the show.

August 12 A local cricket team which had been touring the Isle of Wight returned to Ledbury after a very successful week. Five matches were played, two won, two drawn, one lost.

August 13 Ledbury Parish Church Choir sang evensong in Hereford Cathedral.

August 22 Collections in Ledbury on behalf of the Servers of the Blind League realised £38 14s 5d.

August 23 Formerly well-known as one of Ledbury's public and businessmen, Mr William Luke TILLEY died at his home, 'Lytton', Dorchester, at the age of 78 years.

August 26 Favoured with brilliant weather Much Marcle and Yatton flower show and sports attracted a crowd of nearly 5000.

September 2 The annual show of the Ledbury Garden Produce Club was held in the grounds of Ledbury Park and proved a great success, with an attendance of nearly 2000.

September 9 A verdict of 'Accidental Death' was returned at an inquest held at Upper Mitchell Farm, Ledbury, on Sidney Levi BELCHER, aged 63, of Red Cottage, Upper Mitchell, who died from injuries received when he was whirled around the shafting of a hop-drying plant.

September 18 An English Oak lectern for use in the hall of Ledbury Grammar School was dedicated as a memorial to the 19 old boys of the school who gave their lives in the 1939 45 war.

September 18 Ledbury Fire Brigade attended a fire at Moor Court Farm, Eggleton, where damage estimated at several thousand pounds was caused.

September 21 Mr Charles Edward BAKER, of Park View, Southend, died with tragic suddenness after attending a Lodge meeting of the Eastnor Freemasons. Mr BAKER, who was 68 years of age, retired in 1942 after completing 41 years teaching at the Ledbury Boys' School.

September 24 County Parade of St John Ambulance Brigade was held in Ledbury when about 250 members paraded and afterwards attended a special service in the Parish Church.

September 24 Mr R R KIMBELL, of Ankardine House, Ledbury, was ordained deacon by the Bishop of Hereford in the Cathedral.

October 8 Harvest thanksgiving services at the Parish Church were attended by large congregations.

October 10 Crowds of people attended Ledbury's October Fair, which was held in the streets of the town.

October 23 Ledbury Ploughing Society annual competitions held at Great Moor Court, Much Marcle, in excellent weather.

October 25 A three day sale of furnishings and effects was opened at Ledbury Park, when buyers from all over the country engaged in keen bidding for the valuable furniture, pictures and books contained in the mansion.

November 10 First annual ball of Ledbury Hockey Club held at the Feathers Hotel attracted an attendance of about 150.

November 11 Poppy Day collections in Ledbury and district realised £163 10s 8d for Earl Haig's Fund.

November 12 Remembrance Day was observed in Ledbury by a service at the War Memorial and a special service at the Parish Church.

November 22 Presentation of a framed illuminated address made to Mr E H GUNTER-JONES at the Feathers Hotel, to mark his retirement as Commander of Ledbury Special Constabulary. Major K G STACY HATFIELD succeeds Mr GUNTER-JONES as Divisional Commander.

November 23 Ledbury Parish Church annual 'Gift Day' realised upwards of £125.

November 28 Mainstone Court, near Ledbury, with its Georgian residence, part of which dates from the 17th century, was sold by auction at Ledbury Town Hall. The property realised £26,6000 and was purchased by Mr Fred DAVIES, of Aylton Court.

November 29 Inspector E C WILLS took over police duties at Ledbury, in succession to Inspector J E KEYTE who had been transferred to Ross.

November 30 A sale of work at Belle Orchard House raised the sum of £54 11s 3d.

December 7 Massed choirs of nearly 400 children and members of local Women's Institutes took part in a carol service at the Parish Church.

December 9 At the annual meeting of Ledbury Territorial Club, Major G M SINGLETON, M.C., T.D., was presented with an inscribed tankard on his retirement from the Territorial Army.

December 13 A three act comedy entitled 'Fools rush in' was staged by Ledbury Amateur Cine and Dramatic Society at the Camp Theatre and attracted good houses.

December 20 The annual carol service given by Ledbury Grammar School was held at the Parish Church.
---