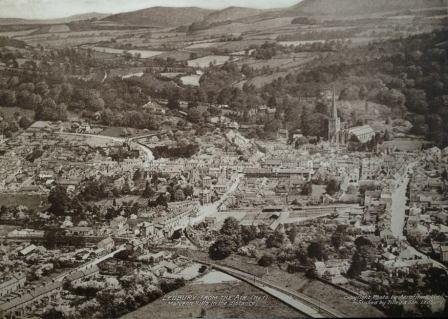 Percy Archer CLIVE, DL was a British army officer and Liberal Unionist Party politician. Percy Clive was born the eldest son of Charles Meysey Bolton CLIVE of Whitfield, Herefordshire by his marriage to Lady Katherine Feilding, daughter of William Feilding, 7th Earl of Denbigh. He was educated at Eton and the Royal Military College, Sandhurst, and was commissioned into the Grenadier Guards as a second lieutenant in 1891. He was appointed as a Deputy Lieutenant of Herefordshire in December 1894, and was attached to the Niger Field Force from 1897 to 1899 based in Lagos, rising to the rank of captain. In May 1899 he was elected a fellow of the Royal Geographical Society.

He was elected to the Commons as the Member of Parliament (MP) for the Ross division of Herefordshire in the "khaki election" of 1900, while fighting in the Second Boer War. He did not return to England to take his seat until February 1902, and in June that year was Private Secretary for Parliamentary purposes to Lord George HAMILTON, Secretary of State for India. In December 1903 he was appointed Parliamentary Private Secretary to E G Pretyman, Parliamentary and Financial Secretary to the Admiralty.

In the year 1905 he married Alice MURIEL, daughter of the late Colonel G. F. DALLAS and Lady LEWIS, wife of Sir Herbert LEWIS, fourth baronet of Harpton, Radnorshire. The wedding took place at the Guards Chapel, Wellington, London.

He was unseated at the 1906 general election, which saw the Liberal Party win a landslide victory. He returned to Parliament at a by-election in January 1908, and remained Ross's MP until his death. Following a merger of the Unionist parties in 1912 he became a Conservative


A Retrospect

1900

October 2 Mr. M. BIDDULPH retired at General Election, after representing the County 35 years, and Captain Percy A. CLIVE (C.) returned unopposed in his place.


1914 - Rejoined the colours ( Ledbury Guardian Newspaper 15 08 1914 )
Captain P A CLIVE, M.P. for South Herefordshire, rejoined the colours on Wednesday. He was to have been present at Whitfield Horticultural Show on Thursday but sent a wire regretting his inability, and adding - detained here with Guards Reserve Regiment. Should like to urge all young men between the ages of 20 and 30 to offer their services to the nearest recruiting officer through, the local post office. Captain CLIVE served in the Grenadier Guards, and in the Boer War. Mrs CLIVE, wife of Captain CLIVE, is also going to open a hospital at Whitfield.
1914 - Mrs CLIVE ( Ledbury Guardian Newspaper 05 09 1914 )
On Thursday morning the Mayor of Hereford received a letter from Mrs CLIVE (who is acting with Captain P.A. CLIVE, M.P. on behalf of the committee for Belgian Refugees) stating that due notice would be given when the contingent for Hereford is likely to arrive, which will probably not be for a day or two. Mrs CLIVE added that the committee were deeply grateful for the kind and prompt response made by the Mayor on behalf of the people of Hereford.
1914 - At The Front ( Ledbury Guardian Newspaper 28 11 1914 )
The Member for South Herefordshire (Captain P. A. CLIVE, M. P.), is at present in France serving with his regiment, the 1st Battalion of the Grenadier Guards. Up to Sunday last Captain CLIVE was with the Colours in London, securely engaged in military duties. Captain CLIVE served in West Africa in 1898 and South Africa 1899-1901. It was whilst fighting in South Africa that he was elected M.P. for South Herefordshire.