Echoes From The Past
Newspaper Extracts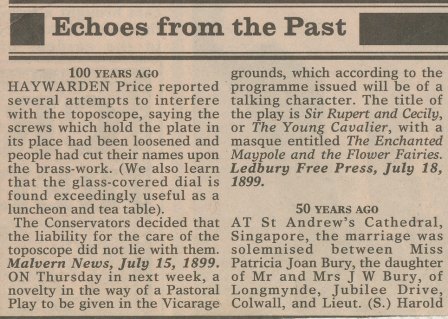 1899
July 18 Ledbury Free Press
On Thursday in next week, a novelty in the way of a Pastoral Play to be given in the Vicarage grounds, which according to the programme issued will be of a talking character. The title of the play is Sir Rupert and Cecily, or The young Cavalier, with a masque entitled The Enchanted Maypole and The Flower Fairies
1900
July 3 Ledbury Free Press
ON Friday a party of the Old Shakespeare Club, from Birmingham, commenced an excursion "Through the Valley of the Wye." The party arrived at Ledbury at 10.38am and a brake conveyed them to the Feathers Hotel, where refreshments were provided. The members afterwards inspected the Elizabethan Market House and then proceeded to the Parish Church, where the beauties of the edifice were pointed out.
July 24 Ledbury Free Press
THERE is an admirable society called the Soldiers and Sailors Help Society for helping discharged soldiers and providing homes for the crippled and convalescent. In connection with it, the Ledbury Branch of the Children's' Penny Band was formed last month, and as a result of a thorough organisation on behalf of the noble object, the very satisfactory sum of £10 18s and 1d was raised by the children, this amount representing 2,617 pennies.
July 31 Ledbury Free Press
JON MAISEY, a native of Colwall, was charged with being drunk and disorderly at Colwall. Defendant did not appear. PC William THOMAS stated that he saw defendant in the road, drunk and using bad language. Witness requested him three times to go home to his wife. Afterwards, witness told him he should have to lock him up, if he did not go. He said he wanted to fight anyone who would stand up in front of him.
August 7 Ledbury Free Press
ON Friday, Ledbury district was again visited by heavy rains and, unlike, the downpour on a previous evening, considerable damage was caused thereby, owing to the heavy wind, almost approaching a hurricane, which accompanied the rains for several hours.

In Ledbury there was a miraculous escape. William BAKER and his family, living in the old turnpike house on the Eastnor Road, were much alarmed by a tremendous crash. A large limb of an ash tree had broken off and fallen on the roof.
August 14 Ledbury Free Press
THE arrangements for the summer treats for the schools, Eastnor and Holly Bush, were on an extensive scale, but rain unfortunately put a stop to the sports, which were held on the cricket ground. The boys were able to play a cricket match from one to 2.45pm, when the rain came down. The scholars adjourned to the rectory, where they had tea at 4 o'clock.
August 21 Ledbury Free Press
BOSBURY Horse Show and Races - The proverbial fine day again favoured the holding of this long-established event on Monday, the result being a very large influx of visitors from a radius of quite 20 miles. The meeting has now been established a quarter of a century and it is a remarkable coincidence that a wet day for the holding of the Bosbury meeting can hardly be remembered.
August 28 Ledbury Free Press
ELIZABETH WILLIAMS, who has been in charge of a lodging house in Homend Street, Ledbury, was charged with being drunk and disorderly on August 7. Superintendent PHILLIPS stated that between 10 and 11pm, a female went to him and said she had paid for her lodgings at defendant's house, but did not want to stay there, but she wanted her clothes. Witness went to the house and found several people drunk, including defendant. Defendant assaulted the woman.
September 4 Ledbury Free Press
Robert CALE, a youth of Ledbury, appeared on two adjourned summonses, viz, for being drunk and disorderly in New Street on August 18 and with using obscene language at the same time and place. It appeared from the evidence of Superintendent PHILLIPS that defendant and his brother were fighting in the street. After the fight, defendant used some of the foulest language witness had ever heard. In fact, it was so bad, witness did not care to repeat it, so had it written on paper, which he now handed to the bench.
September 11 Ledbury Free Press
Alfred MATTHEWS and Samuel NORMAN, of Pixley, were charged with coming from land at night with five rabbit nets in their possession. PC Leonard LEWIS stated that whilst on duty at 4.30am, he saw a lurcher dog belonging to MATTHEWS in pursuit of a rabbit. MATTHEWS said: "I'm a rabbit catcher. I'm catching rabbits for Mr PUDGE." The chairman said that Mr MATTHEWS was a professional rabbit catcher but he should not trespass on other people's land.
September 25 Ledbury Free Press
Harriet CALE of Ledbury was summoned for very obscene language on September 5. Defendant appeared very dejected in the dock. Supt PHILLIPS said he was passing the Lower Cross in his trap when he met Mrs CALE. She seemed very excited and said, "I want to speak to thee." Witness replied that he was in a hurry, whereupon defendant cursed him in a loud voice, because he was sending her son to gaol.
October 2 Ledbury Free Press
TWO hop-pickers, man and wife, named William ROBERTS (40) and Maria ROBERTS (40) visited Ledbury on Friday and they succeeded in imbibing so freely that they became helpless, the man making a violent assault upon Sgt John LLOYD whilst in the execution of his duty. The disgraceful conduct of these people was unfortunately witnessed by a number of people, among whom were two ladies.
October 9 Ledbury Free Press
ON Monday afternoon, a meeting of the Ledbury branch of the Herefordshire Constitutional Union was held at the Barrett-Browning Institute. The chairman explained that the meeting had been called together for the purpose of making necessary arrangements in the case of a contest in South Herefordshire, and observed that although there were no signs of opposition, it was their duty to be on the right side. (Hear, hear).
October 16 Ledbury Free Press
ANNIE BAKER gives her age as 26 and, although she is not a native of Ledbury, she has spent the last two months in and around the Ledbury district. She is only too well known to the police, having been ordered out of the town several times on account of her behaviour. About three weeks ago she was charged with sleeping in an outhouse near Winster's Elms, and was sentenced to seven days hard labour.
October 23 Ledbury Free Press
THE Master of the Ledbury Hounds still shows great anxiety on this question of wire in the Ledbury Country, as will be seen from the following letter, which has been circulated in the district. "Dear Sir, as the hunting season is now approaching, I would draw your attention to the existence of the large amount of wire now in different parts of the country. I refer to both plain round as well as barbed wire. The former is equally dangerous in the fences as the latter."
October 30 Ledbury Free Press
ELLEN FLYNN is a middle-aged woman and hails from Cardiff, and on Thursday she favoured Ledbury with her presence, and in the evening, having imbibed too freely, treated some of the residents with a specimen of her vocal powers. Having obtained a few coppers, these were exchanged for beer, and then she wandered about the town, abusing pedestrians.
November 6 Ledbury Free Press
THERE was something distressing surrounding the charge preferred against Albert Edward EVANS, aged 16, by his parents who live at Little-hill on the borders of Much Marcle and Woolhope. When brought up from the cells, the prisoner presented a downcast appearance, his eyes being much swollen through crying. He was charged with stealing two five shilling pieces and two couple of fowls, valued at 10s, belonging to his parents.
November 9 Ledbury Free Press
THERE was plenty of excitement on the hills on Saturday last, the Ledbury Hounds coming in full view of the town. Reynard, who came from the direction of Colwall, kept them a considerable time in the neighbourhood of St Ann's Well, where the hunt attracted a large number of townspeople. After evading his pursuers in the upper parts, the fox made for the town, and came down the Red Lion Bank at a rattling spin. Crowds watched the progress of the sly one as he made for the Unicorn Yard with the hounds in full chase. Here the artful reynard took shelter in the mail van, which, however, proved to be his last resort, for here escape was impossible, and he was forced to yield up his brush.
November 13 Ledbury Free Press
Colonel C K WOOD of Ledbury was greeted with a tremendous burst of popular enthusiasm on his arrival at Sheerness on Saturday, from South Africa, where he commanded the Royal Engineers with the Natal Field Force. The gallant colonel briefly returned thanks for his warm reception. Colonel WOOD is expected to arrive at Ledbury this week.
November 20 Ledbury Free Press
THE proposal, which has been on foot for a short time past, to recognise in some practical manner the invaluable services rendered by Mr Michael BIDDULPH in the House of Commons has now taken a tangible form. Mr Spencer BICKHAM of Ledbury, a few weeks ago, threw out a hint at a meeting of the Ledbury Constitutional Association that a complimentary dinner should take place in recognition of Mr BIDDULPH's 35 years' services to the county in the House of Commons.
November 27 Ledbury Free Press
THE old adage that accidents do happen was surely exemplified on Friday. The meet of the Ledbury Hounds was at The Pheasant, Welland, and after a good gallop, and while "Novice," one of the most valuable mares from Ledbury Kennels was leaping in a boggy place, the animal slipped on the opposite bank and injured its back. It was taken to the kennels where it was thought necessary to kill it.
December 4 Ledbury Free Press
WILL the Urban Council come to our assistance this winter, and have some of the mud and slush scraped off our roads? For the past five years, the quagmire conditions that we the residents of the "West End" in Ledbury have had to wade through has been nothing short of a nuisance. During the past week the puddles of water in the road have been two or three inches deep.
December 11 Ledbury Free Press
ON Monday last, Mr MANTON held an important timber sale at the Royal Oak, Ledbury, when there was a great attendance of buyers. The catalogue comprised of valuable falls of 308 timber trees and two acres of well-grown coppicing at Birtsmorton, Berrow and Colwall.
December 18 Ledbury Free Press
JAMES GRIFFIN, coal merchant, of Ledbury was summoned by Joseph BROMAGE, Inspector SPCA, for causing a horse to be worked in an unfit state. Inspector BROMAGE stated that he was in Ledbury Market and saw a horse attached to a four-wheel van. He noticed the animal was very poor and only able to get along with difficulty. Witness saw an old wound on the back. He saw that the pad was saturated with blood and matter. A screw had worked through the pad into the wound.
December 25 Ledbury Free Press
ON New Year's Eve, the Rev. Henry S. SANDERS will conduct a watch night service in Eastnor Parish Church, commencing at 11.15pm. The service will be of a simple unconventional type, consisting of prayer, special hymns and an address. Watch Night will this year have a special significance, at the opening of the new century.
1901
January 1 Ledbury Free Press
NOBODY should miss the great opportunity of witnessing the series of Pilgrim's Progress Tableaux, arranged by Lady Henry SOMERSET, to take place in the Great Hall of Eastnor Castle on Thursday evening next. It will consist of some 25 tableaux from Bunyan's well-known story, which will be interspersed with the songs of the story, specially set to music by Lady Henry SOMERSET.
January 15 Ledbury Free Press
AT the Ledbury Urban Council, Mr BRAY asked if any serious damage was done in the streets, consequent to the recent heavy rains. The Chairman said no serious damage was done, but the metal was washed off the surface of the roads. Mr BRAY said: "There was a large accumulation of mud, gravel and stones at Lower Cross."
January 22 Ledbury Free Press
THE Ledbury Total Abstinence Society, which was started some years ago for the purpose of promoting temperance among the working men of the town, has done good work since its foundation. At the commencement of the Society, the members were not numerous, but the ranks have been steadily swelling, and meetings are held every Friday in the Town Hall.
January 25 Malvern Gazette
SINCE the sad accident which befell Mr SOMERSET, son of Lady Henry SOMERSET, while shooting a few weeks ago as reported in these columns, hopes have been entertained that notwithstanding the seriousness of the accident the sight of the one eye would not be entirely lost. Last week, however, all hopes in this respect were abandoned, and on Thursday the injured organ was removed. We are glad to hear that Mr SOMERSET is progressing favourably.
January 29 Ledbury Free Press
The tone of all the various telegrams received and exhibited at the Ledbury Free Press office on Monday and Tuesday last fully prepared the public for the final message, received at 7pm on Tuesday, to the effect that Her Majesty died at 6.30pm. During the whole of the evening, a large number of persons gathered in the High Street, anticipating the course of events. By the following morning, many houses of business exhibited signs of mourning.
February 5 Ledbury Free Press
TROOPER Ernest BILL, of the Royal Gloucestershire Hussars, who volunteered for the Imperial Yeomanry for service in South Africa, left Ledbury on Wednesday for Cheltenham. He was the recipient of a number of presents for his friends in town, all of whom wished him good luck and a safe return. He volunteered for 12 months.
February 11 Ledbury Free Press
LADY Elizabeth BIDDULPH said she wanted to say a few words with regards to the accommodation at Ledbury Cottage Hospital. At the present time, there was no bathroom, and she proposed, if it was acceptable, to provide one. She had consulted the architect and it was found that one could be erected on the ground floor, adjoining the men's ward.
February 19 Ledbury Free Press
WILL some of your local historians kindly give me any information about the LUCY family, who were settled in Ledbury, and whose monuments are still to be seen in St Anne's Chapel in the parish church. The monuments bear the same coat of arms as the LUCYS of Charlecote Park in Warwickshire. It would be interesting to know is there is any evidence of a link as, if true, it would connect the Ledbury LUCYS with the famous Justice SWALLOW, who punished Shakespeare for stealing the deer.
February 26 Ledbury Free Press
NOTWITHSTANDING the official contradiction made in these columns last week, to the effect that Mr Gordon CANNING had not taken to the Mastership of the Ledbury Hunt, another report, that Mr CANNING had taken to the hounds again, got into press circulation at the end of the week. This was equally incorrect.
March 5 Ledbury Free Press
SIR, Lady Elizabeth BIDDULPH's letter in your paper last week is rather strangely written. It seems funny to hear that she regrets Ledbury is being canvassed for funds for a memorial window to our beloved Queen Victoria. Surely her ladyship is not sorry that we are patriotic enough to honour our Queen, in a place, too, probably visited by Queen Victoria as a child.
March 12 Ledbury Free Press
ON Monday last, at the Feathers Assembly Room, the study of the sun was continued in this lecture. Dr FISON first went into the subject of those mysterious spots which have given rise to so much controversy. These sun spots were first discovered by Galileo, but it is only in recent times that much research has been devoted to this study.
June 11 Ledbury Free Press
Much interest was aroused in the sale of horses and cobs at the Plough Hotel Yard, Ledbury, on Monday last, when an officer of the Remount Department attended on behalf of the War Office to purchase horses and cobs "for immediate use in South Africa, for cavalry and mounted infantry".
1949
July 15 Ledbury Reporter
The Parish Church Choir appeared in their new red cassocks and white surplices on Sunday last for the first time, and since then i have heard favourable comments on the innovation. It has been a very costly business to re-robe the choir and the very fact that the church possesses such a large choir has naturally added to the cost. The choice of red instead of black for the cossacks seems to be entirely satisfactory and a considerable improvement.
1950
June 30 Ledbury Reporter
PATRONS who intend visiting the Wellington Heath Fete and Show tomorrow may be conveyed by taxi at a nominal charge of six pence per head for the single journey. This concession has been offered by Mr F. C. SWIFT to help the rebuilding fund of Wellington Heath Church, for which object the fete and various attractions have been arranged.
July 21 Ledbury Reporter
MANY holiday-makers had narrow escapes when two coaches came into collision at the Upper Cross, Ledbury, on Tuesday evening. One coach owned by Gliderways, returning to Birmingham, from a trip to Barry, when turning from New Street towards Worcester Road collided with a coach belonging to Messrs OWEN, of Knighton, travelling from The Southend. The Birmingham coach was struck broadside, the fuel tank being shattered. Some of the passengers were severely shaken, but no one was injured.
July 28 Ledbury Reporter
THE weather was on its worst behaviour last Saturday, which was unfortunate for the parties concerned in the four weddings which took place in this district, although I gather that the downpours were not allowed unduly to interfere with the festivities generally associated by these happy events. By a sheer coincidence, three of the persons concerned, two brides and a bridegroom, were all former pupils of Ledbury Grammar School and were married on the same day, namely Miss Patricia BREWER; Miss Ellen PRICE and Mr R.J. LANE.
August 4 Ledbury Reporter
APPEALING to parents to show more ambition and far sightedness about their children's education, Miss P.M. OAKLEY, headmistress of the Ledbury Girls' and Infants' School, said parental apathy in this respect was one of the school's greatest enemies, an enemy she had never experienced to such an extent elsewhere. She also referred to the "detrimental effect of habitual cinema-going" on children.
August 11 Ledbury Reporter
"GIVE me a Reporter, I want to see who is dead and who is alive," said a lady when she called at the office last week. It is, of course, one of the functions of a local newspaper to record those who pass on, and frequently a melancholy duty it is, more especially in small towns like Ledbury, where nearly everyone is known personally.
August 25 Ledbury Reporter
I FEEL rather envious of Mr Albert ROSE of The Homend, one of the most active members of the Ledbury Youth Club. He is a signalman at Ledbury Station, and having a taste for 'furrin parts' engendered by a visit last year to the Pyrenees, he has saved his pennies up in readiness for another trip, to Vadstena in central Sweden, to be the guest of the Senior Methodist Minister in Sweden.
August 11 Ledbury Reporter
IN the light of petrol de-rationing, and the consequent increase in road traffic, the probability of accidents is accordingly increased. It is all the more creditable, therefore, that six Ledbury postmen have gained awards in the 1949 Safe Driving Competition.
September 1 Ledbury Reporter
PERHAPS it will come as no surprise that the Women's Cricket Festival at Colwall, Malvern and Dymock last week was one of the wettest on record! But the weather by no means had things all its own way - games were played on every day or part of each day and there were some keenly-fought events. For a while it seemed that no one was going to make a century, and then on the last day Molly HIDE, the England captain, achieved three figures in the match against Miss STEPHENSON's team at Dymock. The next highest score was the 67 not out made against Miss Betty PIKE's XI at The Downs School by Miss Mary DUGGAN, also an England player, daughter of Mr Norman B. DUGGAN the Worcester surgeon.

Mr J.F. EAST, our town surveyor, informs me that many different opinions about the new electric street lighting have been expressed to him, but that on the whole the town is very favourably impressed. Some people think the big standards, 25ft high, are too tall; but I think they add dignity to the street and, on dark nights, when not lighted, will stand out against the sky, thus enabling pedestrians to avoid bumping into them.
September 8 Ledbury Reporter
The first British soldier to come under fire in Korea was a Colwall man, Lt John HIND, whose father farmed Netherpaths, Colwall, until about 18 months ago, when the family left for Taunton. Lt HIND, of the Royal Ulster Rifles, was one of a small party of British officers sent out from Britain by air to spend a fortnight in the field with the Americans.

What a bright and cheerful personality was Tom CHADD, of Victoria Road, whose death was announced this week. For many years one saw his slight but active figure as he delivered bread in the district and thus became so well known to hundreds of local people. A man who, in these days, continues his daily work until he is 80 must have been happy in doing it; and it must appear that his work kept him going, for his retirement was a short one.
September 22 Ledbury Reporter
I heard of a local woman who single-handed picked 38 bushels of hops in one day at a hop farm in the district this week. At one shilling per bushel, the returns would approximate £11 weekly. Reports from local hopyards indicate the crop is a very heavy one this year. Some growers are finding difficulty getting labour because if it.
September 29 Ledbury Reporter
LLOYDS Bank can trace the history of its business in Ledbury to 1790, when Thomas WEBB opened a banking office in a room leased from Edward FIFIELD, a cider merchant. One hundred and sixty years have passed since the Ledbury bank was founded, and there will be general congratulations to Lloyds Bank Limited and the present manager of the bank, Mr C.H.F. WILDE and his staff.
October 6 Ledbury Reporter
A SPECIAL effort to increase national savings and particularly the street groups will be made in Ledbury on Tuesday, October 17, when a team of canvassers from Coventry are to make house-to-house visits accompanied where possible by the local group secretaries. The hope was expressed that people will at least receive the canvassers when they call and listen to their message.
October 13 Ledbury Reporter
A UNIQUE view of Ledbury's October Fair was obtained by scores of people on Monday and Tuesday night. This was made possible by a journey in a big wheel erected in Bye Street, opposite the Cattle Market, the first time the attraction has been seen in town.
October 20 Ledbury Reporter
THERE can be few churchless parishes in England today, but at present Wellington Heath is one of them. When Christ Church was largely destroyed by fire a few months before the present vicar arrived, it was naturally difficult, while the war was in progress, to calculate the ultimate cost of restoring the building. No one could possibly foresee such a colossal increase in the cost of building as has taken place in recent years. As a consequence, it is costing to rebuild a small portion of the old ruined church as much as £5,117 or about three times the cost of the original church.
October 27 Ledbury Reporter
A FREE display of films will be given at the Town Hall, Ledbury, on Tuesday, October 31, at 7.30pm. These will be of particular interest to past members of the Civil Defence Services and it is hoped that many veteran wardens, ambulance and nursing personnel, and others who served in the last war, will take the opportunity to renew old acquaintanceships, perhaps severed since 1945.
November 3 Ledbury Reporter
HUNDREDS of people attended the three-day sale by Messrs RUSSELL, BALDWIN and BRIGHT Ltd, of furnishings and effects, which started on Wednesday last week at the fine old Elizabethan Mansion, Ledbury Park, formerly the residence of the late Lord BIDDULPH which, in August, was put up for public auction and withdrawn after bidding had reached £13,500.
November 10 Ledbury Reporter
The offer made to the town by Lord BIDDULPH to acquire Ledbury Park was a fine gesture and has caused a good deal of discussion among the public. The Council certainly has a grave responsibility with regard to a decision, whether they accept it or turn it down. Some people believe the provision of a public park would attract people to the town and at the same time provide a pleasant venue for townspeople in fine weather.
November 17 Ledbury Reporter
MR A. E. BALDWIN, speaking at a crowded meeting organised by the Ledbury branch of the Conservative and Unionist Association on Friday night in the Market House, said he had no idea when there would be an election, but thought it would come suddenly. He dealt with many current problems, and also warned his hearers that in view of the position in Korea, the World was in an extremely dangerous situation.
November 24 Ledbury Reporter
Bosbury Cricket Club has decided to improve its ground, the proposals including a new pavilion, sight screens and seating. The club also appeals for more players. The requirements were made known at the AGM of the Club, presided over by Major HEATON-ARMSTRONG, when 19 members were present.
December 1 Ledbury Reporter
AFTER a talk with Mr Walter BUNN of the Holly Bush Sick and Disabled Society, I gathered that this organisation, notwithstanding the general view that National Insurance and other Government schemes have obviated the necessity of private social undertakings, is still doing a fine job. The benefits that accrue to members on payment of 3d a week must be quite helpful in times of sickness or bereavement.
December 8 Ledbury Reporter
LEDBURY Rural District Council on Tuesday, in the Chancery Division, before Mr Justice ROMER, submitted to an injunction, restraining them from polluting the Colwall Brook, Colwall, by discharge of sewage. Ledbury RDC said they felt no useful purpose would be served by fighting the action. Defendants would submit to an injunction that would be suspended to enable them "to put their house in order" and to construct proper sewage works to deal with sewage.
December 158 Ledbury Reporter
LOCAL history can be seen depicted in films at the special presentation of news reels at the camp Theatre, Ledbury, on Tuesday, Wednesday and Thursday, January 9, 10 and 11, produced by the Ledbury Amateur Cine and Dramatic Society. The pictures will include shots of the 1947 Carnival; the Conservative Fete in Ledbury Park last year, and local weddings.
December 22 Ledbury Reporter
MR E. HOLFORD who works at Hill House Farm gave an interesting account of a rabbit hunt, when a remarkably mixed bag was obtained. Ferreting with nets on his farm, the company selected a series of burrows. After having caught quite a number of plump rabbits, they went on to another burrow. Here, to their surprise, a huge stoat was driven out and netted; afterwards being shot. The hunters shortly afterwards heard a hissing noise, and found it came from a yard-long grass snake. The reptile was dug out and despatched.
1951
January 1 Ledbury Reporter
ALTHOUGH none of the inhabitants of Bosbury would suspect that any of their neighbours were associated with the stolen Coronation Stone, on Wednesday a stone answering fairly well to the description of the missing relic was found in one of the cottages. As the reader will guess, it was a replica of the priceless piece, which has recently attracted so much public attention.
January 12 Ledbury Reporter
WE should like to see houses built on Bank Crescent Estate. We must admit we are a little disappointed that some of our builders and others with capital have not built more on Bank Crescent before this. It is a splendid building site, close to the town, and beautifully situated.
January 19 Ledbury Reporter
THE enthusiasm among many local authorities all over the country to initiate activities to mark the Festival of Britain does not as yet seem to have reached Ledbury. Deliberations of the Ledbury Urban Council on the question of local activities in connection with the Festival are now in progress, and it may interest some members of the Council to know what a large number of authorities are favouring local festivities.
January 26 Ledbury Reporter
"IF something is not done quickly," said F R THOMAS, well-known farmer, "Ledbury Cattle Market will be a thing of the past." Mr THOMAS was asking at a meeting of the Ledbury Branch of the Herefordshire Farmers' Union what was happening in Ledbury Market, regarding sales of attested cattle. Mr THOMAS declared that the Union must take action or stock would be taken to other sales in the district.
February 2 Ledbury Reporter
THERE is hardly anything more fascinating than watching an artist at work. An opportunity to see a woman chalk artist at work will therefore attract many people, on Monday February 12, when in the Market House, Ken and Wanda COMINGS, noted revivalists of the United States, will lead a campaign to attract youth to Christ.
February 9 Ledbury Reporter
SUNDAY next is an important occasion at Ledbury Parish Church, where for the first time there will be a broadcast of community hymn singing in the General Overseas and Light Programme, from 8.30am to 9pm. The eight hymns chosen will be introduced by the Rector, Prebendary W G MOERAN.
February 16 Ledbury Reporter
ON all sides one heard that the Ledbury Parish Church Broadcast of community hymn singing last Sunday in the General Overseas and Light Programme was an outstanding success. It was certainly cause for congratulation that a choir numbering nearly 300 voices from town and country responded to the invitation to take part. Reception was excellent, according the BBC engineers on the spot.
February 23 Ledbury Reporter
CAPTAIN Bruce BAIRNSFATHER, famous cartoonist and creator of the now legendary figure of "Old Bill" who typified the figure of the British Tommy of the First World War, was last week with his wife, staying at The Feathers Hotel, Ledbury. Interviewed by our reporter, the Capt. expressed himself as delighted with the picturesqueness of the town.
March 2 Ledbury Reporter
A FEW weeks ago, a remarkable transformation was quietly affected in the method of supplying Ledbury with water from Massington Pumping Station. Before this transformation, the pumping station was filled with clamour from the diesel engines and thumping of the pumping shafts. Today the place is peaceful. The new machinery, installed under the humdrum description of electrification, is in fact a robot, possessing what appears to be human intelligence.
March 9 Ledbury Reporter
AT Monday's meeting of Ledbury Urban Council, a resolution protesting against the County Council's proposal to build a new police station and police houses on the Upper Hall site along Worcester Road was unanimously passed, after a long discussion.
1974
July 18 Malvern Gazette
Centuries of granite quarrying which has left deep scars in the sides of the magnificent Malvern hills may soon finally be halted. Death knell for the last remaining hillside excavations has been sounded out by Malvern Hills District Planning Committee. It has refused to give what would have been a three-year reprieve to operations at Gullet Quarry.
1975
July 3 Ledbury Reporter
SENIOR pupils of Ledbury Grammar School walked around the town this week wearing blindfolds and ear-plugs while others often made their progress on crutches. The exercise was designed to make the pupils aware of the problems encountered by disabled pedestrians under modern traffic conditions. Part of the study was also concerned with the safety of young children, and some of the party went on all fours.
July 24 Ledbury Reporter
BISHOP Hugh FOLIOT fully restored to health, is safely back. In 1232 he founded the Hospital of St Kathe-rine of Alexandria in Ledbury, for the relief of wayfarers and the poor and needy folk of the parish. Three and a half centuries later, an artist painted a picture of him. This hung in the Masters House until 1963 when our local council banished him to an outhouse. Rescued after the restoration of St Katherine's Hall, be was at last given worthy lodging in the Chapel.
August 7 Ledbury Reporter
A LEDBURY branch of the National Federation of the Self-Employed was formed last week. Recruitment of new members has gone on steadily since an exploratory meeting was held in June. Now there are 33 members within a four-mile radius of the town. They include shopkeepers, farmers and innkeepers. Mr Lawrence BROWN, the local secretary, estimates there are 200 self-employed business people in the Ledbury area.
August 14 Ledbury Reporter
SOME Ledbury councillors want to know who authorised the erection of a large blue and white notice as a nameplate for Ledbury Cottage Hospital. At the meeting of the local planning committee last week, nobody could recall even having seen plans for the structure, which was put up recently. Mr Brian CROKER described the sign as "diabolical".
August 21 Ledbury Reporter
THE management of Ledbury Community Hall, which has been at the centre of controversy over the issue of a music and dancing licence, was granted permission by Ledbury Magistrates last week, to carry on for a further six months. The original licence last November was adjourned, so that sound tests could be carried out.
August 28 Ledbury Reporter
LEDBURY Town Council is to oppose plans to extend the local abattoir. People living near the premises in The Homend recently protested to the council about noise and smells from the slaughtering business. The local planning committee met last week to consider an application to extend the chill-room and enlarge the slaughter area and cooling hall.
September 4 Ledbury Reporter
School leavers in Ledbury are having less difficulty in finding jobs than those in other parts of Britain. At the start of the summer holiday, 54 boys from their local schools were looking for their first jobs, as the national unemployment figures soared to 1,250,000. Last week, the area careers officer reported that 42 of them had found work.
September 11 Ledbury Reporter
The girls at Ledbury Preserves swooned last week when they heard that Elvis PRESLEY had joined the workforce. But it was back to jam making when they found out it was not the hip-swinging Elvis. Sixteen- year-old Elvis PRESLEY lives in Bosbury, and he can't sing.
September 25 Ledbury Reporter
More than 500 blooms brought a riot of colour to the local community when Ledbury Floral Society staged a two-day exhibition of chrysanthemums and dahlias last weekend. A few days before there was a sharp frost, but the gardeners compensated for the drop in chrysanthemums by displaying more dahlias than usual.
October 2 Ledbury Reporter
LEDBURY Ploughing Society will return to the scene of the first ploughing match ever held in the district, for its big annual event on Thursday October 9. The last time a ploughing match was staged at the Hazel Farm was in 1898. Going back to this site, near the Ledbury end of the Ross Road, is expected to entice more townspeople than usual.
October 9 Ledbury Reporter
A YEAR of striking progress was outlined by headmaster Mr T. A. NEAL, at Ledbury Grammar School's speech day. Sporting and other activities at county and higher levels had helped to place the school in a wider context, he said. So too had the harsh realities of the external examinations. The school had set itself a very high standard, and had gone far to meet it.
October 16 Ledbury Reporter
BRITAIN'S champion ploughman, Vivian SAMUEL of Upper Monkton, St Weonards, returned to winning ways at Ledbury Ploughing Society's annual match at Hazel Farm. He won the overall ploughing award in his first competitive match since returning from the world ploughing championships in Toronto, Canada.
October 23 Ledbury Reporter
GRAPES were harvested in open vineyards in Dymock this week, thus launching the first large-scale wine growing enterprise to be established in the Ledbury area for more than two centuries. About one ton of grapes were picked at Fairfield Fruit Farm. It is expected to produce about 1,200 bottles of wine.
October 30 Ledbury Reporter
CHRISTMAS lights will be on a reduced scale in Ledbury this year. Coun A. L. DRENNEN, the Town Mayor, reported last week that a delegation from the Town Council had agreed with the Chamber of Commerce to draw up a modified scheme. It is intended to concentrate on extra illuminations and festive decorations at the Market House.
November 6 Ledbury Reporter
LEDBURY Chamber of Commerce suggests that there were no shops in the town in the reign of Elizabeth I. This seems unbelievable since it is known that there was a sizeable population and several inns which supplied meals and overnight accommodation, indicating that even in those days there was some sort of tourist trade.
November 13 Ledbury Reporter
A Ledbury woman tells me she had written to the Premium Bonds headquarters because she suspects that "Ernie" has either lost trace of her or has got his wires in a twist. And a clerk at Lytham St Annes has replied that thousands of others have written in a similar vein and heaven knows how long it will take to check all their serial numbers.
November 20 Ledbury Reporter
THE October Fair and Market House traders should not be dispensed with. Both are facets of Ledbury's character that should be preserved, say townspeople. They were quick to voice their support for the two colourful attractions whose future is being questioned by the Ledbury Chamber of Commerce.

THE discerning among Ledbury people enjoyed an evening of good music at The Feathers Hotel on Saturday Night, when the North Herefordshire Liberal Association produced another concert.
November 27 Ledbury Reporter
As so often before, Mrs Margaret POWELL charmed her audience with her beautifully modulated renderings of The Blessed Virgin's Expostulation, by Purcell.
December 11 Ledbury Reporter
STEPS are to be taken to establish an official twinning between Ledbury and the Loire Valley town of Doue-la-Fontaine. Such a link already exists between the Rotary Club of the two towns. Now Ledbury Town Council is to take the initiative in establishing a link on a wider basis. Members stressed that official visits should not be confined to civic representatives but that two young members of the two towns should be encouraged to meet each other.
December 18 Ledbury Reporter
WORKMEN renovating an 11th Century Ledbury building have uncovered evidence of how their great great great grandfathers lived - and ate. The Severn Stars has been an inn since 1526, so the licensee, Mr Jenkin PHILIPS, was not surprised to hear that a strange metal contraption had been found up the chimney. It turned out to be a roasting spit, still in good repair, and possibly 600 years old.
December 25 Ledbury Reporter
CHAMPION beast at the Christmas fat stock show and sale at Ledbury Market was a Hereford Blue Grey, entered by Mr Fred HARRINGTON of Lower House Farm, Canon Frome. It was the second year running that Mr HARRINGTON has won the premier award at the show; and on both occasions, his winning entry was also adjudged the best butcher's beast.
1976
January 1 Ledbury Reporter
A BUSY year ahead for Ledbury Town Council is predicted by Mr Dennis WILSON, the Council Clerk. In a message conveying seasonal greetings to the Council, Mr WILSON suggests that one of the most important tasks will be to improve the condition of the Market House, and the old Council Offices in Church Lane.
January 15 Malvern Gazette
AN abandoned telephone exchange at Colwall is on the market and may be put to some new use for the village. The parish council decided last week to investigate the possibility of buying the building from the Post Office but postponed judgement about the kind of role it should fulfil. Some members felt the disused exchange, which is near the library in the centre of the village, could be adapted as a meeting place for the council. Others considered it would serve a more useful purpose if it was converted into a public lavatory.
January 15 Ledbury Reporter
A feature in our columns about discoveries made by workmen during renovations at the Severn Stars Inn, probably the oldest pub in Ledbury, has aroused the curiosity of local historians. Miss S. ROBINSON, of Bank Crescent, wonders if the "cubby hole" revealed by alterations really sheltered runaway priests.
January 22 Ledbury Reporter
A SOLITARY 51st minute goal was enough to seal Ledbury Town's fifth away defeat of the season in a drab West Midlands League encounter at Rugby on Saturday. Ledbury were without the services of injured skipper and top scorer, Alec CARSON, and it was all too obvious.
January 29 Ledbury Reporter
BY building a new church in New Street, Ledbury, local Roman Catholics have ended a centuries old search for a permanent place of worship in the district. The Catholics in Ledbury have been on the move since the Reformation. Before 1900, they walked to Little Malvern for their Sunday Worship.
February 5 Ledbury Reporter
LEDBURY Town Council is to come to the rescue of one of the town's most noted buildings, The Elizabeth Barrett Browning Institute. The outside of the building has deteriorated because of a lack of funds to put matters right. Now the trustees find that a big maintenance job will have to be carried out. The bill is likely to be between £1,400 and £1,700, and they only have £300 in the bank.
February 12 Ledbury Reporter
LEDBURY Young Conservatives, at their annual meeting, handed over a cheque for £120 to the Leominster Constituency Party - six times their expected contribution. At the end of their first full year, it was reported that the branch is now the strongest in the North Hereford area.
February 19 Ledbury Reporter
THE attitude of the RSPCA towards blood sports has been sharply criticised by Mr Peter TEMPLE-MORRIS, MP. "It is quite ridiculous that for emotional and almost political reasons, the RSPCA should condemn the life of the country," he said. Mr TEMPLE-MORRIS has written to the Secretary of State protesting against recent statements about hunting, shooting and fishing.
February 26 Malvern Gazette
MISS Jane NEALE, daughter of Mr and Mrs Ivor NEALE, of Shelane, Albert Road, Ledbury, a second-year apprentice at the Margaret CLARKE Hairdressing Salon, The Homend, Ledbury, came second in the West Midlands Area hairstyling competition of the Association of Hairdressing Teachers in Technical Colleges.
February 26 Ledbury Reporter
LEDBURY Grammar School has opened a fund to provide a memorial to Mr J.C. THATCHER, its deputy headmaster, who died in December. It is proposed to install a display case to house the honours book presented by the school to the Old Pupils' Association, and to endow an annual prize for mathematics, to be named after Mr THATCHER.
March 4 Ledbury Reporter
LEDBURY Town Council is starting to move into its new headquarters in the historic Church Lane precinct this weekend. Mr Dennis WILSON, the Town Clerk, has already established his office in the ground floor of the 16th Century building. It is expected that a larger, adjoining room will be ready for use for council meetings in April.
March 11 Malvern Gazette
COLWALL will not enter the best-kept village competition this year because the parish council feels that it would have no chance in the tidiness stakes. The main trouble was that no help was received from the county authority to clean the roads and pavements.
March 11 Ledbury Reporter
WORK is to start immediately on a £40,000 scheme to restore the Old Grammar School Building, one of the architectural gems of the historic Church Lane centre of Ledbury. Most of the building will be converted into a residential property, but a section of it will be sealed off and used for some public purpose.
March 20 Ledbury Reporter
THE people of Ledbury gave an enthusiastic welcome last week to the plan to revitalise the historic Church Lane area of the town. Malvern Hills District Council's planning department staged a four-day exhibition in the Council Chamber at St Katherine's. Despite deplorable weather, more than 400 people turned out.
April 1 Ledbury Reporter
POLICE loudspeaker vans last week warned Ledbury people that radioactive material had been stolen from a building site. The material was contained in three fire detectors, which were waiting to be installed in a new home for the elderly, at Belle Orchard Close.
April 8 Ledbury Reporter
Local inn-keepers paid a striking tribute last week to Mr Tommy TOWNSEND, licensee of the Trumpet Inn, Pixley, who is retiring in June after 38 years in the licensed trade. The occasion was the annual banquet of Ledbury, Bromyard and District Licensed Victuallers Association at The Feathers Hotel which was attended by 130 licensees and guests.
April 15 Ledbury Reporter
Ledbury Town Council was urged on Thursday to speed up the twinning of Ledbury and the French town of Doue-La-Fontaine. Nearly 40 townspeople assembled at the annual parish meeting. It was by far the largest turnout ever seen at a parish meeting in Ledbury.
April 22 Ledbury Reporter
Wellington Heath is bidding to be the first place in Herefordshire to have a job creation programme. The aim of the Parish Council, which is behind the idea, is to employ ten currently unemployed people for about nine months on landscaping and improving the amenities of the village. Estimated cost is £12,000 to £15,000.
April 29 Ledbury Reporter
The historic setting of Church Lane, Ledbury, is to provide the background for scenes in a film based on Henry Fielding's novel, Joseph ANDREWS. The film is being made by Woodfall Ltd of Bath, which produced the film epic, Tom JONES by the same 18th Century author.
May 6 Ledbury Reporter
Difficulty in finding Scout leaders is having a harmful effect on the local Scout movement, Mr A.W.G. GODFREY, Ledbury District Commissioner reported on Friday. The number of scouts had dropped during the year from 103 to 85, he told members of the Scout Committee.
May 13 Ledbury Reporter
The way was clear for the twinning of Ledbury and the Loire valley town of Doue-La-Fontaine last weekend. The Town Mayor, Coun A.L. DRENNEN and the town clerk, Mr Dennis WILSON, returned from a visit to the French town with a party of local Rotarians on Tuesday. "We received very warm hospitality," said Coun DRENNEN.
May 20 Ledbury Reporter
Despite the grim realities of a water shortage this summer, Ledbury will receive a better supply next year. This assurance was given by two officials of the Welsh Water Development Authority, who spoke at a public meeting in St Katherine's on Thursday. There would be an improvement early next year, when a new water undertaking in Hereford would be able to boost supplies.
May 27 Ledbury Reporter
Ledbury Farmers are to protest against a move that would prevent waste food being collected from hospitals and used as pigswill. The local branch of the NFU agreed on Friday to support the Hereford branch in resisting the installation of waste disposal units that would churn up the hospital kitchen waste so that it can be passed into the drains.
June 3 Ledbury Reporter
Ledbury shopkeepers are being asked to co-operate in a scheme to give the town a festive air when this year's carnival is held on Bank Holiday Monday (August 30). Although the revival of the Carnival was an outstanding success last year, street decorations were noticeably absent.
June 10 Malvern Gazette
A plan to set up an antique shop in the old telephone exchange in Colwall is to be recommended by the local council. The council recently abandoned a suggestion that it should buy the exchange and convert it either into a council meeting-place or a public lavatory.
June 11 Ledbury Reporter
A fascinating insight into the history of churches in the Ledbury Rural District was provided at a one-day exhibition at St Katherine's Hall last week, as a contribution to the 13th Centenary celebration of the Herefordshire diocese. The oldest record was a photostat reproduction from the Domesday Book of 1086, which listed "Ledeberge".
June 17 Ledbury Reporter
Tarrington was hit by a water shortage when someone stole the parish pump during the weekend. The pump serves cottages in the Durlow Common area of the village, which is not connected to the mains. It was missed when Mr Alfred BAKER went with containers to draw a week's supply of water.
June 24 Ledbury Reporter
Strawberries for tea means something more mouth-watering than usual at Southlea, a privately run home for the elderly at Ledbury. The strawberries weigh in at more than an ounce. Bob PLENDERLEITH, superintendent of the home, who grew the giants, is mystified why they came so big.
July 1 Ledbury Reporter
David STEEL paid a flying visit to Ledbury on Saturday, as part of his campaign for the leadership of the Liberal Party. In a question and answer session in a room over the Market Hall, he said he was greatly heartened by the strength of the Liberal Associations which he had found on his tour.
July 8 Ledbury Reporter
Movie makers have been filming in Ledbury again, hoping to include the town's famous cobbled street in a follow-up to an Oscar-winning success. It is not every sunny day that stars like Jim DALE, Peter FIRTH and Michael HORDERN land on the doorstep. Director Tony RICHARDSON hopes to make the film Joseph Andrews a similar success to his adaptation of Tom Jones.
July 15 Ledbury Reporter
ALL the churches in the Ledbury Deanery joined in the largest demonstration of the Christian faith ever seen in the town on Friday. Five hundred worshippers from 22 parishes took part in a procession of witness through the streets of Ledbury.
July 22 Ledbury Reporter
The fear that children will be put at risk through the manoeuvring of extra school buses if a large comprehensive is established at Ledbury is to be investigated by Herefordshire and Worcestershire County Council. Ledbury Town Council recently raised the issue when considering plans to extend the County Secondary School premises at Mabel's Furlong.
July 29 Ledbury Reporter
Sixty top class terriers from a wide area took part in a terrier show that was the main feature of a fete organised by Much Marcle Conservatives on Sunday. The event was held at Phillips House, Much Marcle, by kind permission of Mr and Mrs Alex MALCOLM, who presented a silver dish as the premier award.
August 5 Ledbury Reporter
The Department of the Environment is accused of setting a bad example by planning to erect an illuminated sign in the centre of Ledbury. The charge is made by Ledbury and District Society Trust in a protest about the proposed sign for a new job centre which the D of E's Property Services Agency plans to establish in Bank Crescent, near Ledbury Post Office.
August 12 Ledbury Reporter
The new home for the elderly at Belle Orchard, Ledbury, will be open to the public next Wednesday. It is expected that 50 residents will be transferred from the existing home - a converted work house, before the end of the year.
August 19 Malvern Gazette
Hundreds of gallons of water ran to waste in Colwall on Tuesday morning while houses nearby had no cold water at their taps. Local residents were furious as they watched water spouting through the cover of a meter at the junction of Walwyn Road and Martin's Orchard and running down the road to form a sizeable pool near the Horse and Jockey Hotel.
August 19 Ledbury Reporter
A massed choir, expected to be about 200-strong, is being formed to take part in Songs of Praise, which will be televised from Ledbury Parish Church next month. The choir will be conducted by the Bosbury Church organist, Mr Herbert BABER of Colwall, and the organ accompaniment will be provided by Ledbury organist, Mrs Jane BROOKS.
August 26 Ledbury Reporter
BBC filming of Little Lord Fauntleroy is well up to schedule, the production manager said last week. So far, all the filming has been centered on Eastnor Castle, where the crew has been working almost non-stop since August 9. Eastnor Castle is depicted as the stately home of the Earl of Dorincourt.
September 2 Ledbury Reporter
The most spectacular carnival ever staged in Ledbury was held on Monday in steady rain. Crowds of rain-coated and umbrella-carrying spectators gathered along the route to cheer the procession of 30 magnificently decorated vehicles and floats, which followed the Carnival Queen, Miss Sue ROBINSON.
September 9 Malvern Gazette
Colwall Parish Council is to be registered as the owner of the village green. The decision ends a long dispute between the council and the Malvern Hills Conservator's. Both maintained that they were the legal owners of the land.
September 9 Ledbury Reporter
Ledbury Chess club is offering to help housebound players who would like an occasional game. Residents who are unable to leave home are invited to write, if they would like to be visited by a club member. Non-players who wish to encourage chess in the Ledbury area are invited to support a "Ledbury Friends of Chess" scheme, by sending a donation.
September 16 Ledbury Reporter
Work started this week to prepare Ledbury Parish Church for the BBC broadcast of Songs of Praise. Scaffolding was erected inside the building to enable technicians to install extra high-powered lights. When this job is finished, church helpers will set about arranging harvest festival decorations.
September 23 Ledbury Reporter
Ledbury Town Council is to appeal to the regional controller of the Ministry of Transport and the chief constable of the West Mercia Constabulary in an effort to get a 30mph speed limit signposted. Their action is the latest move in the council's fight to get the speed restriction extended along the Gloucester Road to slow down traffic passing the entrance to the Deer Park estate.
September 30 Ledbury Reporter
A handful of Ledbury's unemployed school leavers may soon have some work to do - clearing up an area of some 3 acres near the town centre, which has been described as an eyesore. On one part of the site there is said to be old bicycles, bed frames, pram's and other rubbish. The stretch of path was originally part of the former single-line railway track of the Ledbury-Gloucester line.
October 7 Ledbury Reporter
Ledbury and District Road Safety Committee has not been able to persuade the county surveyor, Mr Vivian JONES, to extend the present 30mph speed limit on The Southend, to include the entrance to the Deer Park estate. Nor will additional street lighting along the same stretch of road be available, until the general economic position improves.
October 14 Ledbury Reporter
Leominster MP, Mr Peter TEMPLE-MORRIS is compiling a dossier of complaints about low-flying aircraft in his constituency, with particular reference to Ledbury. Ledbury seems to be one of the hard-hit areas in the county, and Mr TEMPPLE-MORRIS has taken the Minister to task on a number of occasions. But aircraft continue to roar over the area, at low level.
October 21 Ledbury Reporter
Along with other grape producers in Britain, Mr Alan MCKECHNIE has more than doubled the harvest he expected, from his Dymock vineyards, and this year's Three Choirs should amount to around 16,500 bottles.
October 28 Ledbury Reporter
Father Christmas made his first appearance in Ledbury on Saturday, at a fair in St Katherine%s Hall, organised in aid of Ledbury Town Football Club. It had the desired effect, attracting plenty of parents and children to the event, which raised £119 for club funds.
November 4 Ledbury Reporter
ADVANCED driving classes leading to the Institute of Advanced Motoring Test will be starting in Ledbury again, later this month. The classes, which are based at Ledbury Police Station, are free and open to anyone wishing to improve their driving standard.
November 11 Ledbury Reporter
After over 100 years as a doctor's surgery, The Steppes in New Street, Ledbury, is giving up its practice. In January, the three doctors at present working there are leaving the property, which is now up for sale, and moving to the rear of St Katherine's, behind the Malvern Hills District Council Office.
November 18 Malvern Gazette
Mr Paul PICTON of Colwall is the new chairman of Malvern Hills Conservator's. At 34, he is the youngest to hold this office since the Board came into being in 1884. He succeeds Mr Reg GREEN, chairman for six years, who did not seek re-election.
November 18 Ledbury Reporter
Another attempt is to be made by Malvern Hills District Council's planning committee to have the 30mph speed limit on the A417 at Ledbury moved to include the entrance to the Deer Park estate. Coun Philip SHARPE-NEAL said: "The dangerous traffic movement here occurs when people coming out from Ledbury want to turn right onto the estate."
November 26 Ledbury Reporter
A small, half-timbered cottage which stood in the middle of High Street, Ledbury, in the 17th Century has been given to the town and money is to be raised to move it to a prominent site in the town centre and use it as a museum. One of the neat little properties in Butchers Row, which was demolished in the 1800s, the cottage was bought by a shopkeeper who reassembled it behind his premises in the High Street. There it has remained ever since.
December 2 Ledbury Reporter
The show house on the Deer Park estate, Ledbury, was officially opened by the builders, Prowtings, on Friday, when representatives of the building societies were invited to look round the property. The four-bedroom detached "Windermere", selling from £14,450, is one of six types of houses on the estate.
December 9 Malvern Gazette
The village of Colwall seems to be the wettest and muddiest in the county. The last three meetings of the parish council have been inundated with complaints about leaves, mud, water and inadequate drainage on the roads.
December 11 Ledbury Reporter
A householder who complained of smells from Ledbury Sewage Works had her rating assessment reduced by a valuation court at Ledbury on Tuesday. Mrs Judith HENSHAW told the panel that an unpleasant smell wafted over her property and a lot of flies came into her house.
December 23 Ledbury Reporter
Christmas is almost upon us and the goose is already fat. The heaviest at Friday's live poultry sale weighed 17lb. Father Christmas under the Market House on Saturday helped the Ladies Circle to meet their target for Multiple Sclerosis.
1977
January 13 Ledbury Reporter
A 31-ton tanker was stuck in Bank Crescent, Ledbury, for an hour on Friday, when it was diverted off the main road by a house! The house, a mobile bungalow, was travelling on a wide load through the town, when the tanker turned up Bank Crescent to let it pass.
January 20 Ledbury Reporter
AN appeal has been launched by Ledbury Town Council to help bale out Ledbury Scouts, whose headquarters were badly damaged by gales. Tiles on the roof were made unsafe and the Scouts have been unable to meet there since.
February 3 Ledbury Reporter
For over 20 years, Mrs Ellen WILLIAMS has been looking after the Market Hall in Ledbury. During that time she has devotedly carried buckets of water across the road from her home in Church Street and up the stairs, to clean up after meetings and jumble sales. As she approaches her 80th birthday, she has decided that the time has come to call it a day.
February 10 Ledbury Reporter
The former doctors' surgery, The Steppes, New Street, Ledbury, has been sold to a subsidiary company of The Feathers Hotel. The estate agents who advertised the 17th Century town house as one of great character, at a price of £25,000, say that Malvern Hills District Council would ideally like to see the property reverting to occupation as a home.
February 19 Malvern Gazette
To commemorate the Queen's Silver Jubilee, Malvern Hills Conservator's are to plant trees on Gardener's Common on the Jubilee Drive, part of an area devastated by fire last summer during the drought. A stone structure with a plaque recording that the trees had been planted in honour of the event is to be placed there.
February 17 Ledbury Reporter
The worst flooding for several years hit the Ledbury area on Thursday, when heavy rainfall added to the already swollen streams gushing down the hills and caused the River Leadon to overflow, across fields and roads. Worst affected was Bosbury, and the south-west corner of Ledbury.
February 24 Ledbury Reporter
Holes in the road are an everyday part of life, but this particular one, in Albert Road, Ledbury, has become a semi-permanency and residents are wondering whether the Gas Board has lost it. It was dug at least nine weeks ago and has remained in splendid isolation with not so much as a single visit from workmen.
March 4 Ledbury Reporter
LEDBURY Town Council is starting to move into its new headquarters in the historic Church Lane precinct this weekend. Mr Dennis WILSON, the town council clerk, has already established his office on the ground floor of the 16th Century building. It is expected that a larger adjoining room will be ready for use for council meetings in April.
March 11 Ledbury Reporter
Work is to start immediately on a £40,000 scheme to restore the Old Grammar School building, one of the outstanding architectural gems in the historic Church Lane centre of Ledbury. Most of the building will be converted into a residential property, but a section of it will be sealed off and used for some public purpose.
March 17 Malvern Gazette
For ten years Malvern Hills Conservator's have been waiting to get rid of derelict Daisy Cottages along the Jubilee Drive at Upper Colwall. The board heard that Malvern Hills District Council was asking the county council to buy the property for £25,000, but the county did not have the money.
March 18 Ledbury Reporter
The Silver Jubilee was at the forefront of the minds of the Ledbury Choral and Operatic Society in their choice of production this year. Merrie England tells the story of the first Queen Elizabeth and is a fitting tribute to the year in which the country is celebrating the 25th anniversary of the coronation of the second.
March 24 Ledbury Reporter
Vandals are undoing all the good work being done for Ledbury in the clearance of the old railway cutting from Bridge Street to Little Marcle Road. They have been ripping out newly planted trees on the open stretch restored by youngsters working under the Jobs Creation Scheme.
April 7 Ledbury Reporter
Fears for the future of Ledbury's Christmas lights, organised by the Chamber of Commerce, were expressed at the town council's finance committee, when they heard that the cost of last year's display had been £1,000. But the Chamber of Commerce are determined not to let the tradition lapse and have already begun to plan fundraising events to finance next year's scheme.
April 21 Ledbury Reporter
A new ship of the Royal Navy, to be named HMS Ledbury, will be adopted by the town of Ledbury when it is launched. The town council decided at its meeting on Thursday that they should do all in their power to strengthen the ties between the town and the Royal Navy. The last ship named HMS Ledbury was a Second World War Hunt-class destroyer which, among its many heroic exploits, took part in the protection of the ill-fated PQ17 convoy to Malta.
April 28 Ledbury Reporter
Bring out your bunting, your flags and your red white and blue. A grand jubilee competition, sponsored by Ledbury Chamber of Commerce, has been announced and shops don't even need an entry form. Every building in the town will automatically be judged.
May 5 Ledbury Reporter
Rates have now been drawn up for the Silver Jubilee Competitions sponsored by the mayor-elect of Ledbury, Coun. Doug ISAACS. They will be open to all schoolchildren living in the town. Forms have been sent to local schools for distribution.
May 12 Malvern Gazette
Colwall parish councillors went into action on Saturday, repairing part of a roadway in readiness for the village carnival parade on Jubilee Day, June 7. Mr Eric RODWAY delivered ten tons of material to Stowe Lane and, helped by fellow parish councillors, filled in holes and ruts in the road.
May 12 Ledbury Reporter
What is to be the future of Ledbury Swimming Pool? At present it is closed for repairs. Will it ever reopen, or is it to be allowed to fall into disuse as another monument to yet another rates economy? At best, it will almost certainly remain closed for the rest of the summer.
May 19 Ledbury Reporter
Sparks flew at the annual meeting of Ledbury Town Council, when members of the public questioned the development of the Lower Road Trading Estate, and it was suggested that it never would have been built if a council official had lived nearby.
June 2 Ledbury Reporter
A sudden surge of enthusiasm by a handful of organisations in Ledbury encouraged by the hardworking Jubilee Committee, has now produced a full programme of events which started with a swing on Saturday night, when a dance at St Katherine's Hall made one of the first major contributions to the appeal fund, to finance Jubilee activities.
June 9 Malvern Gazette
Plans to experiment with a mixture of concrete and grass on the part of Colwall Green used most by cars have had to be discarded by Malvern Hills Conservator's because of the expense. The parish council's representative on the Conservator's reported that they had discovered the cost would be around £1,700.
June 9 Ledbury Reporter
A Ledbury man has warned Hereford and Worcester County Council that he will sue if he is injured as a result of what he calls "the appalling state of some roads in the county". Mr S P GLENNIE-SMITH, of Victoria Road, who rides a motorcycle, has written to the Highways authority about the condition of the roads.
June 16 Ledbury Reporter
One of the county's oldest bell ringers on Jubilee Day last week was Mr Charlie COX, of Much Marcle, who in his 77th year came out of retirement to help ring two six-scores and lower the bells of the village church. He was determined to ring for the Queen's Jubilee, having rung for her Coronation, and her father's Coronation.
June 23 Ledbury Reporter
The Playing Fields of Ledbury County Secondary School became a battle ground on Thursday. An injured pilot was winched to safety by a Royal Navy helicopter. It was part of a Royal Navy and Royal Marine display, in front of the whole school.
June 30 Ledbury Reporter
Threats of disruptive action by angry bus drivers who can find nowhere to park their vehicles in Ledbury while they take statutory breaks, have been temporarily averted through co-operation with the local police. Problems arose when recent revisions of the bus timetables resulted in drivers being scheduled to take a break in Ledbury. They said they spent most of their breaks looking for places to park.
July 7 Ledbury Reporter
There is fresh hope that traffic congestion in Ledbury will be eased at a fairly early stage. The county council has conceded that the town urgently requires relief from heavy traffic. The important victory along the rocky road towards an outer bypass was won by the local county councillor Frank COONEY.
July 14 Ledbury Reporter
The change of venue for the Ledbury Carnival Queen selection proved a major success on Friday night. Donna HILL, aged 16, of Bridge Street, said she would never have entered the competition had it been held at the Community Centre, as last year. Several people echoed her feeling that the atmosphere at the Feathers had been far preferable to last year's event, where the conduct of some spectators had left a lot to be desired.
July 21 Ledbury Reporter
Extensions to Ledbury Abattoir have been approved by the southern area planning sub-committee of Malvern Hills District Council. Members unanimously agreed to "a calculated gamble" that the extension would reduce the nuisance complained of by residents, without increasing throughput later on.
July 28 Ledbury Reporter
Work has started on adaptations to Ledbury's sewage treatment plant which will increase the maximum flow of the works by nearly 25 per cent. When completed, the extended works, which also serve Wellington Heath, will cater for a population of 8,070 people. Within the extensions is an allowance for increased trade waste capacity.
August 4 Ledbury Reporter
Plans to extend Ledbury telephone exchange in Lawnside Road got the out of order tone when put before Ledbury Town Council planning committee on Monday. "This is the second extension since the exchange was built," said Coun Anne GROVES. "How many are there to be in the future?"
August 11 Malvern Gazette
Persistent rain and low cloud failed to dampen the spirits of organisers, exhibitors and visitors at the Wyche and Colwall Horticultural Society's 35th annual show at the Downs School, Colwall. The flower and produce sections were in many cases as prolific and colourful as if the best of conditions had prevailed.
August 11 Ledbury Reporter
Wasps. No help to anyone at the best of times, but to anyone working with jam and fruit they are a hindrance, so Ledbury Preserves have launched their annual war on the tiger-striped insects. The company has various devices for keeping them out.
---