Elizabeth BARRETT BROWNING
( 1806 - 1861 )
Elizabeth BARRETT BROWNING (nee MOULTON-BARRETT, 6 March 1806 - 29 June 1861) was an English poet of the Victorian era, popular in Britain and the United States during her lifetime.

In 1809, the family moved to Hope End a 500-acre estate near the Malvern Hills in Ledbury, Herefordshire. Her father converted the Georgian house into stables and built a new mansion of opulent Turkish design, which his wife described as something from the Arabian Nights entertainments.

The interior's brass balustrades, mahogany doors inlaid with mother-of-pearl, and finely carved fireplaces were eventually complemented by lavish landscaping: ponds, grottos, kiosks, an ice house, a hothouse, and a subterranean passage from house to gardens. Her time at Hope End would inspire her in later life to write her most ambitious work, Aurora Leigh (1856), which went through more than 20 editions by 1900, but none between 1905 and 1978.

Elizabeth's mother died in 1828, and is buried at St Michael's Church, Ledbury, next to her daughter Mary. Sarah GRAHAM-CLARKE, Elizabeth's aunt, helped to care for the children, and she had clashes with Elizabeth's strong will. In 1831 Elizabeth's grandmother, Elizabeth MOULTON, died. Following lawsuits and the abolition of slavery Mr BARRETT incurred great financial and investment losses that forced him to sell Hope End. Although the family was never poor, the place was seized and put up for sale to satisfy creditors. Always secret in his financial dealings, he would not discuss his situation and the family was haunted by the idea that they might have to move to Jamaica.

Her 1844 volume Poems made her one of the most popular writers in the country, and inspired Robert BROWNING to write to her. He wrote, "I love your verses with all my heart, dear Miss BARRETT," praising their "fresh strange music, the affluent language, the exquisite pathos and true new brave thought."

The courtship and marriage between Robert BROWNING and Elizabeth were carried out secretly, as she knew her father would disapprove. After a private marriage at St Marylebone Parish Church, they honeymooned in Paris before moving to Italy, in September 1846, which became their home almost continuously until her death. Elizabeth's loyal nurse, WILSON, who witnessed the marriage, accompanied the couple to Italy.
Chronological extracts from Ledbury TILLEY's Almanacks - Photographs & Memories
1896
January 16 On the afternoon the Barrett-Browning Memorial Institute, at the Lower Cross, was formally opened in the presence of a large number of the elite of the neighbourhood by Mr. Rider HAGGARD, Mrs. STEPHENS, wife of Mr. Chas. W. STEPHENS, presenting him with a hand-somely-worked gold key, which bore on the one side an enamelled picture of the Institute and Mr. HAGGARD's crest, and on the other a suitable inscription.

January 16 A meeting held at the Town Hall at which interesting addresses on the life and works of the great poetess were given by Mr Rider HAGGARD, Mr. M. BIDDULPH. M.P. (who presided). Lady Elizabeth BIDDULPH, the Bishop of Hereford. Mr. RANKIN, M.P., Mr. C. W. R. COOKE, M.P., the Rev. Preb. MADDISON GREEN, the Rev. C. Y. POTTS, &c.
2014 - Visit to Florence - Robert GREENING
I have been lucky enough to come to Florence twice and this time had the chance to pay homage to Ledbury's favourite son (or daughter I should say)

The pictures are of Elizabeth Barrett Browning's grave at Cimitero degli Inglesi and her home in Florence Casa Guidi, where she died in her Husband's arms in 1861.

If anyone wants to visit the cemetery is in the middle of a roundabout / intersection and with four lanes of traffic to negotiate but it's well worth a look.

Barrett's Mother and Sister are buried in Ledbury while her husband Robert Browning is buried at Poet's Corner Westminster Abbey.

Hope you enjoy.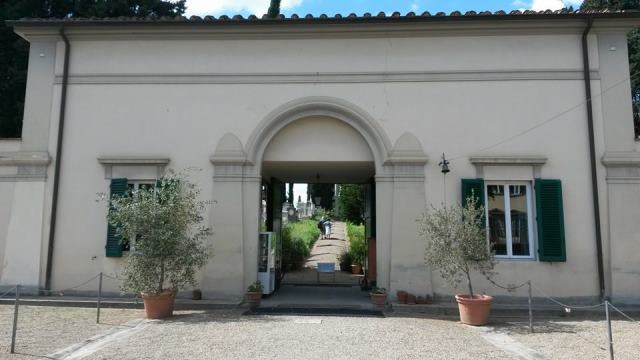 Robert GREENING Collection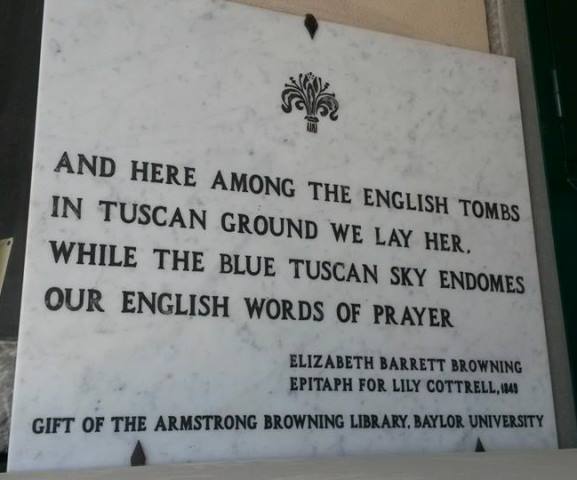 Robert GREENING Collection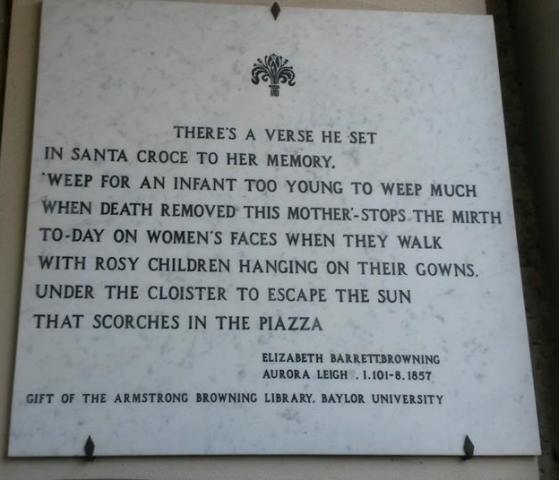 Robert GREENING Collection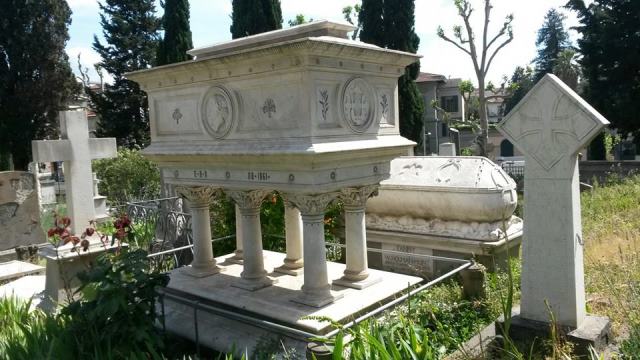 Robert GREENING Collection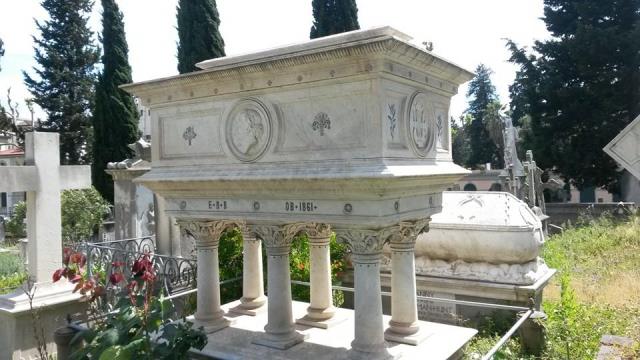 Robert GREENING Collection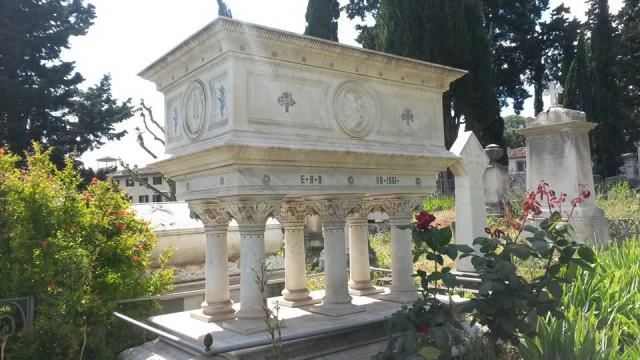 Robert GREENING Collection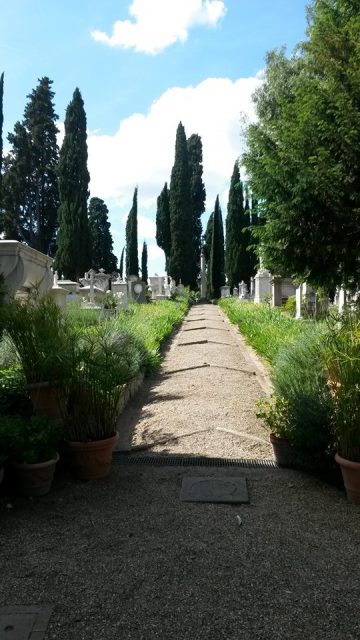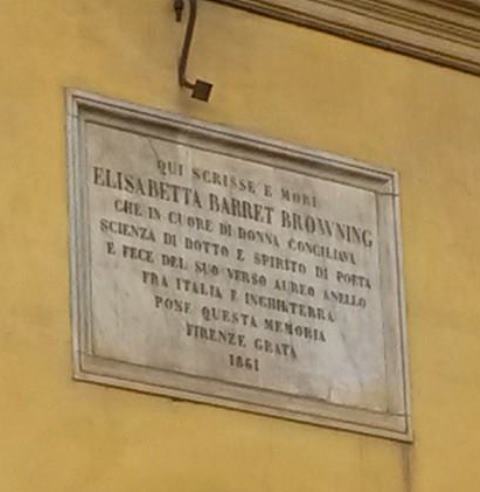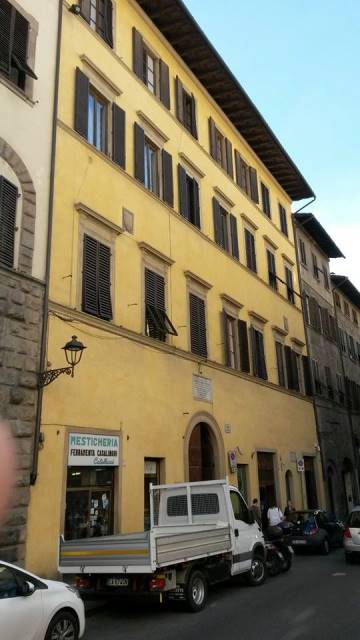 ‹ ‹ Barrett Browning Institute
Related Links
Hope End Estate
( Residence)
---
Sources
1897 - 1979 Ledbury Tilleys Almanacks - Herefordshire History
Photographs are credited to the owners where possible
Edited Memories in italics are from members of the Old Ledbury Facebook Group
Cuttings are from Old Ledbury Reporter Newspapers
History of Ledbury in the 19th Century
Herefordshire Archive Records Centre HARC

---