A Retrospect

1898

May 10 The price of wheat went up to 6/3 per bushel, on account of the war between America and Spain; previous to the war the price per bushel was 4/-.

June 14 Haymaking was commenced in the Ledbury district.

December 14 The Ledbury Fire Brigade were employed 37 hours at a fire at the Moorend Farm, Ashperton, in the occupation of Mrs. PUDGE. The damage to the out-buildings, hay and corn ricks, and the contents of the large barn were estimated at £1000, but the loss was well nigh covered by insurance.

1901

March 18 Disastrous fire at Court-y-park farm; a child burnt to death.

June 7 Farm fire at Callow Hills, Ledbury.

August 29 First Load of Hereford hops sent to London by Mr. W. F. PUDGE, Bishops Frome.

September 2 Partridge Shooting commenced.

October 1 Mr. J .V. MUTLOW, Plaistow Farm (late of Ledbury) died, aged 85 years.

1902

May 26 Gooseberry picking commenced at the Putley Gardens.

July 15 Fifty head of Pedigree Herefordshire Cattle & Bulls despatched from Ledbury to South Africa.

July 31 At this date hay-making was practically finished: a good crop.

October 13 Ledbury Ploughing Society Fifth Annual Competitions at the Flights Farm

December 2 Christmas Stock Sale at Priors Court, Ledbury.

1914 - Fire At Birtsmorton
On Tuesday a fire broke out at Rye Street Farm, Birtsmorton, in the occupation of Mr. Henry BREWER, and the Ledbury Fire Brigade were summoned. Ready assistance was given by farm hands and villagers, but great difficulty was experienced in getting into the burning room and dung hooks were requisitioned to get the bed and clothing out. There was a good supply of water available and when the brigade arrived the flames had been subdued. It is thought that the cause of the fire was a child playing with matches, which set fire to the bedding. About twenty pounds worth of damage was done to the furniture, etc., and about £10 to the room. It is stated that the loss is covered by insurance. Mr. C. A. COPE, The Green, Cannock, Staffs, is the owner of the property.
1965 - Fred HARRINGTON and his boys - Stretton Grandison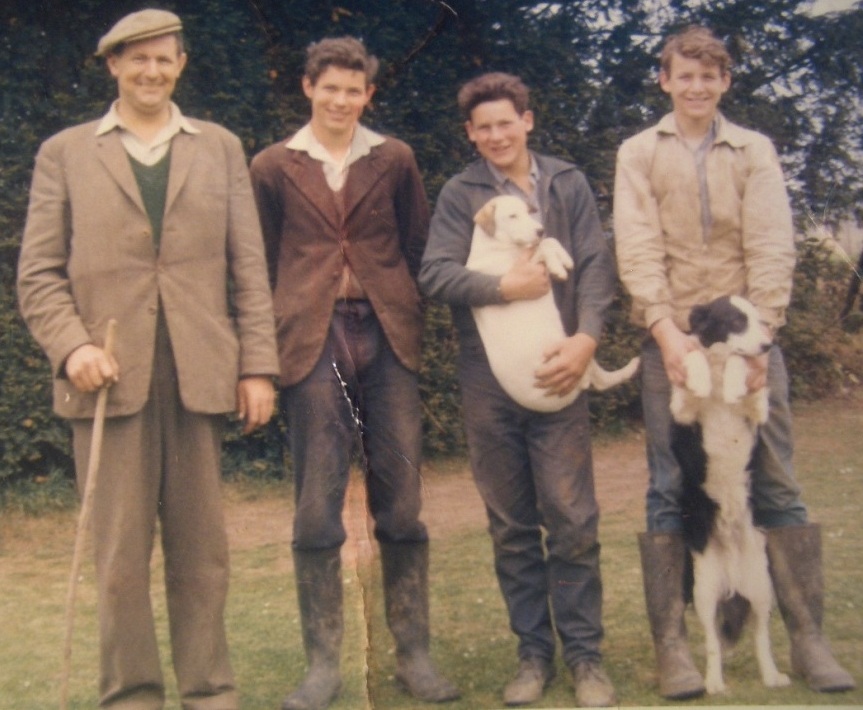 ( Audrey EDGE ( Davis ) Collection )