Brief History

In 1935, a local group of enthusiasts set up their own film-making club. About half a dozen of them started a ciné society and it did very well. They got quite a good membership and they made lots of films but they couldn't accommodate all their members so once a year they decided they would do a play.

In 1938, the Ledbury Amateur Ciné and Dramatic Society was born. When war came, film-making stopped, but plays and concerts continued throughout the duration at various venues. Miss Charlotte BALLARD staged a number of plays at her home, Abbey House, in the Homend, to raise money for children in the East End of London and Miss BALLARD later produced a number of LADS plays in the Church Room. The Drill Hall was also used.

Late 1940s Cine was dropped from their name and they were known as LADS. They took over the POW Camp Theatre in Mabels Furlong after the war.

In the 1950s when the School was built the LADS moved to the Church Room, in the Market.


---
1941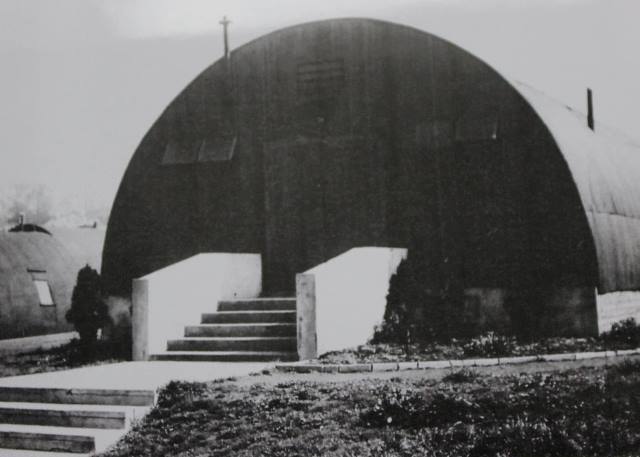 The THEATRE
I remember seeing a magician at a show there when I was small. I seem to remember him swallowing a load of razor blades and torch bulbs, then he pulled them all out of his mouth joined in a string and all the bulbs lit up...PH

I have vague memories of a magic show down there,when I was a kid...RB

I'm sure I went to dancing displays which Grace Dovey put on in that theatre...MH

Yes Mo I was in some of Grace Dovey's dancing displays...JJ

---
1945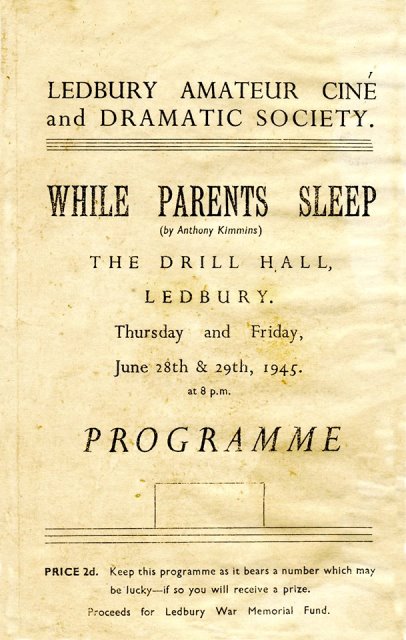 June 28th and 29th 1945 - While Parents Sleep at The Drill Hall, Ledbury
Proceeds for Ledbury War Memorial Fund
1949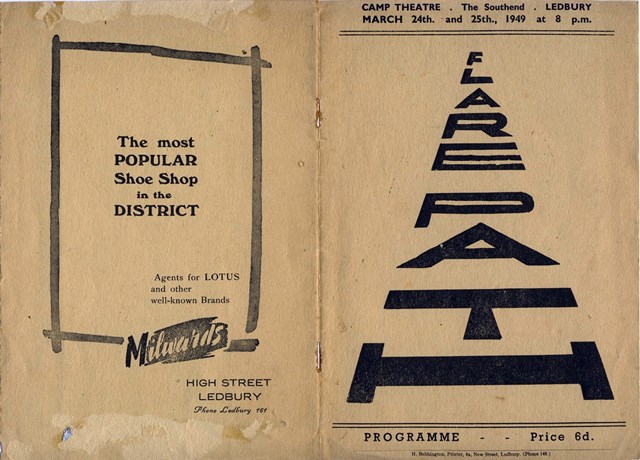 March 24th & 25th 1949 - Flare Path
...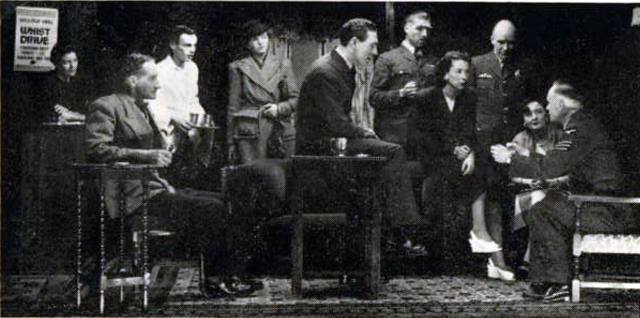 Hilda BAKER, Leslie EDWARDS, Derrick TOOMBS, Patricia MADDERS, Ronald PARKER, Leon MERRITT, Ann PARKER, Launce STANLEY-SMITH, Irene LILLEY, Robert POSTILL
4th from left looks like Renee LILY and 5th from right Leon MERRITT...LL

More than likely Lynne as they were members then. I can't find the scan of the interior of the programme though which would confirm this.


---
1950 - LOCAL history can be seen depicted in films at the special presentation of news reels at the camp Theatre, Ledbury, on Tuesday, Wednesday and Thursday, January 9, 10 and 11, produced by the Ledbury Amateur Cine and Dramatic Society. The pictures will include shots of the 1947 Carnival; the Conservative Fete in Ledbury Park last year, and local weddings. Ledbury Reporter, December 15, 1950.
---
1957 - 6th November, A noteworthy success was achieved by Ledbury Amateur Dramatic Society with their production of "The Sacred Flame" by Somerset Maughan.
---
1958 - Chairman Mr N LILLEY, Hon Treas Mr D J TOW, Joint Hon Secs Mrs M HIGGINBOTHAM, 19a Homend, and Mrs K MERRITT, Homend Lodge, Homend
---
1962 - 21st November, Crowded houses at LADS first production of the season a costume play of King Arthur's time entitled " A Spell of Virtue. " All profits were donated to Ledbury Round Table swimming pool fund.
---
1963 - Chairman Mr L MERRITT, Hon Treas Mrs E WINFIELD, Hon Sec Mrs B G SMITH, Homme House, Much Marcle
---
1964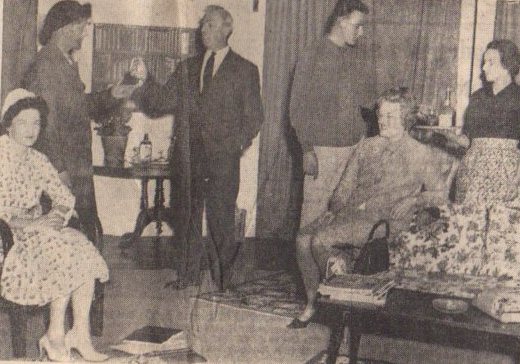 October 1964 - Something to Hide
Peggy BAILEY, Dudley BROOK, Leon MERRITT, Tony GITTINGS, Mary McBRIDE and Mary WINFIELD
---
Sources
Tilleys Almanack 1958
Tilleys Almanack 1963
Photographs are credited to the owners
Comments are from members of the Old Ledbury Facebook Group
Cuttings from Ledbury Reporter Newspapers