1914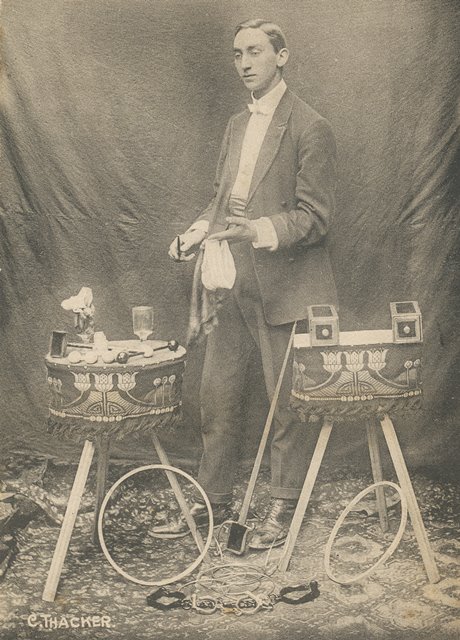 Claude THACKER, Ledburys first magician
He was a tailor and his shop was next to the Feathers ( now opticians ). He ran this shop with his sister Vera who ran the lingerie side of it.
Claude Norman M THACKER Bn 1890 Evesham, died in 25th december 1958. In 1901 aged 11 years lived in High Street as Maureen mentioned above with his sister Verbena aged 8yrs and Winifred aged 3 yrs and parents Bert and Bessie...JVE
---
DATE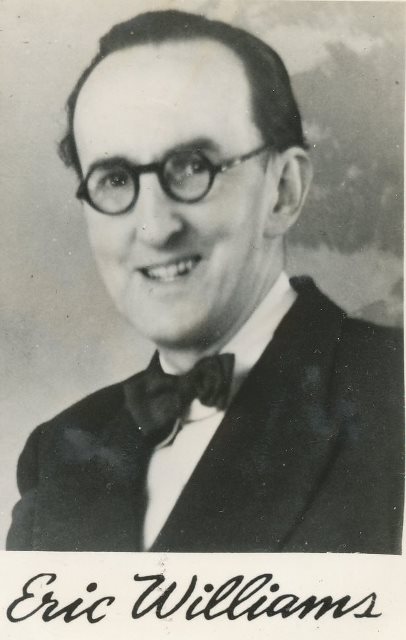 Eric WILLIAMS Magician
Wow, memories come flooding back. I still love magicians...JL
Ha ha, the Eric WILLIAMS that was not my dad!! joke in our household - my dad was "eric the butcher"...HJ
Memories oh happy memories, always thought he was bigger than that looks quite slim, but when your little people always look larger than life,lovely photo ...CP
All of us of a certain age grew up with Eric performing at Christmas parties! Happy memories!...BB
The best...LJ
Eric was wonderful he was loved buy all the young children, I can remember his dear mother she used to help him, always had a smile for everyone...JJ
Eric was very big. A performer yes, but also very respected in the Magic Circle and 'invented' lots of tricks for other magicians. In later years he ran the Joke Shop next to my parents shop on the Homend ( must have been #48 - before him it was a tobacconist run buy an old couple with severe arthritis - name escapes me) - anyway, I remember being in Erics shop once, when he was visited by an old friend - Tommy Cooper!...EC
Was the mans name HEWISH or some name similar to that...JJ
Janet I remember a Mr HEWISH lived in the Crook House in The Homend he had a brother who had a shop...JB
1958 Tilleys Almanack - 235 the Homend C HUISH, 48 the Homend J HUISH Tobacconist !...JVE
The couple that ran the tobacconist in the 60's were mr & mrs Kington. It was also a boutique (Stable Door Boutique) as well as a Joke Shop...EC
Remember the boutique and the joke shop. Used to buy dummy cigarettes where you could blow out smoke - looked more like talcum powder!...CE
...
---
Does anyone remember Eric WILLIAMS the Magician, doing parties for us? I think he was at a sunday school or ballet class party, my memory is vague, but I've always believed in magic...JL
Indeed I do Jenny, my dad was of course also Eric WILIIAMS, this proved great amusement over the years - the reply to telephone calls was always "no, I'm Eric the butcher" (made him sound like a Viking God I always thought)..but yes Eric did the parties and if I remember correctly worked at Masefields x...HJ
I remember him taking part in some kind of variety shows when he would take the rise (being polite) out of locals including my dad. He was very funny. He was either the "whimsical wizard" or the "legal eagle", depending on circumstances!...MI
I remember him he lived just up the Homend above us, I can remember him doing tricks at the Methodist sunday school, his dear old mum used to assist him...CP
My Mum worked with him at Masefields and he rented Mum and Dad their first house in Homend. 2 shilings a week my Dad had to ask him to put rent up as he felt bad. Remember him doing a show at Infant School too...JB
He also had a joke shop i worked for him for a while loads of laughs...JG
Lovely man...LJ
I think he married the dance teacher in Ledbury but cant remember her name!!!...GB
Think that was Elizabeth BAKER but she married a magician called LUNN. Eric WILLIAMS never married....JB
Quite right, silly me!!!...GB
I had him for a lot of my partys, think he lived opposite where Homend paper shop was...ZC
He was and still is the only magician I ever liked!...FP
He actually drove up to Mid Wales for me in 1991 to do a party for my daughters 6th birthday! Fine entertainer all round...SD
...
---
ATV Today: 03.05.1973: Magician - report from Ledbury - Magician - Bev Smith report from Ledbury, Herefordshire, on the semi-professional career of Eric Williams, Vice-President of British Magical Society.
Thank you nice to see my old teacher and long time friend...CH
This is brilliant...SP
I think I spotted a couple of our members on here in the audience!!...JVE
Yes brilliant can't watch anymore at mo, things to do, saw Jessie GOUGH in the audience and Jean MESSAM and her daughter I think, watch again later...CP
Just watched this, what a fantastic character and marvellous magician. Yes, I spotted Jean MESSAM on the front row, obviously enjoying the show...BH
I remember going to one of Eric WILLIAMS' show as a child-he was great...BB
He gave us a show at our Christmas party at Bosbury school in the very early 60s...KC
Jessie Gough Jean Messam nice little video clip here for you both!!...JVE
Used to come to my ex mother-in-law Dolly TOW for lunch. Did tricks at the table for my children brilliant !...LL
---
Sources
1914 Newent Reporter Newspaper - Herefordshire History
1914 - 1919 Ledbury Guardian Newspaper - Herefordshire History
1916 Tilley's Almanack
Photographs are credited to the owners
Comments are from members of the Old Ledbury Facebook Group
Cuttings from Ledbury Reporter newspapers