1864
1880s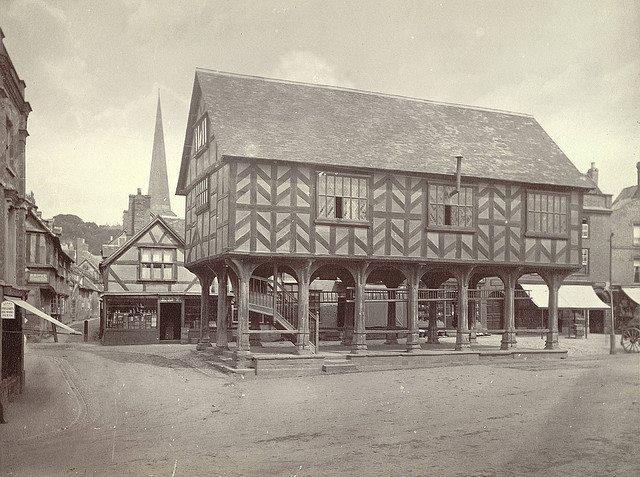 1901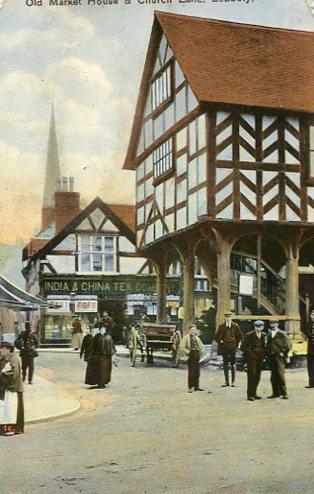 Mr Tilley's Lady in Black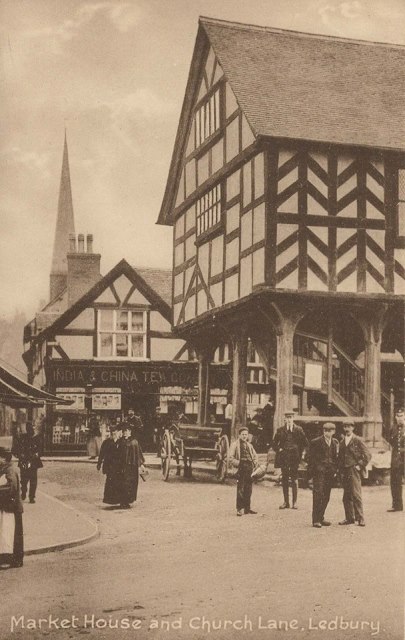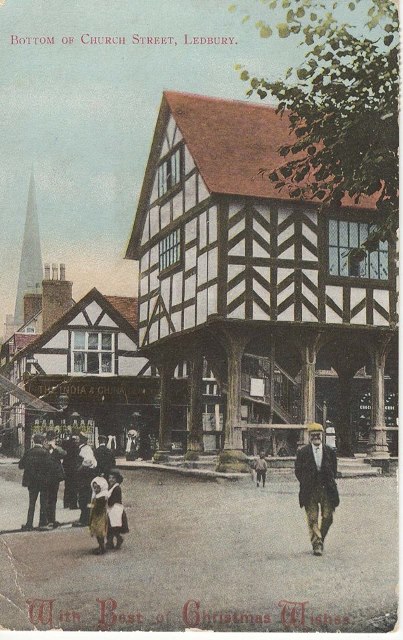 Pre 1904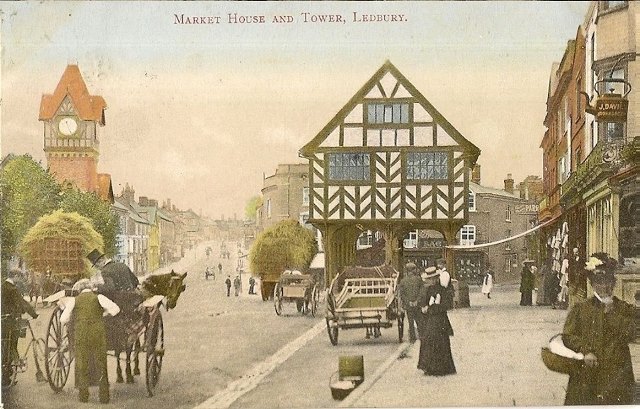 Love this hand coloured scene as there aren't any motor vehicles to be seen. The card is posted 1904 but I think this is from a late 19th century glass plate just after The Barrett Browning Institute was opened in 1896. Notice the 2 haywains, the trader loading goods into a horse drawn cart belonging to a gentleman whose driver is wearing a top hat and watched by an errand boy with stiff collar and his bike.
I see the copper kettle is already in place....SM
Yep and the copper kettle is still in Ledbury at the Butchers Row museum up Church Street Ledbury...PC
I love this....absolutely brilliant...MB
Fantastic picture...SN
Wonderful photo and great to see the copper kettle there...PC
Paul super photo, can we tell what the name is on the kettle...JVM
It's J.Davies Ironmonger...PC
Wonderful picture Paul, thanks for sharing.. I'm wondering if the gent with the large moustache and shirt sleeves, by the man with the empty cart, could possibly be my ancestor Charles PEDLINGHAM, who had a grocery shop just by where the two ladies are standing under the canopy... Charles had a rather large moustache too...LR
Great to see a connection with this photo...PC
Amazing how these possibilities arise ...SM
I would love to think it could be Charles PEDLINGHAM ...JJ
Me too it certainly appears to be the right era and place for him to be x...LR
...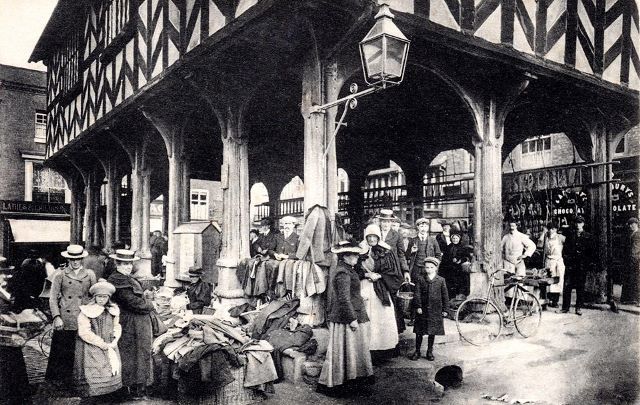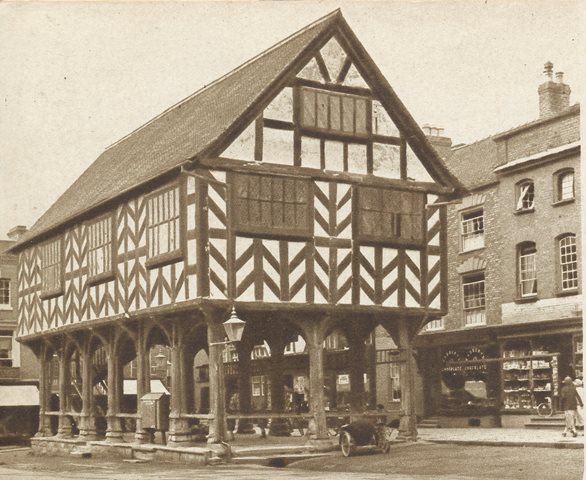 1909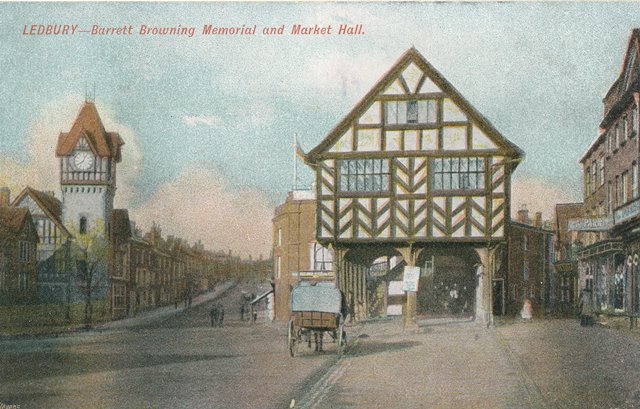 1/2 d was the postage rate
1909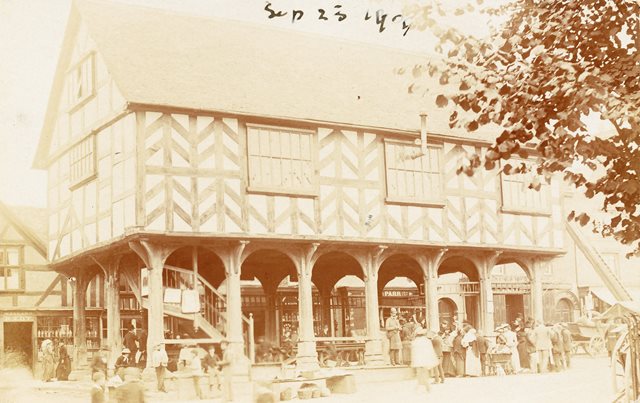 Date Unknown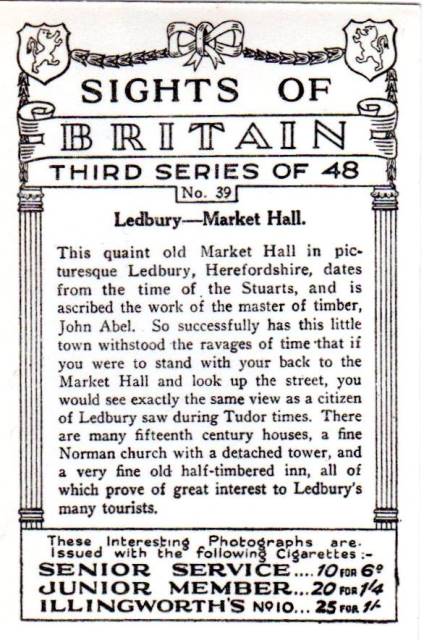 Cigarette Card
1935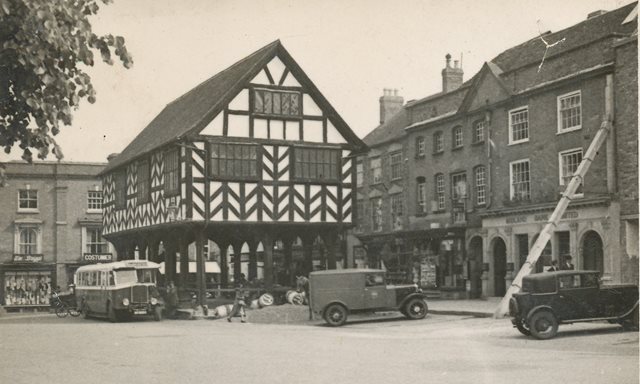 Hand written on bottom of photograph Market House, Ledbury, 25 8 35
1940s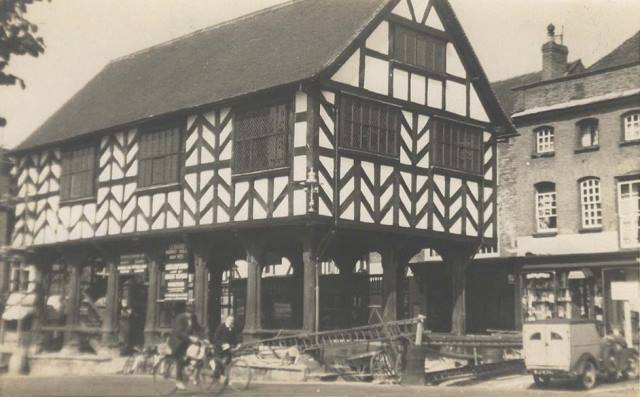 1950s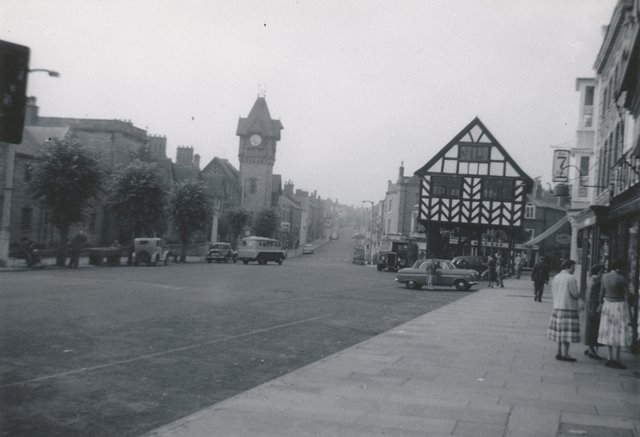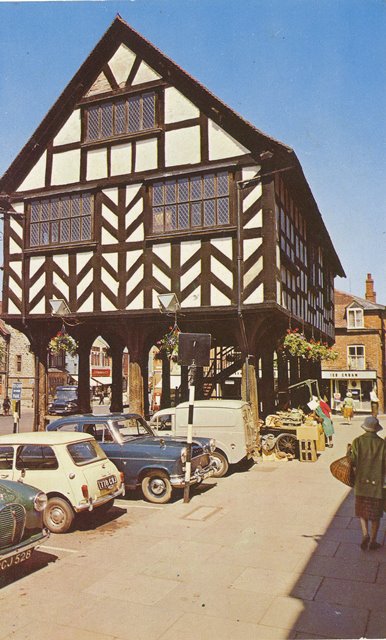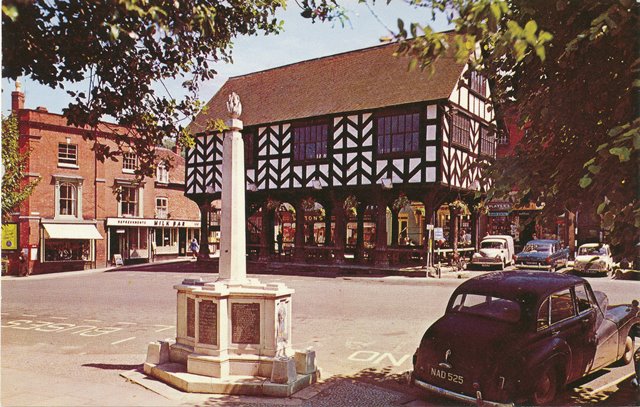 What about the Catholic Bazaar, hed every year at the top of the Market house. Mr HEFFERNAN used to call everyone in using his megaphone, not that he needed it. I loved the smell of mince pies and ground coffee, and of course there was Father Christmas. I remember my little brother Steve asking him if he was Mr NEALE. He was xx...PP
Loved the turkey and stuffing sarnies....AB
Oh yes forgot about them. My mum used to buy that many draw tickets, even for the dog, one year they called out Bobby Ellis and he'd won a big lump of pork, good old Bob xx...PP
The saying is that if you buy tickets on borrowed money you are more likely to win. So, bob being the dog didn't have any money so he borrowed some and he won!...SD
What's happened to all the pigeons that lived in the town. Can remember chasing them under the market house as a child!...CE
...
1977
For over 20 years, Mrs Ellen WILLIAMS has been looking after the Market Hall in Ledbury. During that time she has devotedly carried buckets of water across the road from her home in Church Street and up the stairs, to clean up after meetings and jumble sales. As she approaches her 80th birthday, she has decided that the time has come to call it a day.
Such a hard working lady and she lived to the good old age of 104 I actually went to her 100 birthday party...JJ
2014
Ledbury Market Hall point cloud animation
3 d Market house
Amazing filming of the outside...JE
First time I have seen upstairs for years, remember queuing on those stairs waiting to see Father Christmas...LS
My grandad used to play Father Christmas, bless him!...DA
Brilliant, got married to there! Such happy memories ...DA
I can still see Mr Heffernan calling all the people in to the Catholic Bizarre, loved going there every year and seeing Father Christmas. xx..PP.
I also got married here as registry office was being done up ..SD.
Amazing...IM
Yup, I remember waiting on the stairs for Father Christmas too...IM
Sources
1914 Newent Reporter Newspaper - Herefordshire History
1914 - 1919 Ledbury Guardian Newspaper - Herefordshire History
1916 Tilley's Almanack
Photographs are credited to the owners
Comments are from members of the Old Ledbury Facebook Group
Cuttings from Ledbury Reporter newspapers