Newspaper Cuttings have been taken from old Ledbury Reporter newspapers, adverts from Tilleys Almanac 1916 and 1958, photos are credited to the owners and comments are from members of old ledbury group on Facebook
Date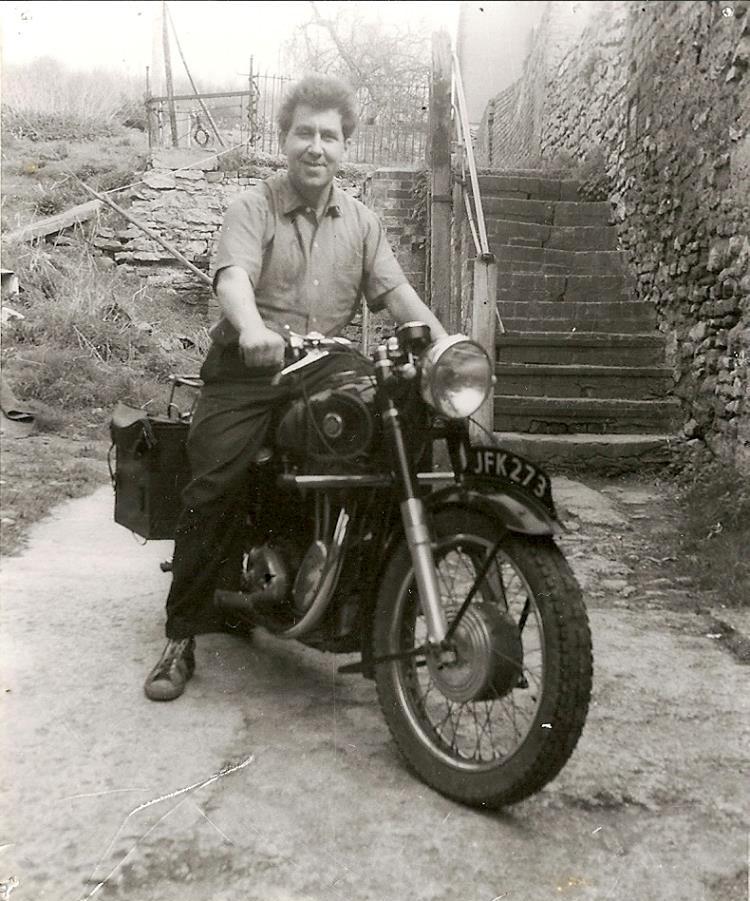 Pip astride his motorcycle behind the shop
Photo Pugsy POWELL Collection PP1
Remember up those steps were some houses Mrs KING used to live up there (Edna JONES snr mum )...CP
And to dads right two of the original cottages still stood for quite a while. I also remember Mrs KING, and another old lady who used to live up there, Mrs MORRIS her name was...PP
My auntie Lil lived in Horse Shoe cottage many years ago, she had seven children plus a grandchild plus a step brother, uncle George living there with her and hubby. No bathroom, no inside toilet, no running water. And we think we have it hard at times. The steps were'nt there then, you had to go up the back of the horse shoe to get to the cottage. I was always at the cottage when Mrs KING lived there, me and Rose used to go after school and have a big chunk of bread with thick butter on it, went down well with chips and scrumps...PP
My mum and dad lived at No 43 Smoke Alley, Pip showed me where the house was, just one up, one down, share the toilet, water pump in the yard...PP
Pip gave talks he came to a few meetings to talk on old Ledbury I was there remember very good speaker but he was like Ken Dodd, couldn't get him off the stage, brilliant...JJ
He was a decent bloke!!...DH.
Love the old classic bikes. dont like the modern ones. dad had AJS with sided car. absolute classic which got respect...DH
....
Date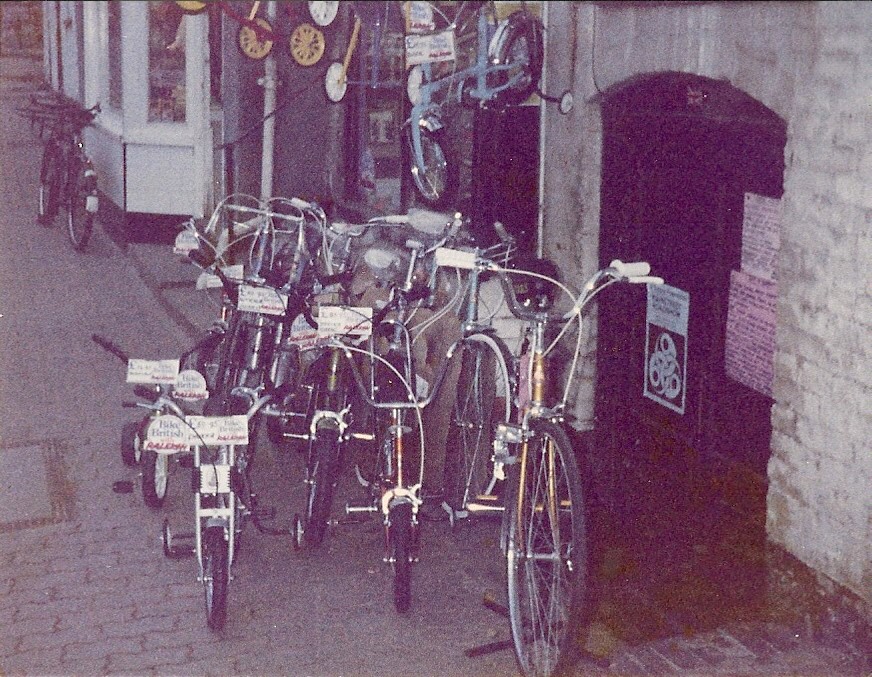 Cycles for sale outside front of shop
Photo Pugsy POWELL Collection PP2
This is old Ledbury !!!!...CP
Dad got me my first BSA bike from there, couldnt reach the pedals so Pip and him put "blocks" on them so that I could grow into it...SD
....
Date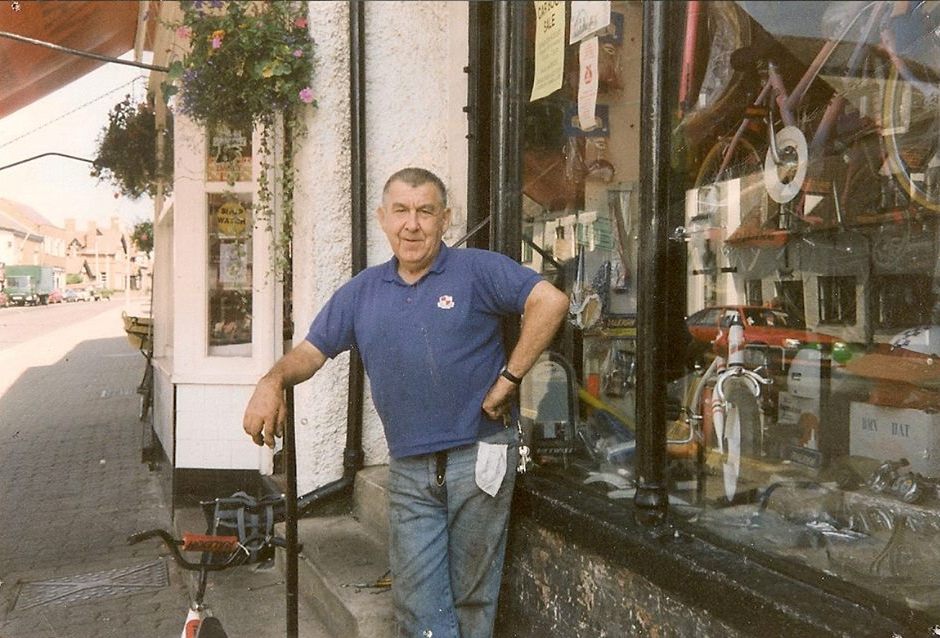 Pip stood outside front of shop
Photo Pugsy POWELL Collection PP4
Legend knew every thing about Ledbury and folk in it...CP
Lovely pic of a smashing bloke...BEM
Lovely Pip x...DE
The mighty Pip .. What a Ledbury legend...AJJ
Miss him and the shop loads, an amazing man indeed...SMP
I used to spend hours sat in the workshops watching Pip work...JVM
I repaired an inner tube puncture a few months ago, the first time in maybe 30+ years. I can still remember Pip showing me how to do it...NM
I wonder how many of us were taught by Pip to repair a puncture on our bikes...JVM
Lovely to see all these wonderful comments. Still feels strange walking by the old shop and not seeing him on the steps talking to everyone and anyone, much missed xxxxxx...LP
Still miss the chats we had, a real local...JB
He had some great sticker's for bikes,air gun pellets,darts,all kinds of goodies when you were a kid...KC
I remember on my bike from Pips, I had 2 stickers of my favourite football team ...JVM
I went for the dragons and skull and cross bone's type stuff...KC
My first bike from Pips was a girls so i could pass it on to my sister i was not amused at time...KC
Always got a smile and helped me with my old kids bike. Good friend to dad as well....LEGEND....RM
Always a smile and time for a chat loved his singing John and Puggy used to sing with Hereford Police choir...JG
Spent many hours with Pip in his workshop and next door!...PH
I really miss Pip he could of told us if we didnt know...BH
Now that would have been funny! Pip on a computer!!! Put a whole new aspect on windows, he would have opened one and chucked it out lol...PP
Always think of Pip when I pass the shop, lovely picture, just how I remember him he always had time for a little chat, he once told me that you can take the girl out of Ledbury but you can't take Ledbury out of the girl...ECS
Just as I remember him too. I have 2 vivid childhood memories and I got it the minute I saw this picture - the smell of Pips bike shop and the other was Harry Cales cobblers shop in the South End. On my way home from Canon Frome school I would pop in to see them to say hello, but it was for the smell the shop mainly! ...KH
Memories of a mechanical marvel, who not only fixed problems, but nearly always showed me how to do it and told wonderful, historical tales as he worked. Miss him, he was the last of a special breed of gentlemen. ...NO
....
Date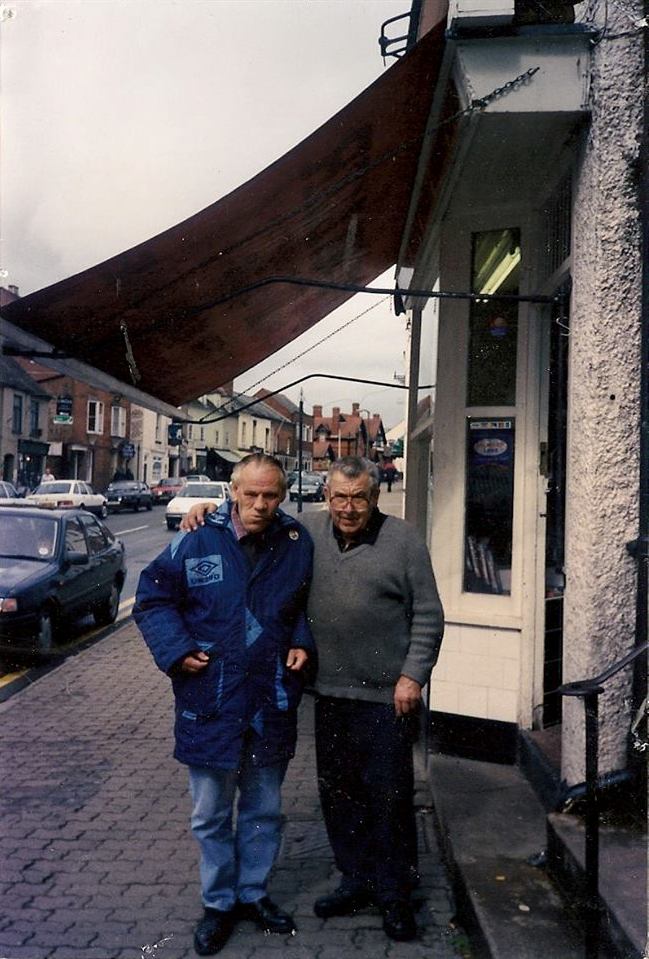 Pip and Jim ( Zymbuck )stood outside front of shop
Photo Pugsy POWELL Collection PP3
Two true Ledbury characters - cracking...SP
Hereford United! isn't that what Zimbuck used to ride round saying...JB
Yes he did gosh seems so long ago...DJ
"Fair Comin" that's what he would say for weeks before. God bless them both x...SB
Is Zimbuck still with us? Im sure he lived in Hereford, yes i remember him saying that, the good old days, xx....DJ
Zimbuck and good old uncle Pip mint...JG
He used to shout HE,FUD!! such a character...SD
Also used to shout no me...JG
Remember Pip Powell very well, nice picture...ML
He was ace to me when i was a nipper...JG
Lovely photo. My godfather Pip, bless him. I can remember Zimbuck falling off his bike and my mum cleaning him up! His mum sent him back to say thank you! Such a character...DA
Is Jim still with us he lived in our road when I was a lad?..RM
Thats just lovely...BH
Love it ...HCB
Two Ledbury legends...CP
Thats the one I was trying to remember Zimbuck on his bike with flags called Hereford United lovely chap xx...MD
Characters made Ledbury what it was growing up there...BH
....