All Newspaper Cuttings have been taken from old Ledbury Reporter newspapers, most adverts from Tilleys Almanac 1958.
Photos are credited to the owners and comments are from members of old ledbury group on Facebook
Recreation Ground - The Rec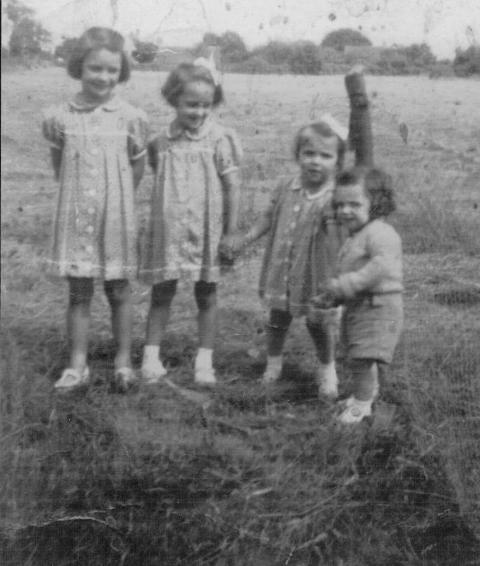 1950s
My sisters Sally and Marlene, myself and John on wreck before houses were there
Photo Carole PHILLIPS ( Preedy )
...
1950s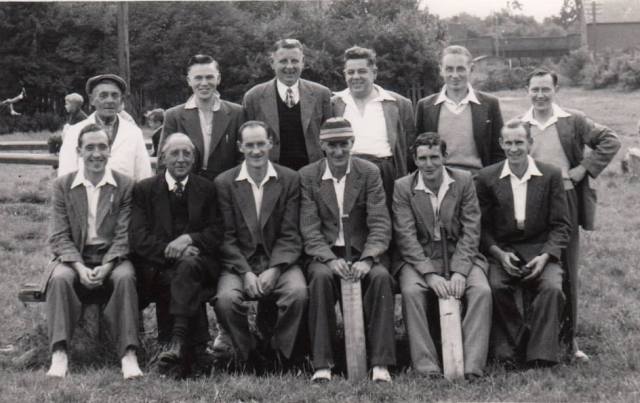 Back Row - Mr SMITH, Eric WILLIAMS, Harold CURTIS, ...HUXLEY, George DREW, Jeff BRYON
Front Row - Ernie ROGERS, William ROGERS, Tom PARTRIDGE, Archie COWELL, Ken WILLIAMS, Tony TOMPKINS
Photo Terry ROGERS Collection TR2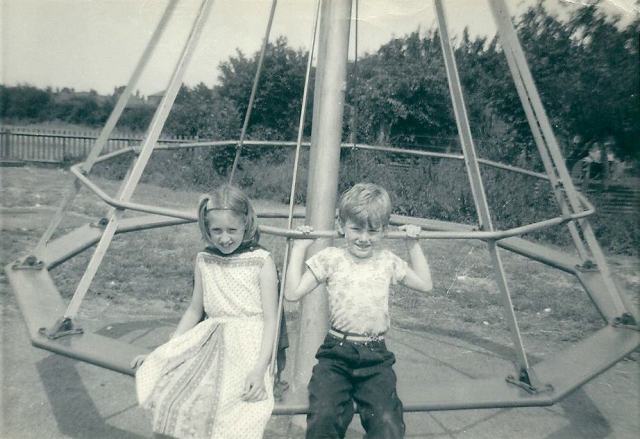 Late 1950s
This is myself and Keith HODGES on the witches hat on the recreation ground, late fifties. His sister Gill is my best friend, we have been joined at the hip ever since we were born...roundabout...
Photo Dee EHRLICH ( Pitt )
Old Ledbury Facebook Members Comments
ahh used to love this "roundabout"...
loved the witches hat, untill it was banged from side to side then you had to take care you didnt loose your front teeth, lovely photo...
my sister broke her front teeth on this ride and she still has a v shape where they broke...
there you go...
ah wow the witches hat!!! spent many an hour on here! ...
loved this ride, hated it when the older kids would make it bang side to side, great fun tho, i spose these days health and safety would go nuts over it, i remember the low round about too, the daring tried to jump off it when it was going really fast, not easy when dizzy...
I remember Keith coming back to school after the Christmas holiday with a collarless jacket, just like The Beatles. It was awesome!...
L.O.N.D.O.N spells london we always played that on this roundabout...
I remember a game called High Erky? we used to play on the tarmac part the car park, an empty can was placed in the middle of the car park, you all used to go and hide...
Yep played on it ..loved it...health and safety would of closed it down now though....
This photo brought back memories for me. Used to play on it when visiting my Nan and Aunt...
I remember when they built that playground. Stood there watching and itching to get on it. The place was crowded with kids afterwards and had to queue to get on the slide....
...
...
22/12/1963
Taken from Ledbury Town Halt Bridge Street Looking north towards Ledbury Station. Recreation Ground visible top right
Photo D J NORTON
...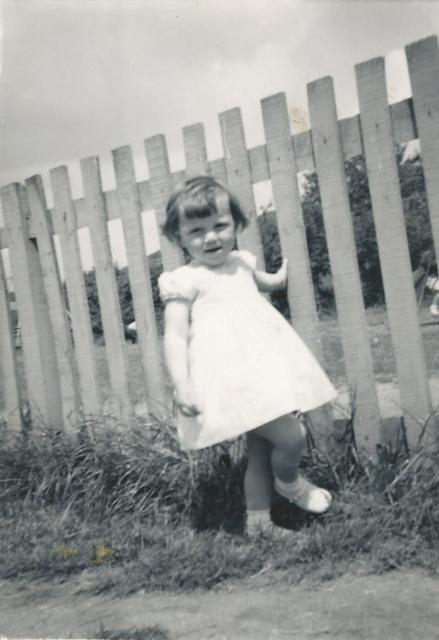 Early 1960s
The fence around the playing area
Photo Joanne EDGE
...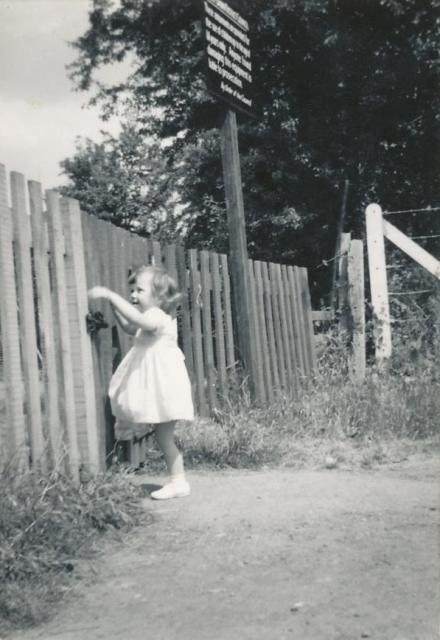 Early 1960s
The fence gate into the play area, Sign - By Order of the Council
Photo Joanne EDGE
...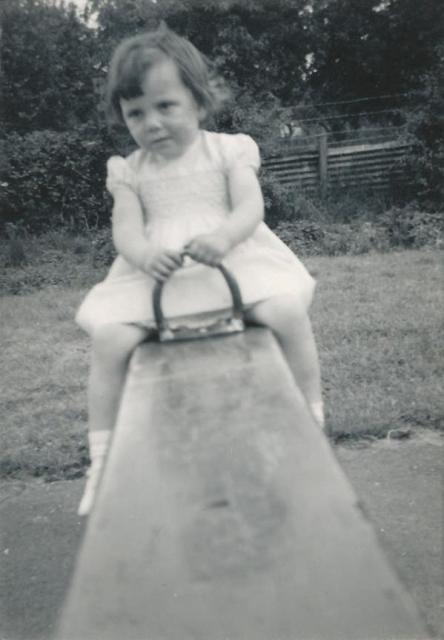 Early 1960s
On the See Saw, showing the corrugated sheets and barbed wire to keep the kids out of the field!
Photo Joanne EDGE
...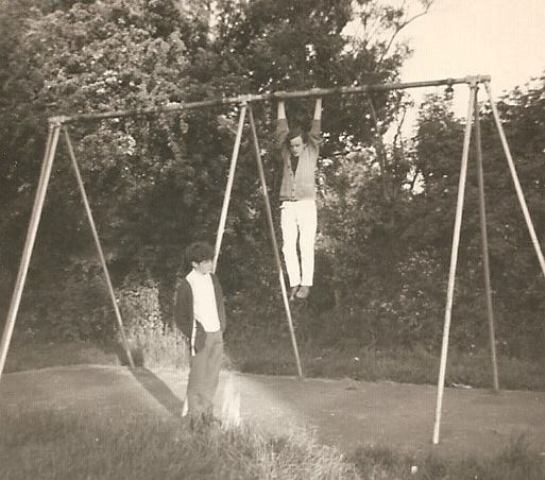 Late 1960s
Ray SHAKESHEFF with Gerald ROBERTS hanging about on the rec. Big Swings...
Photo Brian HAINES
These are fab...
Used my old Kodak....
Are these what they called the big swings behind the hedge a field then the old meb works place...
Thats right I fell off them and ended up damaging my tooth as a result!...
There was a couple of "see-saws" and a slide also I think ...
...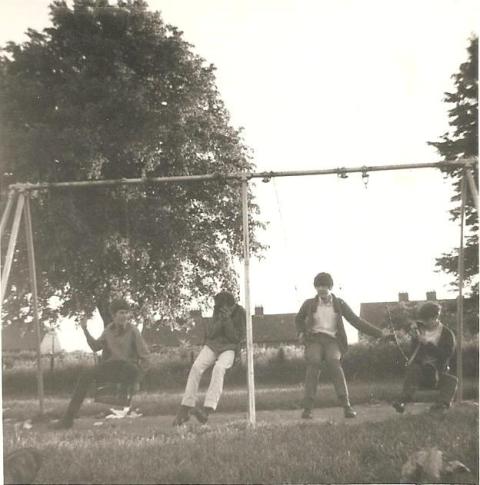 Late 1960s
Brian MORRIS, Gerald ROBERTS, Andrew STEPHENS, Ray SHAKESHEFF, on the swings on the rec. Little Swings...
Photo Brian HAINES
Thanks for posting this picture so many happy memories...
Great photo Bri keep them coming...
Don't remember that, but it certainly looks like me. That makes it so much better, the ones you don't remember. Thanks Bri...
My daughter and granddaughter had a good laugh at this picture, mainly at you know who...
The big boys used to swing the swings so hard they would go over the top and come back over the other side, they did it so the chains would wrap around the top bar, then when we little ones went for a swing we couldn't the seat was so high !!!! Looks like Gerald and Andrew are on higher seats!!! ...
...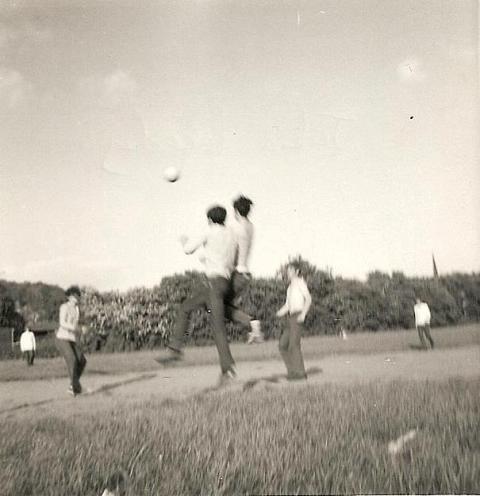 Late 1960s
Game of footy on the rec, shirts off must be summer ! John PREEDY challenging for a header. Note houses had not yet appeared in the background..Football...
Photo Brian HAINES
I remember the houses being built, gran lived at Masefield Close then, so i had a birds eye view of the proceedings!...
...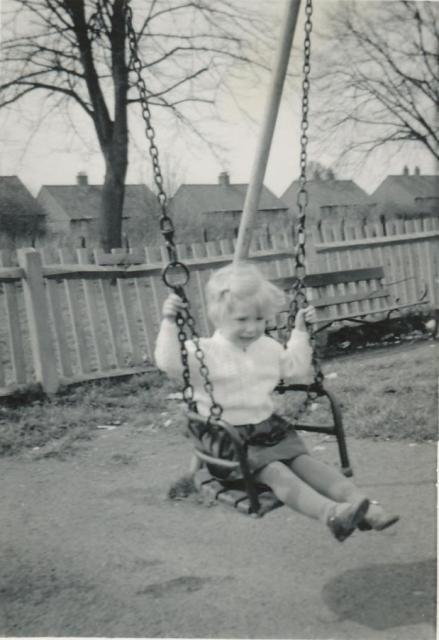 1960s
Janet ONIONS enjoying a swing
Photo Joanne EDGE Collection JE51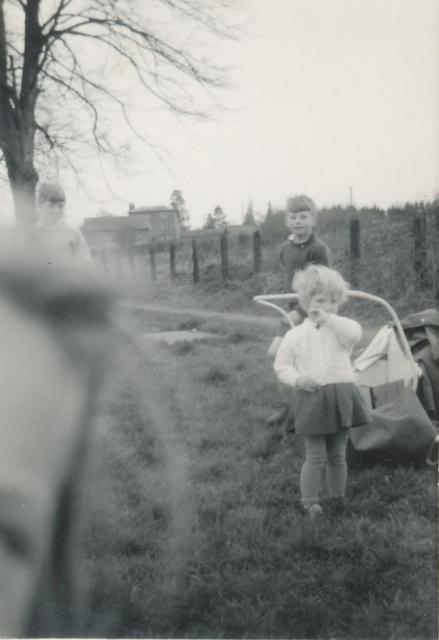 1960s
Janet ONIONS on the rec with ...
Photo Joanne EDGE Collection JE52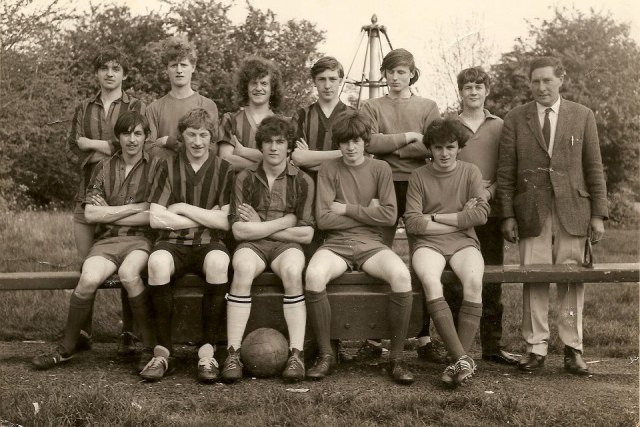 1968/1969
Recreation Ground - Ledbury Youth Club - Malvern League Cup and Cartland Cup Winners
Back Row - Gunther EHRLICH, Jimmy HOLFORD, Ray GLADWIN, John TAYLOR, Michael BOUCHER, Ian COLWELL, Ken STAINER
Front Row - Roger EHRLICH, Brian HAINES, Morgan DAVIES, Phil HODGES, Gerald ROBERTS, Reserve Raymond SHAKESHEFF ( Not on photo )
Photo Brian HAINES
...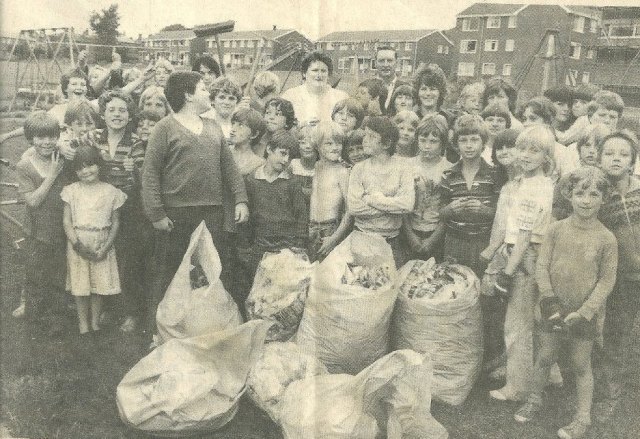 1980s
Litter Picking - Tucker and Margaret HOLTHAM decided to do something about all the rubbish on the recreation ground. They got the local kids to help clean up and they did a grand job having lots of fun in the process.
Cutting Dee EHRLICH ( Pitt )
Dee thank you so much for showing this ... there are so many faces in this crowd that I recognise, including your Shaun...
I always kept old newspaper cuttings that my kids were on,just knew they would come in handy one day. must sort some more out...
I see Jamie at the front...
I remember the reporter being down the rec but we were all down mums at the time...
I know most of them on the photo...
Can't believe it - me Vicki HORROBIN stood there pulling faces at the camera, and Russell BALDWIN how funny - I must let him know he's on here...
Is that Ang WILLIAMS next to you Vicki?...
Yep and then Craig and Clinton to the side and Mavis next to me...
Haha just noticed the lad on the far left as you look at the pic sticking his 2 fingers up !!! pmsl what a rebel ...
Quality I could name a few on this photo! Can't remember that day at all though! Scary how much my son looks like me! Poor boy!...
I think that's Rich RAVENHILL flicking the vees?...
...