Pre 1876 - Mr Robert BAGGOTT - breeches maker etc tennant

---

Pre 1876 - The Malakoff - Licensed house for a short time

---

Pre 1876 - Fishmongers - For a short period

---

1876 - No 7 - Mrs May HARRIS - Wine and Spirit Vaults

---

1902 - No 7 - Wiliam Armell Cotterell GABB - Wine and Spirit Merchant

---
1909
---

1916 - No 7 - GABB Bros- Landlords

---

1937 - No 7 - Rd R RENOULT - Landlord

---

1958 - No 7 - L STANLEY-SMITH - Landlord

---

1960s - The Hereford Bull - Steak Bar - George SIMON - Landlord

Guyla 'George' SIMON carved a reputation as one of Herefordshire's best steak chefs, having first come to the country as a refugee.
The one time miner fled Hungary with his wife and two young sons during the 1956 revolution and spoke no English on arrival in the UK.
Work in farming, baking and confectionary followed before he took a part time job at the late Frank TADAY's famous Spead Eagle steak bar, in King Street, Hereford.
So well did Mr SIMON acquit himself there that he was soon in charge at another TADAY steak bar, The Hereford Bull, Ledbury.
The family's interests grew, taking on enterprise at Wellington Heath and in 1974, developing the Five Bridges Inn at Bishop's Frome into a Beefeater restraunt.
Mr SIMON ended his catering career aged 70 as 'boss' at The Hereford Bull Steak House, Widemarsh Street, Hereford in 1997.


1970s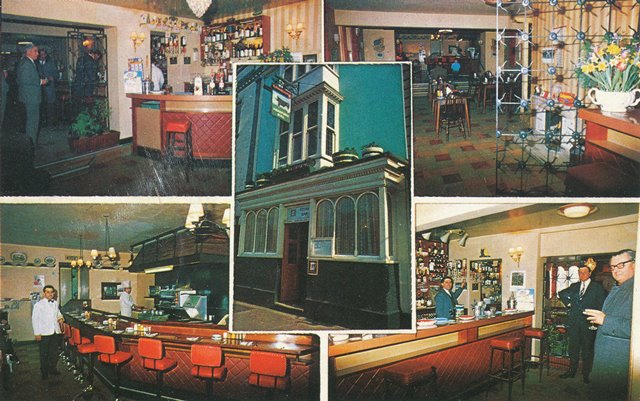 Advertising Postcard
1970s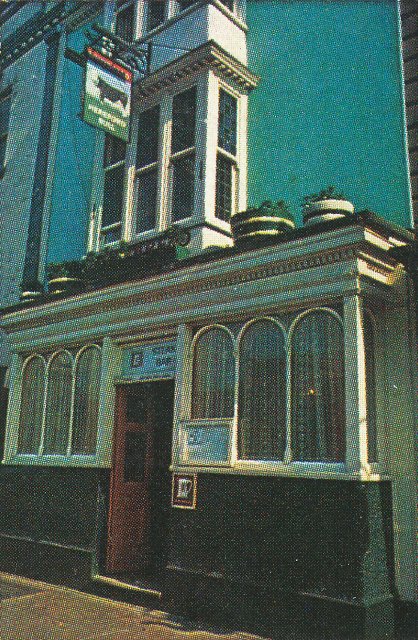 Front entrance to the Hereford Bull
1970s
Main bar
1970s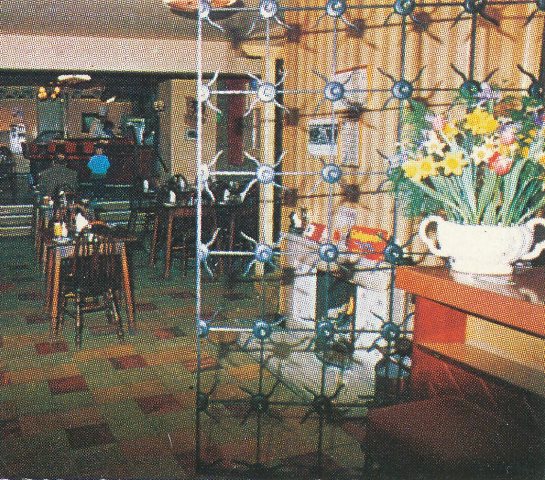 Anna SIMON blue blob
1970s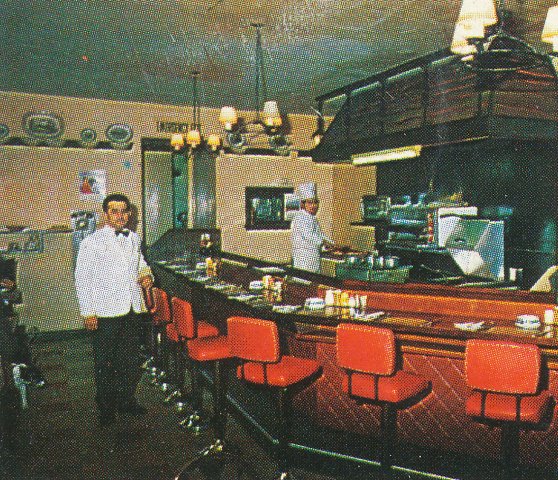 Joe SIMON in chefs hat at the grill cooking those lovely steaks.
1970s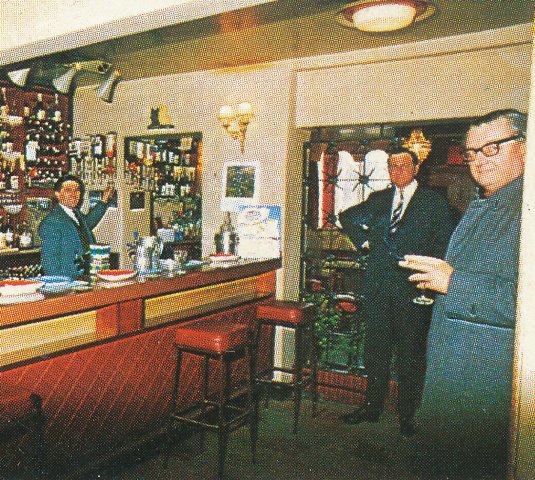 George SIMON behind main bar
1970s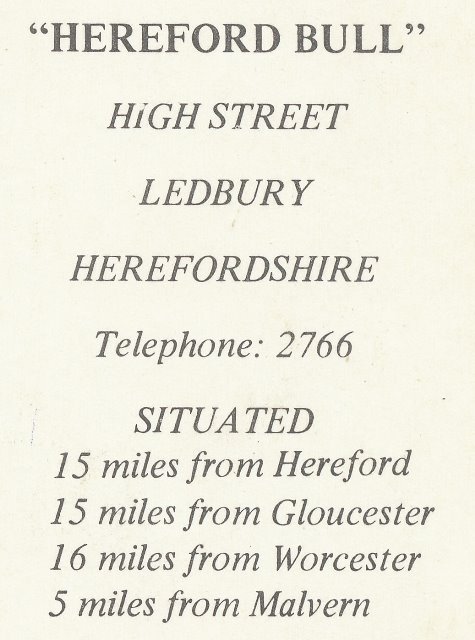 Rear of Postcard showing Hereford Bull details
1970s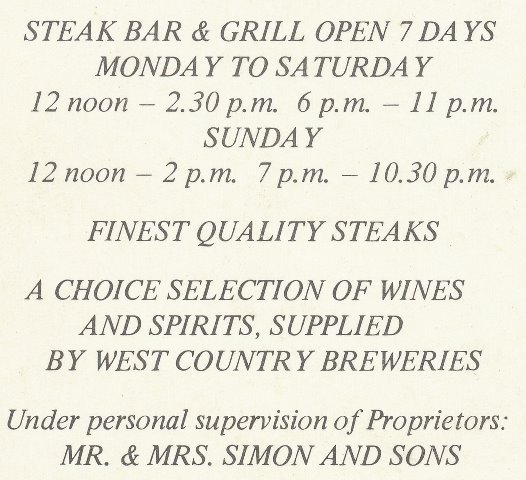 Rear of Postcard showing opening times
Mmmmm ! Proper steak bar back then !!...TS
My ex used to drive over from Newent to get them when I was pregnant. Wish i'd not mentioned them now, feeling hungry !!...JM
The steak from there was awesome...JL
I worked for George as a waitress just after I left school. He used to cook me and the other staff a steak when we finished serving food ! Don't know many landlords who would do that for their staff ...JK
Had many a steak from Georges gaff.Was'nt one of the original chefs called,"Felix" who lived out on the Gloucester Rd?.I can remember paying 10 bob for a steak with all the trimmings. ...GH
I was chef there when George left and there were loads of bottles of BULLS BLOOD in the celler...SD
I remember it well...
The best steak to be had for miles around and the Polish spirit...AM
Loved going to the Bull with my mum and dad on a Saturday night....DA
I could just eat a steak sandwich with my gin and tonic...BH
Had some good times in the bull...ECS
I still love steak and always remember the Bull when I eat one, wish there was a good Steak House in Ledbury now !!!...JE
Spent many a late night in there in fact worked there at nights for quite a while good times...BG
Smashing pics stood at that bar many times great mems...RH
It's a wonder my grandad's not at the bar - he was always there or across at the Feathers at lunchtime. Grandad treated me to rump steak, mushrooms and chips at The Bull every Saturday:) I'm vegetarian now haha . I think George's son (the chef) married a girl I went to school with. ...AT
Joe's' wife was Conchita, a spanish girl, I think his brother John married an english girl...CT
I think John married Jennifer (who went to St. Mary's Lugwardine with me), they ran the steak house at Bishops Frome?...AT
George was at the 5 Bridges, then John. Then I think John went to the Bell at Bosbury before the Ring of Bells...JL
My mum and brother Bob worked for George, Bob was great friends with John...PB
Blast from the past! The little blue blog in the centre of the top right picture was me!...AL
Joe now lives with Conchita in Spain - he has a restaurant there. John still in Ledbury and my sister Liz based in S Wales...AL
Joe special drambuie shandy [ with polish spirit ] not for the faint hearted !...RE
Yes a lot of his concoctions were not for the faint hearted!! Lol...AL
Connies special fish and ham soup with fresh bread rolls ooh ooh want some NOW lol...RE
Top bar and watch your steak cookingm brill...PM
My mum and dad used to go there George and Dolly MAY...AB
This Pub used to be called "The Number 7" run by a Mr SMITH, changed to The Hereford Bull, run by Frank TADAY a tall red bearded polish man who also owned The Spread Eagle in Hereford, he moved on to build The County Motel in Belmont. The Bull was sold to George SIMON, a Hungarian, who was a very popular landlord who moved on to The 5 Bridges in Much Cowarne. He also had the Bell in Bosbury and another in Widemarsh St. in Hereford...JG
Joe pepared and cooked the best steaks ever, folks came from miles around. Anyone remember Georges cocktails..WHEW...CT
As a teenager I used to work in the kitchens washing up ! We always had a meal at the end of the night and 1/2 of Stella !...JE
Got drunk in the Bull aged 17!...JBD
Such a lovely man. Used to love the steak sandwiches...JM
We used to meet in the Bull on friday nights. Usually had a steak sandwich. George was a lovely host and later his sons Joe and John. A very popular man...BH
Earned a steak meal there a few times just by washing up and filling butter pots...BEM


---
Sources
1876 Herefordshire Directory
1889 Old Ledbury By An Octogenarian George WARGENT
1902 Jakeman and Carver's Directory and Gazatteer of Herefordshire
1916 Tilley's Almanack
1937 Kellys Directory
1958 Tilley's Almanack
Photographs are credited to the owners
Comments are from members of the Old Ledbury Facebook Group
Cuttings from Ledbury Reporter Newspapers