The New Inn, Family and Commercial Hotel
1831 Ann BOSLEY -Landlady
1896 - A Retrospect
January 22 Mr. H. BOSWORTH gave a complimentary dinner at The New Inn to mark the occasion of his retiring from business as coal merchant, &c., after 32 years.
1897 Hannah BUTT - Landlady
1897 Retrospect
October 14 the Victoria Football Club held their first Smoking Concert of the season at the New Inn Hotel.
1898 Retrospect
July 9 The death of Mr. Tom COMLEY, late of The New Inn, Ledbury, occurred at Dymock, at the age of 67.
1902 George BARRETT - Landlord
1916 H C HARRIS - Landlord
1920s Henry "Harry" Jefferson BRYON - Landlord
1920s - 1930s Somewhere inside the New Inn.
( Chip Andrew BRYON Collection CAB10 )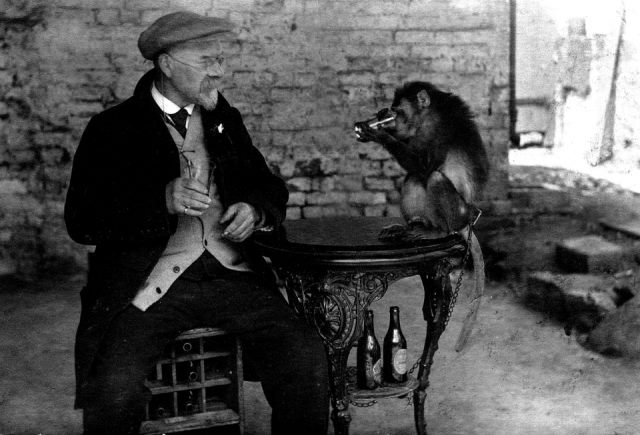 Great grandfather Henry Jefferson (Harry) BRYON having a drink with another family member!
1920s Outside the New Inn, Gas Showroom and Seven Stars
( 17 March 2014 Roger Baker Collection ROB35 )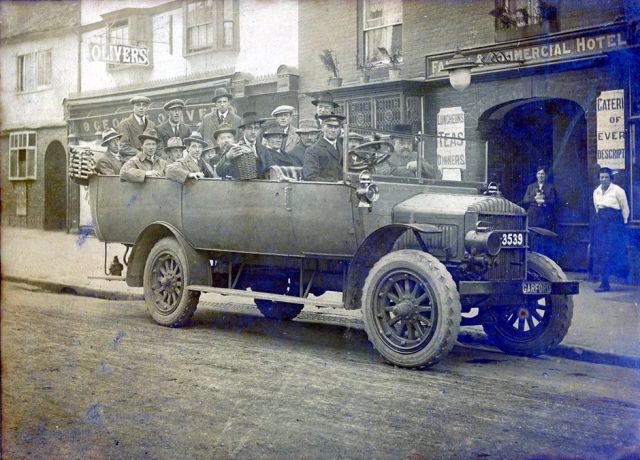 Roger Baker - Henry TARBUTH sat in front of car passenger side
Judy Baker - Looks like Lil RAWLINGS to the right in the white blouse
Chip Andrew Bryon - Not sure, but I think that could be my (and Hilary Jones') great - grandfather, Henry Jefferson BRYON, behind the driver, and his second wife, standing in the archway. (not our great-grandmother). He was landlord of the New Inn in the 1910s - early 1920s, so it's quite possible?
Hilary Jones - Think Chip could be right - and that looks like "Nanny" as she was known, they were landlords of New Inn and Seven Stars, my mum was born in 1922 and Harry didn't want his first grandchild to be born in a pub! hence My Nan had to go and stay with her sister, Frances STURGE in Lower Road - known as Newtown in those days, which is where my mum - Amy BRYON was born
1937 Harold ARCHIE - Landlord
1958 P H LITTLE - Landlord
1960s Jinks and Eileen PHILLIPS - Landlords
1960s Skittles Team
( Debbie LANCETT Collection DL2 )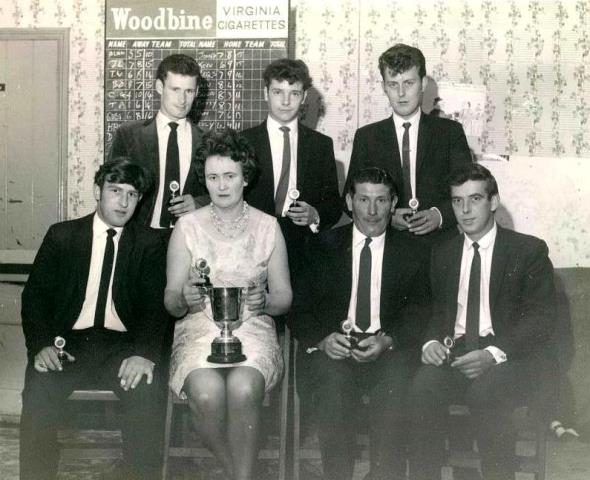 Back row - Richard HATHAWAY, Tony WHITE, John WATERS
Front Row - Kenny LANE, Eileen PHILLIPS, Ted PARRY, Alan LANE
19-- Martin and Muriel POWELL - Landlords
1972 - New Inn CLOSED
Sources
1902 Jakeman and Carver's Directory and Gazetteer of Herefordshire
1914 Newent Reporter Newspaper - Herefordshire History
1914 - 1919 Ledbury Guardian Newspaper - Herefordshire History
1897 - 1980 A Retrospect Tilley's Almanack's - Herefordshire History
Photographs are credited to the owners where possible
Comments are from members of the Old Ledbury Facebook Group
Cuttings are from Old Ledbury Reporter Newspapers