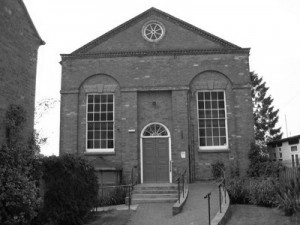 A Retrospect

1900

October 4 Rev. J. Harper, and Mrs. Harper were recipients of presents on leaving Ledbury.

1901

February 3 Rev. W. REYNOLDS, of London, preached at the Baptist Chapel, on his acceptance of the Pastorship.
,br> 1902

November 27 L.O.G.T. District Quarter Session at the Baptist Chapel: Entertainment by "the Rev. C. Y. POTTS" Temple.

1914 - 1918 World War One Ledbury Guardian Newspaper Articles
1916 - Rev A Oliver SHAW, ( Minister ), H WARRELL ( Attendant )
1958 - Rev H RODERICK, ( Minister )
Date Unknown - Harvest Thanksgiving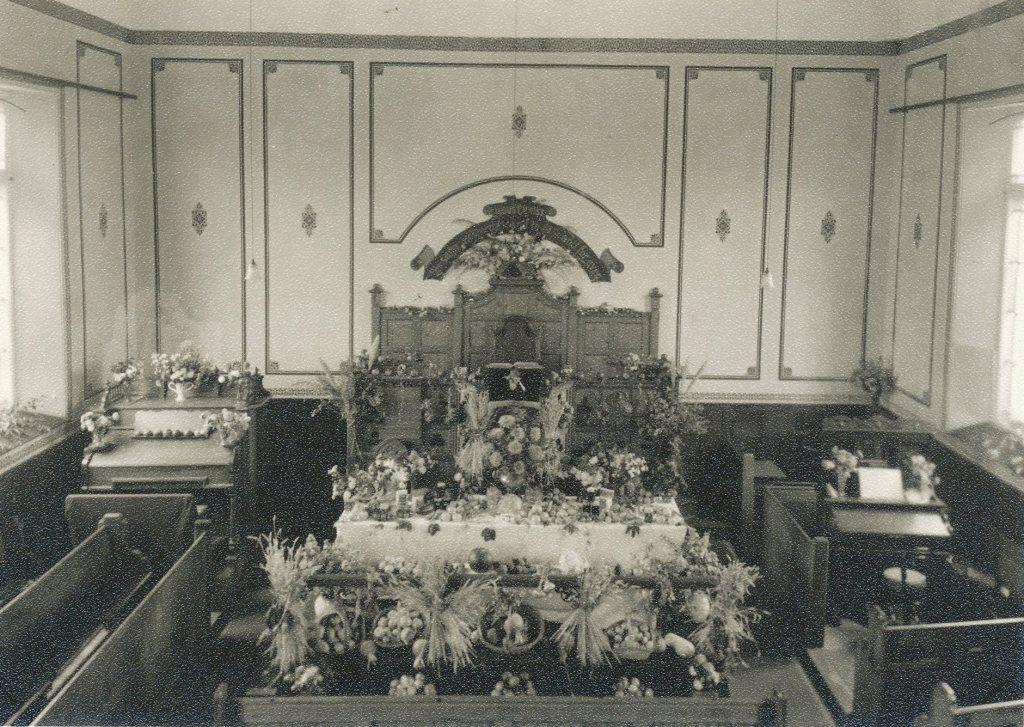 ( Janet JONES ( CLarke ) Collection )
( 2014 )
Jo Edge - Janet Jones love this photo brings back memories. Did we come up from Sunday School class underneath the pews on the left and Steve Lawrance is this the stage you fell off and bit your tongue?

Judy Baker - Love the paneling at the back

Jo Edge - Judy wonder what it is like now, have not been in the church since the 60s/70s?

Judy Baker - They have modernised it quite a bit lately Jo.

Margaret Brooke - I remember the youth club we used to attend.

Jo Edge - We used to go to Warriors on a Friday night is that the same thing?

Margaret Brooke - Probably

Janet Jones - The stairs for down stairs were on the right by the small organ.

Margaret Brooke - Janet, I remember your Aunty Doris playing the organ.

Janet Jones - Yes that's right Margaret ,these photos are bringing back some happy memories from our childhood in Belle Orchard aren't they.

Margaret Brooke - Yes. Great times. We were inseparable.

1969 - Christmas Bazaar
An extra birthday present for Sheena GARDINER ( right) of Margaret Road, Ledbury. Sheena who was nine years old on Saturday , went along to Ledbury Baptist Church bazaar and met Father Christmas in his grotto, where he handed the present to her.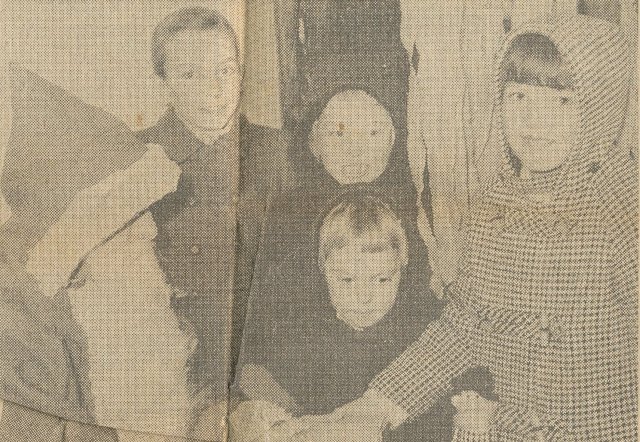 ( Nell and Sheena GARDINER Collection SGH1 )
1973 - Sunday School Fair
In charge of the toys' stall at Ledbury Baptist Sunday School Fair were from the left Sheena GARDINER, Jean HODGETTS and Christine SMITH. Taking a keen interest in some of the goods on display is little Caroline SMITH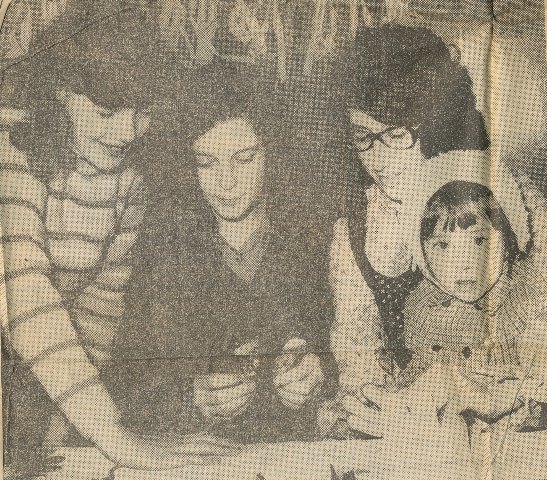 ( Nell and Sheena GARDINER Collection SGH2 )
Sunday School / Warriors Club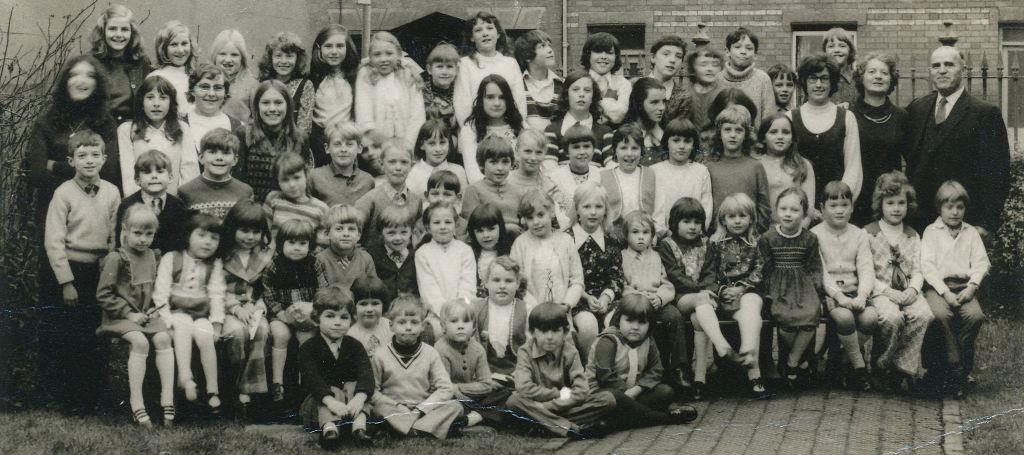 Back Row - Geraldine MOORE, Alison PEVERILL, SallyAnn SMITH, SallyAnn COLWELL, Rosalind PAICE, Janice MITCHELL, Paula BRACE, Sheena GARDINER, Adrian BAKER, Jeremy BAKER, Timmy BETAMBEAU, Stuart DAVIES, Kevin WILLIAMS,Andrew GEORGE, Sharon BERRY
4th Row Back - Vivienne WILLIAMS, Jayne LAWRENCE, Jackie BURSNALL, Caroline SMITH, Julie MILLS, Jane HILL, Tina WILLIAMS, Jean HODGETTS, Shelley SMITH, Jo EDGE, Christine 'Fred' SMITH, Mrs GIBBONS, Mr GIBBONS
3rd Row Back - Unknown, Stephen MOORE, Richard MOORE, Wendy DAVIES, Clifford BERRY, Unknown, John BAKER, Edwina LANCETT, Julia BRACE, Deena MORRIS, Angela MILLS, Karen TAYLOR, JUlie MOORE
Seated - Alison SELWYN, Laura SMITH, Tess WILKINS, Caroline SMITH, Unknown, Unknown, Lisa HODGETTS, Sam JONES, Sharon MITCHELL, Amanda BERRY, Mark GRIFFITHS, Elizabeth HALFORD, Jacki BERRY, Aian ...., Joanne BUMFREY, Karen GRIFFITHS, unknown
Sat On The Floor - Shaun STURGE, Joanne HALFORD, Colin SELWYN, Unknown, Anna MORRIS, Steven MANNS, Amanda BANNER
Warriors Club
Held on Friday evenings in the basement at the church - Leaders Christine 'Fred' SMITH and Jackie BURSNALL
W.E.C Warrior and Teen Camp
Fun, adventure and excitement but not just fun and games, its something deep too!
Everything we do is designed for you to have fun finding out about God. The camp has a unique blend of activities, teaching from the Bible and focus on world mission.
The camp day is split into three main areas of Bible teaching, activities and learning about mission.
1969 - Warrior Camp, Cameus Bay, Anglesey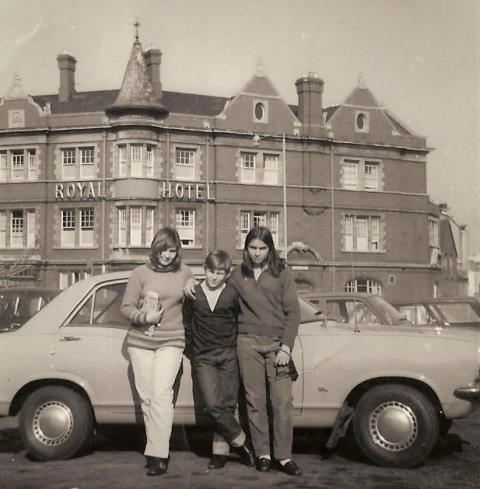 Rosemary WOODWARD, David CLARE, Helen JONES at Gloucester waiting for transport.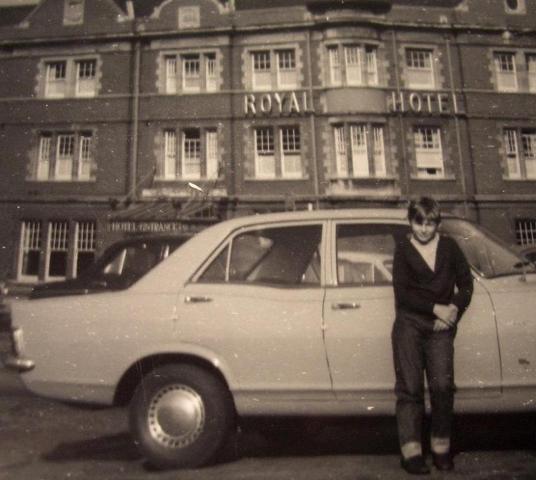 David CLARE, at Gloucester waiting for transport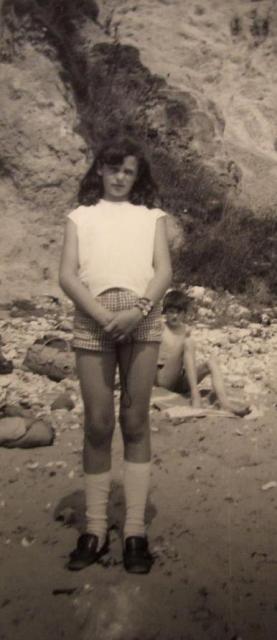 Jean HODGETTS on the beach, Sean POWELL in the background
All unknown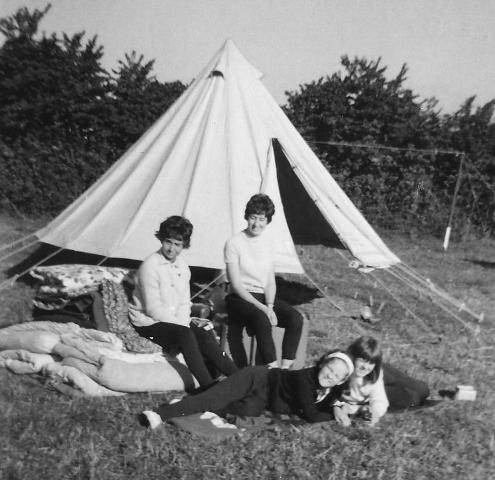 Back row - unknown, Christine 'Fred' SMITH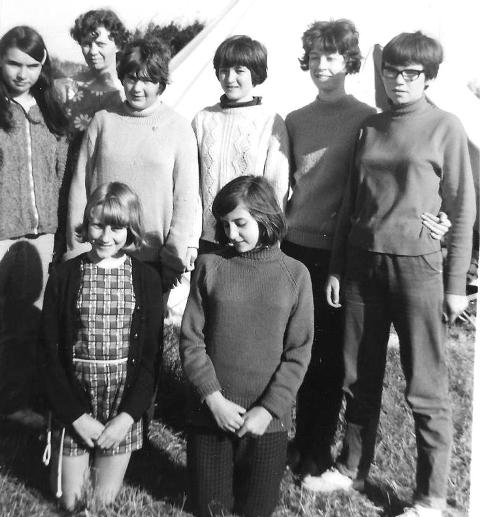 Back row - Helen JONES, unknown, Rosemary WOODWARD, unknown, unknown, unknown...
( Rosemary DYER ( Woodward ) Collection )
1970 Warrior Camp, Benbridge, Isle of Wight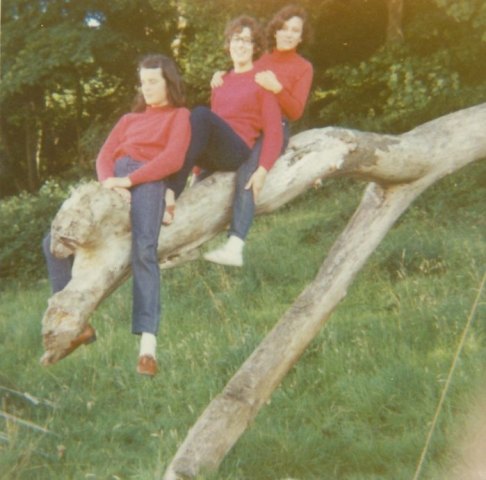 Shelley SMITH, Christine ' Fred' SMITH', Joanne EDGE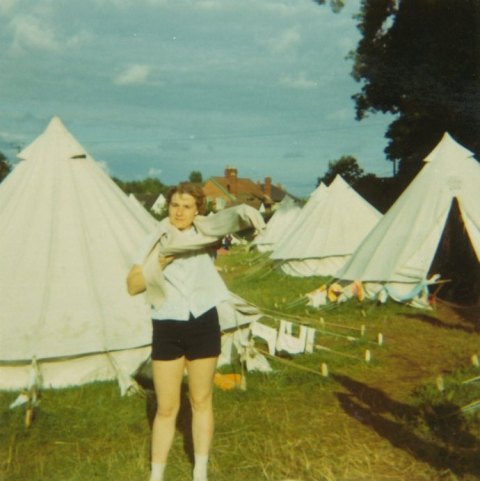 Jackie BURSNALL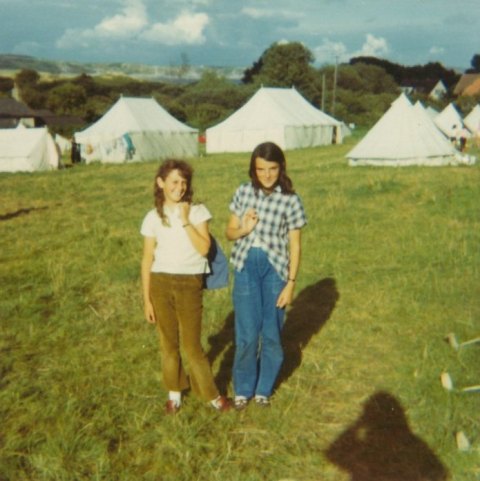 Jean HODGETTS, Shelley SMITH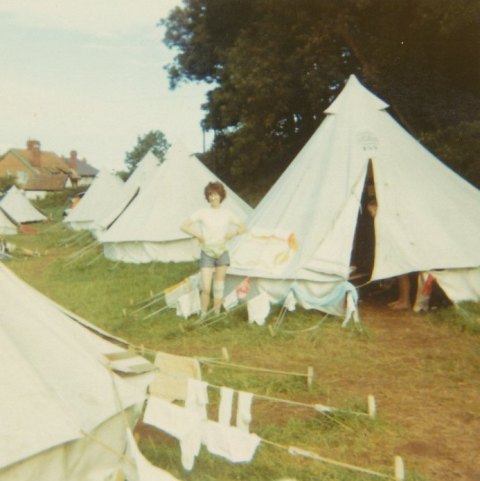 Aunty Marion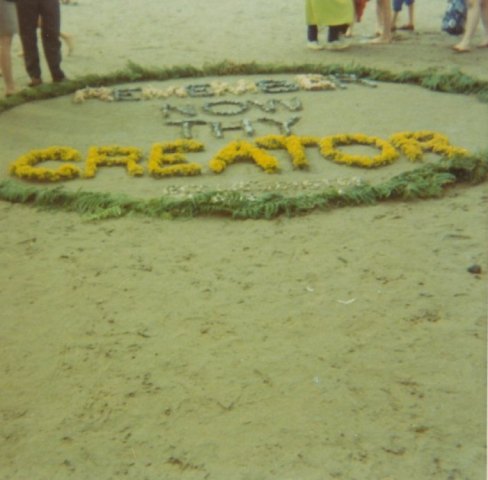 Remember Now Thy Creator - Made from flowers from the dunes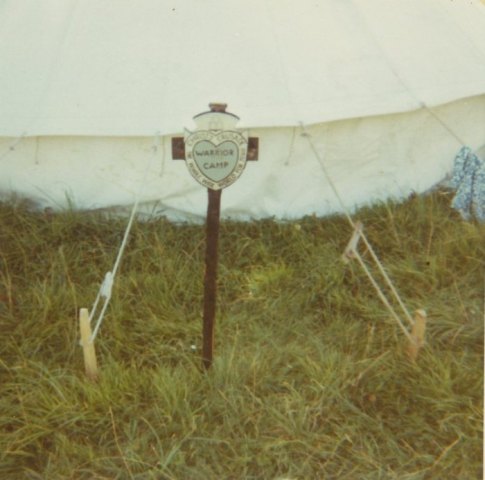 The Shield
( Joanne EDGE Collection )
1977 Teen Camp, Darley Dale, Yorkshire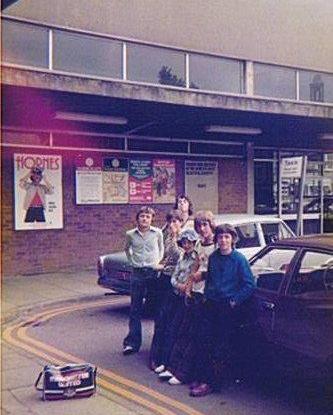 ( John BAKER Collection )
Outside Harrogate train station
Kevin WILLIAMS, Stu DAVIES, Helen ROBERTS, Andy GEORGE, John BAKER and one other
Date Unknown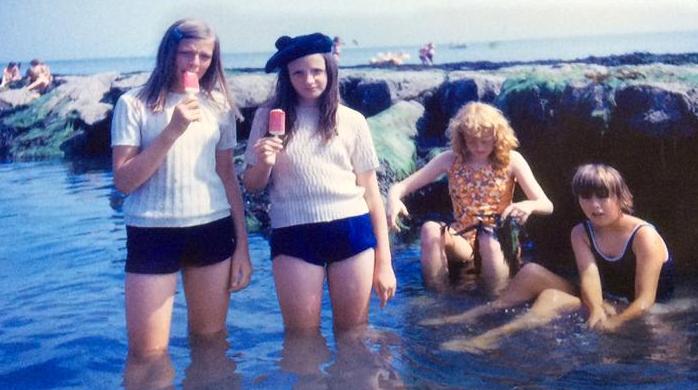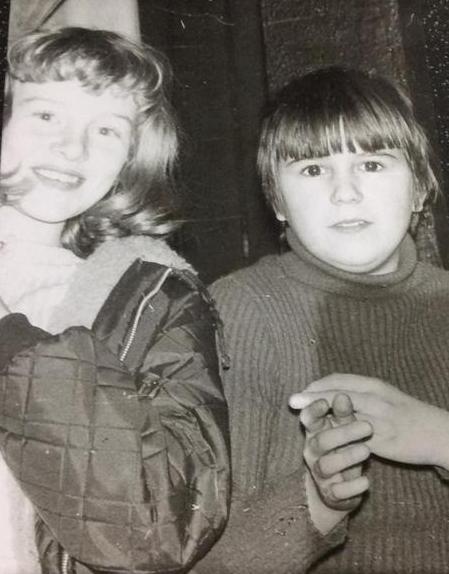 ( SallyAnn HERBERT ( Colwell ) Collection )
SallyAnn and Julia KITCHING ( BRACE ) having fun at the seaside.