Cemetery
New Street
1860
The cemetery of about 2 acres, nearly half a mile from the town, on the Ross road, was formed at a cost of £2,500 and has two mortuary chapels. It is under the control of a Joint Committee of 5 each of the Ledbury Urban District Council and the Parish Council of Ledbury Rural Parish.
1896 - 1931 A Retrospect From Tilleys Almanack
1907
February 19 Local Government Board Inquiry to consider application to borrow £1450 for New Burial Ground; no opposition. Subsequently the loan was granted, and Mr. George HILL'S Tender for the work of preparing the grounds, drainage, erection of walls, provision of palisading, &c., at £800 was accepted.

1909
May 27 New portion of Ledbury Cemetery consecrated.


1914
Funeral Of The Late Mr. Luke TILLEY ( Ledbury Guardian Newspaper 10 10 1914 )

A Simple Ceremony

On Saturday afternoon the remains of the late Mr. Luke TILLEY, were laid to rest at the Ledbury Cemetery, amidst many manifestations of regret. The respect and esteem in which the deceased was held was evidenced by the number of blinds which were drawn and windows shuttered in many business houses in the town. The first portion of the burial service was conducted in the Ledbury Parish Church, and the Rector (the Rev. F. W. CARNEGY; M.A.), officiated. As the cortege entered the church, the organist (Mr. F. A. HOBRO) played "O rest in the Lord," and as the mournful procession left for the graveside the organ played "Abide with me," both being the deceased's favourite music.

In accordance with the deceased's wish everything was as simple as possible. The remains were enclosed in a coffin of plain elm and the inscription read as follows:-

Luke TILLEY, Died September 30th 1914. Aged 75 years.

The service at the graveside was of a simple character, and the last rites were performed by the Rev. F. W. CARNEGY. The deceased was laid to rest in a grave in close proximity to that of the late Mr. C. W. STEPHENS.
1940's Prisoner of War Funeral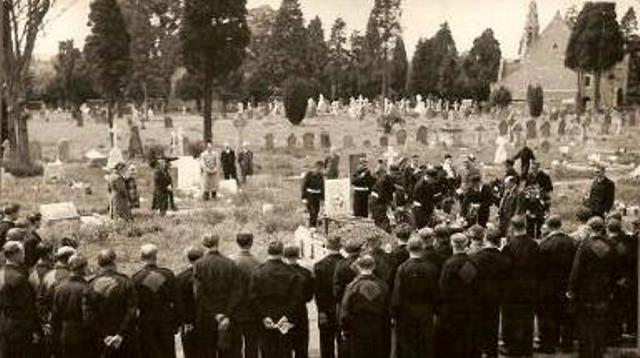 Andrew TAYLOR Collection
2021
Ledbury Town Council own and manage the Town Cemetery in New Street and employ a Grounds Officer who looks after and tends this important amenity area. Read More...
---