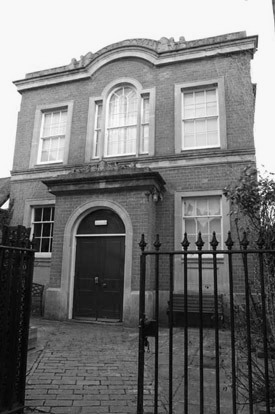 1852 - The Congregational Church was built on the site of an earlier chapel which was dated A.D. 1607
A Retrospect
1898

June 9 There was a Sale of Work in the Town Hall in aid of the funds of the Congregational Church, which was very successful

July 28 The Congregational Sunday School Treat was held.

September 25 The Congregational Harvest Festival was held.

October 23 The 291st Anniversary of the Ledbury Congregational Church was celebrated.

1900

July 19 Congregational Sunday School Treat.

September 23 Congregational Harvest Festival.

1901

May 19 Ledbury Congregational Sunday School Anniversary.

October 10 Meeting of the Ledbury and Newent District Free Church Council, at the Congregational Church. President: Rev. C. Y. POTTS.

October 27 Harvest Festival at the Ledbury Congregational Church.

December 12 Congregational Anniversary Tea and Public Meeting at Town Hall.

1902

December 4 Ledbury Congregational Church Anniversary, and on the following Sunday Rev. C. Y. POTTS, who has been pastor of the Church for over 36 years, preached.

1914 - 1918 World War One Ledbury Guardian Newspaper Articles
1916 - Rev Henry A BARNES ( Minister ), Mrs WHEALE ( Attendant )
1941 - Rev Benjamin DAVIES ( Minister )
1957 - 3rd January To mark the retirement of the Rev. Ben DAVIES, minister of Ledbury Congregational Church for the past 19 years, the congregation and friends presented him with a cheque for 47 pounds 4s. 6d.
1958 - Supplies ( Minister ), Mr R J PITT, Bye Street ( Secretary )
1985 - Chapel restored by the Ledbury and District Civic Society
2021 - Visit Ledbury and District Civic Society owners of the Chapel now called Burgage Hall