1931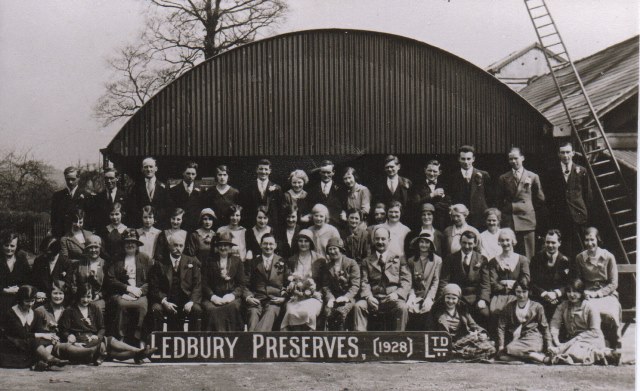 The Wedding Photo 1931
The wedding of Albert CALLAN to Llewelllyn JONES' daughter Dorothy 30th April 1931. Both sadly killed in an air raid while on holiday in Bournemouth in 1943...CP
I remember the funeral, staff were all given the day off...MPT
Middle row on the end right Jean BARNETTs mum her name was Marje COLLISON?...MPT
Bottom row sitting 2nd from right our mum May PREEDY...CP
...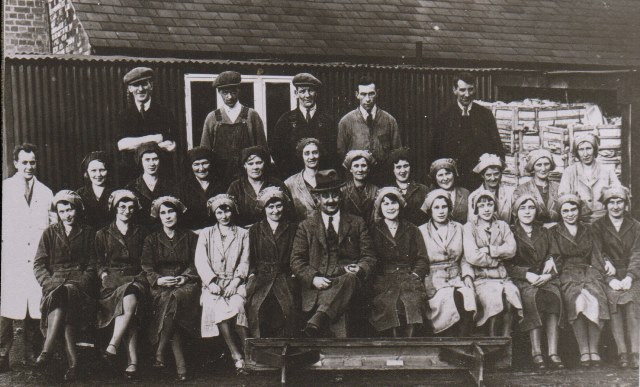 1930s
My mum many years ago of course, when she was a young girl worked at poz she said it was her 1st job and thats where she met my dad, dont know if he worked there or not, but the little lady 4th from left sitting with a light coloured coat on looks just like her, wonder if it is...CP
I think it is too, just showed John, he said yes too. Wonder if they met when your dad was working on the road down there, that pic was on here and we wondered if it was him and why he was there, perhaps thats when they met xx...PP
Can't find out now to late but can remember her telling me she met him when she worked there she used to cycle home to wallers green and he used to cycle with her and I think that is aunty Kath 4th from right sitting...CP
Thats great, it's lovely to see these old photos, your mum was really young then...PP
The chap sat in the middle with the trilby on is Llewellyn JONES Works Manager...CP
I would think this was early thirties...CP
Llewellyn JONES was works manager from 1928 until 1944...CP
My 2 brothers have also said it is our mum also our aunty...CP
I can see that too, Carole and Pauline, after looking at the Kath PREEDY wedding photo. The lady to our right of the bloke with the trilby looks like my Great Aunt Rose ( BARNETT ), and, 7th in the row above could be great grandmother Bertha BARNETT. They're both on the other Ledbury Preserves wedding picture. It could be my grandmother, Emily BARNETT next to Rose. Wish I knew, I'm only guessing really. Comparing to known family photos...CAP
Like wise Chipn its only looking through other photos to see the likeness. I have an old one of mum and dad when they were courting will put it on...CP
Back Row Arch BARNETT, Bill WALTERS, Mr JENKINS, Harry BARNETT Jean BARNETTs father, uk...MPT
Front Row last on the right Cissy KING who married Bill WALTERS 2nd on the left at the back. 3rd from the right looks like Freda POWELL?...MPT
May PEDLINGHAM and I went for our interview with LLewelyn JONES and he said ' do you talk much ' they were so frightened they said 'No' they were only 14, just left school. Mr Jones said right start on Monday. I was glad because mum said if you dont get the job youre going back to school. I didnt like school...Marjory PROBERT ( Taylor ) MPT
I can recognise Harry BARNETT now, from other family pictures, He was my great uncle, but I never knew him - killed in the Second World War. I knew his daughter, Jean. Makes me think I'm right, that could be his mother (my great grandmother) directly below...CAB
...
Date...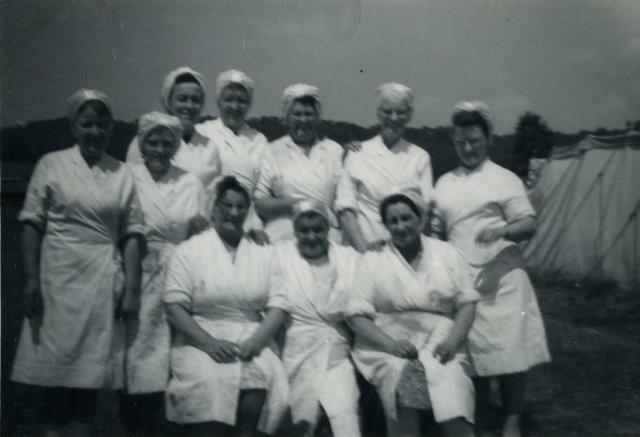 Back Row - Joan WATERS, unknown, Eileen MANNS, Betty PARRY, unknown, Mrs JACKSON, Mrs WILKINS
Front Row - unknown, Florrie RICHARDSON, Marge BARNES
...
Date...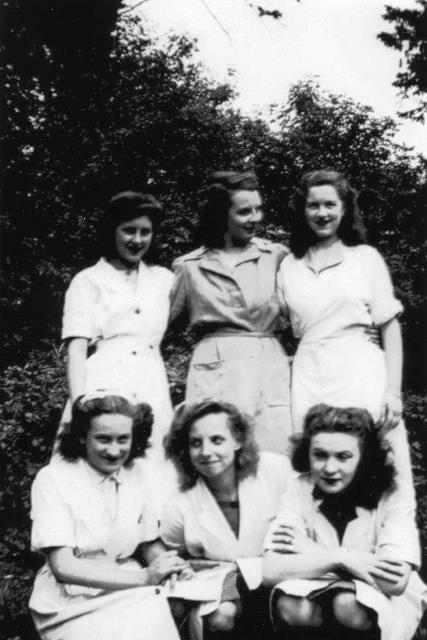 ...
...
Date...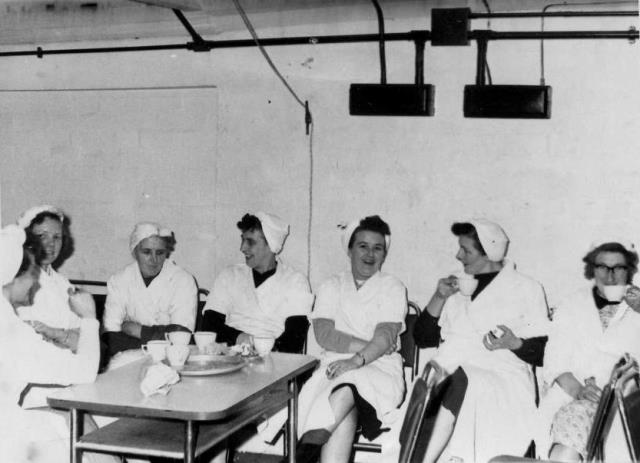 3rd from the left Mrs PREECE with arms folded
...
1947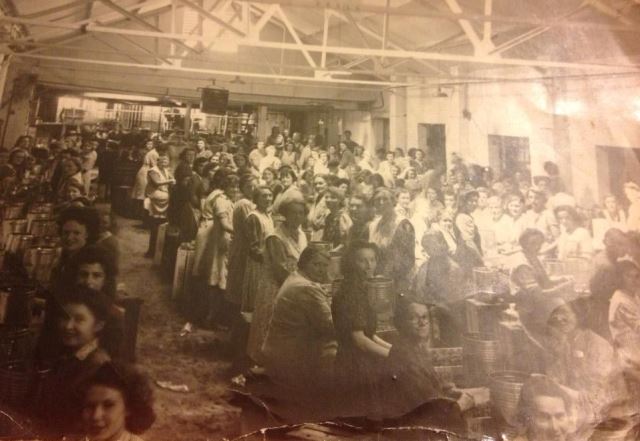 Ledbury Preserves girls working hard
Great Pic this room still looks the same though its walls have been lined all the old steel roof trusses still look exactly the same...CP
Mum worked on this section I think those are 28lb tins they were filled by hand then left to cool overnight then lidded and labelled the following day all by hand. They fill wine and sherry in here now ...CP
All labour intensive back then plenty of jobs for everyone. Before the days of capping machines the jars were filled on a rotating round table with a holes in it for the jars everyone sat round the table one person would fill it then turn the table the next would lid it and the next would label it and so on. ...CP
...
Eary 1950s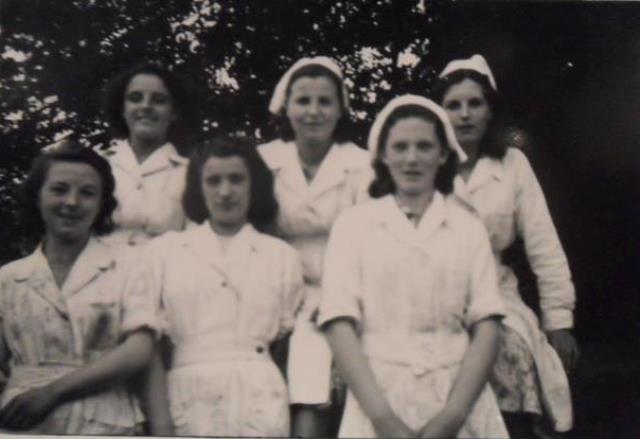 Ledbury Preserves girls on the wall by the Fairtree farm gate
Back Row - Unknown, Dorothy PARTRIDGE, Shirley BAGHURST
Front Row - June BAGHURST, Nesta VICARAGE, Shirley COOK
...
1967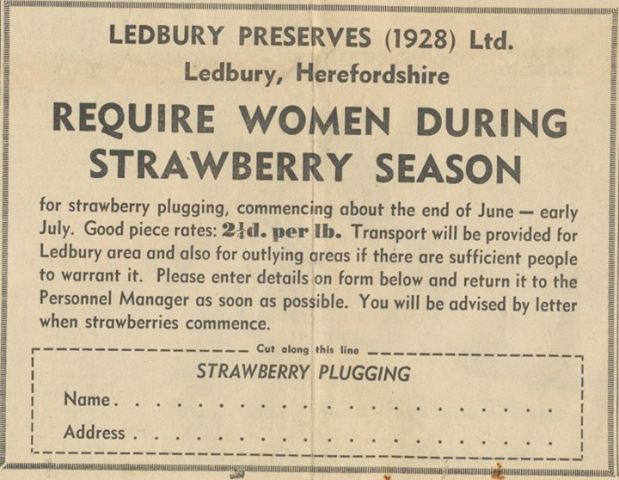 Strawberry Plugging ad from Ledbury Reporter June 1967
Good rate of pay!...CE
Oh my God I can remember doing that to earn extra pocket money ...JS
I worked in the office then and used to go in early to do a couple of hours 'plugging' before I started on reception at 9. I think Mr Poole was Personnel Manager then. Happy days. First week I started on exchange, someone rang on the internal phone and asked for a fork lift to go to B Section. I put it over the tannoy and everybody laughed, because I didn't name the driver!...EB
Oh my goodness did that, hated it, made my fingers so sore but the money was nice...CP
Was it Lillian SMITH( Chris`s Mum ) who was in charge of the Strawberry pluggers and Marge BARNES was her assistant ?...BH
Yes Lill was tough...PM
Worked there for 15 years, some good times...MF
This was probably the first year I worked there on the strawberries. That and strawberry picking at Bronsil earned me enough money to buy a recor...SG
Yes Lill was tough...PM
...
1970s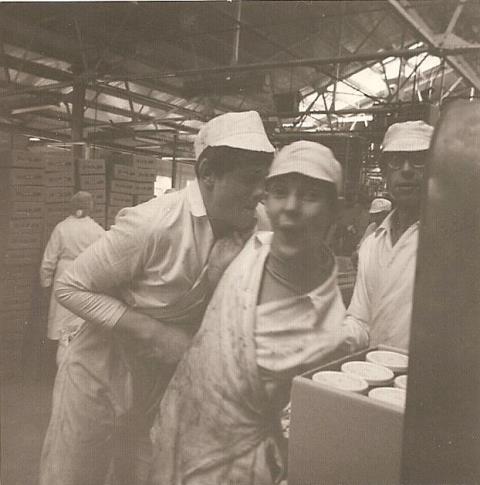 Alan THWAITES ( Joe 90 ), Frank SHAKESHEFF, Ted BAKER
...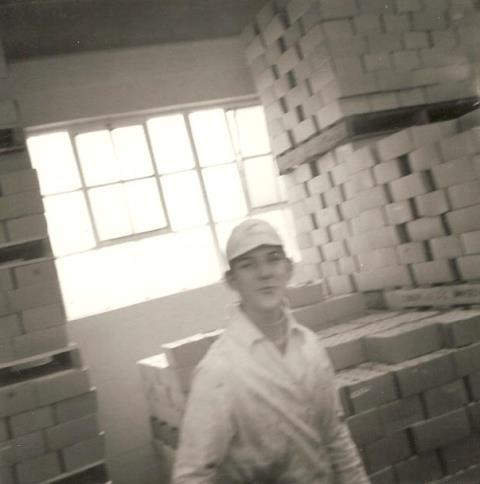 ...
...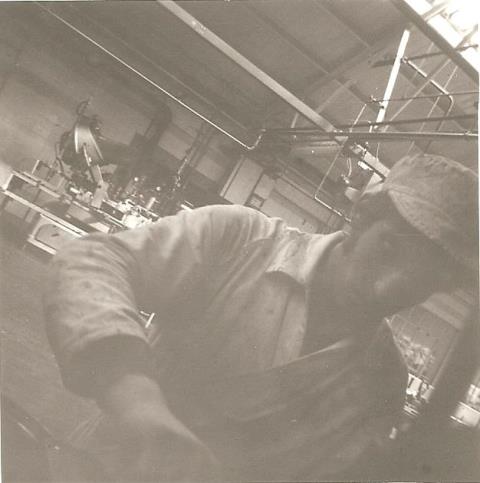 ...
...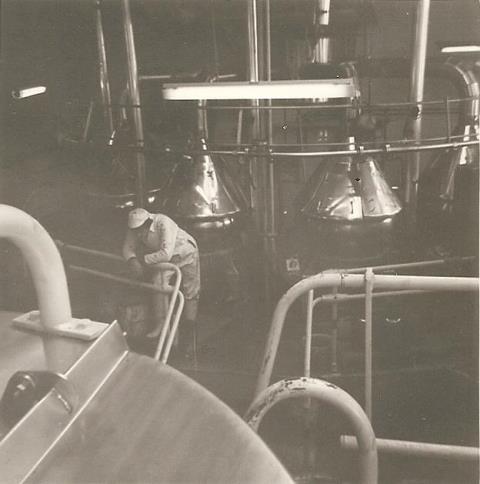 ...
...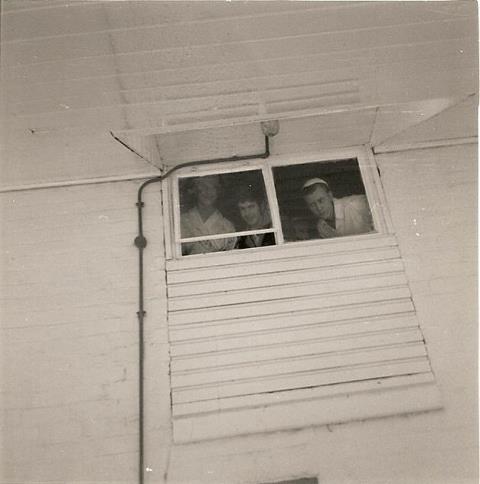 ...
...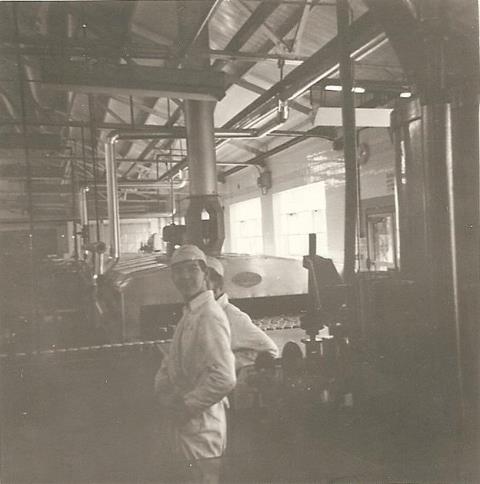 Frank SHAKESHEFF and Rob DANIELS "A" Section
...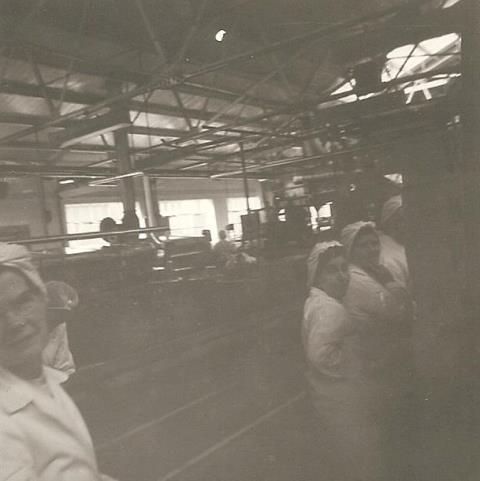 Olive BALDWIN ( Bosbury ), Alma ELVINS, Mrs REYNOLDS ...
I remember when me and Mike ELVINS used to go to his house after school, and smoke a couple of his mum's fags, No6 she smoked. Alma would walk down the road with Mrs REYNOLDS from working at the jam factory and always make us a lovely cup of tea, and give us a nice piece of cake. She was a lovely lady...TS
Loved all the Elvins xx...PP
ust have been around about D section, where the lab used to be. Those windows are, I'm sure, the very same windows Rob CHUMBLEY got soaked through on his 21st!...MH
No Mark, the ladies are on the packing line on A section. The photo was taken from D section. I might have been working the labeling machine at the time...BH
Lady on the left is Olive BALDWIN from Bosbury...HD
...
1978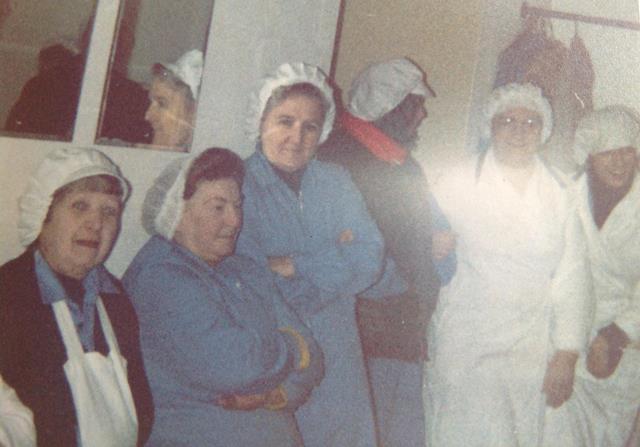 Betty FLEETWOOD, Margaret BUNN, Cissie CARLESS, Nelly HALL, Marg TAYLOR, Sally KING
My mum Lil HOPKINS took this photo...SP
Sallys sister Gill worked down there as well...SP
Gill drove a fork lift truck...SP
Their mum and dad used to go dancing with mum and dad on a Monday night...SP
...
1981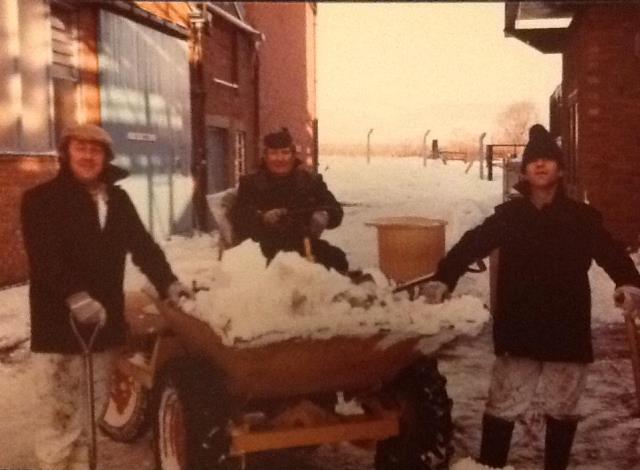 Don SAVOURY, Ted PARRY, Colin WILLIAMS
That was 1981, Pat GORIN spent a week clearing the snow with a JCB so the lorries could get in and out. It was VERY cold that year...CG
...
Source
1902 Jakeman and Carver's Directory and Gazatteer of Herefordshire
1916 Tilley's Almanack
1958 Tilley's Almanack
Photographs are credited to the owners
Comments are from members of the Old Ledbury Facebook Group
Cuttings from Ledbury Reporter newspapers