1859 August 3 - The Ledbury Murder ( Hereford Times )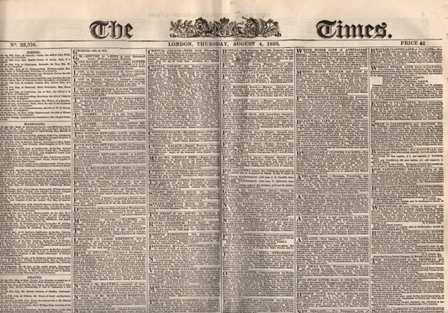 Summer Assizes, Oxford Circuit. Hereford - The Ledbury Murder John Isaac JONES, 26, attorneys clerk, was charged with the wilful murder of Harriet BAKER, at Masefields Solicitors, Ledbury, on the 17th of May, 1859.
A Retrospect

1896

May 26 The funeral took place in Ledbury churchyard amidst general signs of mourning. Just as the funeral procession, which consisted of bearers carrying the coffin on a bier, followed by the relatives and mourners and a large number of tradesmen, had started from Bank House. a traction engine was seen rapidly approaching in the rear. The locomotive dashed down the street in a zig-zag fashion, and was nearly upon the procession before those taking part in it knew what to do. In the excitement the coffin was placed on the curbstone and the bearers and the others rushed into the shops or anywhere for safety. All at once one of the large front wheels of the engine came off and dashed down the street, and thus the locomotive was brought to a standstill. The cause of the accident was through the peg which went through a pin dropping out.

July 7 A shocking tragedy took place on the evening when Charles HANKINS, a quarryman, shot his two little children, aged 6 and 2 respectively, and afterwards took his own life. The dreadful occurrence took place on Shares' Bank, and, as may be imagined, the town and neighbourhood was thrown into a state of awe- struck excitement.

July 7 An inquest was held on the bodies, on the Thursday, when the jury returned a verdict that HANKINS murdered his two children by shooting them, afterwards shooting himself whilst suffering from temporary insanity.

1897

January 4 An inmate of St. Katharine's Hospital, named Elizabeth DAVIS, was found burned to death in her room. At the inquest a verdict of "accidental death, through the effects of burns," was returned.

July 12 A sad fatality occurred in Eastnor lake, a youth named Albert COOKE, who was a member of a bible class at Westminster (the class being entertained at Eastnor Castle), was accidentally drowned whilst bathing.

September 16 the Royal Humane Society's bronze medal and certificate were presented to William FRICKER, at Eastnor Castle, by Lady Henry SOMERSET, for endeavouring to save the life of the youth, Albert COOKE.

1901

March 18 Disastrous fire at Court-y-park farm; a child burnt to death.

November 21 Mr. J. R. BUTLER, Manager of the Capital and Counties Bank, Ledbury, found shot dead in the lavatory. At the inquest a verdict of "Accidental Death," was returned.

---
1983 January 23 - Golden Crown Chinese Restaurant horror blast kills two Mr San Wei CHAN ( Desmond ) and Mr Douglas EVANS.
---