All photographs have been provided by members of the Old Ledbury Face Book Group.


---
1896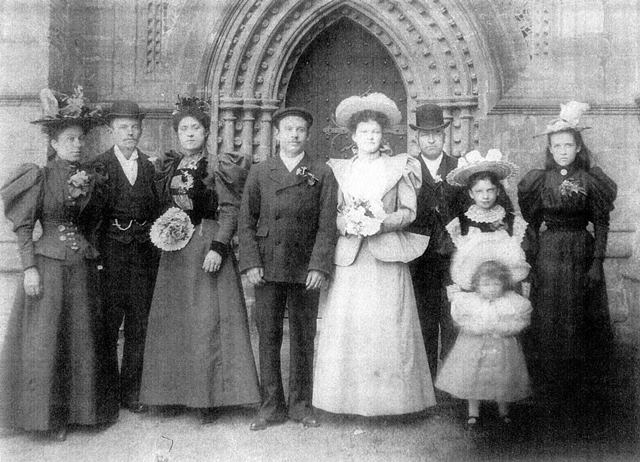 Russell Samuel GURNEY and Mary Elizabeth CARTER - Ledbury Parish Church May 1896.
Next to the bride is my Great Grandfather George CARTER and next to him is my Great Grandmother Sarah Ann ( nee SHINN ).
The couple on the far left of the photo are Edith FARLEY ( nee SHINN ), the brides half sister with her husband William FARLEY.
The picture is taken near to the tower
---
1928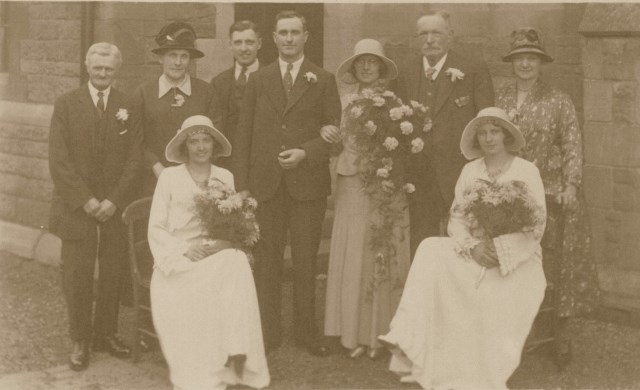 David JONES and Beatrice DAVIS - Ledbury Parish Church 1928
---
1935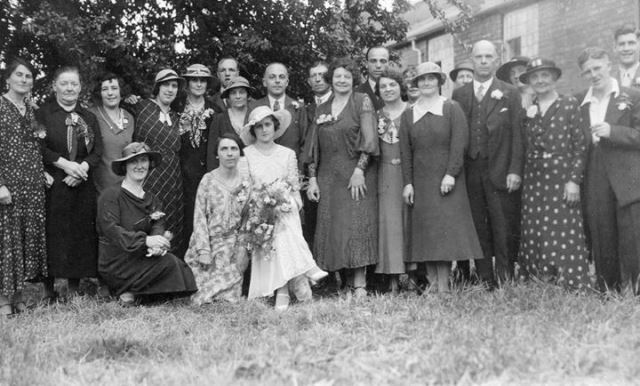 William C ALLEN and Lily SMART - Ledbury Parish Church September 1935
Photo taken at the back of St Katherines Terrace in The Homend. Lilian RAWLINS to the right of bride and Elsie to her right. (Ernie GIBBONS mum lived there)
L/R third lady is Elsie JONES nee SANDFORD ( Pam INGS Mum )
The bride looks like Lily SMART, the groom standing behind is Bill ALLEN. Jack ALLEN in The background and Tutty SMART on the right.
Kneeling next to the bride is Louie ALLEN. Fanny ALLEN is standing behind the bride. Cissie ALLEN is 2 away from bride on right.
---
1938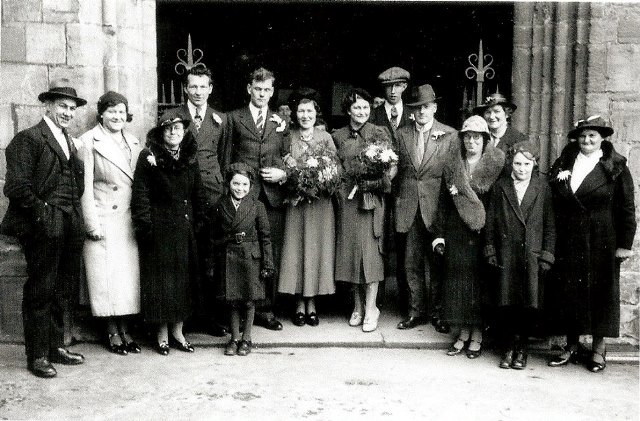 (Bob) Walter C E HAINES and Marjorie A VALE - Ledbury Parish Church 15th January 1938
---
1943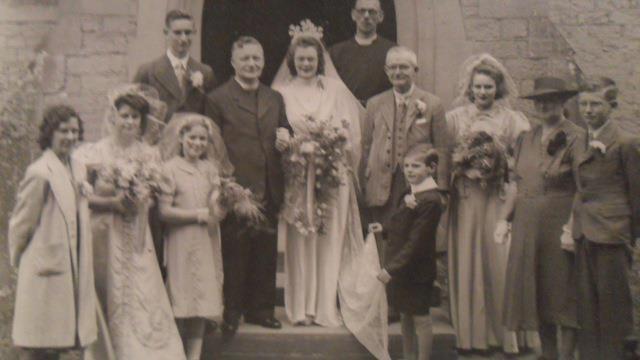 Albert GOATMAN and Stella PONTER - Bromyard Church 3rd Quarter 1943 - More Photos
---
1944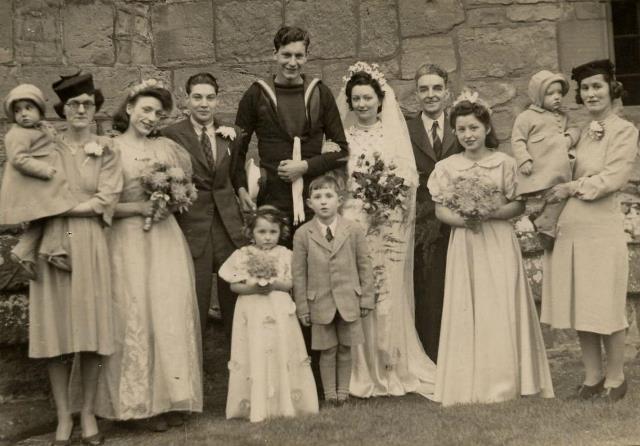 Fred BRADLEY and Grace PEDLINGHAM - Ledbury Parish Church 6th December 1944
Mrs BRADLEY holding Joan, Peggy, Charlie ATKINS, Fred BRADLEY, Grace PEDLINGHAM, Harry PEDLINGHAM, May PEDLINGHAM, Anne PEDLINHAM holding Jean PEDLINGHAM
Front Row Janet PEDLINGHAM John PEDLINGHAM
---
1947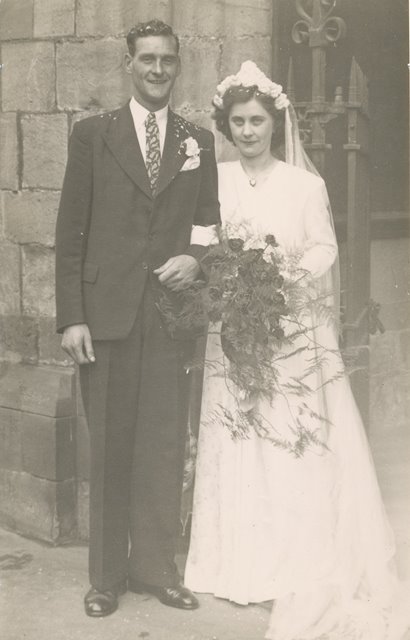 Cyril BEVAN and Joan NEALE - Ledbury Parish Church 11th October 1947
---
1948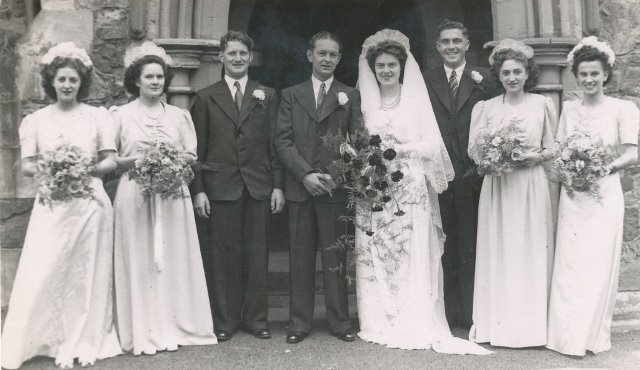 Reginald BUNN and Josephine HARVEY - St Matthias Church, Malvern 31st July 1948 - More Photos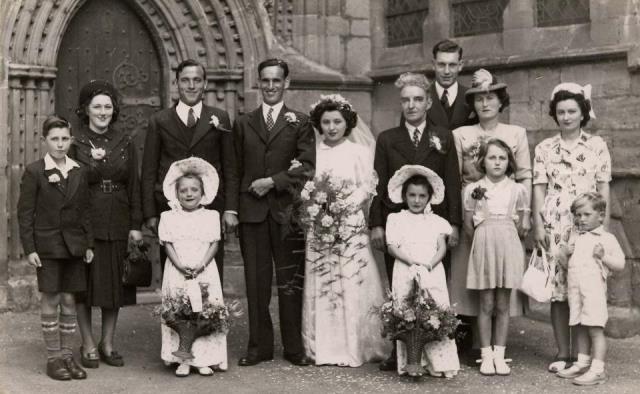 Jim MARSH and May PEDLINGHAM - Ledbury Parish Church 14th August 1948
John PEDLINGHAM, Mary MARSH, Reg MARSH, Jim MARSH, May PEDLINGHAM, Harry PEDLINGHAM, Fred BRADLEY, Anne PEDLINGHAM, Grace BRADLEY
Front Row Jean PEDLINGHAM, Joan PEDLINGHAM, Janet PEDLINGHAM, Richard BRADLEY
---
1949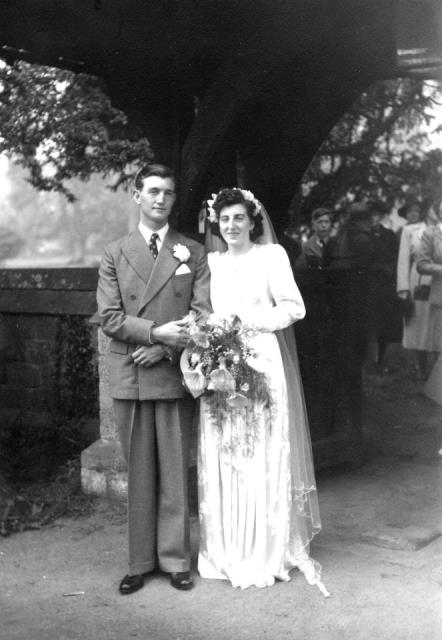 Michael T F HICKEY and Joan POOLE - Eastnor Church 28th April 1949
---
1952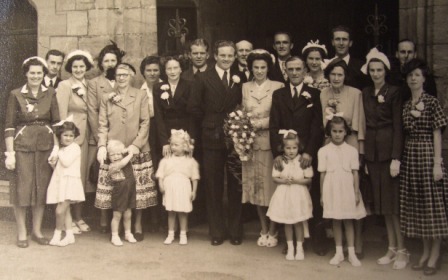 Dennis James EDGE and Audrey DAVIS - Ledbury Parish Church 14th July 1952 - More Photos
---
1956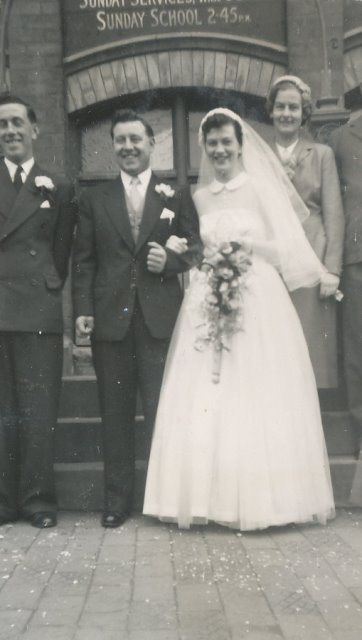 Albert ROSE and Alison JACKSON - Ledbury Methodist Chapel 24th March 1956 - More Photos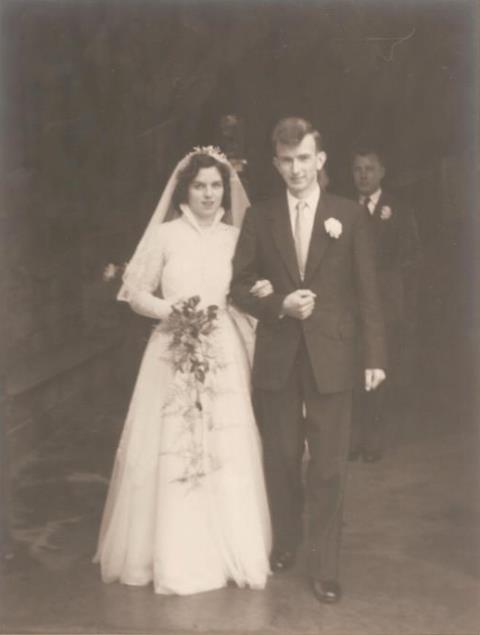 Bill WOLFE and Eileen RYAN - Ledbury Parish Church 4th Quarter
---
1957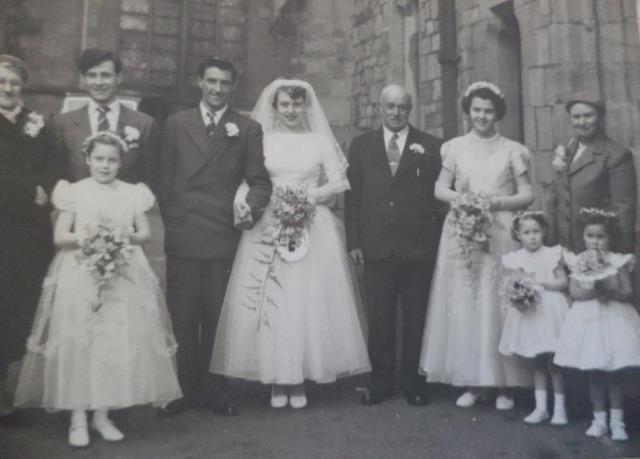 Geoffrey COLE and Peggy THOMAS - Ledbury Parish Church 1st Quarter - More Photos
---
1959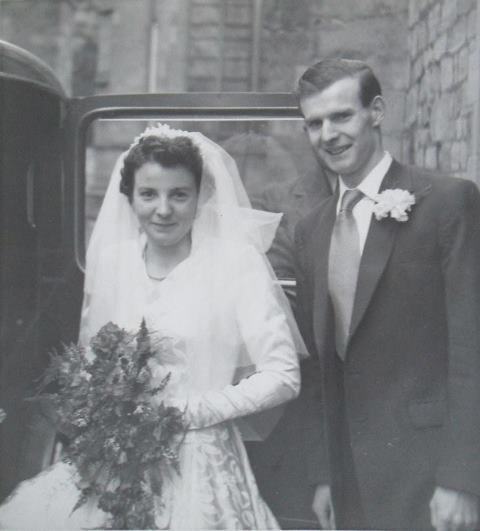 Trevor PONTER and Dorothy PARTRIDGE - Ledbury Parish Church 14th March 1959 - More Photos
---
1963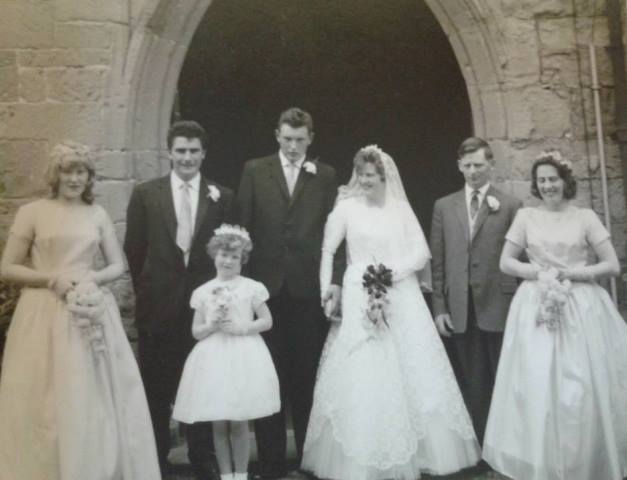 Donald HAINES and Iris SHAYLE - Dymock Church 22nd June 1963 - More Photos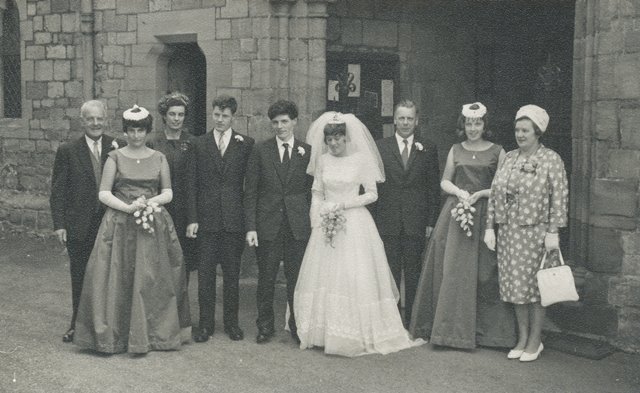 John Cyril VALE and Jennifer Anne DAVIES - Ledbury Parish Church 17th August 1963
---
1966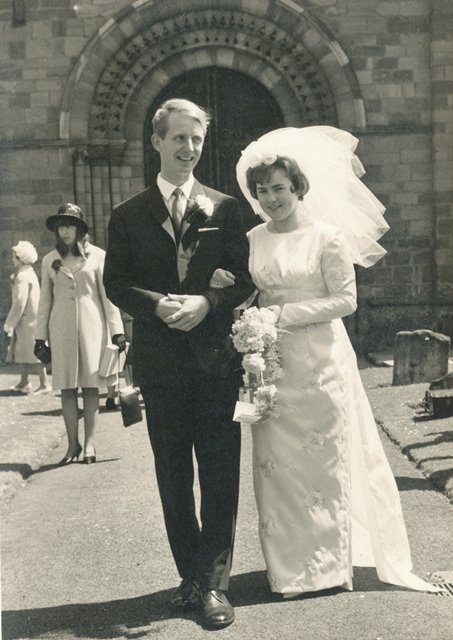 Peter Raymond CARMEN and Sandra Anne NEALE - Ledbury Parish Church 28th May 1966
---
1968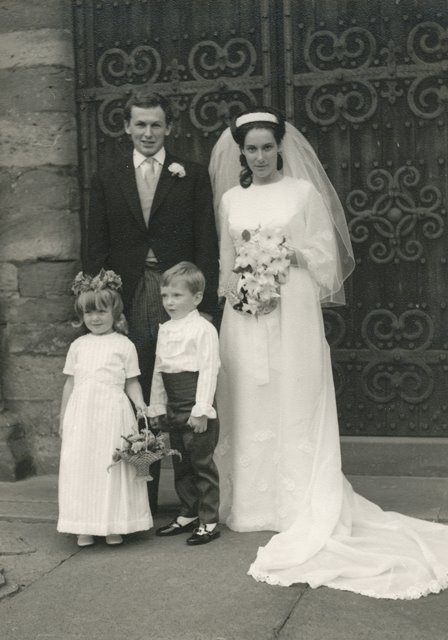 Peter GOODWIN and Margaret DAVIES - Ledbury Parish Church July 1968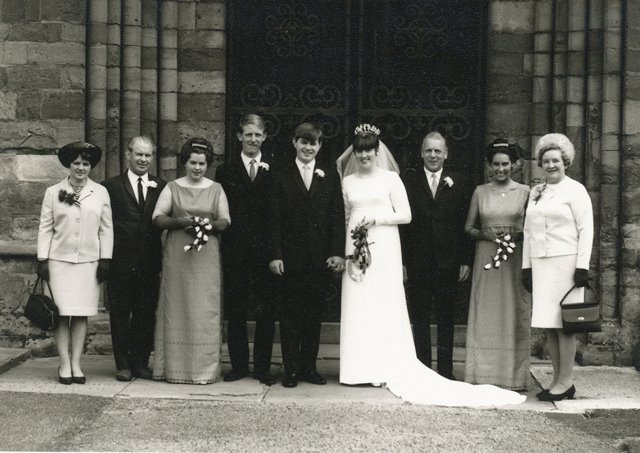 David Ronald NEALE and Sheila Mary DAVIES - Ledbury Parish Church 24th August 1968 - More Photos
---
1975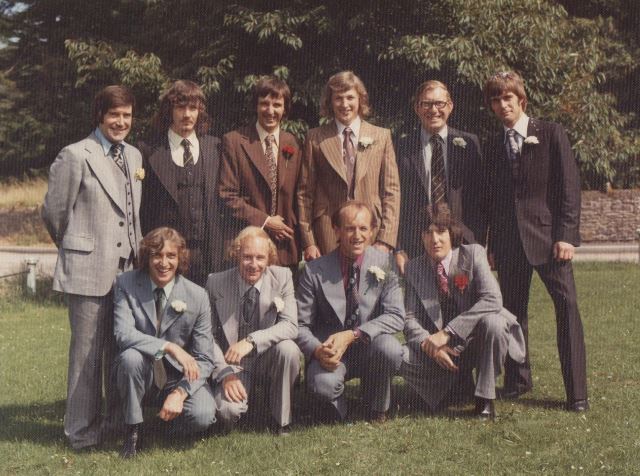 Eastnor Cricket Club at Rodney and Roz JARRETTs wedding at Eastnor 26th July 1975
---
1977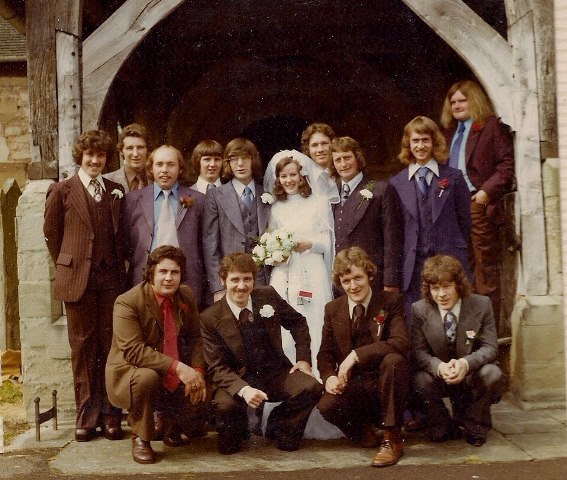 Robert BARNES and Carol GODSALL Bosbury Church 2nd Quarter
With the footballers of Bosbury FC
Back row - Gary FLETCHER, John EVERSHAM, Eddie CALE, Phil WEAGER, Groom, Bride, Ray WRIGHT, Robert ( Sticky ) DAVIES, Chris MATTHEWS, Gordon WILLIAMS
Front row - Michael ( Spike ) BEALE, Richard FLETCHER, Kieth MOWBRAY, Colin PROTHERO