PAGE UNDER CONSTRUCTION
War Weapons Week
1942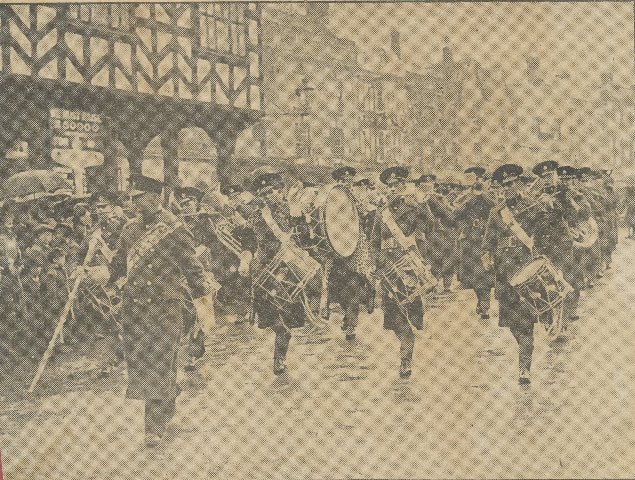 The Band of The Royal Marines Tour the Town
Clipping from the Joan PHILLIPS ( Bennett ) Collection JPB88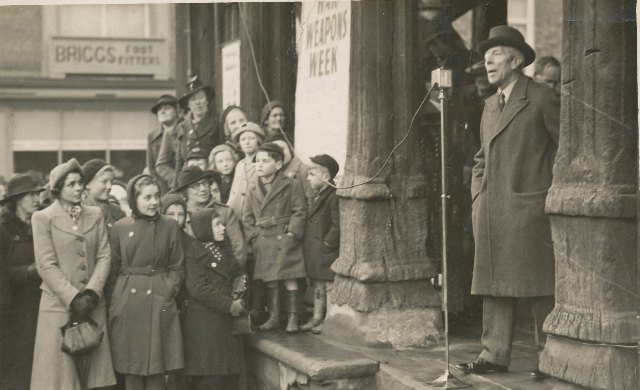 George ARLISS at the Market House
Photograph Joan PHILLIPS ( Bennett ) Collection JPB20(1)
Look forward to hearing the story/date behind this fascinating photo! IM
Mid 50s no men in the crowd, ban the bomb, Ledbury style, they all look fed up...KC
Could be during ww2, weapons week, no young men in the crowd!...RB
This is George ARLISS the actor he died in 1946 so this would have been wartime...CP
I thought so Chris I was looking at the little girls with the pixie hat and young boys caps...JJ
Always wore a monocle did George massive film star in his time big in America he would have been well into his 70's when he did this. It would have been quite a thing to have him in Ledbury back then...CP
Thanks to Joan for photo and bringing this to our attention, without this site wouldn't have known about this...CP
...
---
The following link will take you to WW2 Peoples War where you can read an interesting story about Ledbury during the War
The story is told by Sue HOLIFIELD daughter of Kathleen Frances REECE
Loved reading that...CP
The house where they stayed in Market Street is now Howard PUGHS lovely reading also sad...JJ
What a fascinating story that is...IM
I wonder if Kathleen is in the photo?...JVM
This to me was quite fascinating to read .... Thank you...HCB
It is a lovely story - Kathleen Frances REECE Sue HOLIFELD (her daughter, the author of this story) Kathleen was the second of Charlie and Adas three children. Sue's Grandfather Charlie was born in Ledbury and had friends here. Sue has also put a lovely photo of her mum at school with her article - Ledbury Grammar School, Herefordshire, in 1942-43...JVM
Brilliant !! The family she lived with were John PREECE the photographers family, love this story so interesting !!!...RS
...
---
In Memory of The Local Men Who Fell
Visit the War Memorial page.
---
Further Details and photographs on the Service Men
Edward Cyril BEVAN
---
Sources
Photographs are credited to the owners
Comments are from members of the Old Ledbury Facebook Group
Cuttings from Ledbury Reporter Newspapers