1896 - 1916 - Ernest H HOPKINS Landlord
1896 February 12 - The Royal Hall Opened by Ernest H HOPKINS, senior.
A Retrospect

1898

February 18 The Ledbury Cricket Club held their Annual Meeting at the Royal Oak Hotel.

1900

February 7 Annual Meeting of Ledbury Cricket Club at Royal Oak Hotel.

1901
January 5 Annual Meeting of the Ledbury Cricket Club at the Royal Oak Hotel.

1902
November 12 Ledbury Cricket Club Annual Meeting at the Royal Oak Hotel.

1923 - P C GABBS Landlord
1946 - A BALDWIN Landlord
1940 - T JONES Landlord
1945 - Mrs OSBORN Landlady
1950 - K FOSTER Landlord
1954 - 1965 H G THOMAS Landlord
1966 - G W HANSFORD Landlord
1968 - J P McILLMURRAY Landlord
1970 - Valerie and Alan KENNEDY Landlords
1971 - April Hereford County Life Magazine Advert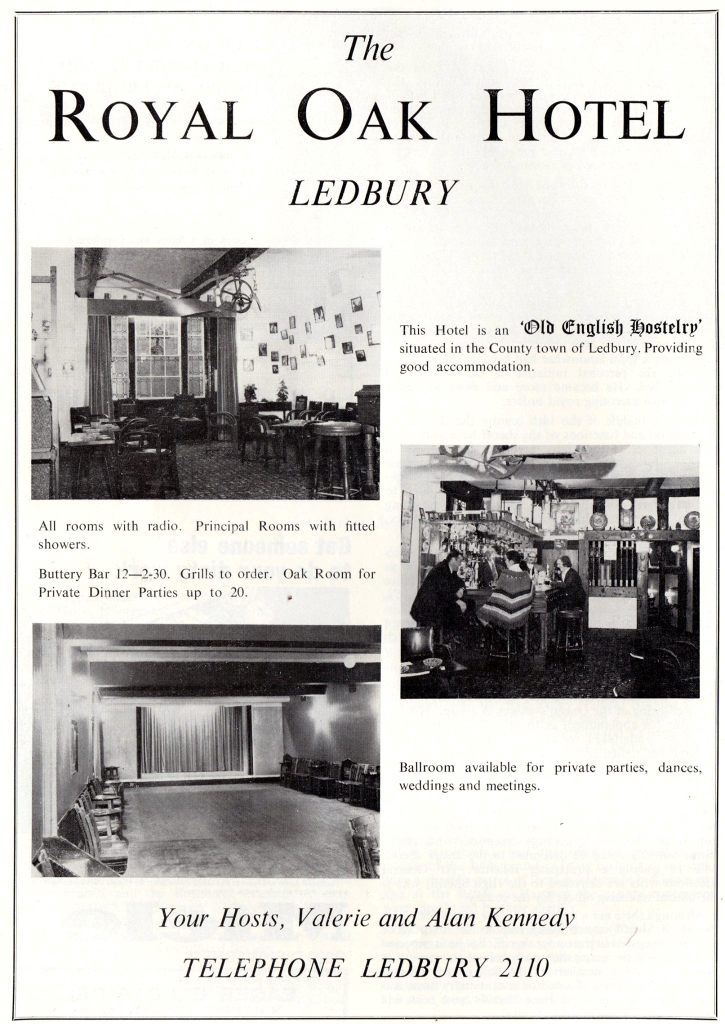 ( Jo EDGE Collection )
( October 2016 )
Roena Pallister - In about October or November the MEB used to take over the hall and fill it full of electrical items, Every body could go in and look at the new washing machines or cookers or fridges or even buy them. I used to go in for a warm while i was waiting for my dad to come home. I loved the leaflets that you could pick up and take for free

Chris Thomas - I usd to live at the Oak and well recall these MEB shows. The Ballroom used to have a unique smell from all the new equipment. Another memory is of a local travel agent holding events there and being fascinated by a cut-out model of a BEA/BOAC (remember them?) passenger airplane.

Charlotte Sayer - We had a christmas party there one year - 3rd form at lgs - bcause the school only did a party for yrs 1 and 2! I think stephen cridland had something to do with the organisation cos his dad ran a pub in storridge.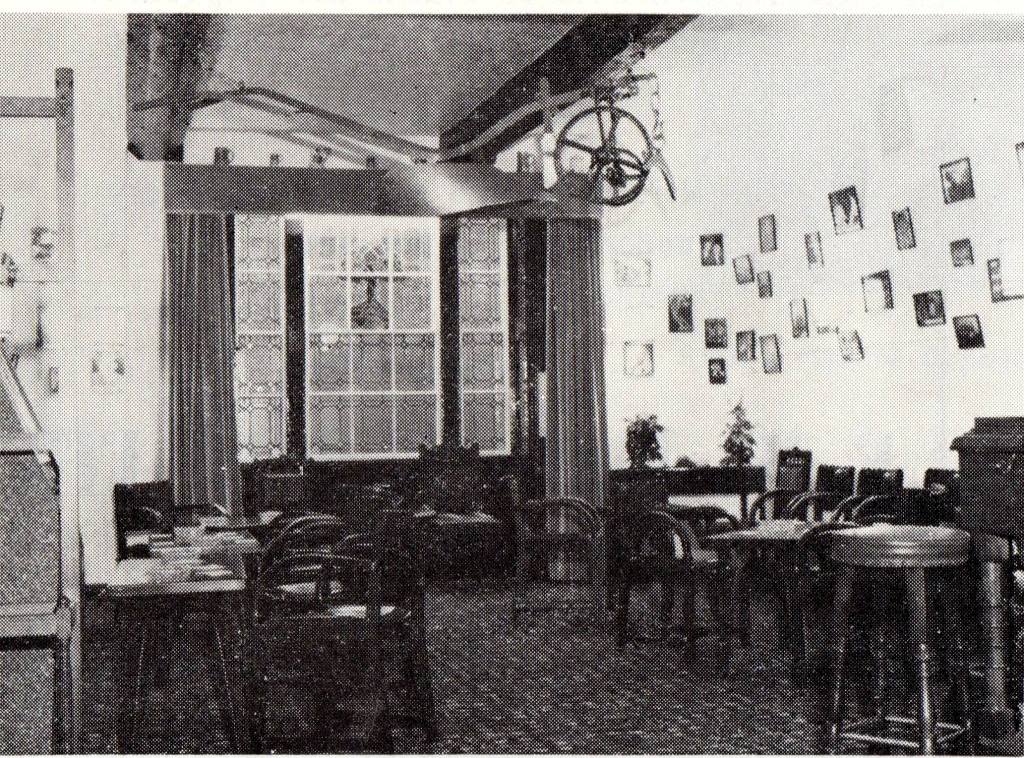 ( Jo EDGE Collection )
( 2016 October )
Roena Pallister - Not a pub i went in well only the dance hall.

Buttery Bar 12 - 2.30pm grills to order. Oak Room for Private Dinner Parties up to 20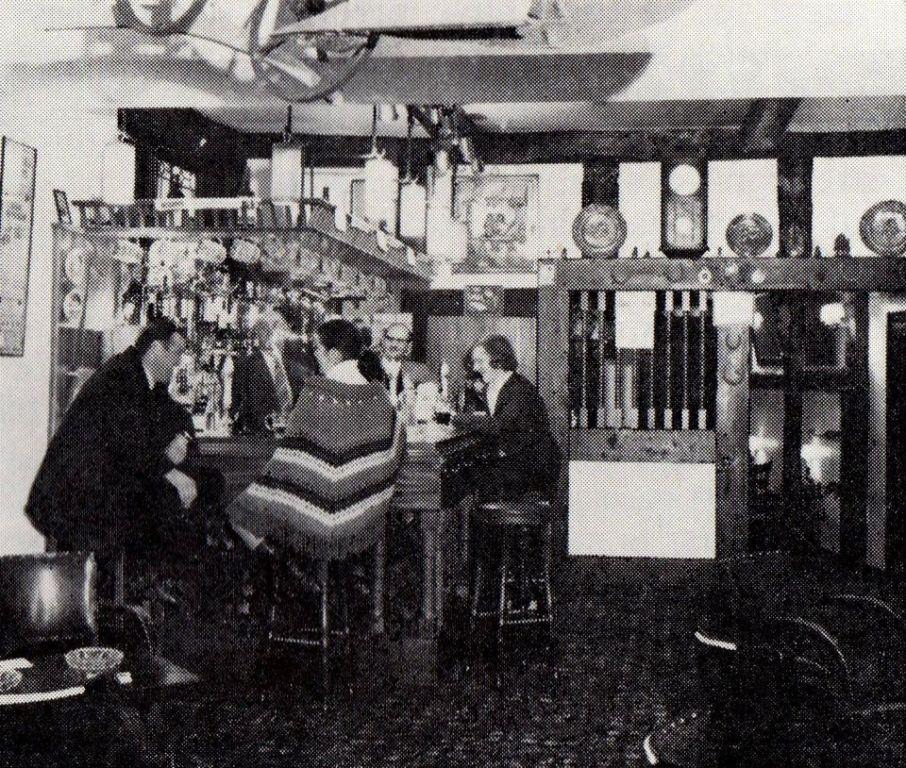 ( Jo EDGE Collection )
( October 2016 )
Sylvia Manns - Used to go in there from Youth Club in The Southend! Surely must have been not old enough mmmmmmmmmmmmmm!! Over 16yr but probably not 18yr!

Pam Wildig - I had my first wedding reception there when it looked like that. I was obviously a good girl because I didn't go drinking in there before I was 18!

( 2020 July )
Sylvia Manns - Had our Wedding Reception there on 28th August, 1971

Pam Wildig - Actually it was my second wedding reception I had there!!

Sue Weatherhill - Remember doing old time dancing there, I was the youngest by about 40 years, but loved it!

Philip Holland - And Barnard's party with Uncle Eric.

Jenny Park - My Mum & Dad had their wedding reception there in 1949!

Patrick Neal - Spent a few hours in there. Used to slip in at lunchtime when in the sixth form.

Chris Styles - Patrick Neal generally for a ploughman's and a swift half

Patrick Neal - Chris Styles 👍😉

Ballroom available for private parties, dances weddings and meetings.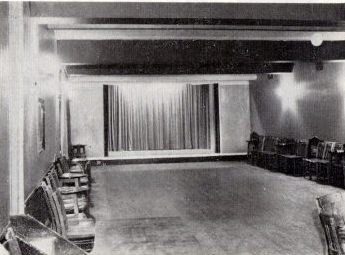 ( Jo EDGE Collection )
1971 - August Wedding Reception Receipt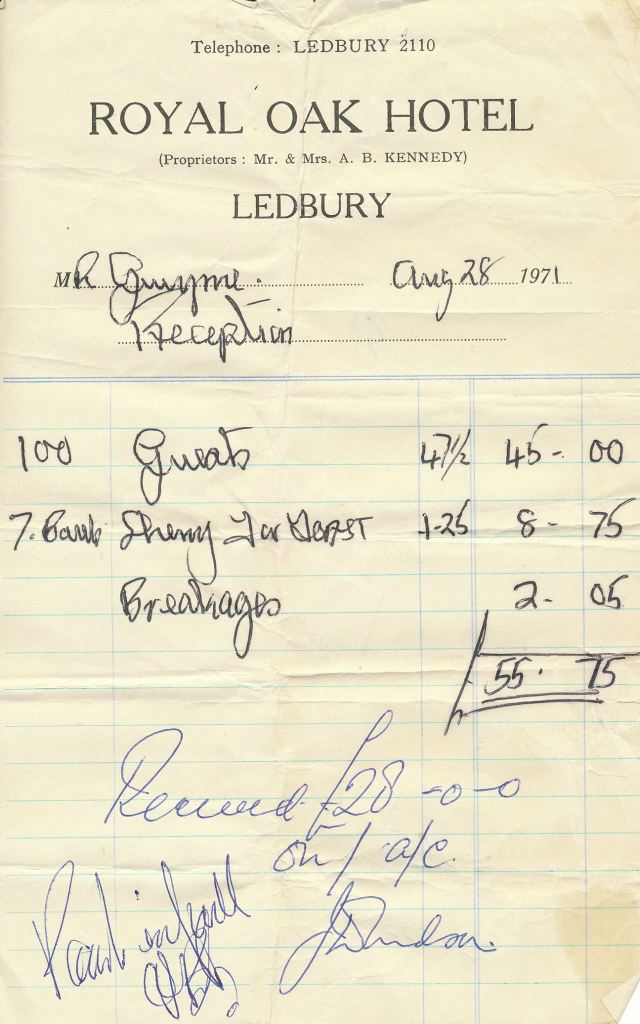 ( Sylvia MANNS ( Gwynne ) Collection )
( 2014 February )
Sheila Neale -Who broke what at £2.05?

Judy Baker - Ha Ha thats amazing and a good time was had by all I'm sure.

Sylvia Manns - That was probably you Sheila ha ha! Sherry glasses I believe. No wine! How weird

Debbie Pomeroy -So how much would this work out too cost wise now you reckon??

Sylvia Manns - Wedding costs these days are enormous. At least 25 pounds per head and the drink a whole lot more than 1.25 per bottle Lol!

Debbie Pomeroy - Ah yeh didn't read that properly 1.25 per bottle that's so funny how times change god help us in another 30 years

Claire Ellis - They've undercharged by 5p !!!!

Judy Baker - Ha ha good spot Claire Ellis

Claire Ellis - Another one - 100 guests at 47.5p does not = £45 Didn't they have a calculator???!!! 😉

1971 - October Hereford County Life Magazine Advert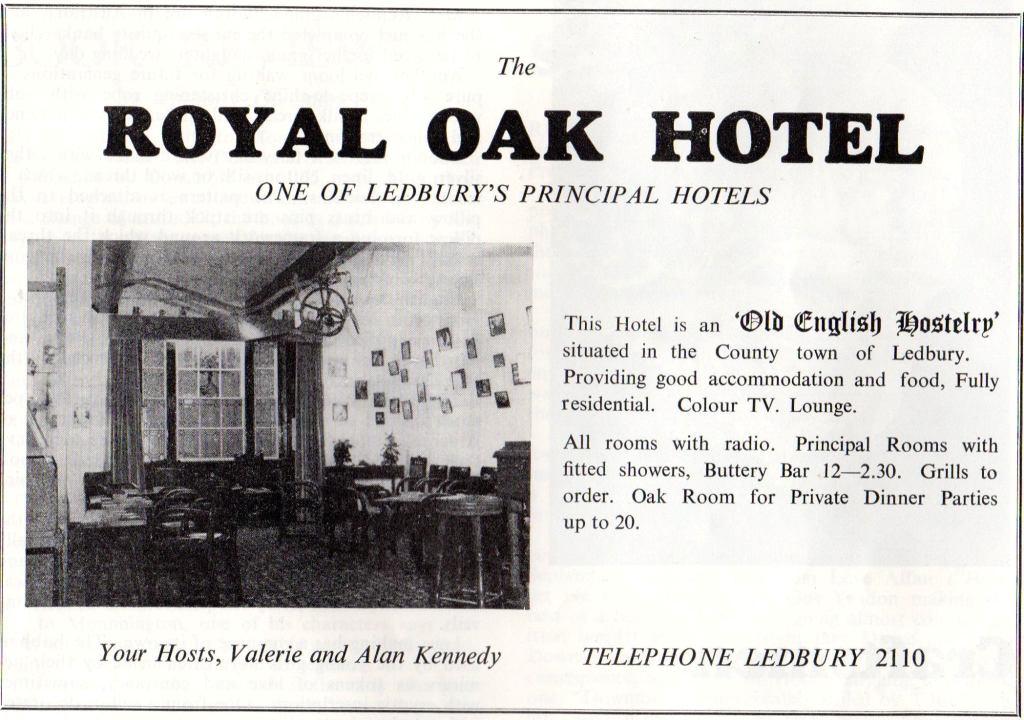 ( Jo EDGE Collection )
( 2016 October )
Sylvia Manns - Had our Wedding Reception there in August 1971

Sylvia Manns - Dont think that would pay for even one table at a Wedding Reception these days!!

Jane Somerville - My sister Ann Mills had her wedding Reception there too.

Mary Philpotts - I remember that Jane , I came to Ann's wedding ️xx

Jane Somerville - Yes Mary such along time now though.

Mary Philpotts - Yes it is Jane how is she ? ️Xx

Jane Somerville -Fine older and wiser lol

1977 - L INSTONE Landlord
Visit this excellent website for more history on the Royal Oak Ledbury History