View Ledbury Guardian Newspaper Articles for BDM, Weddings and Death Reports during World War One 1914 - 1918
Births
1964 October ( Ledbury Reporter )
HAYWOOD Paula Louise - Ledbury - On 16th October 1964 to Jennifer, wife of Roger H HAYWOOD, Dunleved, New Street, Ledbury, a daughter Paula Louise.
Coming Of Age
1896 - A Retrospect
November 10 The coming of age of Mr. Launcelot J. C. RILEY, eldest son of Mr. J. C. RILEY, of Putley Court, was Celebrated with much rejoicing this afternoon.
1964 October ( Ledbury Reporter )
Philip SWIFT Eastnor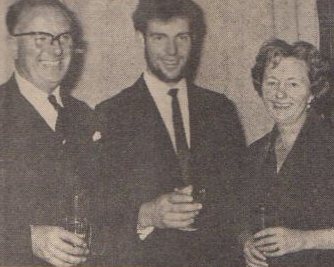 Some 70 guests were at Woodside, Eastnor, for the coming-of-age party of Mr Philip SWIFT on Friday at the home of his parents, Mr and Mrs F DEAN SWIFT, Mr SWIFT is a partner in the firm of SWIFT BROS, owners of Chances Pitch Garage.

During the evening there was a buffet supper which had been prepared entirely by Mrs SWIFT, and dancing to the music of Mike WINGATE and his Trio.

The toast of the guest of honour was proposed by Mr A E PHILLIPS DANNAN

Pictured to the left is Mr Philip SWIFT with his mother and father, enjoying a drink at the party.
Birthdays - 90s
1896 - A Retrospect
June 23 Lady Emily Foley attained her 91st year.
Engagements
Sources
1902 Jakeman and Carver's Directory and Gazetteer of Herefordshire
1914 Newent Reporter Newspaper - Herefordshire History
1914 - 1919 Ledbury Guardian Newspaper - Herefordshire History
1897 - 1980 A Retrospect Tilley's Almanack's - Herefordshire History
Photographs are credited to the owners where possible
Comments are from members of the Old Ledbury Facebook Group
Cuttings are from Old Ledbury Reporter Newspapers