Free Press Newspaper
In April, 1870, Luke TILLEY purchased the old-established book selling, stationary and printing business of the late Mr. BAYLIS, 22 High Street, Ledbury.

Within six months Luke had bought the stationary and printing business carried on next door ( where Mr. BIXLEY lived ), 23 High Street and for a time he occupied both houses, ultimately buying the lower one, greatly altering it and making it his sole premises.

In connection with the latter business was published the "Ledbury Free Press," the only newspaper in the town, which he improved and sold, and which then became the "Ledbury Guardian".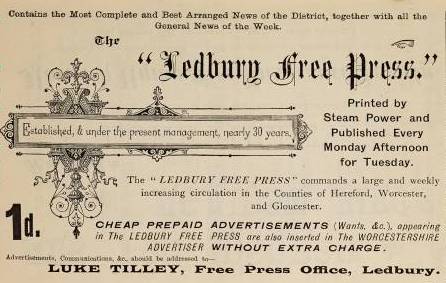 The "Ledbury Free Press" Contains the Most Complete and Best Arranged News of the District, together with all the General News of the Week.

Printed by Steam Power and Published Every Monday Afternoon for Tuesday.

The "LEDBURY FREE PRESS" commands a large and weekly increasing circulation in the Counties of Hereford, Worcester,and Gloucester.

CHEAP PREPAID ADVERTISEMENTS (Wants, &c.), appearing in The LEDBURY FREE PRESS are also inserted in The WORCESTERSHIRE ADVERTISER WITHOUT EXTRA CHARGE.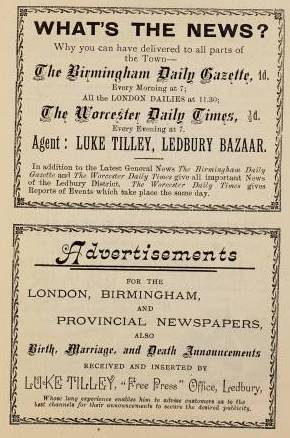 1896 - 1911 A Retrospect From Tilleys Almanack
1897
February 2 The standing orders of the Board of Guardians were considered, and were ordered to be printed at "The Free Press" Office, Mr. TILLEY'S being the lowest tender sent in.


Related Links
Luke TILLEY's Ledbury Bazaar
---