TILLEY's Illustrated Ledbury Almanack
The TILLEY's Illustrated Ledbury Almanack was first printed and published by Luke TILLEY in 1872. It contained A Retrospect of the previous year, Local Postal Information, General Local Information, Almanack and General Information. In later years it also contained a Complete Directory of the Town, Commercial Directory, Telephone Directory, Post Office Guide, Local Associations and Local Institutes.

TILLEY's original working copies of the Almanack were donated to Ledbury Library and in 2020 these were placed into the care of the Herefordshire Archive Records Centre (HARC). These Almanacks have now been digitised into E-Books, and can be viewed at the Herefordshire History website.

TILLEY's working copies ranged from 1897 - 19--, but issues ..., are were missing.

HARC hold a duplicate set from 1872 - 2002, but issues 1985, 1999, 2002 are missing.

Issue 45 is believed to have been printed in 1915. Due to the war years 1917 - 1919 were not printed.

Tilley's Almanack affectionately known as the 'The Bible' or the 'Red Book', ceased printing in 2002.

A team of old ledbury digitisers are in the process of indexing the Almanacks for the website. They have started with the Retrospects which give a fascinating insight into what went on in Ledbury during 1896 and 1979.
1887
LEDBURY and a few of its INHABITANTS
This 18 page poem by J. P., dated November 1887, has been torn from the original Almanack. The poem has been transcribed by Judy BAKER ( Rose ) 75 verses.
1999
Almanack Unique - Martin Clark with copies of the Tilley's Almanack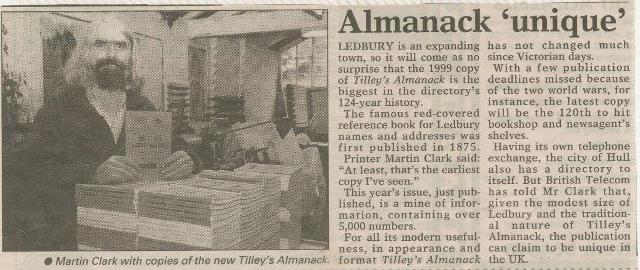 2009
Photographs of Martin's Printing Press by Edoardo MUSTAFIC at Ledbury Portal.
2021
View the history of the Letterpress at Martin's website Tilley Letterpress Printing.
---