Luke TILLEY & Son Ledbury Bazaar Cycle Works
1896
In 1896 Luke TILLEY purchased the Shop and Premises formerly occupied by Miss E. M. BROWNE, 17 High Street.

Luke's eldest son William was the Manager selling Bicycles, Tricycles, Mail Carts, Perambulators, Invalid Chairs and Cycling Accessories.
1897
Agent for all the Best Makes of Bicycles. ANY MAKE OF MACHINE SUPPLIED. Heavy Discount for Cash.

Second-hand Bicycles taken in part exchange for New ones. SECOND—HAND BICYCLES of all sorts at very low prices. Large Stock of Ladies' and Gents' Bicycles on Hire for any length of time.

BICYCLE LESSONS GIVEN ON OWNERS MACHINES OR OTHERWISE.

(Over 30 Ladies Taught during 1896 season).

Bicycle Fittings and Accessories of every sort always in Stock.

Large Selection of Mail Carts and Perambulators always in Stock for Sale or Hire.

THE NEW RITTER ROAD SKATES MAY BE SEEN & TRIED. Prices on Application.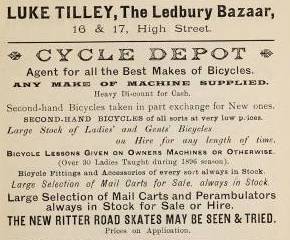 1898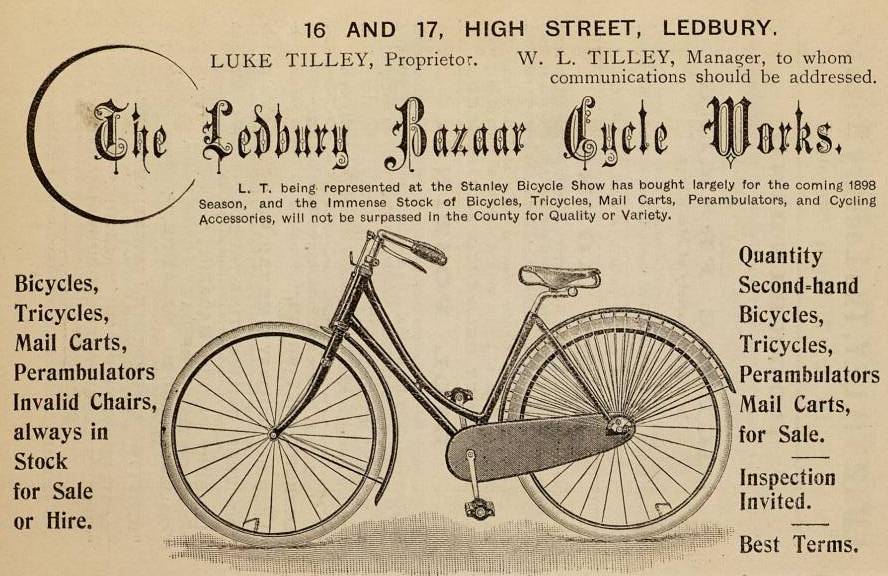 The following well known makes were available New Premier, Bradbury, Quinton, Marriott & Cooper New Beeston, Nelson, Star, Waverley, Royal Stanton, Bonnick, Tom Tit Juvenile, Tally Ho, Psycho (Starley Bros.), Triumph, Mohawk, Excelsior and Eureka

Ladies and Gentlemen taught, if wished, on moderate terms. Over 100 taught in 1897. Purchasers of machines taught, if wished, free of charge.

The Tom Tit Juvenile Cycles always in stock.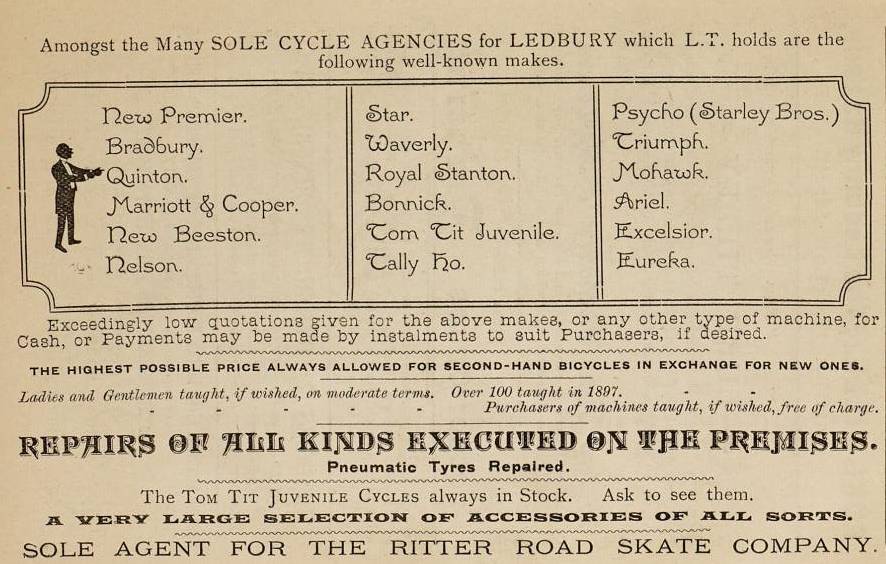 1901
In 1901 William is shown as carrying on the business at 17 & 17a.
Related Links
Luke TILLEY's Ledbury Bazaar
---