Luke TILLEY's Insurance Agents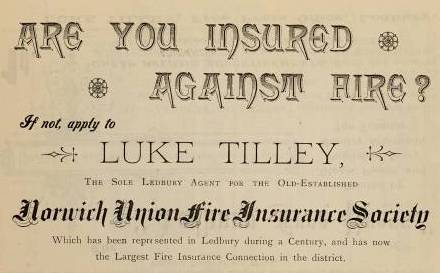 ARE YOU INSURED AGAINST FIRE? - If not, apply to LUKE TILLEY

The Sole Ledbury Agent For The Old established Norwich Union Fire Insurance Society

Which has been represented in Ledbury during a Century, and has now the Largest Fire Insurance Connection in the district.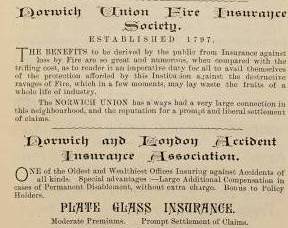 Norwich Union Fire Insurance Society Established 1797.

THE BENEFITS to be derived by the public from Insurance against loss by Fire are so great and numerous, when compared with the trifling cost, as to render it an imperative duty for all to avail themselves of the protection afforded by this Institution against the destructive ravages of Fire, which in a few moments, may lay waste the fruits of a whole life of industry.

The NORWICH UNION has always had a very large connection in this neighbourhood, and the reputation for a prompt and liberal settlement of claims.

Norwich and London Accident Insurance Association ONE of the Oldest and Wealthiest Offices Insuring against Accidents of all kinds. Special advantages: - Large Additional Compensation in cases of Permanent Disablement, without extra charge. Bonus to Policy Holders.

PLATE GLASS INSURANCE Moderate Premiums. Prompt Settlement of Claims.
Related Links
Luke TILLEY's Ledbury Bazaar
---