Luke TILLEY's " Free Press " Printing Works
1897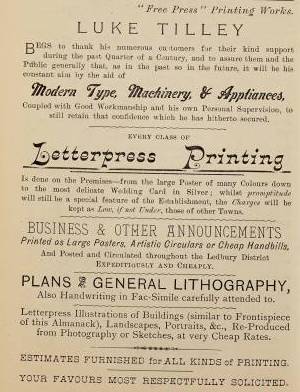 LUKE TILLEY BEGS to thank his numerous customers for their kind support during the past Quarter of a Century, and to assure them and the Public generally that, as in the past so in the future, it will be his constant aim by the aid of

Modern Type, Machinery, & Appliances - Coupled with Good Workmanship and his own Personal Supervision, to still retain that confidence which he has hitherto-secured.

EVERY CLASS OF LETTERPRESS PRINTING - Is done on the Premises from the large Poster of many Colours down to the most delicate Wedding Card in Silver; whilst promptitude will still be a special feature of the Establishment, the Charges will be kept as Low, if not under, those of other Towns.

BUSINESS & OTHER ANNOUNCEMENTS - Printed as Large Posters, Artistic Circulars or Cheap Handbills And Posted and Circulated throughout the Ledbury District EXPEDITIOUSLY AND CHEAPLY.

PLANS & GENERAL LITHOGRAPHY, - Also Handwriting in Fac-Simile carefully attended to.

Letterpress Illustrations of Buildings (similar to Frontispiece of this Almanack), Landscapes, Portraits, &c., Re-Produced from Photography or Sketches, at very Cheap Rates.

ESTIMATES FURNISHED for ALL KINDS of PRINTING.

YOUR FAVOURS MOST RESPECTFULLY SOLICITED.

A PRINTER'S PUZZLE.

By starting with the Letter P in the centre, the Puzzle can be deciphered in many different ways. The Publisher offered in the 1888 issue of this Almanack a Prize of One Guinea for the person residing within 8 miles of Ledbury who first stated the exact number of ways it could be read. This was awarded to Thomas BEVAN, Woodman, Canon Froome. then aged 18 years, who discovered that it could be read 5284 different ways.

The Puzzle is now again inserted to test the ingenuity of the rising generation.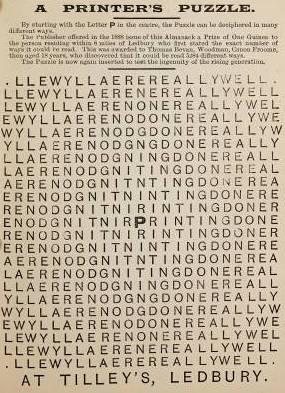 Related Links
Luke TILLEY's Ledbury Bazaar
---