16 High Street
The Ledbury Bazaar and " Free Press " General Printing Works
1884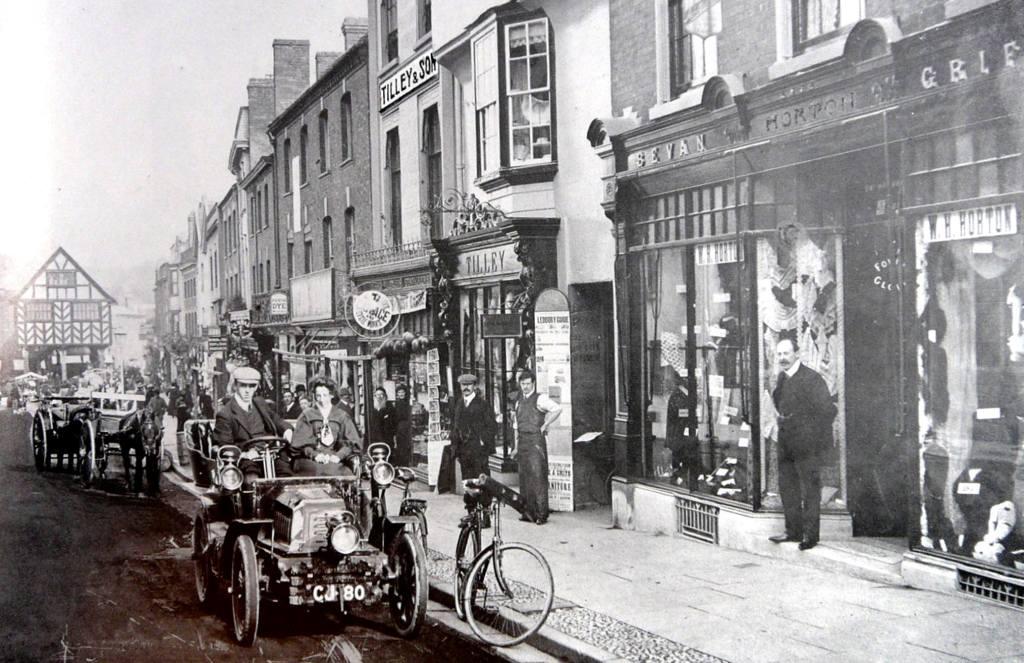 Around 1884 Luke TILLEY purchased the premises 16 High Street which the business of TILLEY's Ledbury Bazaar carried on.
1897
LUKE TILLEY - Takes this opportunity of thanking his numerous friends for the kind support awarded to him for more than a Quarter of a Century and to respectfully solicit a continuance of the same and kind recommendations.

The important extension of the LEDBURY BAZAAR during the past year, by the addition of the Shop and Premises formerly occupied by MISS E. M. BROWNE, offers still greater facilities for the display of the Large and Costly Stock of Goods always to be found there, and which are fully described on pages 82 to 92 of this Almanack.

L. T. invites special attention to the facilities of his Printing Works. By the constant addition of New Type, the assistance of Competent Workmen, together with his own practical experience,it will be his constant aim to turn out good work in an expeditious manner and at the most reasonable charges.
A SPLENDID ASSORTMENT OF BOOKS Always kept in stock for selection.

Poets, in Leather and Cloth, PRESENTATION BOOKS, SCHOOL AND OTHER PRIZE BOOK

BOOKS OF LOCAL INTEREST, Including Works by LADY HENRY SOMERSET, Rev. S. SYMONDS, CAPTAIN HAGGARD, &c.

LARGE STOCK 0F Bibles, Prayers, Hymns, & c.,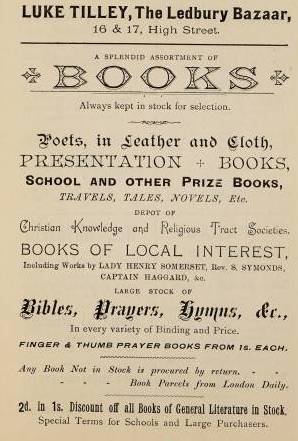 STATIONERY - Commercial and School Stationery.

FANCY STATIONERY in all the Latest Styles. Repped, Tinted, and Floral in Fancy Boxes.

LETTER FILES, LETTER COPYING BOOKS, Cheap Portable Copying Presses. ACCOUNT BOOKS.

DISH, DESSERT, & BOUQUET PAPERS.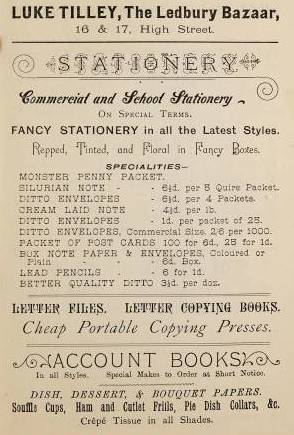 FANCY GOODS, JAPANESE GOODS, Glass & China Novelties, Plush Goods, New Assortment of Walking Sticks.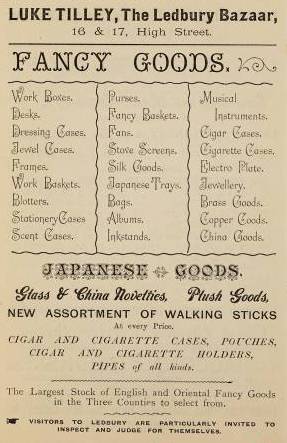 FANCY NEEDLEWORK DEPOT, Berlin Wools, Scotch Fingerings, Wheeling Yarns, Fancy Wools.

TOYS GAMES English And Foreign Toys, Toy Go-Carts,, Rocking Horses, Mechanical Toys. See The New Arcade Toy Window.

REGISTRY OFFICE FOR SERVANTS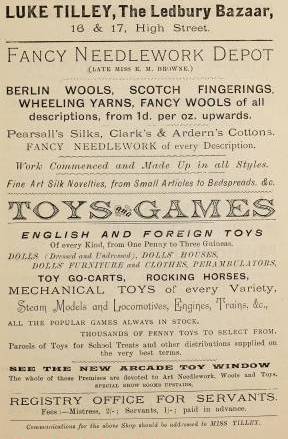 LOCAL PHOTOGRAPHS, Views Of Ledbury, Eastnor Castle, Malvern. A New View Book Of Ledbury & Eastnor. A Guide To Ledbury.

Musical Instruments, &c. Concertinas, Melodians, Orguinettes, Musical Boxes, Banjoes, Flutes, Auto-Harps, Fifes, Tambourines, Zithers etc. Sheet Music.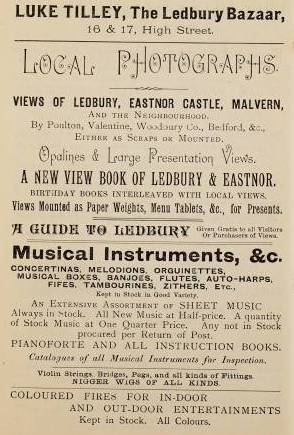 CYCLE DEPOT. GAMES. Cricket, Football, Lawn Tennis Etc. Playing Cards. Draughts, Chess, Dominoes, Cribbage Boards and Pegs, Dice, Counters, and every Popular Game.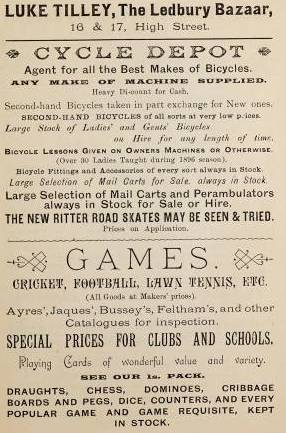 AGENCIES, Christian Knowledge Society, Norwich Union Fore Insurance Society, Norwich and London Accident Insurance Association, Plate Glass Insurance, Sutton's Cheap Parcel office.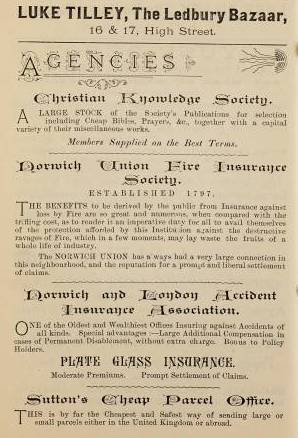 Bookbinding, Picture Framing, News agent, Bill Posting, Local Advertising Mediums
To Overseers, rate Collectors, &c., rate & Cheque Books, Forms, Books & Stationery. Voters' Lists, Jury Lists. Crystal palace John Bond's Gold Medal Marking Ink.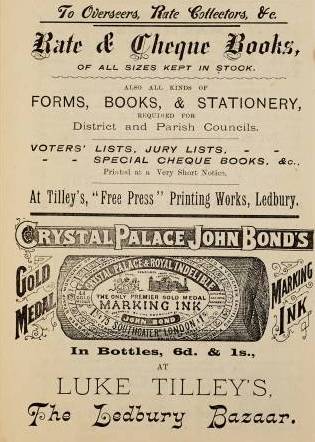 1929 - 1931 A Retrospect From Tilleys Almanack
1929
February 29 Gramophone recital, arranged by Messrs. TILLEY & Son, at the Feathers Hotel.

November 14 Gramophone recital, arranged by Messrs. TILLEY & Son, at the Royal Hall.

1931
June 2 The death occurred at Nieupurt Hall Sanitorium of Mr Albert T MANSELL, Woodleigh Road, Ledbury, at the age of 35 years. The late Mr MANSELL, who was well-known local footballer, had been in the employ of Tilley & Son, printers, for upwards of 20 years.


Related Links
FREE PRESS
( Newspaper )
Illustrated TILLEY's Almanack
An Illustrated Guide To Ledbury
Visitors Booklet
Photographic Views
Printing Works
Insurance Agents
Parcel Agency
Sutton's
Cycle Works
( 17 High Street )
Photographers
Postcards
Billboard Posters
Circulating Library
( Tudor House )
W. L. TILLEY Motor Garage
( Newmarket Street )
Luke TILLEY
( Proprietor )
Ellen Fanny TILLEY
( Assistant )
William Luke TILLEY
( Proprietor )
John Jacob TILLEY
( Proprietor )
Amy TILLEY
( Assistant )
Peter TILLEY
( Foreman Printer )
23 High Street
( First Business Premises )
---